—
U.S. History: Last Week Tonight with John Oliver (HBO)
---
Table of Contents
Brief History of Education in US
The Lost Cause of the Confederacy Movement
The Birth of a Written US Black History
Radical Historians and New Social Scientists
The 21st Century Textbook Fight
Arizona Ethnic Studies Battle
Modern Whitewashing Efforts
Efforts to Uncover Buried History
---
Brief History of Education in US
Birth of American Education

Early colonial education

Home school, private tutors, apprenticeships, church

American schools started in 17th century in New England

First private school for white boys founded in (Manhattan Collegiate School)
First public school for white boys founded in 1635 (Boston Latin School)
First school for white girls founded in 1727 (New Orleans Catholic Ursuline Academy)
First college founded in 1636 (Harvard)

Started off decentralized with each community responsible for their own school

Eventually state and local governments created taxpayer-funded school systems

Early American Educational curriculum focused on:

Family, religion, and community
Literacy, arithmetic, civic duty, morality, specific trades
Eurocentric education: Greek/European history, philosophy, literature, arts

European/ American exceptionalism
(1860s-1970s) Indigenous education policies of Cultural Genocide

1864 – Congress makes it illegal for Native Americans to be taught in their native languages.
Starting in 1870s, over 150,000 Native children forcibly sent to Native Boarding Schools

Where they punish children for practicing their cultural
"Kill the Indian, and Save the Man" Richard H. Pratt founder of Carlisle Indian boarding schools 1879 through 1918

Reconstruction Era Schools (1860-70s)

Before Civil War

Most southern states have laws forbidding teaching people in slavery to read

Southern Reconstruction government rewrite state constitutions

To guarantee free public education

First segregated black schools created across South
First system of taxpayer-funded public schools in South

for Black and White students

First Black colleges (HBCU) created

Majority of schools were segregated

1896 Supreme Court ruling, Plessy v. Ferguson upheld the legality of segregation

Slave Codes, Black Codes, Jim Crow, Dred Scott case, upheld legality before Plessy v. Ferguson

1954 Brown v. Board of Education

Overturn Plessy v. Ferguson banning segregation in schools

School desegregation peaked in 1970-80s

Then rapidly re-segregated back to pre-1968 levels

Today, white schools receive $23 billion more than nonwhite schools
Common Themes in US Education System
Colonial Narratives

Erasure of indigenous histories and slavery's impact on rise of US and capitalism
Belief that colonialism brought civilization, not genocide and slavery

Eurocentric

Focused on Greek/European history, philosophy, literature, arts
All other histories were irrelevant

"Top Down" historical perspectives

Often hides many historical outcomes
What the Declaration of Independence meant

For Colonial Elites (Top Down)
For Enslaved, women, Indigenous (Bottom Up)

White Washing

To gloss over, omit, or cover up crimes, negative histories and/or negative realities
New Deal, MLK, etc.

Propaganda

Lost Cause of confederacy, Dunning School

American Exceptionalism

God, morality, progress, etc. all on US side
"Most great powers have considered themselves superior to their rivals and have believed that they were advancing some greater good when they imposed their preferences on others…Among great powers, thinking you're special is the norm, not the exception." Stephen M. Walt

Invisible White Supremacy

"although white supremacy has shaped Western political thought for hundreds of years, it is never named. In this way, white supremacy is rendered invisible while other political systems, socialism, capitalism, fascism, are identified and studied. In fact, much of white supremacy's power is drawn from its invisibility, the taken-for-granted aspects that underwrite all other political and social contracts " Robin Diangelo, White Fragilty

Presentism

"the idea that we shouldn't judge the actions of people in the past using modern-day standards—as if the white people of the past couldn't quite grasp the idea of inhumanity and brutality until 1861." Michael Harriot, White People Are Cowards
—
How Stuff Works: The History of Public Schools in America
Hundreds of years ago, most learning happened at home. Parents taught their children or, if their families could afford it, private tutors did the job. The Puritans were the first in this country to point out the need for some kind of public education. They established schools to teach not just the essentials-reading, writing and math- but also to reinforce their core values.
After the American Revolution, Thomas Jefferson argued that the newly independent nation needed an educational system, and he suggested that tax dollars be used to fund it. His pleas were ignored, however, and the idea for a public school system languished for nearly a century.
By the 1840s, a few public schools had popped up around the country in the communities that could afford them. However, that smattering of schools wasn't good enough for education crusaders Horace Mann of Massachusetts and Henry Barnard of Connecticut. They began calling for free, compulsory school for every child in the nation.
Massachusetts passed the first compulsory school laws in 1852. New York followed the next year, and by 1918, all American children were required to attend at least elementary school.
Next came the movement to create equal schooling for all American children, no matter what their race. At the turn of the 20th century, schools in the South, and many in the North, were segregated. The 1896 Supreme Court ruling, Plessy v. Ferguson upheld the legality of segregation. Finally, in 1954, the Supreme Court overturned its ruling with the landmark case, Brown v. Board of Education, and public schools became open to people of all races.
Race Forward: Historical Timeline of Public Education in the US
—
Liz Mineo: How textbooks taught white supremacy
A historian steps back to the 1700s and shares what's changed and what needs to change
Historian Donald Yacovone, an associate at the Hutchins Center for African & African American Research and a 2013 winner of the W.E.B. Du Bois medal, was researching a book on the legacy of the antislavery movement when he came across some old history school textbooks that stopped him cold — and led him to write a different book.
Yacovone, who co-authored "The African Americans: Many Rivers to Cross" with Henry Louis Gates Jr. in 2013, is now writing "Teaching White Supremacy: The Textbook Battle Over Race in American History."
The Gazette interviewed Yacovone about the origins of his research, his findings, and why he thinks it's necessary to teach the difficult story of slavery and white supremacy and their legacies.
Donald Yacovone
GAZETTE:  How did you start examining history textbooks from the 19th and 20th centuries?
YACOVONE:  I had begun a different book about the legacy of the antislavery movement and the rise of the Civil Rights era. I had spent several months at the Houghton Library before it closed down. When I was nearly finished with one particularly large collection, I wanted to take a break and find out how abolitionism had been taught in school textbooks. I thought this was going to be a quick enterprise: I'd go over to Gutman Library at the Graduate School of Education, take a look at a few textbooks, and keep going. Imagine my shock when I was confronted by a collection of about 3,000 textbooks. I started reviewing them, and I came across one 1832 book, "History of the United States" by Noah Webster, the gentleman who's responsible for our dictionary. I was astonished by what I was reading so I just kept reading some more.
In Webster's book there was next to nothing about the institution of slavery, despite the fact that it was a central American institution. There were no African Americans ever mentioned. When Webster wrote about Africans, it was extremely derogatory, which was shocking because those comments were in a textbook. What I realized from his book, and from the subsequent ones, was how they defined "American" as white and only as white. Anything that was less than an Anglo Saxon was not a true American. The further along I got in this process, the more intensely this sentiment came out, I realized that I was looking at, there's no other word for it, white supremacy. I came across one textbook that declared on its first page, "This is the White Man's History." At that point, you had to be a dunce not to see what these books were teaching. 
GAZETTE: What are the roots of white supremacy? How is white supremacy connected to the history of slavery?
YACOVONE: White supremacy precedes the origins of the United States. Every aspect of social interaction, particularly in the 18th and 19th centuries, was dominated by white identity, and white supremacy became an expression of American identity.
Americans tend to see racism as a result of Southern slavery, and this thinking has all kinds of problems. First of all, slavery was in the North as well as in the South, and the people who formed the idea of American identity were not Southern slave owners, they were Northerners. The father of white supremacy was not a Southerner; it was John H. Van Evrie, a Canadian who ended up settling in New York City. Van Evrie argued that if no slaves existed, the class-based structure of Europe would have been transferred, kept, and developed in the American colonies. But with the African presence, Van Evrie said, the descendants of white Europeans saw that the difference among white people was virtually insignificant compared to what they perceived as differences between themselves and African Americans. This allowed democracy, which was an unpopular idea in the 17th and 18th century, to flourish and develop.
We always forget that democracy was not an idealized form of government back then. In fact, it was considered an evil. Van Evrie's argument was that Americans had to reimagine a new kind of government and social order and they could do so because of the African presence. This can also explain why white supremacy has persisted for so long, because it is an identity of oneself in contrast to others, a sort of a self-fulfilling, reinforcing thought about one's self-perceived superiority. Even people who opposed slavery believed that African Americans could never be absorbed by white society. Samuel Sewall, who wrote the first antislavery pamphlet in 1700, condemned slavery, but he also characterized people of African descent as "a kind of extravasate Blood," always alien. His idea remained central to the American mind for the next 200 years.
GAZETTE: Some historians say that white supremacy ideology served to justify the enslavement of African Americans.
YACOVONE: The main feature of white supremacy is the assumption that people with Anglo Saxon backgrounds are the primacy, the first order of humanity. Van Evrie, however, saw people of African descent as essential to do "the white man's work," and were designed to do so "by nature and god." He wrote about six different books on the subject, and he used a racial hierarchy in which Caucasians were at the top and Africans at the bottom. You'd think that white supremacists were driven mostly by hate, but at the core they were driven by their ideas of racial superiority, which of course were pure fiction and had nothing to do with reality. White supremacy wasn't developed to defend the institution of slavery, but in reaction to it, and it preceded the birth of the United States.
A lot of the white supremacists in the North didn't even want an African American presence there. Many Northerners advocated the American Colonization Society, which would export African Americans to Liberia. But there was no unanimity of ideas about white supremacy; the only thing they all agreed upon was the "superiority of the white race."
GAZETTE: I once heard a Harvard historian say that the Founding Fathers were white supremacists. Is that a fair characterization?
YACOVONE: Of course. Exceptions existed, such as Massachusetts's James Otis, but most owned slaves and those who didn't, like Benjamin Franklin, preferred that people of African descent never existed in the American colonies. Thomas Jefferson is the classic example. He is the individual responsible for giving us the phrase that embodies the democratic promise — "All men are created equal" — and set the trend to exclude slavery from newly acquired territory. Yet, he refused to free his own slaves, considered people of African descent inherently inferior, and when he wrote those famous words in the Declaration of Independence he thought only of white men.
GAZETTE: What did the textbooks published in the 20th century teach about slavery in comparison to those written in the 19th century?
YACOVONE: For the most part, the textbooks from the pre-Civil War period through the end of the century followed a basic format: They would go from exploration to colonization to revolution to creation of the American republic, and then every succeeding presidential administration. Anything outside of the political narrative was not considered history and was not taught.
During the brief period of Reconstruction (1863-1877), the story emphasized the fulfillment of democracy, and the ideology of freedom suffused many books. This was a dramatic change. I even came across a couple of books that contained pictures of African Americans, and I was flabbergasted when I discovered one that had a picture of Frederick Douglass — that was unheard of. Prior to Reconstruction, textbooks had a few pictures, some engravings. But they disappear pretty quick once we get into the 20th century, because the "Lost Cause" mythology takes over academia and white supremacy reappears with full force.
During the 1920s, the 1930s, and the 1940s, it was astonishing to see positive assessments of slavery in American history textbooks, which taught that the African American's natural environment was the institution of slavery, where they were cared for from cradle to grave. There was a legacy of African American writing about freedom, but the white power structure simply wouldn't accept it as legitimate. They dismissed the slave narratives as propaganda, downplayed the history of Africans before slavery, and ignored the work of African American scholars such as W.E.B. Du Bois and others.
GAZETTE: A report by the Southern Poverty Law Center found that schools failed to teach the "hard history" of African enslavement. What role have the textbooks played in the miseducation of many generations of Americans?
YACOVONE:  This is the problem. We're not teaching students the true American history because African American history is American history. I've been lecturing about this project, and every time I ask students what they learn about the history of slavery, they all said, "Not much." But even if there are textbooks that deal with those issues in a more accurate way, white teachers are so intimidated that they won't teach it.
GAZETTE: You mentioned in an article in the Chronicle of Higher Education that while doing your research, you found the history book you read when you were a fifth grader. What did that book teach you about the history of slavery?
YACOVONE: That was one of the great revelations of this research. Like so many of these books, "Exploring the New World" by O. Stuart Hamer and others, which was published repeatedly between 1953 and 1965, said almost nothing. All these books, particularly from 1840 for the next 25 years, go out of their way to not discuss slavery. Some would say that slavery began in 1619, but most said it began in 1620 because those who are writing this narrative are New Englanders, and 1620 is when the Pilgrims sailed on the Mayflower. Half the books from this early period got the date wrong. If the textbooks wrote about slavery, it was only one sentence and would never discuss the nature of slavery or include any descriptions. When American politics became absorbed by the debate over slavery, they could not avoid that, and would mention the 1820 Compromise [that admitted Maine to the union as a free state and Missouri as a slave state] and the 1850 Compromise [that abolished the slave trade -but not slavery- in Washington, D.C.]. None of the textbooks published prior to the Civil War would ever talk about the abolitionist movement, which began in the late 1820s. It wasn't until 1853, when the educator Emma Willard published her massive history of the United States, that she mentioned the abolitionists, but she didn't say who they were or what they were about, except that they were tools of Great Britain dedicated to destroying the republic.
GAZETTE: What did the textbooks published after the 1960s teach about slavery? Has there been any progress over the past few years?
YACOVONE: In the mid 1960s, textbooks began noticeably to change because attitudes and scholarship were changing in the wake of the Civil Rights Movement. Scholars such as Kenneth Stampp reimagined Reconstruction, and it had a dramatic effect. There was a gradual reintroduction of the African American element in history textbooks. And now, many history teachers don't even use textbooks. They're using online resources. Some of the best work is being produced by the Zinn Education Project, the Gilder-Lehrman Center, and the Southern Poverty Law Center.
But even when textbooks are accurate, teachers have to be willing to teach it. We know there are many white teachers who are afraid of doing it. And you have to have school systems, both public and private, committed to doing this work and not to punish teachers for doing so, which is happening. The resources are endless. But it's complicated because in many states there are institutionalized approval processes that determine what textbook will be used. And as far as the publishing industry is concerned, this is huge money. Texas and California dominate and they determine what gets published and what doesn't.
GAZETTE: What are the risks of not teaching the full story of slavery and its legacy?
YACOVONE: This is essential work that has to be done. If America is to be a nation that fulfills its democratic promise, the history of slavery and white supremacy have to be taught in schools across the country. We need to acknowledge that white supremacy remains an integral part of American society and we need to understand how we got to where we are. The consequences of not doing so are lethal. White supremacy is a toxin. The older history textbooks were like syringes that injected the toxin of white supremacy into the mind of many generations of Americans. What has to be done is teach the truth about slavery as a central institution in America's origins, as the cause of the Civil War, and about its legacy that still lives on. The consequences of not doing so, we're seeing every day.
---
Whitewashing US History
—
Bryan Stevenson: "The North won the Civil War, but the South won the narrative war" on history of racism
Bryan Stevenson, an attorney and the founder and Executive Director of the Equal Justice Initiative who is the subject of the new HBO documentary "True Justice: Bryan Stevenson's Fight for Equality," says that it is imperative that Americans confront the brutal, ugly truth of our country's history.
Appearing on "CBS This Morning" Monday, he said, "I don't think we've really ever talked about the hardship, the legacy of enslaving black people for 2 1/2 centuries. We've just never dealt with the details of that. And because we didn't, we didn't understand the significance of that.
"We need to understand the greater evil of American slavery wasn't involuntary servitude and forced labor; it was this idea that black people aren't as good as white people, that they're not fully human. The Supreme Court said we're three-fifths human, and that created this ideology of white supremacy that we never addressed. The North won the Civil War, but the South won the narrative war. They weren't required to repudiate and acknowledge the wrongfulness of bigotry and slavery. They actually glorified that era, and that created a century where black people were pulled out of their homes, beaten, drowned, hanged in this era of terrorism, but we haven't talked about it."
The new documentary includes his fight to create the National Memorial for Peace and Justice, the country's only memorial dedicated to lynching victims.
Stevenson said that, in order to address America's racial history, "We have to acknowledge that we are in a space that is polluted by our failure to deal honestly, and we have to make a commitment to that. Then we have to learn the details [of history]. We've lynched thousands of black people in this country for the first half of the 20th century. Six million black people fled the American South as refugees from terror and violence. It wasn't, you know, the Klan, it was people unmasked – law enforcement officers, teachers, criminal justice officials that tolerated lawlessness and mob violence – and we haven't acknowledged any of that. So, we're going to have to do that.
"That's why we've opened this memorial. Most people in this country can't name a single African-American lynched between 1877 and 1950. And that's wrong."
"And then we're going to have to deal with this narrative legacy," Stevenson continued. "In Germany you can't go 200 meters without seeing a marker or stone placed next to the home of a Jewish victim. They want you to go to the Holocaust Memorial. We haven't created that in this country."
"Once the country acknowledges something, the question becomes, do you apologize for it?" said co-host Tony Dokoupil. "You pointed out in the documentary there's a lack of apology in our political culture today."
"I think we sometimes think when we say we're sorry that makes us weak," Stevenson said. "I actually think apology is the way you get strong. Show me two people who've been in love for 50 years – they've learned how to navigate the mistakes, that saying 'I'm sorry' is how you build trust. It's critical. We haven't done that. Even after the 1960s when we passed the Voting Rights Act and Civil Rights Act, we rushed to get past that without dealing with all of the damage that was done during that era.
"I grew up in a community where those signs, 'White' and 'Colored,' weren't directions, they were assaults. They created injuries. My parents were humiliated every day, and we haven't dealt with that."
Co-host Gayle King asked, "What do you say to people like Mitch McConnell and others that say this happened long ago, the people that are living today have nothing to do with the sins created back then?"
"We are still dealing with this," Stevenson replied. "There's a presumption of dangerousness and guilt that gets assigned to black and brown people. That's why we've have so many of these police shootings. That's why we have a criminal justice system that treats you better if you're rich and guilty than if you're poor and innocent. It's why people like Anthony Ray Hinton, who's in the film, were wrongly convicted and condemned. And so that consequence of this history is everywhere.  The projection is that one in three male black babies is expected to go to jail or prison."
Dokoupil said, "Part of the reason that's possible is because we've built a criminal justice system and a prison system that can house all those people, and one reason is the 1994 crime bill which subsidized the building of those jails and prisons. Should Joe Biden, who was a key sponsor of that bill and voted for it, apologize for it?"
"I think all of us need to take responsibility for the fact that we allowed this narrative of fear and anger, the politics of fear and anger, to replace the anger and resistance to civil rights," Stevenson said. "That's how we went from 300,000 people in jails and prisons to three million today. When we try to make this one person's responsibility, we miss the mark.
"We are all complicit in the way we have created mass incarceration. We tolerate the highest rate of incarceration in the world, and we all have a role to play in deconstructing that. I don't want to excuse anybody who was voting for the '94 act, but I do want to make us appreciate that this is a larger problem than just one act. It is a consequence of a legacy that we haven't addressed."
King said, "Part of the documentary shared your personal story, which I was also moved by, about why you do this work. It's so thankless. You receive a lot of criticism. Why, when you get beaten down, do you keep getting up and doing it?"
"I'm standing on the shoulders of people who did so much more with so much less," he replied. "I live in Montgomery, Alabama in the shadow of the advocacy of Rosa Parks and Dr. King and Jo Ann Robinson. I am just empowered by what they did. I wouldn't be here if lawyers hadn't come into our community to open up the schools that were segregated so that I could go to high school and college. I'm standing on those shoulders and I just feel an obligation to carry on this tradition, because there are too many other children in this country that would be denied their opportunities until we change and create new justice."
—
Whitewashing
Whitewashing

To gloss over, omit, or cover up crimes, negative histories and/or negative realities
To exonerate by means of a perfunctory investigation, biased presentation of data, omission, or false narratives
Assimilating to a white eurocentric culture
Evanston: History lessons whitewash history
Why is it so easy to name a few of the 'Founding Fathers', but nearly impossible to name a leader from the women's suffrage movement? Because our colorful past is dripping with whiteout.
It's a problem when all the 'heroes' in our national history textbooks are the same gender, religion, sexuality and racial background.
America is wildly diverse, ETHS even more so. Our textbooks do not reflect this. People learn better when they are represented in source material. By excluding stories of non-white, non-male, non-straight, non-Christian people, we alienate students of those identities and exclude the wealth of history that reflects who we truly are.
For example, the AP United States History textbook, The Enduring Vision, doesn't once mention the first female presidential candidate, Victoria Woodhull. Frederick Douglass was her Vice Presidential running mate. This is an important historical fact that seems virtually unknown.
If she was left out, there must be countless others, leaders of every identity, who are completely ignored.
Dr. Kamasi Hill, an APUSH teacher at Evanston, understands the importance of teaching inclusive and diverse history. He says that we must demonstrate how other people – not just those who are in power – have shaped history; it's no secret that white and male has everything to do with power. But Hill emphasizes that history is not exclusive to one identity.
Major historical narratives are shoved into a corner while the stories of 'the powerful' claim center stage. This must be changed in textbooks and classrooms.
It's fair to say that many educators do make an active effort to be inclusive in their teaching. Creating a classroom with inclusive, unbiased history is hard work. Progress certainly has been made – but as students and young adults, it is imperative that we ask questions and demand a broader perspective on American history.
Let's learn about the American immigration and deportation systems.
Or about the people who were here first – the Native Americans – and their current state of affairs.
Let's explore why we talk about Martin Luther King, but leave Malcolm X and the Black Power movement in the dust.
We must ask why women are paid 86 cents for every dollar a man makes, and talk about why 31 states continue to deny marriage rights to gay people.
We need to consider what stories we're telling, and equally important, what stories aren't being told.
Though the broader solution to our whitewashed history requires a radical change in textbooks and curricula, a more immediate solution rests in our raised hands.
This is a call to action: as students, we must demand to see more sides of our wonderfully complicated history. We must ask probing questions, because when we see ourselves reflected in great historical figures, we are inspired to make our own change.
Our education should reflect our demographic. We've heard enough of the "winner's tales". Now we must walk the road less traveled and demand to hear the stories less told.
—
Presentism
"presentism—the idea that we shouldn't judge the actions of people in the past using modern-day standards—as if the white people of the past couldn't quite grasp the idea of inhumanity and brutality until 1861." Michael Harriot, White People Are Cowards
—
"The point of this language of "intention" and "personal responsibility" is broad exoneration. Mistakes were made. Bodies were broken. People were enslaved. We meant well. We tried our best. "Good intention" is a hall pass through history, a sleeping pill that ensures the Dream." Ta-Nehisi Coates, Between the World and Me
—
—
—
Nehemiah Frank: My Teachers Never Told Me That America Was Built on Racism
History class in middle and high school would have made more sense if teachers used books like Stamped from the Beginning: The Definitive History of Racist Ideas in America by American author Ibram X. Kendi or the abridged version of the book Stamped. It certainly would have made the racial anxieties I felt growing up while Black in this country less severe. Because navigating racist systems during my adolescent years, even into college, was often a bewildering experience.
And although racism was never a problem for my white classmates, it was my public enemy number one.
This invisible villain seemed to strike me, and other Black students, in our most vulnerable state in life, in our maturing years—while we were mentally unarmed, unskilled and unprepared.
I sat innocently in American classrooms, ready to be assimilated and self-destructive. And I internalized the racism being taught through my schoolwork, spoon-fed to me by my teachers—not knowing when or what to question.
The other Black students and I learned to harm ourselves as we became the echo chambers of white supremacist ideas. And sadly, we didn't even realize what we were learning—we were too young to comprehend that we were learning racist ideas.
I sat in my history classes year after year, wholly confused by fallacies, wondering: Why wasn't the 14th Amendment enough? Why is life still harder for the average Black person in America?
I watched videos in class about how Black people were given ridiculous literacy tests in order to register to cast a ballot. And even then, many Black people were denied their legal right to vote. But my teachers never mentioned the R-word. Racism. We never talked about how its structural consequences created our nation's ghettos, or why the schools on the other side of the Potomac were poorly funded and created an infinite cycle of poverty for many Blacks.
Conversations explicitly concerning matters of race or how to combat racism never came up in the classes I attended. My teachers never told me that what Dr. Martin Luther King, Jr., Rosa Parks, and many others were fighting against, was in fact, a racist culture that operated and sustained itself on racist ideas from our nation's past. I was simply taught that these iconic American trailblazers and the Civil Rights Movement only aspired to get Black people the access to ride on the front of the bus, attend white schools and have the privilege of sitting with white people in restaurants.
While we studied how the Founding Fathers of America used John Locke's theories to help frame the U.S. Constitution, missing were the lessons that revealed how Locke justified the enslavement of Black people. We never learned that in 1689, this highly revered political theorist, whose basic idea is taught in every school, published an essay, titled, "Two Treatises of Government," where he states,
"Slaves, who being captives taken in a just war, are by the right of nature subjected to the absolute dominion and arbitrary power of their masters."
Had I been offered this information by my teachers my natural tenacity would have caused me to question Locke's motives.
My history teachers never taught me to question whether Locke, or the men his writings heavily influenced, thought the enslavement of Blacks people was a justifiable act. No! They never taught me how Locke was an investor and beneficiary of American slavery. That could have been a teachable moment about how monetary reward can corrupt a person. In fact, Locke's practices stood in direct opposition to his ideas about natural rights; unless he saw Blacks as property and not fully human, which certainly seems to be the missing component from my history lesson. I had been denied that information.
Perhaps I would have been more of an examiner of the things that were presented to me, making me more of a critical thinker—if only I had been taught to do so.
Am I advocating that students not be taught about John Locke or how his theories were a major influence on the U.S. Constitution? No! But I am charging our nation's curriculum developers to include the whole story of this nation, including its racist ideas. And I'm advocating that American teachers adjust their lesson plans accordingly. Because by not doing so, they deny Black children and their non-Black classmates the opportunity to think more critically about how race played a major role in our society, its policies and the American economy.
My teachers never told me that America was built on racism.
Today I can only speculate that my presence in their majority-white classrooms, in their majority-white schools was enough to prove that an in-depth conversation about racist systems, how they came about, and how they impacted the American society today wasn't an important enough history lesson to include in my middle or high school curriculum. But my position in America as a Black boy who would inevitably become a Black man severely warranted that conversation and those history lessons.
Because if history was thoroughly taught with Black kids and their people's story in mind, perhaps we wouldn't have millions of Americans marching in the damn streets during a global pandemic because of the continued racial injustices we see against Black lives.
—
Adam Serwer: The Fight Over the 1619 Project Is Not About the Facts
When The New York Times Magazine published its 1619 Project in August, people lined up on the street in New York City to get copies. Since then, the project—a historical analysis of how slavery shaped American political, social, and economic institutions—has spawned a podcast, a high-school curriculum, and an upcoming book. For Nikole Hannah-Jones, the reporter who conceived of the project, the response has been deeply gratifying.
Facing History: W. E. B. Du Bois Reflects on the Purpose of History
In 1935, W. E. B. Du Bois published an influential book titled Black Reconstruction in America. This excerpt, from a chapter titled "The Propaganda of History," questions the ways in which Reconstruction was being studied and taught at the time. This is Handout 15.4 (p. 273) in The Reconstruction Era and the Fragility of Democracy.
---
The following is an excerpt from a chapter titled "The Propaganda of History" in W. E. B. Du Bois's influential 1935 book Black Reconstruction in America.
How the facts of American history have in the last half century been falsified because the nation was ashamed. The South was ashamed because it fought to perpetuate human slavery. The North was ashamed because it had to call in the black men to save the Union, abolish slavery and establish democracy.

What are American children taught today about Reconstruction? . . . [A]n American youth attending college today would learn from current textbooks of history that the Constitution recognized slavery; that the chance of getting rid of slavery by peaceful methods was ruined by the Abolitionists; that after the period of Andrew Jackson, the two sections of the United States "had become fully conscious of their conflicting interests. Two irreconcilable forms of civilization . . . ." He would read that Harriet Beecher Stowe brought on the Civil War; that the assault on Charles Sumner was due to his "coarse invective" against a South Carolina Senator; and that Negroes were the only people to achieve emancipation with no effort on their part. That Reconstruction was a disgraceful attempt to subject white people to ignorant Negro rule . . .

In other words, he would in all probability complete his education without any idea of the part which the black race has played in America; of the tremendous moral problem of abolition; of the cause and meaning of the Civil War and the relation which Reconstruction had to democratic government and the labor movement today . . .

War and especially civil strife leave terrible wounds. It is the duty of humanity to heal them. It was therefore soon conceived as neither wise nor patriotic to speak of all the causes of strife and the terrible results to which national differences in the United States had led. And so, first of all, we minimized the slavery controversy which convulsed the nation from the Missouri Compromise down to the Civil War. On top of that, we passed by Reconstruction with a phrase of regret or disgust.

But are these reasons of courtesy and philanthropy sufficient for denying Truth? If history is going to be scientific, if the record of human action is going to be set down with the accuracy and faithfulness of detail which will allow its use as a measuring rod and guidepost for the future of nations, there must be set some standards of ethics in research and interpretation.

If, on the other hand, we are going to use history for our pleasure and amusement, for inflating our national ego, and giving us a false but pleasurable sense of accomplishment, then we must give up the idea of history as a science or as an art using the results of science, and admit frankly that we are using a version of historic fact in order to influence and educate the new generation along the way we wish.

It is propaganda like this that has led men in the past to insist that history is "lies agreed upon"; and to point out the danger in such misinformation. It is indeed extremely doubtful if any permanent benefit comes to the world through such action. Nations reel and stagger on their way; they make hideous mistakes; they commit frightful wrongs; they do great and beautiful things. And shall we not best guide humanity by telling the truth about all this, so far as the truth is ascertainable?
—
—
Whitewashing Dr. King
The MLK Side We Are Taught
Dr. King had a dream where everyone could be equal if we were only accepted as equal by passing th 1960s Civil Rights Bills outlawing Jim Crow discrimination, while allowing implicit racism to continue and not addressing past suffering.  Typical US curriculum teaches or implies that Dr. King's dream came true, with the 60s civil rights bills.
Stanford: "I Have a Dream," Address Delivered at the March on Washington for Jobs and Freedom
"…I say to you today, my friends [applause], so even though we face the difficulties of today and tomorrow (Uh-huh), I still have a dream. (Yes) It is a dream deeply rooted in the American dream. (Yes)
I have a dream (Mhm) that one day (Yes) this nation will rise up and live out the true meaning of its creed (Hah): "We hold these truths to be self-evident, that all men are created equal." (Yeah, Uh-huh, Hear hear) [applause]
I have a dream that one day on the red hills of Georgia (Yes, Talk), the sons of former slaves and the sons of former slave owners will be able to sit down together at the table of brotherhood.
I have a dream (Yes) [applause] that one day even the state of Mississippi, a state sweltering with the heat of injustice (Yeah), sweltering with the heat of oppression (Mhm), will be transformed into an oasis of freedom and justice.
I have a dream (Yeah) [applause] that my four little children (Well) will one day live in a nation where they will not be judged by the color of their skin but by the content of their character. (My Lord) I have a dream today. [enthusiastic applause]
I have a dream that one day down in Alabama, with its vicious racists (Yes, Yeah), with its governor having his lips dripping with the words of "interposition" and "nullification" (Yes), one day right there in Alabama little black boys and black girls will be able to join hands with little white boys and white girls as sisters and brothers. I have a dream today. [applause] (God help him, Preach)…
This is our hope. (Yes, Yes) This is the faith that I go back to the South with. (Yes) With this faith (My Lord) we will be able to hew out of the mountain of despair a stone of hope. (Yes, All right) With this faith (Yes) we will be able to transform the jangling discords of our nation (Yes) into a beautiful symphony of brotherhood. (Talk about it) With this faith (Yes, My Lord) we will be able to work together, to pray together, to struggle together, to go to jail together (Yes), to stand up for freedom together (Yeah), knowing that we will be free one day. [sustained applause]…
And when this happens [applause] (Let it ring, Let it ring), and when we allow freedom ring (Let it ring), when we let it ring from every village and every hamlet, from every state and every city (Yes Lord), we will be able to speed up that day when all of God's children (Yeah), black men (Yeah) and white men (Yeah), Jews and Gentiles, Protestants and Catholics (Yes), will be able to join hands and sing in the words of the old Negro spiritual: "Free at last! (Yes) Free at last! Thank God Almighty, we are free at last!" [enthusiastic applause]
—
The MLK Side We Aren't Taught
After the first 2 civil rights bills Dr. King realized his dream failed and equality could only come from economic and policitical investments and restructuring.  He was killed while organizing for these restructures during the Poor Person's Campaign.

—
Think: Martin Luther King Jr.'s true, radical legacy is being whitewashed by people looking for easy absolution
The celebration of the life and work of Dr. Martin Luther King Jr. takes place this year amidst political chaos. In particular, it is occurring in the middle a weeks-long government shutdown that has pitted President Donald Trump, the leader of a party that is 90 percent white, against the most diverse Congress in American history over an idea that has been derided as racist and xenophobic.
Praise for Dr. King's legacy will emerge from this partisan rancor. Rather than invoke unity, however, such praise exposes a difficult truth: King's legacy has become as segregated as the country he tried to heal.
For white people, Rev. Dr. Martin Luther King Jr. exists mainly as a mainstream portrayal of a saint of redemption. In this historical interpretation, Dr. King saved both black and white Americans from the evils of segregation, while overcoming the resistance of a few, powerful bigoted individuals with little more than dignified protest and the strength of his convictions.
This Dr. King tells us that hate cannot drive out hate, that we should judge each other on the content of our characters, and that poverty and racism are their own evils. This Dr. King does not think us wrong as long as we do not have hate in our heart, doesn't want us to dwell on each other's differences and knows that what hurts white people also hurts black people. This Dr. King does not judge. This Dr. King does not see color. He does not ask for reparations. His solitary request is to act with love.
This incomplete and inconsiderate legacy fuels the agendas of white people across the political spectrum, from open white supremacists to apathetic "allies." Built from scraps of reality selected from his words and work, this imagined Dr. King does not endorse or exalt — it absolves.
His sentiments of love, peace and unity transform into excuses for indulging hatred, injustice and oppression; loving our enemies becomes a commandment to forgive all trespasses. This is how Congressman Steve King, who in November suggested that Dr. King's legacy has been "hijacked" into a "grievance committee" by the Congressional Black Caucus, can turn around and defend white supremacy in January without any sense of irony.
Seeking peace becomes a call against any and all confrontation, direct or symbolic. This is how national politicians from both parties can receive more attention for condemning the public discomfort of their peers than in seeking the safety of the citizens in their care. Dr. King's imagining of an integrated world becomes enough to draw focus away from the marginalized and exculpate the racism of the majority. This is how a progressive voice can tout civil rights bona fides and yet so easily cleave a space between the politics of identity and the concerns of citizenship.
It is true that Dr. King did seek, coordinate and give partnership to white communities, speak about equality for all as the solution for the suffering of all and give voice to the redeeming power of love and the tactical strength of non-violence. It is not a false legacy or one that should be ignored or diminished.
But too often the power of that legacy is used by white voices to minimize the systemic violence of racism, sow complacency and resentment at majoritarian sacrifice and to characterize the work of his life as complete rather than abandoned. Rather than shine a light on the ways our society has fallen short of its incredible promise, past and present, the brilliance of Dr. King's aspirations are used to make invisible the perpetrators of common violence, the silent disapproval of white moderates and the disparities in income, housing, justice and mortality that have become no less acute with time.
It also has the power to render invisible another legacy: Rev. Dr. Martin Luther King, Jr., martyr.
This is a voice and a vision which channeled the efforts of thousands to speak to the suffering of millions. This legacy remembers that it was not the warming hearts of the white South but the shame of white Northerners that paved the way for civil rights legislation. When the latter could no longer be shamed, the legislation stopped. This legacy does not whitewash the violence endured; the bodies cold and burned and flayed and buried, unguarded by self-defense; the practice of love towards all not merely for moral strength but for sheer survival.
This Dr. King is not an immortal sage but a man dead before his 40th birthday, leaving a widow and four children.
On this side of Dr. King's segregated legacy, his aspirations for all Americans are as cherished as the black singularity of his radicalism, and his words are not shields of absolution but calls to self-actualization.
While de jure segregation has ended in 2019, de facto segregation in areas like economic mobility, education and environmental resources continues to thwart the possibilities of his dream. The country remains mired in both inequality and violence. But it is not impossible to imagine a world in which his two legacies are compatible; where we ignore neither personal animus nor systemic dehumanization; where we act against injustice without compromise; and where we agree by consensus rather than fiat when his vision is complete. It is a country where Dr. King's legacies are integrated into the truth.
—
MLK Jr "My dream has turned into a nightmare"
—
MLK, Poor People's Campaign, and Economic Justice
—
Zinn Education Project: There's Infinitely More to Martin Luther King Jr. Than 'I Have a Dream'
Back in 2001, I was trying to get my eleventh grade U.S. history class to focus on a passage from Dr. Martin Luther King, Jr.'s 1967 book, Where Do We Go From Here: Chaos or Community? Unfortunately, I was not surprised when a student protested, "We already know about him. We're tired of hearing about Martin Luther King."
So I asked, "Okay, what do you know about him?"
"He had a dream," another student replied as others laughed.
I insisted that there was infinitely more to King and his ideas than one very famous speech. "Well, that's all they ever show us," someone complained.
"And that's why I'm trying to show you something new about him," I responded, showing—I hope—only a hint of my frustration.
I decided to put together a unit designed to help students penetrate the curtain of clichés and lies the corporate media have erected around Martin Luther King, Jr. in order to make him "safe" for public consumption. The bland projection of an image promoting moderate reforms and racial harmony obscures King's legacy of opposition to capitalist exploitation and violence at home and abroad.
My goal was for my students to be able to explicitly identify the ways in which King is portrayed in the mass media, and specifically, which of his ideas are communicated to the public. I also wanted them to read and discuss a range of King's ideas that are almost completely unknown to most of the public today and reflect upon why many of King's ideas introduced in this lesson are almost never referenced in the mass media or in U.S. history textbooks.
For example, like the students in my class, most students have heard about Dr. King's 1963 "I Have a Dream" speech, but they rarely hear about his "Beyond Vietnam," address given four years later on April 4, 1967, at Riverside Church in New York City. At a time when nearly 25 percent of American children live in poverty, King's words on the extremes of wealth and poverty still resonate today:
"…I am convinced that if we are to get on the right side of the world revolution, we as a nation must undergo a radical revolution of values. We must rapidly begin the shift from a thing-oriented society to a person-oriented society. When machines and computers, profit motives and property rights, are considered more important than people, the giant triplets of racism, extreme materialism, and militarism are incapable of being conquered."
Many students also don't know that corporate outsourcing of jobs overseas was also a problem nearly 46 years ago when Dr. King gave this speech. He went on to note:
"…A true revolution of values will soon look uneasily on the glaring contrast of poverty and wealth. With righteous indignation, it will look across the seas and see individual capitalists of the West investing huge sums of money in Asia, Africa, and South America, only to take the profits out with no concern for the social betterment of the countries, and say: 'This is not just.'"
While many of my students have at least some knowledge of the Vietnam War, most have been surprised to learn that King vehemently opposed the war and called the U.S. government "the greatest purveyor of violence in the world today." Of course, this leads to a discussion of parallels with U.S. militarism in our time.
One student wrote,
"What I didn't know was what he wanted to do for Vietnam. He said the bulldozers destroyed their areas and the precious trees, poison their water and kill a million acres of crops. He said if 'we ignore this sobering reality, we will find ourselves organizing [clergy and laymen concerned] committees for the next generation.' I never heard this whole speech before and I thought it was cool that he wanted to help not just the African Americans but Vietnamese."
Others were equally surprised that King planned to lead a massive direct action Poor People's Campaign. One student explained that she "didn't know that his plan was to 'mobilize and train thousands of poor and allies to camp out [in front of the White House] with him until they help the poor.' He planned to group the poor together, no matter the color, race. I didn't know he wanted unity, well maybe I did, but I didn't know he fought for the justice of poor people of all color and race."
This student's closing sentence highlights a key difference between the simplistic racial harmony typically attributed to Dr. King and the militant, multiracial class solidarity he actively organized just before he was murdered.
I have taught a version of this mini-unit every year since developing it, revising it each time based on the previous year's experience. When I moved to middle school last year I adjusted the pedagogy and content for my eighth graders, who proved to be as receptive to King's radical vision as my eleventh graders had been. But the administration at my new school objected that "its place in the sequence of the curriculum and its relevance to the content standards is questionable," since California's eighth grade U.S. History framework formally concludes in 1914.
The administration apparently hadn't noticed the explicit connections the lesson—taught during Black History Month—made between struggles against slavery and Native American removal. Or maybe they didn't think these connections sufficiently justified two days of instructional time in the weeks preceding the state's high stakes standardized history test.
I cannot justify taking this material out of my curriculum and denying my students what may be their only chance to encounter Martin Luther King's radical vision that is as relevant now as ever. As one of my students wrote, "We never hear about King's other ideas because the people in power are afraid that we might try to take up some of King's ideas and make it a reality."
—
Essense: The Gentrification Of MLK: How America Intentionally Misrepresents Our Radical Civil Rights Leader
Two years prior to his death, only 33 percent of Americans thought highly of Rev. Dr. Martin Luther King, Jr.
He was suspected to be communist, considered a race baiter and was deemed the most dangerous man in America by the FBI. But the past few decades have canonized him into sainthood and it is virtually impossible to travel in many communities without seeing a street named in his honor. He remains the only non-presidential citizen to have a federally recognized birthday and schools named after him are too numerous to count. This country's affirmation of Dr. King makes it a bit difficult to reconcile how deeply America reviled him while he was alive. How is it possible that a man whom President John F. Kennedy feared to be undoing democracy is now considered one of the country's heroes?
What happened that now 96 percent of Americans recognize the power and necessity of Dr. King's work?
It would be easy to suggest that Americans "woke up" and realized Dr. King was right when he called out the country's original sins of racism and capitalism. Yet, the persistent violence against Black, Brown and poor people makes it clear that America has yet to repent and turn from its wicked ways. Even the legislative actions of our current administration powerfully undermine the reverence it bestowed on Dr. King late last week in honor of his birthday. So what is different now?
The universal adoration of Dr. King can only be described as a willful decision to mischaracterize his person and work. Detaching Dr. King from his radical, socialist, left-leaning politics is the only way many Americans who now praise him can do so with (what they think is) a clear conscience.
White Americans love to paint Dr. King as a passive, nonviolent Christian who had a dream and believed racial unity was possible if everyone worked together. This King makes them feel good about their levels of inaction. He assumes whatever guilt they might have about not doing enough to hold their own family members and colleagues accountable for their bigotry because he calls for those with less power to do as much work as the powerful. Their version of Dr. King does not mind when his words are intentionally taken out of context to justify reconciliation without accountability. Yet their sanitized version of Martin Luther King, Jr. is not who he was at all.
Dr. King was radical.
To love Black people and work to see our full humanity respected is radical activism. This is not the King most of Americans choose to remember, however. Yet his work still stands and speaks for itself.
In "A Letter from a Birmingham Jail," Dr. King writes to his fellow clergy who refused to enter into the civil rights struggle and considered his work to be divisive. While some agreed with the fight for freedom, in theory, they did not believe that Dr. King's methods were right or would prove fruitful. From that letter, many often quote King as saying, "injustice anywhere is a threat to justice everywhere." While that is true, divorced from the power of the rest of King's words, it is easy for that to be erased as the indictment it was. It is precisely because of the injustice that Black Americans faced, King advocated breaking unjust laws and refusing further negotiations and collaborations. When he anticipated the refrain of his fellow colleagues that Black Americans should wait and give the country and local governments time to catch up with the moment, King responded:
"Perhaps it is easy for those who have never felt the stinging darts of segregation to say, 'Wait.' But when you have seen vicious mobs lynch your mothers and fathers at will and drown your sisters and brothers at whim; when you have seen hate filled policemen curse, kick and even kill your black brothers and sisters…then you will understand why we find it difficult to wait."
Dr. King was keenly aware that White people would always resort to telling Black Americans to wait for freedom and liberation because they would never be required to pay the cost of Black life in America. And it was for that reason Dr. King went on to say that "one has a moral responsibility to disobey unjust laws." The same people who revere Dr. King now vehemently disagreed with his position then and do the same to many of the current activists and freedom fighters who echo these same sentiments.
Out of context, Dr. King's words are malleable — as anything is. But when you rightly situate them within the trajectory of his work, you are provided the whole picture. You see a man who consistently held America's feet to the fire because he knew it always had the capacity to be better.
This is precisely why many of us, Black Christians especially, must be careful that we do not misrepresent Dr. King's understanding of love and activism. Heavily quoted are his assertions that "hate cannot drive out hate: only love can do that" and "I have decided to stick with love. Hate is too great a burden to bear," both coming from his keynote at the 11th Annual SCLC Convention in 1967. Again, love is rendered as some passive act that enables abuse. To love someone in King's estimation, according to those who misread him, is to remain silent about the unjust work of the powerful and pray for someone else to come to the rescue. Love, then, is absent of all accountability and truth-telling, two things Dr. King championed. Though many would disagree with his optimism, Dr. King's love for America and belief in the country's potential to be great wasn't rooted in a nonviolence that perpetually rendered him inferior. In that same speech, titled "Where Do We Go from Here?," Dr. King explains why love is necessary.
"Now, we got to get this thing right. What is needed is a realization that power without love is reckless and abusive, and that love without power is sentimental and anemic. Power at its best is love implementing the demands of justice, and justice at its best is love correcting everything that stands against love."
Loving Dr. King is easy for America now that he is gone. They took him away from us and now they take his soundbites, pair them with the noticeable strides made in race relations and rewrite the history that makes it clear we could be further along if they only listened to him the first time. White-washing Dr. King's radical legacy to make him more palpable to the masses works to alleviate America's conscience and sell the lie that we are post-racial.
But we know the truth.
We know that Dr. King was taken from us because the truth he spoke forced America to reckon with itself. We know that this husband and father of four was taken from his family because he ignited revolution and refused to temper it. Many say they love him, but they do not. I would be naïve if I said they didn't really know Dr. King, but they know him. They know he would be disgusted with their daily interactions with those they deem less significant. They know he would be disheartened by the advertisement that doesn't affirm the content of Black children's character but makes them caricatures and mockeries of themselves.
And, of course, they know that Dr. King would be deeply disappointed in the laws and policies passed to protect privilege and power. They know this but they do not care.
Woe unto them for not caring.
"By the time King died, he was no longer on the list of most admired Americans. The radical King was not mainstream, he was being ridiculed by white america ,even former friends did not associate with him anymore and was on the FBI most wanted list. The truth he was telling was too hot to handle.
He was expanding his movement to include the economically exploited of all races and creeds, both here at home and abroad. King was advancing a number of ideas on his economic agenda for America, including a Bill of Rights for the Disadvantaged and a Guaranteed National Income.  Today he has been white washed into a passive figure of peace and love and not remembered for his radical ideas" the.mirror

—
CNN: MLK's son criticizes Pence for invoking civil rights leader's words in border wall push
"One of my favorite quotes from Dr. King was 'now is the time to make real the promises of democracy.' You think of how he changed America," Pence continued. "He inspired us to change through the legislative process to become a more perfect union. That's exactly what President Trump is calling on the Congress to do: Come to the table in a spirit of good faith. We'll secure our border, we'll reopen our government."
—
Further Readings on DR. King
—
Further Readings on White Washing
—
---
The Lost Cause of the Confederacy Movement
—
"When southerners complained of their lost cause, an appalled President Grant realized they were complaining of their lost freedom "to kill negroes and Republicans without fear of punishment and without loss of caste or reputations." Ibram Kendi, Stamped From the Beginning
Lost Cause of the Confederacy

Late 19th/early 20th century post-Civil War effort to unify white South

Based on whitewashing the civil war and slavery

These ideas were spread across the country through:

School textbooks, museums, movies, books, religion, government holidays, monuments, memorials, reenactments, etc
United Daughters of the Confederacy, KKK, White Citizens' Councils, Redeemers, Dixiecrats, etc

Beliefs were spread across the south and eventually the country:

Downplaying the horrors of slavery and its role in the Civil War
Making heroes out of the Confederates
Depicting the Civil War as a honorable struggle against Northern oppression

As white resentment/resistance increased against black equality

"Lost Cause" beliefs became new white supremacist "heritage"
Embodied in confederate symbols and memorials across US
—
Vox: How Southern Socialites Rewrote Civil War History
—
The Lost Cause of the Confederacy Movement
"The Confederates won with the pen (and the noose) what they could not win on the battlefield: the cause of white supremacy and the dominant understanding of what the war was all about. We are still digging ourselves out from under the misinformation they spread, which has manifested in our public monuments and our history books.
Take Kentucky, where the legislature voted not to secede…Eventually, 90,000 Kentuckians would fight for the United States, while 35,000 fought for the Confederate States. Nevertheless, according to historian Thomas Clark, the state now has 72 Confederate monuments and only 2 Union ones…
…Perhaps most perniciously, neo-Confederates now claim that the South seceded over states' rights. Yet when each state left the Union, its leaders made clear that they were seceding because they were for slavery and against states' rights (states' rights to resist the Fugitive Slave Act)
…So thoroughly did this mythology take hold that our textbooks still stand history on its head and say secession was for, rather than against, states' rights. Publishers mystify secession because they don't want to offend Southern school districts and thereby lose sales." James W. Loewen – Lies My Teacher Told Me
—
Wikipedia: Lost Cause of Confederacy
The Lost Cause of the Confederacy, or simply the Lost Cause, is an American historical negationist ideology that holds that the cause of the Confederacy during the American Civil War was a just and heroic one. The ideology endorses the supposed virtues of the antebellum South, viewing the war as a struggle primarily for the Southern way of life[1] or "states' rights" in the face of overwhelming "Northern aggression". At the same time, the Lost Cause minimizes or denies outright the central role of slavery in the outbreak of the war.
Lost Cause ideology emerged in the decades after the war among former Confederate generals and politicians, as well as organizations like the Sons of Confederate Veterans and the United Daughters of the Confederacy. Particularly intense periods of Lost Cause activity came around the time of World War I, as the last Confederate veterans began to die and a push was made to preserve their memories, and during the Civil Rights Movement of the 1950s and 1960s, in reaction to growing public support for racial equality. Through activities such as building prominent Confederate monuments and writing school history textbooks, they sought to ensure future generations of Southern whites would know of the South's "true" reasons for fighting the war and therefore continue to support white supremacist policies, such as Jim Crow. In this manner, white supremacy is a key characteristic of the Lost Cause narrative.[2]
Though it synthesizes numerous ideas, proponents of the Lost Cause primarily argue that slavery was not the main cause of the Civil War.[3] In order to reach this conclusion, they directly ignore the declarations of secession by the seceding states, the declarations of congressmen who left Congress to join the Confederacy, and the treatment of slavery in the Confederate Constitution.[4] They also deny or minimize the wartime writings and speeches of Confederate leaders in favor of postwar views.[5] (See Cornerstone Speech.) Supporters often stress the idea of secession as a defense against a Northern threat to their way of life and say that the threat violated the states' rights guaranteed by the Constitution. They believe that any state had the right to secede, a point strongly denied by the North. The Lost Cause portrayed the South as more adherent to Christian values than the allegedly greedy North. It portrayed slavery as more benevolent than cruel, alleging that it taught Christianity and "civilization." Stories of happy slaves were often used as propaganda in an effort to defend slavery; the United Daughters of the Confederacy had a "Faithful Slave Memorial Committee," and erected the Heyward Shepherd monument in Harpers Ferry, West Virginia. These stories would be used to explain slavery to Northerners. Many times they also portrayed slave owners being kind to their slaves. In explaining Confederate defeat, the Lost Cause says that the main factor was not qualitative inferiority in leadership or fighting ability but the massive quantitative superiority of the Yankee industrial machine.[6] At the peak of troop strength in 1863, Union soldiers outnumbered Confederate soldiers by over two to one, and financially the Union had three times the bank deposits of the Confederacy.[7]
Lost Cause narratives typically portray the Confederacy's cause as noble and its leadership as exemplars of old-fashioned chivalry and honor, defeated by the Union armies through numerical and industrial force that overwhelmed the South's superior military skill and courage. Proponents of the Lost Cause movement also condemned the Reconstruction that followed the Civil War, claiming that it had been a deliberate attempt by Northern politicians and speculators to destroy the traditional Southern way of life. In recent decades Lost Cause themes have been widely promoted by the Neo-Confederate movement in books and op-eds, and especially in one of the movement's leading magazines, the Southern Partisan. The Lost Cause theme has been a major element in defining gender roles in the white South, in terms of honor, tradition, and family roles.[8] The Lost Cause has inspired many prominent Southern memorials and even religious attitudes.[9]
—
Washington Post: Why do people believe myths about the Confederacy? Because our textbooks and monuments are wrong.
History is the polemics of the victor, William F. Buckley once said. Not so in the United States, at least not regarding the Civil War. As soon as the Confederates laid down their arms, some picked up their pens and began to distort what they had done and why. The resulting mythology took hold of the nation a generation later and persists — which is why a presidential candidate can suggest, as Michele Bachmann did in 2011, that slavery was somehow pro-family and why the public, per the Pew Research Center, believes that the war was fought mainly over states' rights.
The Confederates won with the pen (and the noose) what they could not win on the battlefield: the cause of white supremacy and the dominant understanding of what the war was all about. We are still digging ourselves out from under the misinformation they spread, which has manifested in our public monuments and our history books.
Take Kentucky, where the legislature voted not to secede. Early in the war, Confederate Gen. Albert Sidney Johnston ventured through the western part of the state and found "no enthusiasm, as we imagined and hoped, but hostility." Eventually, 90,000 Kentuckians would fight for the United States, while 35,000 fought for the Confederate States. Nevertheless, according to historian Thomas Clark, the state now has 72 Confederate monuments and only two Union ones.
Neo-Confederates also won parts of Maryland. In 1913, the United Daughters of the Confederacy (UDC) put a soldier on a pedestal at the Rockville courthouse. Maryland, which did not secede, sent 24,000 men to the Confederate armed forces, but it also sent 63,000 to the U.S. Army and Navy. Still, the UDC's monument tells visitors to take the other side: "To our heroes of Montgomery Co. Maryland: That we through life may not forget to love the thin gray line."
In fact, the thin gray line came through Montgomery and adjoining Frederick counties at least three times, en route to Antietam, Gettysburg and Washington. Robert E. Lee's army expected to find recruits and help with food, clothing and information. It didn't. Instead, Maryland residents greeted Union soldiers as liberators when they came through on the way to Antietam. Recognizing the residents of Frederick as hostile, Confederate cavalry leader Jubal Early ransomed $200,000 from them lest he burn their town, a sum equal to about $3 million today. But Frederick now boasts a Confederate memorial, and the manager of the town's cemetery — filled with Union and Confederate dead — told me, "Very little is done on the Union side" around Memorial Day. "It's mostly Confederate."
Neo-Confederates didn't just win the battle of public monuments. They managed to rename the war, calling it the War Between the States, a locution born after the conflict that was among the primary ways to refer to the war in the middle of the 20th century, after which it began to fade. Even "Jeopardy!" has used this language.
Perhaps most perniciously, neo-Confederates now claim that the South seceded over states' rights. Yet when each state left the Union, its leaders made clear that they were seceding because they were for slavery and against states' rights. In its "Declaration of the Causes Which Impel the State of Texas to Secede From the Federal Union," for example, the secession convention of Texas listed the states that had offended the delegates: "Maine, Vermont, New Hampshire, Connecticut, Rhode Island, Massachusetts, New York, Pennsylvania, Ohio, Wisconsin, Michigan and Iowa." Governments there had exercised states' rights by passing laws that interfered with the federal government's attempts to enforce the Fugitive Slave Act. Some no longer let slave owners "transit" across their territory with slaves. "States' rights" were what Texas was seceding against. Texas also made clear what it was seceding for — white supremacy:
We hold as undeniable truths that the governments of the various States, and of the confederacy itself, were established exclusively by the white race, for themselves and their posterity; that the African race had no agency in their establishment; that they were rightfully held and regarded as an inferior and dependent race, and in that condition only could their existence in this country be rendered beneficial or tolerable.
Despite such statements, neo-Confederates erected monuments that flatly lied about the Confederate cause. For example, South Carolina's monument at Gettysburg, dedicated in 1963, claims to explain why the state seceded: "Abiding faith in the sacredness of states rights provided their creed here." This tells us nothing about 1863, when abiding opposition to states' rights provided the Palmetto State's creed. In 1963, however, its leaders did support states' rights; politicians tried desperately that decade to keep the federal government from enforcing school desegregation and civil rights.
So thoroughly did this mythology take hold that our textbooks still stand history on its head and say secession was for, rather than against, states' rights. Publishers mystify secession because they don't want to offend Southern school districts and thereby lose sales. Consider this passage from "The American Journey," probably the largest textbook ever foisted on middle school students and perhaps the best-selling U.S. history textbook:
The South Secedes

Lincoln and the Republicans had promised not to disturb slavery where it already existed. Nevertheless, many people in the South mistrusted the party, fearing that the Republican government would not protect Southern rights and liberties. On December 20, 1860, the South's long-standing threat to leave the Union became a reality when South Carolina held a special convention and voted to secede.
The section reads as if slavery was not the reason for secession. Instead, the rationale is completely vague: White Southerners feared for their "rights and liberties." On the next page, the authors are more precise: White Southerners claimed that since "the national government" had been derelict " — by refusing to enforce the Fugitive Slave Act and by denying the Southern states equal rights in the territories — the states were justified in leaving the Union."
"Journey" offers no evidence to support this claim. It cannot. No Southern state made any such charge against the federal government in any secession document I have ever seen. Abraham Lincoln's predecessors, James Buchanan and Franklin Pierce, were part of the pro-Southern wing of the Democratic Party. For 10 years, the federal government had vigorously enforced the Fugitive Slave Act. Buchanan supported pro-slavery forces in Kansas even after his own minion, territorial governor and former Mississippi slave owner Robert Walker, ruled that they had won an election only by fraud. The seven states that seceded before Lincoln took office had no quarrel with "the national government."
Teaching or implying that the Confederate states seceded for states' rights is not accurate history. It is white, Confederate-apologist history. "Journey," like other U.S. textbooks, needs to be de-Confederatized. So does the history test we give to immigrants who want to become U.S. citizens. Item No. 74 asks them to "name one problem that led to the Civil War." It then gives three acceptable answers: slavery, economic reasons and states' rights. (No other question on this 100-item test has more than one right answer.) If by "economic reasons" it means issues with tariffs and taxes, which most people infer, then two of its three "correct answers" are wrong.
The legacy of this thinking pervades Washington, too. The dean of the Washington National Cathedral has noted that some of its stained-glass windows memorialize Stonewall Jackson and Robert E. Lee. There's a statue of Albert Pike, Confederate general and reputed leader of the Arkansas Ku Klux Klan, in Judiciary Square.
The Army runs Fort A.P. Hill, named for a Confederate general whose men killed African American soldiers after they surrendered; Fort Bragg, named for a general who was not only Confederate but also incompetent; and Fort Benning, named for a general who, after he helped get his home state of Georgia to secede, made the following argument to the Virginia legislature:
What was the reason that induced Georgia to take the step of secession? This reason may be summed up in one single proposition. It was a conviction . . . that a separation from the North was the only thing that could prevent the abolition of her slavery. . . . If things are allowed to go on as they are, it is certain that slavery is to be abolished. . . . By the time the North shall have attained the power, the black race will be in a large majority, and then we will have black governors, black legislatures, black juries, black everything. . . . The consequence will be that our men will be all exterminated or expelled to wander as vagabonds over a hostile Earth, and as for our women, their fate will be too horrible to contemplate even in fancy.
With our monuments lying about secession, our textbooks obfuscating what the Confederacy was about and our Army honoring Southern generals, no wonder so many Americans supported the Confederacy until recently. We can see the impact of Confederate symbols and thinking on Dylann Roof, accused of killing nine in a Charleston, S.C., church, but other examples abound. In his mugshot, Timothy McVeigh, who bombed the Alfred P. Murrah Federal Building in Oklahoma City in 1995, wore a neo-Confederate T-shirt showing Abraham Lincoln and the words "Sic semper tyrannis." When white students in Appleton, Wis. — a recovering "sundown town" that for decades had been all white on purpose — had issues with Mexican American students in 1999, they responded by wearing and waving Confederate flags, which they already had at home, at the ready.
Across the country, removing slavery from its central role in prompting the Civil War marginalizes African Americans and makes us all stupid. De-Confederatizing the United States won't end white supremacy, but it will be a momentous step in that direction.
—
Vox: This timeline shows confederate monuments are about racial conflict
Two notable spikes
Turn of the 20th century, just after Plessy v. Ferguson and plethoration of Jim Crow laws
Mid-1950s to the mid-1960s—the peak of the civil-rights movement

Erection of Confederate monuments has been a cultural resistance to black equality
NPR: Confederate Statues Were Built To Further A 'White Supremacist Future'
As President Trump doubled down on his defense of Confederate statues and monuments this week, he overlooked an important fact noted by historians: The majority of the memorials seem to have been built with the intention not to honor fallen soldiers, but specifically to further ideals of white supremacy.
MIC: Why do these Confederate Statues Fall Apart so Easily
—
Myths About Confederate Monuments | NowThis
—
—
Caroline Randall Williams: You Want a Confederate Monument? My Body Is a Confederate Monument
The black people I come from were owned and raped by the white people I come from. Who dares to tell me to celebrate them?
Virginia's Lost Cause Textbooks
Between 1957 to the 1970s

4th -11th grades in Virginia used this book
Estimated to reach over million students

The textbook:

Said slaves were happy, often referring to them as servants. It glorified Confederates
Said contact between English settlers and Virginia's Indians resulted in "a better life for both the settlers and the Indians."
Said precious little about women beyond Martha Washington and Pocahontas
Cast the state's segregationist political leaders in a favorable light

"General Lee was a handsome man who sat straight and firm in his saddle, Lee's horse, Traveller stepped proudly, as if he knew that he carried a great general."

Taught many "Lost Cause" beliefs
Richmond Times: Happy slaves? The peculiar story of three Virginia school textbooks
Confederate Flag Myth
"For several decades after the Civil War, the Confederate battle emblem (flag) was rarely displayed — typically only during tributes to actual Confederate veterans. It was not part of state flags or other official symbols or displays.
It wasn't until 1948 that the Confederate flag re-emerged as a potent political symbol. The reason was the Dixiecrat revolt — when Strom Thurmond led a walkout of white Southerners from the Democratic National Convention to protest President Harry S. Truman's push for civil rights. The Dixiecrats began to use the Confederate flag, which sparked further public interest in it. Consequently, the flag became strongly linked to white supremacy and opposition to civil rights for African Americans…
…In 1954, the Supreme Court's decision in Brown v. Board of Education, which ordered the desegregation of public primary schools, focused the energies and ire of hardcore segregationists throughout the South. Efforts to resist school integration and other civil rights protections for African Americans included the display of Confederate symbols and especially the Confederate battle flag.
Many of these "Lost Cause" beliefs are still very prevalent today throughout the country.  7 states still celebrate the Confederate Memorial Day as a public holiday.  Textbooks still whitewash the civil war.  And people throughout the US still celebrated the confederate flag and violently oppose any attempts to remove confederate statues." Logan Strother, Thomas Ogorzalek and Spencer Piston
—
Mayor Mitch Landrieu's 2017 Address on Removal of Four Confederate Statues
—
The Truth About Confederate-Named Schools
—
"Landrieu lost 37 percent of his white support when he removed the monuments, and polls indicate that nearly nine out of 10 white Lousianans opposed their removal…
…He asserts he did more than just take down the monuments. He also took away something intangible and yet just as weighty as all that bronze and marble: pride. "There is a white Christian ethnic identity that people have tied onto and somehow connected to the Confederacy," Landrieu says. "They feel like somebody has taken something away from them."
—
Taxpayer Cost of Confederate Memorials
According to a 2018 Smithsonian study

Last 10 years US taxpayers spent over $40 million on Confederate monuments

Statues, homes, parks, museums, libraries and cemeteries, etc.
And to Confederate heritage organizations

Groups that perpetuate racist ideology

Other findings from the study

Far from simply being markers of historic events and people, these memorials were created and funded by Jim Crow governments to

Pay homage to a slave-owning society
Serve as blunt assertions of dominance over African-Americans

Contrary to the claim that today's objections to the monuments are merely the product of contemporary political correctness, they were actively opposed at the time, often by African-Americans, as instruments of white power.
In 2015, before Dylann Roof murdered 9 African-Americans, he spent a day touring former memorial plantations and a Confederate museum.

"Confederate sites play to the white supremacist imagination. They are treated as sacred by white supremacists and represent what this country should be and what it would have been if the Civil War had not been lost." Heidi Beirich, SPLC
"I want to tell them the honest truth, that slavery was good and bad. While there were some "hateful slave owners, it was good for the people that didn't know how to take care of themselves, and they needed a job, and you had good slave owners like Jefferson Davis, who took care of his slaves and treated them like family. He loved them." Tour guide at the Jefferson Davis Home and Presidential Library
"Enslaved Africans sent to America were "enlightened by the rays of Christianity, increased from a few unprofitable savages to millions of efficient Christian laborers. Their servile instincts rendered them contented with their lot….Never was there a happier dependence of labor and capital upon each other." Jefferson Davis
—
In the last decade alone, American taxpayers have spent at least $40 million on Confederate monuments and groups that perpetuate racist ideology
With centuries-old trees, manicured lawns, a tidy cemetery and a babbling brook, the Jefferson Davis Home and Presidential Library is a marvelously peaceful, green oasis amid the garish casinos, T-shirt shops and other tourist traps on Highway 90 in Biloxi, Mississippi.
One gray October morning, about 650 local schoolchildren on a field trip to Beauvoir, as the home is called, poured out of buses in the parking lot. A few ran to the yard in front of the main building to explore the sprawling live oak whose lower limbs reach across the lawn like massive arms. In the gift shop they perused Confederate memorabilia—mugs, shirts, caps and sundry items, many emblazoned with the battle flag of the Army of Northern Virginia.
It was a big annual event called Fall Muster, so the field behind the library was teeming with re-enactors cast as Confederate soldiers, sutlers and camp followers. A group of fourth graders from D'Iberville, a quarter of them black, crowded around a table heaped with 19th-century military gear. Binoculars. Satchels. Bayonets. Rifles. A portly white man, sweating profusely in his Confederate uniform, loaded a musket and fired, to oohs and aahs.
A woman in a white floor-length dress decorated with purple flowers gathered a group of older tourists on the porch of the "library cottage," where Davis, by then a living symbol of defiance, retreated in 1877 to write his memoir, The Rise and Fall of the Confederate Government. After a discussion of the window treatments and oil paintings, the other visitors left, and we asked the guide what she could tell us about slavery.
Sometimes children ask about it, she said. "I want to tell them the honest truth, that slavery was good and bad." While there were some "hateful slave owners," she said, "it was good for the people that didn't know how to take care of themselves, and they needed a job, and you had good slave owners like Jefferson Davis, who took care of his slaves and treated them like family. He loved them."
The subject resurfaced the next day, before a mock battle, when Jefferson Davis—a re-enactor named J.W. Binion—addressed the crowd. "We were all Americans and we fought a war that could have been prevented," Binion declared. "And it wasn't fought over slavery, by the way!"
Then cannons boomed, muskets cracked, men fell. The Confederates beat back the Federals. An honor guard in gray fired a deafening volley. It may have been a scripted victory for the Rebels, but it was a genuine triumph for the racist ideology known as the Lost Cause—a triumph made possible by taxpayer money.
We went to Beauvoir, the nation's grandest Confederate shrine, and to similar sites across the Old South, in the midst of the great debate raging in America over public monuments to the Confederate past. That controversy has erupted angrily, sometimes violently, in Virginia, North Carolina, Louisiana and Texas. The acrimony is unlikely to end soon. While authorities in a number of cities—Baltimore, Memphis, New Orleans, among others—have responded by removing Confederate monuments, roughly 700 remain across the South.
To address this explosive issue in a new way, we spent months investigating the history and financing of Confederate monuments and sites. Our findings directly contradict the most common justifications for continuing to preserve and sustain these memorials.
First, far from simply being markers of historic events and people, as proponents argue, these memorials were created and funded by Jim Crow governments to pay homage to a slave-owning society and to serve as blunt assertions of dominance over African-Americans.
Second, contrary to the claim that today's objections to the monuments are merely the product of contemporary political correctness, they were actively opposed at the time, often by African-Americans, as instruments of white power.
Finally, Confederate monuments aren't just heirlooms, the artifacts of a bygone era. Instead, American taxpayers are still heavily investing in these tributes today. We have found that, over the past ten years, taxpayers have directed at least $40 million to Confederate monuments—statues, homes, parks, museums, libraries and cemeteries—and to Confederate heritage organizations.
For our investigation, the most extensive effort to capture the scope of public spending on Confederate memorials and organizations, we submitted 175 open records requests to the states of the former Confederacy, plus Missouri and Kentucky, and to federal, county and municipal authorities. We also combed through scores of nonprofit tax filings and public reports. Though we undoubtedly missed some expenditures, we have identified significant public funding for Confederate sites and groups in Mississippi, Virginia, Alabama, Georgia, Florida, Kentucky, South Carolina and Tennessee.
In addition, we visited dozens of sites, to document how they represent history and, in particular, slavery: After all, the Confederacy's founding documents make clear that the Confederacy was established to defend and perpetuate that crime against humanity.
(Listen to an episode of Reveal, from The Center for Investigative Reporting, about this special reporting project.)
A century and a half after the Civil War, American taxpayers are still helping to sustain the defeated Rebels' racist doctrine, the Lost Cause. First advanced in 1866 by a Confederate partisan named Edward Pollard, it maintains that the Confederacy was based on a noble ideal, the Civil War was not about slavery, and slavery was benign. "The state is giving the stamp of approval to these Lost Cause ideas, and the money is a symbol of that approval," Karen Cox, a historian of the American South at the University of North Carolina at Charlotte, said of our findings. "What does that say to black citizens of the state, or other citizens, or to younger generations?"
The public funding of Confederate iconography is also troubling because of its deployment by white nationalists, who have rallied to support monuments in New Orleans, Richmond and Memphis. The deadly protest in Charlottesville, Virginia, in 2017, where a neo-Nazi rammed his car into counter-protesters, killing Heather Heyer, was staged to oppose the removal of a Robert E. Lee statue. In 2015, before Dylann Roof opened fire on a Bible study group at Emanuel African Methodist Episcopal Church in Charleston, South Carolina, killing nine African-Americans, he spent a day touring places associated with the subjugation of black people, including former plantations and a Confederate museum.
"Confederate sites play to the white supremacist imagination," said Heidi Beirich, who leads the Southern Poverty Law Center's work tracking hate groups. "They are treated as sacred by white supremacists and represent what this country should be and what it would have been" if the Civil War had not been lost.
Members of the Sons of Confederate Veterans visit the Jefferson Davis State Historic Site. The Fairview, Kentucky, park cost the state $1.1 million in the last decade. (Brian Palmer)
* * *
Like many of the sites we toured across the South, Beauvoir is privately owned and operated. Its board of directors is made up of members of the Mississippi division of the Sons of Confederate Veterans, a national organization founded in 1896 and limited to male descendants of "any veteran who served honorably in the Confederate armed forces." The board handles the money that flows into the institution from visitors, private supporters and taxpayers.
The Mississippi legislature earmarks $100,000 a year for preservation of Beauvoir. In 2014, the organization received a $48,475 grant from the Federal Emergency Management Agency for "protective measures." As of May 2010, Beauvoir had received $17.2 million in federal and state aid related to damages caused by Hurricane Katrina in 2005. While nearly half of that money went to renovating historic structures and replacing content, more than $8.3 million funded construction of a new building that contains a museum and library.
When we visited, three times since the fall of 2017, the lavishly appointed library displayed the only acknowledgment of slavery that we could find at the entire 52-acre site, though Davis had owned dozens of black men, women and children before the war: four posters, which portrayed the former slaves Robert Brown, who continued to work for the Davis family after the war, and Benjamin and Isaiah Montgomery, a father and son who were owned by Jefferson's elder brother, Joseph. Benjamin eventually purchased two of Joseph's plantations.
The state Department of Archives and History says the money the legislature provides to Beauvoir is allocated for preservation of the building, a National Historic Landmark, not for interpretation. Beauvoir staff members told us that the facility doesn't deal with slavery because the site's state-mandated focus is the period Davis lived there, 1877 to 1889, after slavery was abolished.
But this focus is honored only in the breach. The museum celebrates the Confederate soldier in a cavernous hall filled with battle flags, uniforms and weapons. Tour guides and re-enactors routinely denied the realities of slavery in their presentations to visitors. Fall Muster, a highlight of the Beauvoir calendar, is nothing if not a raucous salute to Confederate might.
Thomas Payne, the site's executive director until this past April, said in an interview that his goal was to make Beauvoir a "neutral educational institution." For him, that involved countering what he referred to as "political correctness from the national media," which holds that Southern whites are "an evil repugnant group of ignorant people who fought only to enslave other human beings." Slavery, he said, "should be condemned. But what people need to know is that most of the people in the South were not slave owners," and that Northerners also kept slaves. What's more, Payne went on, "there's actually evidence where the individual who was enslaved was better off physically and mentally and otherwise."
The notion that slavery was beneficial to slaves was notably expressed by Jefferson Davis himself, in the posthumously published memoir he wrote at Beauvoir. Enslaved Africans sent to America were "enlightened by the rays of Christianity," he wrote, and "increased from a few unprofitable savages to millions of efficient Christian laborers. Their servile instincts rendered them contented with their lot….Never was there a happier dependence of labor and capital upon each other."
That myth, a pillar of the Lost Cause, remains a core belief of neo-Confederates, despite undeniable historic proof of slavery's brutality. In 1850, the great abolitionist Frederick Douglass, who had escaped slavery, said, "To talk of kindness entering into a relation in which one party is robbed of wife, of children, of his hard earnings, of home, of friends, of society, of knowledge, and of all that makes this life desirable is most absurd, wicked, and preposterous."
* * *
A few miles off the highway between Montgomery and Birmingham, past trailer homes and cotton fields, are the manicured grounds and arched metal gateways of Confederate Memorial Park. The state of Alabama acquired the property in 1903 as an old-age home for Confederate veterans, their wives and their widows. After the last residents died, the park closed. But in 1964, as civil rights legislation gained steam in Washington, Alabama's all-white legislature revived the site as a "shrine to the honor of Alabama's citizens of the Confederacy."
The day we visited, 16 men in Confederate uniforms drilled in the quiet courtyards. Two women in hoop skirts stood to the side, looking at their cellphones. Though Alabama state parks often face budget cuts—one park had to close all its campsites in 2016—Confederate Memorial Park received some $600,000 that year. In the past decade, the state has allocated more than $5.6 million to the site. The park, which in 2016 served fewer than 40,000 visitors, recently expanded, with replica Civil War barracks completed in 2017.
The museum in the Alabama park attempts a history of the Civil War through the story of the common Confederate soldier, an approach that originated soon after the war and remains popular today. It is tragic that hundreds of thousands of young men died on the battlefield. But the common soldier narrative was forged as a sentimental ploy to divert attention from the scalding realities of secession and slavery—to avoid acknowledging that "there was a right side and a wrong side in the late war," as Douglass put it in 1878.
The memorial barely mentions black people. On a small piece of card stock, a short entry says "Alabama slaves became an important part of the war's story in several different ways," adding that some ran away or joined the Union Army, while others were conscripted to fight for the Confederacy or maintain fortifications. There is a photograph of a Confederate officer, reclining, next to an enslaved black man, also clad in a uniform, who bears an expression that can only be described as dread. Near the end of the exhibit, a lone panel states that slavery was a factor in spurring secession.
These faint nods to historical fact were overpowered by a banner that spanned the front of a log cabin on state property next to the museum: "Many have been taught the war between the states was fought by the Union to eliminate Slavery. THIS VIEW IS NOT SUPPORTED BY THE HISTORICAL EVIDENCE….The Southern States Seceded Because They Resented the Northern States Using Their Numerical Advantage in Congress to Confiscate the Wealth of the South to the Advantage of the Northern States."
The state has a formal agreement with the Sons of Confederate Veterans to use the cabin as a library. Inside, books about Confederate generals and Confederate history lined the shelves. The South Was Right!, which has been called the neo-Confederate "bible," lay on a table. The 1991 book's co-author, Walter Kennedy, helped found the League of the South, a self-identified "Southern nationalist" organization that the Southern Poverty Law Center has classified as a hate group. "When we Southerners begin to realize the moral veracity of our cause," the book says, "we will see it not as a 'lost cause,' but as the right cause, a cause worthy of the great struggle yet to come!"
A spokeswoman for the Alabama Historical Commission said she could not explain how the banner on the cabin had been permitted and declined our request to interview the site's director.
Alabama laws, like those in other former Confederate states, make numerous permanent allocations to advance the memory of the Confederacy. The First White House of the Confederacy, where Jefferson Davis and his family lived at the outbreak of the Civil War, is an Italianate mansion in Montgomery adjacent to the State Capitol. The state chartered the White House Association of Alabama to run the facility, and spent $152,821 in 2017 alone on salaries and maintenance for this monument to Davis—more than $1 million over the last decade—to remind the public "for all time of how pure and great were southern statesmen and southern valor." That language from 1923 remains on the books.
* * *
An hour and a half east of Atlanta by car lies Crawfordville (pop. 600), the seat of Taliaferro County, a majority black county with one of the lowest median household incomes in Georgia. A quarter of the town's land is occupied by the handsomely groomed, 1,177-acre A.H. Stephens State Park. Since 2011 state taxpayers have given the site $1.1 million. Most of that money is spent on campsites and trails, but as with other Confederate sites that boast recreational facilities—most famously, Stone Mountain, also in Georgia—the A.H. Stephens park was established to venerate Confederate leadership. And it still does.
Alexander Hamilton Stephens is well known for a profoundly racist speech he gave in Savannah in 1861 a month after becoming vice president of the provisional Confederacy. The Confederacy's "foundations are laid, its cornerstone rests upon the great truth, that the negro is not equal to the white man; that slavery—subordination to the superior race—is his natural and normal condition. This, our new government, is the first, in the history of the world, based upon this great physical, philosophical, and moral truth."
That speech was nowhere in evidence during our visit to the park. It wasn't in the Confederate museum, which was erected by the United Daughters of the Confederacy with the support of the state of Georgia in 1952 and displays Confederate firearms and uniforms. It wasn't among the printed texts authored by Stephens that are placed on tabletops in the former slave quarters for visitors to peruse. And it wasn't in the plantation house, called Liberty Hall.
Our guide, a state employee, opened the door of a small two-room cabin once occupied by Harry and Eliza—two of the 34 people Stephens held in bondage. The guide pointed to a photograph of the couple on a wall and said Stephens "kept them good, and took care of the people who worked for him." We went on many tours of the homes of the Confederacy's staunchest ideologues, and without exception we were told that the owners were good and the slaves were happy.
After the war, Stephens spent a great deal of energy pretending he wasn't entirely pro-slavery, and he returned to public life as a member of Congress and then as governor. Robert Bonner, a historian at Dartmouth who is at work on a biography of Stephens, said the Stephens memorial maintains the fraud: "The story at Liberty Hall is a direct version of the story Stephens fabricated about himself after the war."
Half an hour away is the home of Robert Toombs, the Confederacy's secretary of state and Stephens' close friend. His house has been recently restored, with state as well as private funds, and Wilkes County has taken over daily operations. In a ground-floor gallery, posters in gilt frames hang below banners that announce the four acts of Toombs' life: "The Formative Years," "The Baron of Wilkes County," "The Premier of the Confederacy" and "Without a Country." About slavery, nothing.
When asked about that, the docent, a young volunteer, retrieved a binder containing a Works Progress Administration oral history given by Alonza Fantroy Toombs. It begins, "I'se the proudest nigger in de worl', caze I was a slave belonging to Marse Robert Toombs of Georgia; de grandest man dat ever lived, next to Jesus Christ."
A more revealing, well-documented story is that of Garland H. White, an enslaved man who escaped Toombs' ownership just before the Civil War and fled to Ontario. After the war erupted he heroically risked his freedom to join the United States Colored Troops. He served as an Army chaplain and traveled to recruit African-American soldiers. We found no mention at the Toombs memorial of White's experience. In fact, we know of no monument to White in all of Georgia.
An average of $18,000 in county monies each year since 2011, plus $80,000 in state renovation funds in 2017 alone, have been devoted to this memorial to Toombs, who refused to take the oath of allegiance to the United States after the war and fled to Cuba and France to avoid arrest. Upon his return to Georgia, Toombs labored to circumscribe the freedom of African-Americans. "Give us a convention," Toombs said in 1876, "and I will fix it so that the people shall rule and the Negro shall never be heard from." The following year he got that convention, which passed a poll tax and other measures to disenfranchise black men.
* * *
It's difficult to imagine that all the Confederate monuments and historic sites dotting the landscape today would have been established if African-Americans had had a say in the matter.
Historically, the installation of Confederate monuments went hand in hand with the disenfranchisement of black people. The historical record suggests that monument-building peaked during three pivotal periods: from the late 1880s into the 1890s, as Reconstruction was being crushed; from the 1900s through the 1920s, with the rise of the second Ku Klux Klan, the increase in lynching and the codification of Jim Crow; and in the 1950s and 1960s, around the centennial of the war but also in reaction to advances in civil rights. An observation by the Yale historian David Blight, describing a "Jim Crow reunion" at Gettysburg, captures the spirit of Confederate monument-building, when "white supremacy might be said to have been the silent, invisible, master of ceremonies."
Yet courageous black leaders did speak out, right from the start. In 1870, Douglass wrote, "Monuments to the 'lost cause' will prove monuments of folly … in the memories of a wicked rebellion which they must necessarily perpetuate…It is a needless record of stupidity and wrong."
In 1931, W.E.B. Du Bois criticized even simple statues erected to honor Confederate leaders. "The plain truth of the matter," Du Bois wrote, "would be an inscription something like this: 'sacred to the memory of those who fought to Perpetuate Human Slavery.'"
In 1966, Martin Luther King Jr. joined a voting rights rally in Grenada, Mississippi, at the Jefferson Davis monument, where, earlier that day, an organizer named Robert Green declared, "We want brother Jefferson Davis to know the Mississippi he represented, the South he represented, will never stand again."
In today's debates about the public display of Confederate symbols, the strong objections of early African-American critics are seldom remembered, perhaps because they had no impact on (white) officeholders at the time. But the urgent black protests of the past now have the ring of prophecy.
John Mitchell Jr., an African-American, was a journalist and a member of Richmond's city council during Reconstruction. Like his friend and colleague Ida B. Wells, Mitchell was born into slavery, and spent much of his career documenting lynchings and campaigning against them; also like Wells, he was personally threatened with lynching.
Arguing fiercely against spending public money to memorialize the Confederacy, Mitchell took aim at the movement to erect a grand Robert E. Lee statue, and tried to block funding for the proposed statue's dedication ceremony. But a white conservative majority steamrolled Mitchell and the two other black council members, and the Lee statue was unveiled on May 29, 1890. Gov. Fitzhugh Lee, a nephew of Lee and a former Confederate general himself, was president of the Lee Monument Association, which executed the project. Virginia issued bonds to support its construction. The city of Richmond funded Dedication Day events, attended by some 150,000 people.
Mitchell covered the celebration for the Richmond Planet, the paper he edited. "This glorification of States Rights Doctrine—the right of secession, and the honoring of men who represented that cause," he wrote, "fosters in the Republic, the spirit of Rebellion and will ultimately result in the handing down to generations unborn a legacy of treason and blood."
In the past decade, Virginia has spent $174,000 to maintain the Lee statue, which has become a lightning rod for the larger controversy. In 2017, Richmond police spent some $500,000 to guard the monument and keep the peace during a neo-Confederate protest there.
* * *
In 1902, several years after nearly every African-American elected official was driven from office in Virginia, and as blacks were being systematically purged from voter rolls, the state's all-white legislature established an annual allocation for the care of Confederate graves. Over time, we found, that spending has totaled roughly $9 million in today's dollars.
Treating the graves of Confederate soldiers with dignity might not seem like a controversial endeavor. But the state has refused to extend the same dignity to the African-American men and women whom the Confederacy fought to keep enslaved. Black lawmakers have long pointed out this blatant inequity. In 2017, the legislature finally passed the Historical African American Cemeteries and Graves Act, which is meant to address the injustice. Still, less than $1,000 has been spent so far, and while a century of investment has kept Confederate cemeteries in rather pristine condition, many grave sites of the formerly enslaved and their descendants are overgrown and in ruins.
Significantly, Virginia disburses public funding for Confederate graves directly to the United Daughters of the Confederacy, which distributes it to, among others, local chapters of the UDC and the Sons of Confederate Veterans. Since 2009, Virginia taxpayers have sent more than $800,000 to the UDC.
The UDC, a women's Confederate heritage group with thousands of members in 18 states and the District of Columbia, is arguably the leading advocate for Confederate memorials, and it has a history of racist propagandizing. One of the organization's most influential figures was Mildred Lewis Rutherford, of Athens, Georgia, a well-known speaker and writer at the turn of the 20th century and the UDC's historian general from 1911 to 1916.
Rutherford was so devoted to restoring the racial hierarchies of the past that she traveled the country in full plantation regalia spreading the "true history," she called it, which cast slave owners and Klansmen as heroes. She pressured public schools and libraries across the South to accept materials that advanced Lost Cause mythology, including pro-Klan literature that referred to black people as "ignorant and brutal." At the center of her crusade was the belief that slaves had been "the happiest set of people on the face of the globe," "well-fed, well-clothed, and well-housed." She excoriated the Freedmen's Bureau, a federal agency charged with protecting the rights of African-Americans, and argued that emancipation had unleashed such violence by African-Americans that "the Ku Klux Klan was necessary to protect the white woman."
UDC officials did not respond to our interview requests. Previously, though, the organization has disavowed any links to hate groups, and in 2017 the president-general, Patricia Bryson, released a statement saying the UDC "totally denounces any individual or group that promotes racial divisiveness or white supremacy."
Confederate cemeteries in Virginia that receive taxpayer funds handled by the UDC are nonetheless used as gathering places for groups with extreme views. One afternoon last May, we attended the Confederate Memorial Day ceremony in the Confederate section of the vast Oakwood Cemetery in Richmond. We were greeted by members of the Sons of Confederate Veterans and the Virginia Flaggers, a group that says its mission is to "stand AGAINST those who would desecrate our Confederate Monuments and memorials, and FOR our Confederate Veterans."
An honor guard of re-enactors presented an array of Confederate standards. Participants stood at attention for an invocation read by a chaplain in period dress. They put their hands on their hearts, in salute to the Confederate flag. Susan Hathaway, a member of the Virginia Flaggers, led the crowd of several dozen in a song that was once the official paean to the Commonwealth:
Carry me back to old Virginny,
There's where the cotton and the corn and taters grow,
There's where the birds warble sweet in the springtime,
There's where this old darkey's heart am long'd to go.
* * *
"Very little has been done to address the legacy of slavery and its meaning in contemporary life."
That scathing assessment of the nation's unwillingness to face the truth was issued recently by the Equal Justice Initiative, the Montgomery-based legal advocacy group that in April 2018 opened the first national memorial to victims of lynching.
A few Confederate historical sites, though, are showing signs of change. In Richmond, the American Civil War Center and the Museum of the Confederacy have joined forces to become the American Civil War Museum, now led by an African-American CEO, Christy Coleman. The new entity, she said, seeks to tell the story of the Civil War from multiple perspectives—the Union and the Confederacy, free and enslaved African-Americans—and to take on the distortions and omissions of Confederate ideology.
"For a very, very long time" the Lost Cause has dominated public histories of the Civil War, Coleman told us in an interview. "Once it was framed, it became the course for everything. It was the accepted narrative." In a stark comparison, she noted that statues of Hitler and Goebbels aren't scattered throughout Germany, and that while Nazi concentration camps have been made into museums, "they don't pretend that they were less horrible than they actually were. And yet we do that to America's concentration camps. We call them plantations, and we talk about how grand everything was, and we talk about the pretty dresses that women wore, and we talk about the wealth, and we refer to the enslaved population as servants as if this is some benign institution."
Stratford Hall, the Virginia plantation where Robert E. Lee was born, also has new leadership. Kelley Deetz, a historian and archaeologist who co-edited a paper titled "Historic Black Lives Matter: Archaeology as Activism in the 21st Century," was hired in June as the site's first director of programming and education. Stratford Hall, where 31 people were enslaved as of 1860, is revising how it presents slavery. The recent shocking violence in Charlottesville, Deetz said, was speeding up "the slow pace of dealing with these kinds of sensitive subjects." She said, "I guarantee you that in a year or less, you go on a tour here and you're going to hear about enslavement."
In 1999, Congress took the extraordinary step of advising the National Park Service to re-evaluate its Civil War sites and do a better job of explaining "the unique role that slavery played in the cause of the conflict." But vestiges of the Lost Cause still haunt park property. In rural Northern Virginia, in the middle of a vast lawn, stands a small white clapboard house with a long white chimney—the Stonewall Jackson Shrine, part of the Fredericksburg & Spotsylvania National Military Park. The Confederate general died in the house in May 1863. "The tendency for the park historically has been to invite people to mourn Jackson's death," John Hennessy, the park's chief historian, told us. He believes that the site should be more than a shrine, however. Visitors, Hennessey said, should learn that Jackson "led an army in a rebellion in the service of a nation that intended to keep people in bondage forever." He went on, "The greatest enemy to good public history is omission. We are experiencing as a society now the collateral damage that forgetting can inflict."
A park ranger sitting in the gift shop rose to offer us a practiced talk that focused reverently on Jackson's final days—the bed he slept on, the clock that still keeps time. The ranger said a "servant," Jim Lewis, had stayed with Jackson in the small house as he lay dying. A plaque noted the room where Jackson's white staff slept. But there was no sign in the room across the hall where Lewis stayed. Hennessy had recently removed it because it failed to acknowledge that Lewis was enslaved. Hennessy is working on a replacement. Slavery, for the moment, was present only in the silences.
* * *
During the Fall Muster at Beauvoir, the Jefferson Davis home, we met Stephanie Brazzle, a 39-year-old African-American Mississippian who had accompanied her daughter, a fourth grader, on a field trip. It was Brazzle's first visit. "I always thought it was a place that wasn't for us," she said. Brazzle had considered keeping her daughter home, but decided against it. "I really do try to keep an open mind. I wanted to be able to talk to her about it."
Brazzle walked the Beauvoir grounds all morning. She stood behind her daughter's school group as they listened to re-enactors describe life in the Confederacy. She waited for some mention of the enslaved, or of African-Americans after emancipation. "It was like we were not even there," she said, as if slavery "never happened."
"I was shocked at what they were saying, and what wasn't there," she said. It's not that Brazzle, who teaches psychology, can't handle historic sites related to slavery. She can, and she wants her daughter, now 10, to face that history, too. She has taken her daughter to former plantations where the experience of enslaved people is a part of the interpretation. "She has to know what these places are," Brazzle said. "My grandmother, whose grandparents were slaves, she told stories. We black people acknowledge that this is our history. We acknowledge that this still affects us."
The overarching question is whether American taxpayers should support Lost Cause mythology. For now, that invented history, told by Confederates and retold by sympathizers for generations, is etched into the experience at sites like Beauvoir. In the well-kept Confederate cemetery behind the library, beyond a winding brook, beneath the flagpole, a large gray headstone faces the road. It is engraved with lines that the English poet Philip Stanhope Worsley dedicated to Robert E. Lee:
"No nation rose so white and fair, none fell so pure of crime."
—
Confederate Memorial Day
Still celebrated by 5 states

Alabama, Mississippi, South Carolina – close government offices
Texas, Florida – don't close government offices

Several states including Alabama have holidays for confederate leaders like Jefferson Davis and Robert E. Lee

These holidays push the "Lost Cause" narratives, including that slavery wasn't the main cause of the Civil War

Their "state Secession articles and addresses" say otherwise

Alabama (January 7, 1861)

January 11, 1861, stated in the Secession Convention that "the institution of African slavery now existing in the slaveholding states" was "a moral, social, and political blessing…it is the desire and purpose of the people of Alabama to meet the Slaveholding States of the South, who may approve such purpose, in order to frame a provisional as well as permanent government upon the principles of the Constitution of the United States."

Mississippi (January 9, 1861)

Wrote in their articles of secession, "Our position is thoroughly identified with the institution of slavery — the greatest material interest of the world. Its labor supplies the product which constitutes by far the largest and most important portions of commerce of the earth. These products are peculiar to the climate verging on the tropical regions, and by an imperious law of nature, none but the black race can bear exposure to the tropical sun. These products have become necessities of the world, and a blow at slavery is a blow at commerce and civilization. That blow has been long aimed at the institution, and was at the point of reaching its consummation. There was no choice left us but submission to the mandates of abolition, or a dissolution of the Union, whose principles had been subverted to work out our ruin."

Texas (February 2, 1861)

Declared its decision to be "based upon the unnatural feeling of hostility to these Southern States and their beneficent and patriarchal system of African slavery, proclaiming the debasing doctrine of equality of all men, irrespective of race or color—a doctrine at war with nature, in opposition to the experience of mankind, and in violation of the plainest revelations of the Divine Law."

Arkansas (March 9, 1861)

Secession resolution: "Resolved, that the platform on the party known as the Black Republican Party contains unconstitutional dogmas, dangerous in their tendency and highly derogatory to the rights of slave states, and among them the insulting, injurious and untruthful enunciation of the right of the African race of their country to social and political equality with the whites."

Virginia (April 17, 1861)

Declared "Lincoln's opinions and purposes are hostile to slavery" as it cut ties with Washington. Tennessee was the 11th and last, its population divided on secession (eastern Tennesseans generally opposed it), but not on the slave issue.
—
—
Dailyshow: Confederate Memorial Day Makes Waves in the South: The Daily Show
What Southern man, be he slave-holder or non-slave-holder, can without indignation and horror contemplate the triumph of negro equality?
"Monday is Confederate Memorial Day in Alabama, one of three states that still set aside a state holiday — meaning government offices are closed — to honor those who fought for the Confederacy during the American Civil War. The others are Mississippi, which will celebrate Confederate Memorial Day on April 30; and South Carolina, which celebrates on May 10.
In addition, other states, such as Florida (which will celebrate Confederate Memorial Day on Thursday) and Texas (which celebrated Confederate Heroes Day on January 19), honor the legacy of the Confederacy without closing government offices.
And in several states — including Alabama — Confederate figures like President Jefferson Davis and Gen. Robert E. Lee are also honored with their own holidays, with supporters arguing that doing so is important to preserve Southern history.
Now, 157 years after the first shots were fired at Fort Sumter — marking the beginning of the Civil War — Americans still debate its causes. But the underlying reasoning for the secession of Southern states from the Union, and the launching point for the bloodiest conflict in American history, couldn't be more clear. In fact, the instigators themselves explained them.
The Confederacy was built on slavery and created to save slavery
The Confederacy, or the Confederate States of America, was established with the purpose of preserving the institution of slavery. This is now viewed as a controversial take in 2018, but it is, in fact, true. Alabama seceded from the Union on January 11, 1861, in the belief, as stated during the Alabama Secession Convention held that month, that "the institution of African slavery now existing in the slaveholding states" was "a moral, social, and political blessing."
A few weeks earlier, in December 1860, Stephen F. Hale, Alabama's commissioner to the state of Kentucky, wrote the following to Kentucky Gov. Beriah Magoffin regarding Alabama's reasonings for exiting the Union (emphasis added):
What Southern man, be he slave-holder or non-slave-holder, can without indignation and horror contemplate the triumph of negro equality, and see his own sons and daughters in the not distant future associating with free negroes upon terms of political and social equality, and the white man stripped by the heaven-daring hand of fanaticism of that title to superiority over the black race which God himself has bestowed? In the Northern States, where free negroes are so few as to form no appreciable part of the community, in spite of all the legislation for their protection, they still remain a degraded caste, excluded by the ban of society from social association with all but the lowest and most degraded of the white race. but in the South, where in many places the African race largely predominates, and as a consequence the two races would be continually pressing together, amalgamation or the extermination of the one or the other would be inevitable. Can Southern men submit to such degradation and ruin? God forbid that they should.
He added:
If we triumph, vindicate our rights, and maintain our institutions, a bright and joyous future lies before us. We can clothe the world with our staple, give wings to her commerce, and supply with bread the starving operative in other lands, and at the same time preserve an institution that has done more to civilize and Christianize the heathen than all human agencies besides-an institution alike beneficial to both races, ameliorating the moral, physical, and intellectual condition of the one and giving wealth and happiness to the other.
(The "institution" to which he was referring was the institution of slavery.)
In 1860, 45 percent of people in Alabama were slaves.
Mississippi seceded from the Union on January 9, 1861. As written in its articles of secession ("A Declaration of the Immediate Causes which Induce and Justify the Secession of the State of Mississippi from the Federal Union"):
Our position is thoroughly identified with the institution of slavery — the greatest material interest of the world. Its labor supplies the product which constitutes by far the largest and most important portions of commerce of the earth. These products are peculiar to the climate verging on the tropical regions, and by an imperious law of nature, none but the black race can bear exposure to the tropical sun. These products have become necessities of the world, and a blow at slavery is a blow at commerce and civilization. That blow has been long aimed at the institution, and was at the point of reaching its consummation. There was no choice left us but submission to the mandates of abolition, or a dissolution of the Union, whose principles had been subverted to work out our ruin.
Among the reasons for the state to exit the United States were the following:
[The United States] advocates negro equality, socially and politically, and promotes insurrection and incendiarism in our midst.

[The United States] has enlisted its press, its pulpit and its schools against us, until the whole popular mind of the North is excited and inflamed with prejudice.

[The United States] has made combinations and formed associations to carry out its schemes of emancipation in the States and wherever else slavery exists.
In the Census of 1860, roughly 55 percent of people in Mississippi were slaves, and 49 percent of white Mississippians owned slaves.
We are still relitigating the Civil War
Last summer, white nationalists rallied in Charlottesville, Virginia, purportedly to stop Charlottesville's government from taking down a statue of Confederate Gen. Robert E. Lee. But that statue wasn't put in place in the aftermath of the Civil War — it was dedicated in 1924, 59 years after the war ended.
And many of the holidays honoring Confederate soldiers were similarly delayed — in Florida, Confederate Memorial Day was first celebrated in 1895, years after the end of the Civil War but coinciding exactly with the height of Jim Crow racism. These holidays and memorials weren't intended to honor the dead; they were meant to terrify the living — especially black Americans, already subjected to rampant discrimination and violence across the South (and throughout the North too).
As my colleague Libby Nelson wrote in 2015:
The Confederacy itself was founded to preserve slavery and promote white supremacy (see, for example … the speech from the Confederacy's vice president that declared the Confederacy's cornerstone "rests upon the great truth that the Negro is not equal to the white man; that slavery — subordination to the superior race — is his natural and normal condition").
—
SPLC report: U.S. education on American slavery sorely lacking
Schools are not adequately teaching the history of American slavery, educators are not sufficiently prepared to teach it, textbooks do not have enough material about it, and – as a result – students lack a basic knowledge of the important role it played in shaping the United States and the impact it continues to have on race relations in America, according to a study released today by the SPLC's Teaching Tolerance project.
The report, Teaching Hard History: American Slavery, traces racial tensions and even debates about what, exactly, racism is in America to the failure of schools to teach the full impact that slavery has had on all Americans. The report examines the lack of coverage that U.S. classrooms provide about American slavery through a survey of high school seniors and U.S. social studies teachers. It also offers an in-depth analysis of 15 state standards and 10 popular U.S. history textbooks, including two that specifically teach Alabama and Texas history.
The investigation – conducted over the course of one year by the Teaching Tolerance project – revealed the need for far better and much more comprehensive classroom instruction across the board.
"If we are to move past our racial differences, schools must do a better job of teaching American slavery and all the ways it continues to impact American society, including poverty rates, mass incarceration and education," said Maureen Costello, a former history teacher who is director of Teaching Tolerance. "This report places an urgent call on educators, curriculum writers and policy makers to confront the harsh realities of slavery and racial injustice. Learning about slavery is essential for us to bridge the racial differences that continue to divide our nation."
Only 8 percent of high school seniors surveyed could identify slavery as the central cause of the Civil War. Most didn't know an amendment to the U.S. Constitution formally ended slavery. Fewer than half (44 percent) correctly answered that slavery was legal in all colonies during the American Revolution.
While nearly all teachers (97 percent) surveyed agreed that teaching and learning about slavery are essential to understanding American history, there was a lack of deep coverage of the subject in the classroom, according to the report. More than half (58 percent) reported that they were dissatisfied with their textbooks, and 39 percent reported that their state offered little or no support for teaching about slavery.
Teaching Hard History: American Slavery relies on noted historian Ira Berlin's 10 essential elements for teaching American slavery, articulated in the foreword to Understanding and Teaching American Slavery,as a framework for analysis.
Teaching Tolerance worked with the book's editors, Bethany Jay, Ph.D., an associate professor of history at Salem State University; and Cynthia Lynn Lyerly, Ph.D., an associate professor of history at Boston College; to convert these elements into 10 key concepts of what students should know.
Teaching Tolerance also assembled an advisory board of distinguished scholars, and partnered with teachers and institutions of higher education, to develop a framework and offer a set of recommendations for teaching about American slavery.
The recommendations include fully integrating American slavery into lessons about U.S. history, expanding the use of original historical documents, improving textbooks, and strengthening the curriculum on topics involving slavery.
"It is of crucial importance for every American to understand the role that slavery played in the formation of this country," said Henry Louis Gates Jr., a Harvard University professor and adviser for the report. "And that lesson must begin with the teaching of the history of slavery in our schools. It is impossible to understand the state of race relations in American society today without understanding the roots of racial inequality – and its long-term effects – which trace back to the 'peculiar institution.' I hope that publishers, curriculum writers, legislators and our fellow American citizens on school boards who make choices about what kids learn embrace the thoughtful framework developed by the Southern Poverty Law Center."
The Smithsonian National Museum of African American History & Culture (NMAAHC) in Washington, D.C., also praised the report and the resources being made available to teachers through the Teaching Tolerance program.
"As the first national museum dedicated to telling the African-American story, we strongly support and encourage Teaching Tolerance's efforts to unpack the reality of what our education system teaches about slavery and what students are learning about slavery," the museum wrote in a statement. "The information and the resources that Teaching Tolerance has developed will have a significant impact on the realm of history education.
"The NMAAHC looks forward to being a collaborator in championing the key components laid out in the Teaching Tolerance report, especially the need for schools, educators, students and families to become more savvy about talking about race and white supremacy as it relates to the founding of the U.S. and the legacy of slavery."
The study follows Teaching Tolerance's widely cited Teaching the Movement reports that evaluated state standards for teaching the civil rights movement. At the time, researchers suspected that states did a poor job of teaching the civil rights movement, in part because they failed to adequately teach about its historical roots in slavery.
Teachers can access resources on teaching American slavery at: www.tolerance.org/hardhistory. The resources are offered to educators at no cost.
—
Further Readings
—
---
The Birth of a Written US Black History
Source: https://www.zazzle.com/black_history_equals_american_history_button-145565694708820921
—
The Birth of a Written US Black History
Carter Godwin Woodson "Father of Black History Month"
In 1933 wrote "The Mis-Education of the Negro"

Studied how the US Eurocentric education system, which teaches black students to think of themselves as inferior, invisible, and detestable, hinders them throughout the rest of their lives

Sadly, much of what Woodson describes is still relevant today.
—
"In 1933 the author and historian, Carter Godwin Woodson, known as the "Father of Black History Month." wrote a book called, "The Mis-Education of the Negro" in which he studies how the US Eurocentric education system, which teaches black students to think of themselves as inferior, invisible, and detestable, hinders them throughout the rest of their lives.  Sadly, much of what Woodson describes is still relevant today.
Charles H. Wesley and Thelma D. Perry wrote,
"The most imperative and crucial element in Woodson's concept of mis-education hinged on the education system's failure to present authentic Negro History in schools and the bitter knowledge that there was a scarcity of literature available for such a purpose, because most history books gave little or no space to the black man's presence in America. Some of them contained casual references to Negroes but these generally depicted them in menial, subordinate roles, more or less sub-human. Such books stressed their good fortune at having been exposed, through slavery, to the higher (white man's) civilization. There were included derogatory statements relating to the primitive, heathenish quality of the African background, but nothing denoting skills, abilities, contributions or potential in the image of the Blacks, in Africa or America. Woodson considered this state of affairs deplorable, an American tragedy, dooming the Negro to a brain-washed acceptance of the inferior role assigned to him by the dominant race, and absorbed by him through his schooling.
Moreover, the neglect of Afro-American History and distortion of the facts concerning Negroes in most history books, deprived the black child and his whole race of a heritage, and relegated him to nothingness and nobodyness."
In 1926 Carter Godwin Woodson created "Negro History Week" to expose black children to a black history beyond the dominated Eurocentric viewpoint.  In 1970 this week was converted to a Black History Month, recognized in all schools nationwide.  Although this month does a great deal to expose children to histories beyond the Eurocentric viewpoint, the US school system remains predominately in this Eurocentric system."
—
"Woodson considered this state of affairs deplorable, an American tragedy, dooming the Negro to a brain-washed acceptance of the inferior role assigned to him by the dominant race, and absorbed by him through his schooling. Moreover, the neglect of Afro-American History and distortion of the facts concerning Negroes in most history books, deprived the black child and his whole race of a heritage, and relegated him to nothingness and nobodyness." Charles H. Wesley and Thelma D. Perry – Intro to The Mis-Education of the Negro
Start of Black History Month
In 1926 Carter Godwin Woodson created "Negro History Week" to expose black children to a black history
In 1976 this week was converted to a Black History Month, recognized in all schools nationwide.
Although this month does a great deal to expose children to histories beyond the Eurocentric viewpoint

US school system remains predominately in this Eurocentric system
—
The History of Black History Month
—
Jame Baldwin: A Talk to Teachers
Let's begin by saying that we are living through a very dangerous time. Everyone in this room is in one way or another aware of that. We are in a revolutionary situation, no matter how unpopular that word has become in this country. The society in which we live is desperately menaced, not by Khrushchev, but from within. To any citizen of this country who figures himself as responsible—and particularly those of you who deal with the minds and hearts of young people—must be prepared to "go for broke." Or to put it another way, you must understand that in the attempt to correct so many generations of bad faith and cruelty, when it is operating not only in the classroom but in society, you will meet the most fantastic, the most brutal, and the most determined resistance. There is no point in pretending that this won't happen.
Since I am talking to schoolteachers and I am not a teacher myself, and in some ways am fairly easily intimidated, I beg you to let me leave that and go back to what I think to be the entire purpose of education in the first place. It would seem to me that when a child is born, if I'm the child's parent, it is my obligation and my high duty to civilize that child. Man is a social animal. He cannot exist without a society. A society, in turn, depends on certain things which everyone within that society takes for granted. Now the crucial paradox which confronts us here is that the whole process of education occurs within a social framework and is designed to perpetuate the aims of society. Thus, for example, the boys and girls who were born during the era of the Third Reich, when educated to the purposes of the Third Reich, became barbarians. The paradox of education is precisely this—that as one begins to become conscious one begins to examine the society in which he is being educated. The purpose of education, finally, is to create in a person the ability to look at the world for himself, to make his own decisions, to say to himself this is black or this is white, to decide for himself whether there is a God in heaven or not. To ask questions of the universe, and then learn to live with those questions, is the way he achieves his own identity. But no society is really anxious to have that kind of person around. What societies really, ideally, want is a citizenry which will simply obey the rules of society. If a society succeeds in this, that society is about to perish. The obligation of anyone who thinks of himself as responsible is to examine society and try to change it and to fight it—at no matter what risk. This is the only hope society has. This is the only way societies change.
Now, if what I have tried to sketch has any validity, it becomes thoroughly clear, at least to me, that any Negro who is born in this country and undergoes the American educational system runs the risk of becoming schizophrenic. On the one hand he is born in the shadow of the stars and stripes and he is assured it represents a nation which has never lost a war. He pledges allegiance to that flag which guarantees "liberty and justice for all." He is part of a country in which anyone can become president, and so forth. But on the other hand he is also assured by his country and his countrymen that he has never contributed anything to civilization—that his past is nothing more than a record of humiliations gladly endured. He is assumed by the republic that he, his father, his mother, and his ancestors were happy, shiftless, watermelon-eating darkies who loved Mr. Charlie and Miss Ann, that the value he has as a black man is proven by one thing only—his devotion to white people. If you think I am exaggerating, examine the myths which proliferate in this country about Negroes.
All this enters the child's consciousness much sooner than we as adults would like to think it does. As adults, we are easily fooled because we are so anxious to be fooled. But children are very different. Children, not yet aware that it is dangerous to look too deeply at anything, look at everything, look at each other, and draw their own conclusions. They don't have the vocabulary to express what they see, and we, their elders, know how to intimidate them very easily and very soon. But a black child, looking at the world around him, though he cannot know quite what to make of it, is aware that there is a reason why his mother works so hard, why his father is always on edge. He is aware that there is some reason why, if he sits down in the front of the bus, his father or mother slaps him and drags him to the back of the bus. He is aware that there is some terrible weight on his parents' shoulders which menaces him. And it isn't long—in fact it begins when he is in school—before he discovers the shape of his oppression.
Let us say that the child is seven years old and I am his father, and I decide to take him to the zoo, or to Madison Square Garden, or to the U.N. Building, or to any of the tremendous monuments we find all over New York. We get into a bus and we go from where I live on 131st Street and Seventh Avenue downtown through the park and we get in New York City, which is not Harlem. Now, where the boy lives—even if it is a housing project—is in an undesirable neighborhood. If he lives in one of those housing projects of which everyone in New York is so proud, he has at the front door, if not closer, the pimps, the whores, the junkies—in a word, the danger of life in the ghetto. And the child knows this, though he doesn't know why.
I still remember my first sight of New York. It was really another city when I was born—where I was born. We looked down over the Park Avenue streetcar tracks. It was Park Avenue, but I didn't know what Park Avenue meant downtown. The Park Avenue I grew up on, which is still standing, is dark and dirty. No one would dream of opening a Tiffany's on that Park Avenue, and when you go downtown you discover that you are literally in the white world. It is rich—or at least it looks rich. It is clean—because they collect garbage downtown. There are doormen. People walk about as though they owned where they are—and indeed they do. And it's a great shock. It's very hard to relate yourself to this. You don't know what it means. You know—you know instinctively—that none of this is for you. You know this before you are told. And who is it for and who is paying for it? And why isn't it for you?
Later on when you become a grocery boy or messenger and you try to enter one of those buildings a man says, "Go to the back door." Still later, if you happen by some odd chance to have a friend in one of those buildings, the man says, "Where's your package?" Now this by no means is the core of the matter. What I'm trying to get at is that by the time the Negro child has had, effectively, almost all the doors of opportunity slammed in his face, and there are very few things he can do about it. He can more or less accept it with an absolutely inarticulate and dangerous rage inside—all the more dangerous because it is never expressed. It is precisely those silent people whom white people see every day of their lives—I mean your porter and your maid, who never say anything more than "Yes Sir" and "No, Ma'am." They will tell you it's raining if that is what you want to hear, and they will tell you the sun is shining if that is what you want to hear. They really hate you—really hate you because in their eyes (and they're right) you stand between them and life. I want to come back to that in a moment. It is the most sinister of the facts, I think, which we now face.
There is something else the Negro child can do, to. Every street boy—and I was a street boy, so I know—looking at the society which has produced him, looking at the standards of that society which are not honored by anybody, looking at your churches and the government and the politicians, understand that this structure is operated for someone else's benefit—not for his. And there's no reason in it for him. If he is really cunning, really ruthless, really strong—and many of us are—he becomes a kind of criminal. He becomes a kind of criminal because that's the only way he can live. Harlem and every ghetto in this city—every ghetto in this country—is full of people who live outside the law. They wouldn't dream of calling a policeman. They wouldn't, for a moment, listen to any of those professions of which we are so proud on the Fourth of July. They have turned away from this country forever and totally. They live by their wits and really long to see the day when the entire structure comes down.
The point of all this is that black men were brought here as a source of cheap labor. They were indispensable to the economy. In order to justify the fact that men were treated as though they were animals, the white republic had to brainwash itself into believing that they were, indeed, animals and deserved to be treated like animals. Therefor it is almost impossible for any Negro child to discover anything about his actual history. The reason is that this "animal," once he suspects his own worth, once he starts believing that he is a man, has begun to attack the entire power structure. This is why America has spent such a long time keeping the Negro in his place. What I am trying to suggest to you is that it was not an accident, it was not an act of God, it was not done by well-meaning people muddling into something which they didn't understand. It was a deliberate policy hammered into place in order to make money from black flesh. And now, in 1963, because we have never faced this fact, we are in intolerable trouble.
The Reconstruction, as I read the evidence, was a bargain between the North and South to this effect: "We've liberated them from the land—and delivered them to the bosses." When we left Mississippi to come North we did not come to freedom. We came to the bottom of the labor market, and we are still there. Even the Depression of the 1930s failed to make a dent in Negroes' relationship to white workers in the labor unions. Even today, so brainwashed is this republic that people seriously ask in what they suppose to be good faith, "What does the Negro want?" I've heard a great many asinine questions in my life, but that is perhaps the most asinine and perhaps the most insulting. But the point here is that people who ask that question, thinking that they ask it in good faith, are really the victims of this conspiracy to make Negroes believe they are less than human.
In order for me to live, I decided very early that some mistake had been made somewhere. I was not a "nigger" even though you called me one. But if I was a "nigger" in your eyes, there was something about you—there was something you needed. I had to realize when I was very young that I was none of those things I was told I was. I was not, for example, happy. I never touched a watermelon for all kinds of reasons that had been invented by white people, and I knew enough about life by this time to understand that whatever you invent, whatever you project, is you! So where we are now is that a whole country of people believe I'm a "nigger," and I don't, and the battle's on! Because if I am not what I've been told I am, then it means that you're not what you thought you were either! And that is the crisis.
It is not really a "Negro revolution" that is upsetting the country. What is upsetting the country is a sense of its own identity. If, for example, one managed to change the curriculum in all the schools so that Negroes learned more about themselves and their real contributions to this culture, you would be liberating not only Negroes, you'd be liberating white people who know nothing about their own history. And the reason is that if you are compelled to lie about one aspect of anybody's history, you must lie about it all. If you have to lie about my real role here, if you have to pretend that I hoed all that cotton just because I loved you, then you have done something to yourself. You are mad.
Now let's go back a minute. I talked earlier about those silent people—the porter and the maid—who, as I said, don't look up at the sky if you ask them if it is raining, but look into your face. My ancestors and I were very well-trained. We understood very early that this was not a Christian nation. It didn't matter what you said or how often you went to church. My father and my mother and my grandfather and my grandmother knew that Christians didn't act this way. It was a simple as that. And if that was so there was no point in dealing with white people in terms of their own moral professions, for they were not going to honor them. What one did was to turn away, smiling all the time, and tell white people what they wanted to hear. But people always accuse you of reckless talk when you say this.
All this means that there are in this country tremendous reservoirs of bitterness which have never been able to find an outlet, but may find an outlet soon. It means that well-meaning white liberals place themselves in great danger when they try to deal with Negroes as though they were missionaries. It means, in brief, that a great price is demanded to liberate all those silent people so that they can breathe for the first time and tell you what they think of you. And a price is demanded to liberate all those white children—some of them near forty—who have never grown up, and who never will grow up, because they have no sense of their identity.
What passes for identity in America is a series of myths about one's heroic ancestors. It's astounding to me, for example, that so many people really appear to believe that the country was founded by a band of heroes who wanted to be free. That happens not to be true. What happened was that some people left Europe because they couldn't stay there any longer and had to go someplace else to make it. That's all. They were hungry, they were poor, they were convicts. Those who were making it in England, for example, did not get on the Mayflower. That's how the country was settled. Not by Gary Cooper. Yet we have a whole race of people, a whole republic, who believe the myths to the point where even today they select political representatives, as far as I can tell, by how closely they resemble Gary Cooper. Now this is dangerously infantile, and it shows in every level of national life. When I was living in Europe, for example, one of the worst revelations to me was the way Americans walked around Europe buying this and buying that and insulting everybody—not even out of malice, just because they didn't know any better. Well, that is the way they have always treated me. They weren't cruel; they just didn't know you were alive. They didn't know you had any feelings.
What I am trying to suggest here is that in the doing of all this for 100 years or more, it is the American white man who has long since lost his grip on reality. In some peculiar way, having created this myth about Negroes, and the myth about his own history, he created myths about the world so that, for example, he was astounded that some people could prefer Castro, astounded that there are people in the world who don't go into hiding when they hear the word "Communism," astounded that Communism is one of the realities of the twentieth century which we will not overcome by pretending that it does not exist. The political level in this country now, on the part of people who should know better, is abysmal.
The Bible says somewhere that where there is no vision the people perish. I don't think anyone can doubt that in this country today we are menaced—intolerably menaced—by a lack of vision.
It is inconceivable that a sovereign people should continue, as we do so abjectly, to say, "I can't do anything about it. It's the government." The government is the creation of the people. It is responsible to the people. And the people are responsible for it. No American has the right to allow the present government to say, when Negro children are being bombed and hosed and shot and beaten all over the Deep South, that there is nothing we can do about it. There must have been a day in this country's life when the bombing of the children in Sunday School would have created a public uproar and endangered the life of a Governor Wallace. It happened here and there was no public uproar.
I began by saying that one of the paradoxes of education was that precisely at the point when you begin to develop a conscience, you must find yourself at war with your society. It is your responsibility to change society if you think of yourself as an educated person. And on the basis of the evidence—the moral and political evidence—one is compelled to say that this is a backward society. Now if I were a teacher in this school, or any Negro school, and I was dealing with Negro children, who were in my care only a few hours of every day and would then return to their homes and to the streets, children who have an apprehension of their future which with every hour grows grimmer and darker, I would try to teach them—I would try to make them know—that those streets, those houses, those dangers, those agonies by which they are surrounded, are criminal. I would try to make each child know that these things are the result of a criminal conspiracy to destroy him. I would teach him that if he intends to get to be a man, he must at once decide that his is stronger than this conspiracy and they he must never make his peace with it. And that one of his weapons for refusing to make his peace with it and for destroying it depends on what he decides he is worth. I would teach him that there are currently very few standards in this country which are worth a man's respect. That it is up to him to change these standards for the sake of the life and the health of the country. I would suggest to him that the popular culture—as represented, for example, on television and in comic books and in movies—is based on fantasies created by very ill people, and he must be aware that these are fantasies that have nothing to do with reality. I would teach him that the press he reads is not as free as it says it is—and that he can do something about that, too. I would try to make him know that just as American history is longer, larger, more various, more beautiful and more terrible than anything anyone has ever said about it, so is the world larger, more daring, more beautiful and more terrible, but principally larger—and that it belongs to him. I would teach him that he doesn't have to be bound by the expediencies of any given administration, any given policy, any given morality; that he has the right and the necessity to examine everything. I would try to show him that one has not learned anything about Castro when one says, "He is a Communist." This is a way of his not learning something about Castro, something about Cuba, something, in time, about the world. I would suggest to him that his is living, at the moment, in an enormous province. America is not the world and if America is going to become a nation, she must find a way—and this child must help her to find a way to use the tremendous potential and tremendous energy which this child represents. If this country does not find a way to use that energy, it will be destroyed by that energy.
—
Teaching Tolerance: Do's and Don'ts of Teaching Black History

DO…
Incorporate black history year-round, not just in February. Use the month of February to dig deeper into history and make connections with the past.
Continue Learning. Explore how to provide an in-depth and thorough understanding of black history. Textbooks are notorious for omitting information about the struggles of communities, and what they include is limited, so use the textbook as one of many resources. While exploring multiple resources, allow for opportunities to learn along with your students.
Reinforce to students that "black" history is American history. Make black history relevant to all students.
Relate lessons to other parts of your curriculum, so that focusing on a leader, like Fred Shuttlesworth, expands upon rather than diverts from your curriculum. By the time February comes around, the context of the struggle for civil rights and social justice should be familiar to students if you have already addressed such issues across the curriculum.
Connect issues in the past to current issues to make history relevant to students' lives. For example, ask students to gather information with a focus on what social disparities exist today and how a particular leader has worked to change society.
Include the political and social context of the community's struggle for social justice. For example, talk about Daisy Bates' political affiliations and her political ideologies. You see her bravery not as just a personal act but as coming out of community determination.
DO NOT…
Stop your "regular" curriculum, to do a separate lesson on Rosa Parks, on the Civil Rights Act or on Martin Luther King Jr. This trivializes and marginalizes anything you are teaching, making these leaders a token of their culture and ethnicity. Students will get the message that the diversion it is not as important as the "regular" curriculum.
Decontextualize heroes or holidays, separating them from the larger social movement or historical place. Great leaders don't make history all by themselves. For example, if you teach about James Farmer, you must also address the work of the Congress on Racial Equality (CORE) and the Freedom Rides.
Focus on superficial cultural traits based on stereotypes. It's ok to celebrate black music, but teachers should also explore the political and social contexts that give rise to musical forms like hip hop.
Talk about black history in solely "feel-good" language, or as a thing of the past. This fails to help students examine how racism manifests itself today.
Limit the presentation to lectures and reading. Be sure to allow students an opportunity for discussion and reflection.
Teach with little or inaccurate information. Review resources to make sure they don't promote a Eurocentric perspective, which may misrepresent historic figures and social movements.
Shy away from controversial, ambiguous, or unresolved issues. Share the real-life experiences about racial realities in developmentally appropriate ways.
—
A World Without Black History | Decoded | MTV News
—
—
Further Readings
History is a Weapon: The Mis-Education of the Negro
Biography:  Carter G. Woodson
---
Radical Historians and New Social Scientists
—
Radical Historians and New Social Scientists
"From 1967 to 1970, black students and their hundreds of thousands of non-black allies compelled nearly 1,000 colleges and universities spanning almost every US state to introduce Black Studies departments, programs and courses. The demand for Black studies filtered down into K-12 schools, too, where textbooks had presented African Americans to "millions of children, both black and white, as…sub-human, incapable of achieving culture, happy in servitude, a passive outsider." Hillel Black, The American School
1930s start to see historians give voices to marginalize people

L.R. James' Black Jacobins, W.E.B. DuBois' Black Reconstruction, Carter Godwin Woodson
Started looking at History not from the "top-down" Eurocentric perspective

From conquerors, dominating classes and Eurocentric races

But a "bottom-up" perspective from slaves, ex-slaves and workers

1960-70s academic movement of "radical historians" and "social scientists"

Created new studies and academic fields about histories, social sciences, perspectives outside Eurocentric education

Through student activism Black Studies was first introduced in UC Berkley in 1969

Eventually expanded in colleges across the country

Expanded "bottom-up" perspective to more marginalized perspectives

Slaves, workers, women, natives, etc

Radical history/social science movement forces US school system to expand perspectives

Helps fuel political and social change in the US
Nevertheless the US school system is still predominately structured in the Eurocentric system

And is often still a tool to explicitly and implicitly teach non-white inferiority
Howard Zinn, a radical Historian and author of the "Peoples History of the United States", wrote in an article,
"I am speaking of "Black Studies," which, starting about 1969, began to be adopted with great speed in the nation's universities. These multiplying Black Studies programs do not pretend to just introduce another subject for academic inquiry. They have the specific intention of so affecting the consciousness of black and white people in this country as to diminish for both groups the pervasive American belief in black inferiority."
This radical history and expanding social science movement, which is still growing today, has significantly impacted access to education beyond the Eurocentric perspective,  forced the US Eurocentric school system to open up to more perspectives and many would argue has help fuel political and social change in the US.  Nevertheless the US school system is still predominately structured in the Eurocentric system and is often still a tool to explicitly and implicitly teach non-white inferiority."
—
Howard Zinn's Speech on Writing "The People's History of the United States"
(Published 1980)
—
What is Radical History?
by Howard Zinn
—
Further Readings
Zinn Educaton Project: Introduction: The Life and Work of Howard Zinn
Zinn Educaton Project: Howard Zinn: Interview by Bill Moyers
The Guardian: Top 10 books of radical history
—
---
Critical Race Theory (CRT)
—
—
Critical Race Theory (CRT)
—
---
The 21st Century Textbook Fight
—
Today the battle for what we teach and from what historic perspective its taught, is often fought not among scholars, historians or social scientists, but this fight is often decided in state boards of education in large states, who have the power to influence trends in a competitive private textbook market.
—
The 21st Century Textbook Fight
Decisions on the content of textbooks today

Influenced by state boards of education in large states who influence competitive private textbook markets
19 states adopt textbooks at the state level

Including almost all Southern states

Textbooks often perpetuate myths about Civil War

To avoid offending state textbook-adoption panels

2011 Pew Research Center survey

48% Americans believe states' rights main cause of Civil War
38% believe slavery was the main cause
—
Texas School Board Rewriting History for Entire Country
Texas is one of the largest school textbook purchaser in the country

About 1 in 10 American public school students lives in Texas

Causes text book companies to adapt textbooks to Texas state school curriculum

Texas State Board of Education, who votes on curriculum, often driven by political conservatives, Christian evangelicals, the Tea Party, and Creationists
Below are standards and content pushed by Texas State Board of Education in past:

Referring to slaves as workers
Categorizes the Atlantic slave trade under patterns of immigration

"The Atlantic Slave Trade between the 1500s and 1800s brought millions of workers from Africa to the southern United States to work on agricultural plantations"

Downplays the role of slavery in the Civil War
Removes Ku Klux Klan or Jim Crow laws from the Civil Rights section
Suggests some segregated schools were pretty equal for black and white children
Negatively portraying Muslims stating:

The growth of all international terrorism is caused by Islamic fundamentalism.
Islam contributed little to ancient knowledge.
Muslims spread their faith through violent conquest, but Christians did not engage in violent conquest.

Suggests space aliens would love to come to America to take advantage of affirmative action
Provides false information regarding climate change and ozone depletion
Downplays Evolution and attempted to remove Darwin
States Moses played a role in the writing of the U.S. Constitution
Claims the Constitution does not include the words "separation between church and state"
The government's role in the economy should be restricted solely to protecting the free market
Americans taxed so much that it's reasonable to joke that the government takes all of their money
Only one cause for the Israeli-Palestinian conflict: "the rejection of the existence of the state of Israel by the Arab league and a majority of Arab nations"
—
Daily Show Clip "Don't Mess With Textbooks" on the influence of  textbooks from Texas State Board of Education and their influence on textbooks
—
Colorado School Board
Its not just Texas…
2015 conservatives on the Jefferson County school board, Colorado's second-largest school

Formed a curriculum committee to review US History education standards
According to the committee description,

"materials should promote citizenship, patriotism, essentials and benefits of the free enterprise system, respect for authority and respect for individual rights."

The board member leading the charge

Julie Williams, manager of a dental office, stated,

"We shouldn't be encouraging our kids to think that America is a bad place''

Succeeded in some changes & new guidelines
—
Washington Post Article: Texas officials: Schools should teach that slavery was 'side issue' to Civil War
" For decades, some Southerners have emphasized states' rights as the cause of the war. Nearly half of Americans — 48 percent — believe that states' rights was the main cause of the war, compared to 38 percent who said the main cause was slavery, according to a 2011 Pew Research Center survey…
…"If you don't know about the Civil War, and you don't know about things like slavery, then you wouldn't really be able to understand why our society is the way it is today," Cevallos said…
…James W. Loewen , a sociologist who wrote the best-selling book "Lies My Teacher Told Me ," says textbooks perpetuate myths about the Civil War in order to avoid offending state textbook-adoption panels. Nineteen states, including almost all of those in the South, adopt textbooks at the state level, according to the Association of American Publishers."
—
America's Racist History Whitewashed Out Of Texas Textbooks
—
NY Times: American history textbooks can differ across the country, in ways that are shaded by partisan politics.
Further Readings
—
---
Arizona Ethnic Studies Battle
Mexican American Studies (MAS) Department (1998)

MAS Department created to offer Mexican American history in Tucson Unified School District
The program was shown to raise graduation rates and decrease drop out rates for Latino students
La Raza Studies – Study of Chicanas/os and Latinas/os in the Americas

The program was banned by the state law Arizona House Bill 2281 passed in 2010

Banned schools from teaching classes that

Are intended for any given ethnic group
Go against another ethnic group
Advocate for overthrowing the government of the United States
Encourage Ethnic solidarity, as opposed to individuality

Banned subjects, people and books from normal history classes

Banned "alleged" radically anti-American worldviews and anything "anti-White European heritage"
Books banned due to HB 2281 because of

500 Years of Chicano History in Pictures by Elizabeth Martinez
Critical Race Theory by Richard Delgado
Message to Aztlán: Selected Writings of Rodolfo "Corky" Gonzalez by Rodolfo Gonzales
Chicano! The History of the Mexican American Civil Rights Movement by Arturo Rosales
Rethinking Columbus by Bill Bigelow and Bob Peterson
Pedagogy of the Oppressed by Paulo Freire
The History of the Mexican American Civil Rights Movement by Arturo Rosales
Mexican WhiteBoy by Matt de la Peña

MAS has been revived in limited modified programs by various court rulings
—
Vice News: Arizona Ethnic Studies Battle
—
Wikipedia: Mexican American Studies Department Programs, Tucson Unified School District
"The Mexican American Studies Department Programs provided courses to students at various elementary, middle, and high schools within the Tucson Unified School District (TUSD). The program sought to provide students with culturally relevant material taught in schools as well as a community in which they could thrive while readying the students to be leaders.
History
The Mexican American Studies Department Programs in the Tucson Unified School District came into existence in 1998.[1] The department began offering just a few classes, but in more recent years was able to offer about 43 classes.[1] Students were able to take these courses at elementary, middle, and high schools throughout the district.[1] The program was shown to raise graduation rates.[2] Students achieved highly, with a dropout rate of only 2.5% for Latino students enrolled in MAS compared to 56% nationally.[1] The program was banned by a state law passed in 2010, but has been revived to a certain extent by various court rulings.
Demographics
About 1500 students were enrolled in the program.[1] According to an audit conducted by Cambium Learning, the racial breakdown of the students was 90% Hispanic, 5% White/Anglo, 2% Native American, 1.5% African American, and about 0.5% Asian American and Multi-Racial.[3]
Vision and Goals
The purpose of the classes was to enable students to have a community centered around learning, specifically learning that helps students to be leaders and understand and appreciate Mexican American history, both past and present.[3] The goals were to have culturally relevant curriculum that can be related to social justice work.[3] Another goal was that students would be able to be socially conscious and think critically.[3]
Curriculum
In the English Journal article "Developing Critical Consciousness: Resistance literature in a Chicano Literature class" Curtis Acosta, the teacher and creator of the Mexican American Studies curriculum, outlines the class curriculum he used.[4]:36 The classes in Chicano Studies/Literature could be taken instead of American History and Junior high school English.[4]:36–37 The curriculum used in the junior class of the program is based on indigenous philosophy using the Xicano paradigm.[4]:37 This paradigm has four key concepts Tezkatlipoka, Quetzalkoatl, Huitzilopochtli, and Xipe Totek.[4]:37–38 Tezkatlipoka is a concept about self reflection and finding one's inner self.[4]:37 Quetzalkoatl is learning one's history and how that shapes who someone is.[4]:37 Huitzilopochtli is based on the will to act and be "positive, progressive, and creative".[4]:37–38 Xipe Totek is the concept of being able to reshape one's self and be renew.[4]:38 Acosta states that the senior year high school classes follow the same paradigm and expand on it to incorporate more of a social justice aspect that relate specifically to "challenging mainstream assumptions and stereotypes".[4]:38 Acosta states that the most important part of the curriculum is the "ability to loop with the same students in successive years".[4]:41 The use of this curriculum Acosta expresses "is crucial for students to…discover their humanity and academic identity".[4]:37 Also as part of the curriculum, students were required to go to community events.[3] Additionally, the teachers tried to engage and collaborate with parents.[3]
High School
The classes offered for High School students through the Mexican American Studies Department were American Government/Social Justice Education Project, American History/Mexican American Perspectives, Art Beginning and Art Advanced- Chicana/o Art, and Latino Literature.[3] These classes involved analyzing government, researching problems that students face in school and coming up with solutions that were then presented to policy makers.[3] Additionally, students engaged with history that included a variety of experiences, perspectives, and contributions, specifically those of Mexican Americans, that often were left out of other United States history courses.[3] Art skills were developed while using content for artwork based around social justice issues.[3] Students were encouraged to be active learners by engaging with literature through discussion, projects, writings, and readings.[3]
Controversy
On May 11, 2010, the governor of Arizona, Jan Brewer, signed into law Arizona House Bill 2281.[5] This law, written by Tom Horne who at the time was Arizona's superintendent of public instruction, made it illegal for schools to teach classes that are intended for any given ethnic group, go against another ethnic group, or advocate for overthrowing the government of the United States.[6] Additionally, ethnic solidarity, as opposed to individuality, could not be taught in accordance with the bill.[6] The bill was originally written with the intention to end the Mexican American Studies Department programs.[5] The consequence for school districts of not following this law was that they could lose 10% of their funding.[5] The bill came into effect on January 1, 2011.[6] Tom Horne, who at the time was the attorney general of Arizona, said that the program was not in accordance with the law.[6] However, the Tucson Unified School District decided against ending the program.[6] On December 27, 2011, the court found that the Mexican American Studies Department Programs were not in accordance with the law.[7] Then, on January 10, 2012, the school board voted to end the Mexican American Studies courses.[7] Additionally, seven books were taken out of the schools, as they were deemed during the case on December 27, 2011 to be in conflict with the law.[7]
Consequences of HB 2281
In 2012, the school district decided to bring about the Mexican American Student Services.[8] These services do not involve classes, but rather help address the achievement gap for Latino students.[8] Students and teachers who had been a part of the Mexican American Studies Department Programs appealed the ruling that the program should be eliminated.[1] In July 2013, a federal court decided that culturally relevant courses should be in place in the TUSD, specifically Mexican American Studies and African American Studies, in order to comply with desegregation.[9] On October 22, 2013, the school board voted to allow the seven books to be taught in the schools again.[10] As of May 2013, TUSD students can study Mexican American Studies through a class called CLASS (Chicano Literature, Art and Social Studies) offered at a college in Tucson.[11] The students can earn college credit and can take the class for free.[11]
Students who had participated in the Mexican American Studies Department classes brought a lawsuit against the officials who had gotten rid of the program.[12] Oral arguments were heard in January 12, 2015, and a ruling on the case by the United States Court of Appeal for the Ninth Circuit came out in July 7 of that year.[13] This ruling stated that the law banning ethnic studies classes in Arizona is not broad and vague as plaintiffs argued.[13] However, the ongoing case was also sent to the lower Arizona district court in Tucson.[13] This move to the lower court was due to enough evidence present that the law was "motivated at least in part by a discriminatory intent".[13]
On August 22, 2017 Judge A. Wallace Tashima ruled that the Arizona school district had violated the students' First and Fourteenth Amendment rights by eliminating the Mexican American Studies Program in Tucson's public schools.[14] Because the ban of the Mexican American studies program had deprived the students from acquiring certain knowledge, Judge Tashima found the Tucson school district had interfered with the students' First Amendment right. .[14] The judge further ruled that former superintendent Tom Horne, who initiated the campaign to remove the program, along with other school officials were motivated by racial bias and thereby violated the students' Fourteenth Amendment right .[15]
Books Banned Due to HB 2281
The following books were not allowed to be taught in classes due to HB2281:[16]
500 Years of Chicano History in Pictures by Elizabeth Martinez
Critical Race Theory by Richard Delgado
Message to Aztlán: Selected Writings of Rodolfo "Corky" Gonzalez by Rodolfo Gonzales
Chicano! The History of the Mexican American Civil Rights Movement by Arturo Rosales
Rethinking Columbus by Bill Bigelow and Bob Peterson
Pedagogy of the Oppressed by Paulo Freire
The History of the Mexican American Civil Rights Movement by Arturo Rosales
These books were banned because of their alleged radically anti-American worldviews and their generally racist sentiment against Americans of White European heritage. HB 2281 did not ban these books from the school library system nor did it ban students and teachers from discussing topics such as White Privilege or Latino succession from the United States. HB 2281 does ban any organized curriculum that specifically promotes any racial ideology."
—
Washington Post: Arizona's ban on Mexican American studies was racist, U.S. court rules
A federal judge in Arizona has ruled that the state violated the constitutional rights of Mexican American students by eliminating a successful Mexican American studies program, saying officials "were motivated by racial animus" and were pushing "discriminatory ends in order to make political gains."
The decision came down Tuesday, the same day that President Trump hinted at a rally in Phoenix that he would pardon Joe Arpaio. The former sheriff in Maricopa County, Ariz., was convicted of criminal contempt in July for ignoring a court order to stop detaining people because he merely suspected them of being undocumented immigrants. He has yet to be sentenced.
Some students and their parents sued the superintendent of public instruction in Arizona and members of the State Board of Education alleging that their rights under the First and 14th amendments had been violated when the Tucson Unified School District moved to eliminate its Mexican American studies program.
Judge A. Wallace Tashima, a U.S. circuit court judge sitting in a state district court, wrote that students' First Amendment rights were violated because they were denied the "right to receive information and ideas" and that their 14th Amendment rights were violated because the decision discriminated against Latinos. "The Court concludes that plaintiffs have proven their First Amendment claim because both enactment and enforcement were motivated by racial animus," he wrote, ordering both sides to submit remedy briefs within 20 days.
The studies program started after Latino and black students filed a class-action school desegregation lawsuit in federal district court against the school district in 1974. Creating the program was one of the ways seen as helping to remedy "existing effects of past discriminatory acts or policies," according to a consent decree.
The voluntary K-12 program's classes in art, government, history and literature focused on historic and contemporary Mexican American contributions. It was seen as a way to help students see "themselves or their family or their community" in their studies. Students who participated in the program showed higher test scores and graduation and attendance rates and were better disciplined than similar peers who did not participate, the judge said.
But the program came under scrutiny in 2006 when Dolores Huerta, a Latina labor leader and civic rights activist, gave a speech at Tucson High School and said that "Republicans hate Latinos." Tom Horne, then Arizona's superintendent of public instruction, labeled Huerta's remarks as "hate speech." He ordered a deputy to make a rebuttal speech at the school, during which protesting students taped their mouths, turned their backs, raised their fists and walked out of the auditorium. In his ruling, Tashima wrote:
Horne, who was in attendance, found the protest "rude." He concluded that it was organized, and the "rudeness" taught, by teachers in the MAS program.
That same day at Tucson High, Horne saw a librarian wearing a T-shirt with the acronym "M.E.Ch.A.," for Movimiento Estudiantil Chicano de Aztlán, a student club with chapters in high schools and colleges across the country. Horne read something about the founding of the group in 1969 and concluded that it was anti-American.
Horne then launched a campaign to eliminate the Mexican American studies program. He was at first unsuccessful, but he kept pushing the state legislature to prohibit courses "designed primarily for pupils of a particular ethnic group." Legislation passed in 2010 did just that, along with prohibiting courses that "promote resentment toward a race or class of people" or that "promote the overthrow of the United States government."
The Tucson schools kept the program, while MAS opponents continued to push for a ban in the school district. Former state senator John Huppenthal declared that the program violated various Arizona statutes.  The court decision notes that Huppenthal posed a blog comment in October 2011 that said: "The Mexican-American Studies classes use the exact same technique that Hitler used in his rise to power. In Hitler's case it was the Sudetenland. In the Mexican-American Studies case, it's Aztlán."
In 2012, fearful of losing 10 percent of the funding it received from the state, the Tucson school board decided to end the program.
Huppenthal succeeded Horne as superintendent of public instruction in Arizona and kept pushing Tucson to drop the program. Horne ran for attorney general of Arizona and won, serving from 2011 to 2015. The judge noted that both men "repeatedly pointed to their efforts against the MAS program" in their political campaigns:
The issue was a political boon for the candidates because "concerns" about the MAS program had "spread across the state like wildfire."
—
Zinn Education Project: Downplaying Deportations: How Textbooks Hide the Mass Expulsion of Mexican Americans During the Great Depression
The Trump Administration's horrifying record on immigration, exemplified by the heartbreaking scenes of family separation during the summer of 2018, sparked a new round of discussion and debate about U.S. deportation policy. Of course, deportations are nothing new; Obama was rightly criticized as the Deporter-in-Chief. But with enthusiastic cruelty and vigor, the Trump administration has embraced deportation, including the targeting of long-term residents with no criminal record. As acting Director of ICE, Thomas Homan explained, "The president made it clear in his executive orders: There's no population off the table. If you're in this country illegally, we're looking for you and we're going to look to apprehend you." The massive reach of this effort, the uncertainty and terror it elicits, and the opacity of the controlling laws, make this a dangerous moment, not just for immigrants and their families, but for everyone who cares about due process and human rights. It also recalls an earlier time in U.S. history, nearly 90 years ago, when Mexican Americans and Mexican immigrants were ousted from the country in enormous numbers.
For me, teaching in the time of Trump meant I wanted to design an immigration unit for my high school U.S. history class to help students both make sense of this dangerous moment and, hopefully, think about how to fight back. I wrote a trial role play on the deportations of the 1930s to act as both a warning and a guide.
In this, I was heeding the call of a group of 5th graders in California who, in 2015, successfully lobbied their legislators to require that the story of the deportations be told in classrooms. Such legislative action was needed because this mass deportation of as many as 1.8 million people rarely makes it into the standard curriculum or textbooks. This omission is symptomatic of the diseases plaguing textbooks in general: their whitewashing of history, amplification of presidents over people, unswerving commitment to a narrative of progress, and marginalization of people of color to sidebars and extension activities.
Take my textbook, Pearson's American Journey. It has one paragraph on "Hispanic Americans" during the Great Depression. Of the six-sentence paragraph, only two sentences address the deportations. They read:
Economic woes and racism drove nearly half a million Mexican immigrants and their American-born children from the United States in the 1930s. Local authorities in the Southwest encouraged the federal government to deport Mexicans and offered free transportation to Mexico.
Notice the disembodied "economic woes" and "racism" that did the dirty work of driving people from their homes. Notice the "Mexican immigrants and their American-born children," obscuring the fact that 60 percent of those deported were citizens, children and adults. And finally, most perplexing, notice the textbook's cliffhanger, never telling readers what actually happened. Local folks "encouraged" the federal government to act, but did it? What happened?
What happened is that men, women, and children — immigrant and U.S.-born, citizen and noncitizen, long-time residents and temporary workers — all became the targets of a massive campaign of forced relocation, based solely on their perceived status as "Mexican." They were rounded up in parks, at work sites, and in hospitals, betrayed by local relief agencies who reported anyone with a "Mexican sounding" name to the Immigration Service, pressured (and often tricked) into "voluntary" deportation — sometimes called repatriation — by municipal and state officials, and forcibly deported in trains and buses, to a country some hadn't lived in for decades and others never at all.
American Journey and other textbooks ignore the stories of loss and forced relocation behind the numbers, stories like the terrifying raid that took place at La Placita park in Los Angeles in 1931. The park was a vibrant cultural hub in an immigrant neighborhood, a place to listen to music, talk politics, socialize. According to historian Doug Monroy, "In the days before television and radio, if you wanted stimulation and excitement, you went to La Placita." On a sunny afternoon in late February, the park was full of close to 400 people when suddenly, immigration agents sealed off the exits. Some were in military olive uniforms, others in plain clothes, wielding guns and batons. The agents demanded everyone in the park line up and show their papers. They arrested dozens and deported many. But the greatest impact was psychological, instilling terror into the Mexican American community.
The United States' own investigation of the deportations declared them unconstitutional. The federally appointed Wickersham Commission stated in its 1932 report: "The apprehension and examination of supposed aliens are often characterized by methods [that are] unconstitutional, tyrannic, and oppressive." The Wickersham Commission may have been thinking about cases like that of Angela Hernández de Sánchez. As recounted in the book, Decade of Betrayal: Mexican Repatriation in the 1930s, by Francisco E. Balderrama and Raymond Rodríguez, Sánchez was returning from a short trip visiting relatives in Mexico, something she had done dozens of times before, when she was arrested and subjected to intrusive venereal disease tests. Since Sánchez had been a continuous resident of the United States since 1916, she was not eligible for deportation under current law. But even with her proof of residence and her negative blood test for sexually transmitted diseases she and her U.S.-born children were deported.
Another textbook used in my school's Advanced Placement classes, America: A Concise History (Bedford/St. Martins), attributes many of the departures of Mexican Americans to voluntary action, telling students that "many Mexican farm laborers left voluntarily as the depression deepened." But surely families fleeing persecution cannot be accurately described as volunteers. Perhaps if America devoted more than a single paragraph to this history, there might be space to tell the story of the family of one of the authors of Decade of Betrayal, Raymond Rodríguez. Rodríguez says his father — a legal resident — decided to leave following the La Placita raid, concluding the United States was too dangerous for him and his family. But his wife refused to leave with their five U.S.-born children. Rodríguez recalls his father's last words to her were, "If you don't go [too] . . . you'll starve to death and maybe worse." The family never saw him again.
As is clear from the story of the Rodríguez family, those targeted by nativism and deportations did not simply acquiesce to their treatment. Community organizations like Cruz Azul Mexicana and La Sociedad de Madres Mexicanas in Texas helped finance relief and legal services. El Confederacion de Sociedades Mexicanas in Los Angeles called "repatriation" a racist plot to remove all Mexican Americans, a sentiment reinforced by the Mexican press and radio, working on both sides of the border. Newspapers like La Opinión and La Prensa provided an important counternarrative of the deportations to the racist framing of The New York Times and The Saturday Evening Post. And leaving itself was sometimes an act of resistance. As one girl from Indiana explained, "This is my country but after the way we have been treated I hope never to see it again. . . As long as my father was working and spending his money in Gary stores, paying taxes and supporting us, it was all right, but now we have found we can't get justice here."
The sheer complexity of this history may partially explain why textbooks get it so wrong. Unlike other nativist efforts of the early 19th century, these deportations were not driven by any signature piece of legislation like the Chinese Exclusion Act of 1882 or the Immigration Act of 1924. Rather they were orchestrated using a patchwork of federal and local authority, existing but seldom used deportation rules, and simple mob action against a vulnerable population. But it is precisely this messiness that is fruitful to surface with students. If no single law or leader ordered these deportations, then why and how did they happen and who is responsible for the damage they wrought? This is the question I raise in the Deportations on Trial lesson.
This is not just an academic exercise. Understanding the complex causes of illegal deportations in the 1930s can alert students to similar dynamics today. Just as students see that no single actor was responsible for the deportations of the 1930s, they can recognize that President Trump alone does not have the power to terrorize immigrants and their families. For that it takes the collaboration of the corporate media, ICE agents, for-profit detention centers, wall-builders and contractors, and an electorate primed by racism and capitalism to misplace blame for their own low wages or precarious social position. If that is true, then it matters how every single one of us responds.
I want my students to take what they have learned about deportations of the 1930s and be like Jordon Dyrdahl-Roberts, the Montana Department of Labor worker who quit his job, explaining on Twitter, "There were going to be ICE subpoenas for information that would end up being used to hunt down & deport undocumented workers. I refuse to aid in the breaking up of families. I refuse to just 'follow orders.'" I want my students to be like the more than 100 public defenders who walked off the job in New York City to protest ICE arrests in courthouses or like members of the Sanctuary Movement who are devising novel and brave ways to put themselves between ICE agents and their targets. And I want my students to be like those 5th graders in California who demanded they be taught about the deportations of the 1930s, who insisted that history matters, and that it might be the history that is not in the textbooks that matters the most.
—
---
Modern Whitewashing Efforts
—
July 2020, Arkansas GOP Sen. Tom Cotton introduced legislation (Saving American History Act) that would prevent schools from teaching the 1619 curriculum

Would prohibit federal funds for schools that teach the 1619 Project

Sept 4, 2020 Trump issue a banned on federal agencies conducting racial sensitivity and anti-racism trainings

Also declared Department of Education will not fund any school teaching the 1619 Project
"We want our sons and daughters to know the truth. America is the greatest and most exceptional nation in the history of the world. Our country wasn't built by cancel culture, speech codes, and crushing conformity. We are not a nation of timid spirits." Trump

Sept 2017, 2020 Trump announced several measures aimed at promoting "patriotic education"

Called 1619 Project "ideological poison" that will "dissolve the civic bonds" of America
Called out what he said is "left-wing indoctrination" in schools and curriculum,

Which he claimed "views every issue through the lens of race" in an effort to impose "tyranny" and "a new segregation."
Sign an executive order establishing a commission to "promote patriotic education," which will be called the "1776 Commission,
"It has come to the President's attention that Executive Branch agencies have spent millions of taxpayer dollars to date "training" government workers to believe divisive, anti-American propaganda.
For example, according to press reports, employees across the Executive Branch have been required to attend trainings where they are told that "virtually all White people contribute to racism" or where they are required to say that they "benefit from racism." According to press reports, in some cases these training have further claimed that there is racism embedded in the belief that America is the land of opportunity or the belief that the most qualified person should receive a job.
These types of "trainings" not only run counter to the fundamental beliefs for which our Nation has stood since its inception, but they also engender division and resentment within the Federal workforce. We can be proud that as an employer, the Federal government has employees of all races, ethnicities, and religions. We can be proud that Americans from all over the country seek to join our workforce and dedicate themselves to public service. We can be proud of our continued efforts to welcome all individuals who seek to serve their fellow Americans as Federal employees. However, we cannot accept our employees receiving training that seeks to undercut our core values as Americans and drive division within our workforce.
The President has directed me to ensure that Federal agencies cease and desist from using taxpayer dollars to fund these divisive, un-American propaganda training sessions. Accordingly, to that end, the Office of Management and Budget will shortly issue more detailed guidance on implementing the President's directive. In the meantime, all agencies are directed to begin to identify all contracts or other agency spending related to any training on "critical race theory "white privilege," or any other training or propaganda effort that teaches or suggests either (1) that the United States is an inherently racist or evil country or (2) that any race or ethnicity is inherently racist or evil. In addition, all agencies should begin to identify all available avenues within the law to cancel any such contracts and/or to divert Federal dollars away from these un-American propaganda training sessions.
The President, and his Administration, are fully committed to the fair and equal treatment of all individuals in the United States. The President has a proven track record of standing for those whose voice has long been ignored and who have failed to benefit from all our country has to offer, and he intends to continue to support all Americans, regardless of race, religion, or creed. The divisive, false, and demeaning propaganda of the critical race theory movement is contrary to all we stand for as Americans and should have no place in the Federal government. "Russell Vought, Director of the Office of Management and Budget, Sept 4th, 2020 MEMORANDUM FOR THE HEADS OF EXECUTIVE DEPARTMENTS AND AGENCIES
Trump Calls Howard Zinn's Work "Propaganda." Hear the Legendary Historian in His Own Words.
Trump has attacked diversity training, critical race theory, the 1619 project, and anything that reckons with America's racist past.
The Trump administration kicked off September by launching an assault on critical race theory and diversity training — and is now capping off the month by doubling down on its promises.
After a string of related tweets Tuesday, Trump issued an executive order banning federal contractors from conducting racial sensitivity training, emphasizing his desire to stop "efforts to indoctrinate government employees with divisive and harmful sex- and race-based ideologies."
The administration's war against "race-based ideologies" — code for theories and practices that examine the racism in American history and institutions — started on September 4 when Office of Management and Budget (OMB) director Russell Vought, at Trump's behest, released a memo instructing federal agencies to identify any critical race theory and white privilege training within their departmental training plans. According to the memo, the administration's mission is to stop funding any and all programming that suggests the "United States is an inherently racist or evil country or that any race or ethnicity is inherently racist or evil."
Now, with Trump's newly expanded ban on such training sessions, which he has called "divisive, un-American propaganda," the administration is signaling that Americans, and even those who run the government, don't need to understand the country's racist founding — from the genocide of Native Americans to the enslavement of Africans — and the role the past plays in how racism persists today.
On September 17, as part of the White House Conference on American History, Trump went all-in on "defend[ing] the legacy of America's founding, the virtue of America's heroes, and the nobility of the American character," taking time to denounce the New York Times's 1619 project that focused on the lasting impact of slavery in America; historian Howard Zinn, who penned the influential A People's History of the United States, about America's story from the perspective of the oppressed; and critical race theory.
"They've lumped everything together: critical race theory, the 1619 project, whiteness studies, talking about white privilege," Kimberlé Crenshaw, a founding critical race theorist and UCLA and Columbia University law professor, told Vox. "What they have in common is they are discourses that refuse to participate in the lie that America has triumphantly overcome its racist history, that everything is behind us. None of these projects accept that it's all behind us."
As to why the Trump administration is suddenly up in arms about racial bias training and critical race theory — a framework that's existed for about 40 years — the OMB memo cites press reports as factors in Trump's decision. In July, Fox News began airing segments featuring conservative activist Christopher F. Rufo, who in mid-August told Tucker Carlson that he was "declaring a one-man war against critical race theory in the federal government, and I'm not going to stop these investigations until we can abolish it within our public institutions." He tweeted on August 20, "My goal is simple: to persuade the President of the United States to issue an executive order abolishing critical race theory in the federal government."
Rufo appeared on Carlson's show once more on September 2, just two days before the memo's release. Conservative media celebrated the document as a win; in response to a Breitbart article about the memo, Trump tweeted on September 5: "This is a sickness that cannot be allowed to continue. Please report any sightings so we can quickly extinguish!"
While it might be tempting to brush off the administration's latest crusade as inconsequential amid a flurry of other happenings — like his intentionally misleading the American public on the Covid-19 pandemic or the rush to fill the vacant Supreme Court seat — Trump's directive had already taken effect even before the executive order. A scheduled unconscious bias training, programming meant to help workers recognize and tackle discriminatory behavior, at the Department of Justice's Antitrust Division has been postponed, according to MarketWatch. Meanwhile, Sen. Cory Booker (D-NJ) has urged a Senate Judiciary hearing on Trump's push to roll back anti-racial bias training for federal government employees.
However, as much as Trump would like to systematically ban critical race theory, it won't be so easy; the framework is rooted in how a large body of scholars and thinkers see the world. In fact, in a time when systemic injustice has been brought to the fore, the broader public is only just beginning to look at America through such a critical lens.
Critical race theory is a framework for grappling with racial power and white supremacy in America
Critical race theory grew out of a generational response to the ebb and flow of the civil rights movement, according to a seminal 1993 book on the theory, Words That Wound: Critical Race Theory, Assaultive Speech, and the First Amendment. Though the authors — Mari Matsuda, Charles R. Lawrence III, Richard Delgado, and Kimberlé Crenshaw — don't pinpoint an exact date for when critical race theory first entered the collective consciousness, the book notes the late 1970s as a time when "the civil rights movement of the 1960s had stalled, and many of its gains were being rolled back."
That's when a post-civil rights generation of scholars recognized that while segregation had been modestly repealed, there was still inequality to be addressed. America wanted to frame itself as a society that was committed to equality, but fewer legal battles were being won by civil rights advocates and white people began claiming that remedies for racial discrimination were violating their civil rights.
"Individual law teachers and students committed to racial justice began to meet, to talk, to write, and to engage in political action in an effort to confront and oppose dominant societal and institutional forces that maintained the structures of racism while professing the goal of dismantling racial discrimination," the authors wrote.
Matsuda, Lawrence, Delgado, and Crenshaw — who identified themselves as a collective of African American, Chicano, and Asian American "outsider law teachers" — defined critical race theory as a movement and framework that recognizes how racism is "endemic" to American life. In other words, critical race theory rejects the belief that "what's in the past is in the past" and that the best way to get beyond race is to stop talking about it. Instead, America must reckon with how its values and institutions feed into racism.
Critical race theory was also a lens through which these legal scholars could analyze policies and the law, accepting that "racism has contributed to all contemporary manifestations of group advantage and disadvantage along racial lines," like differences in income, incarceration rates, health outcomes, housing, educational opportunities, political representation, and military service. The ultimate goal was to eliminate racial oppression as part of the broader mission of ending all kinds of oppression — including that based on class or sexual orientation. According to the authors, it's not enough to just make adjustments within established hierarchies; it's necessary to challenge the hierarchies themselves.
The framework is also skeptical of the belief that colorblindness — not seeing race — is a solution to racism. This stems from the belief that race itself is not biological but socially constructed. In other words, race isn't inherent or natural. "So if race is not biological, how is being colorblind a solution to the problem of racism?" Crenshaw told Vox.
As critical race theory brewed in academic circles for years, its first moment of social action can be traced back to 1981, when students boycotted Harvard Law School to persuade the administration to increase the number of tenured professors of color at the school. When professor Derrick Bell left the law school at the time, there was no one to teach his groundbreaking course "Race, Racism, and American Law." To fill the gap, students organized an alternative course and invited guest lecturers to teach from Bell's book by the same name.
This course was just one catalyst that developed critical race theory as a movement — and as a community that served as refuge from a largely white legal field. Critical race theorists would come to adopt ideas from a number of schools of thought — liberalism, Marxism, critical legal studies, feminism, postmodernism — to establish itself.
There have been previous efforts to eliminate critical race theory prior to Trump, with criticism coming from thinkers on both the left and the right. Critics on the left questioned how scholars could theorize something that is a social construction. "We had significant debate with folks who see class as the singular axis of subordination," Crenshaw told Vox. "But class is not natural. It's also a construction that has legal ramifications. If you can analyze law and other systems to show how class relations are reproduced, and you call that critical legal theory, then why can't we pay attention to the way that racial power is reproduced through law?" Conservatives, on the other hand, claimed that remedying problems like segregation and affirmative action was reverse discrimination, and that race-based remedies were overcorrecting and creating new victims — mostly white men who were made to feel that they had lost what they have long had a right to.
Over time, critical race theory has spread to countless disciplines (from education to political science to sociology), looked at race in relation to other constructs (gender, class, and sexuality), and has long crossed international borders. Critical race theory is vast, established, and simply cannot be canceled. Critical race theory is a decades-long response from people who have been historically shut out in all corners of American society.
"To think that you're going to just go and round it all up is like trying to put your hands around water. It just shows you know nothing about water, to think that all you can do is just round it all up with your arms," Crenshaw said.
Trump's assault on critical race theory shouldn't be ignored
The Trump administration's attempt to clamp down on critical race theory and unconscious bias training, which are related but in no way the same things, is part of his larger push to convince Americans that there is a conspiracy on the part of academics, activists, and journalists on the left to rewrite history.
"Let's face it, so many people believe in conspiracy theories now. So now that [Trump] has ginned up all this angst over conspiracies to take away people's rights, he's really scaling it up," Crenshaw said.
According to Crenshaw, at the foundation of many of these theories is a psychological insecurity on the part of white people who fear their racial status is being threatened. Historically, the tendency has been for white people to align with whiteness, even across class lines, Crenshaw noted. "What remains to be seen is whether the resistance to it is nearly as powerful as the tendency toward it."
Trump drove the tendency home in his address at the White House Conference on American History, acknowledging that he plans to take this fight beyond federal contractors and into America's schools with an executive order that bolsters "patriotic education."
"Critical race theory is being forced into our children's schools, it's being imposed into workplace trainings, and it's being deployed to rip apart friends, neighbors, and families," Trump said. "Teaching this horrible doctrine to our children is a form of child abuse in the truest sense of those words."
Trump wants his critics to accept the status quo — that we already live in a fair and just America — Crenshaw said. Yet critical race theory remains relevant as people in cities and small towns across the country lead ongoing protests for Black lives following the death of George Floyd in late May. Americans and organizations have pledged to become anti-racist, to actively recognize how silence or inaction amounts to complicity. Activists are also pushing for anti-racist education in schools and anti-racism trainings in workplaces, and many would argue that Trump cannot stop the larger moving tide.
"Our failure to cease and desist from linking this present to a problematic past is un-American. It is propaganda [according to Trump]," Crenshaw told Vox. "The best propaganda is something that calls the truth propaganda."
—
Sen. Tom Cotton Opposes 1619 Project-Inspired History Curriculum | The Daily Social Distancing Show
—
Teo Armus: Sen. Tom Cotton wants to take 'The 1619 Project' out of classrooms. His efforts have kept it in the spotlight.
—
Pragers U
Rebecca Klein: Videos From Right-Wing Site That Preaches 'The Left Ruins Everything' Assigned In Ohio School
PragerU videos were recently assigned in an Ohio classroom. Turns out, the right-wing site is looking to further its influence in K-12 settings.
---
Efforts to Uncover Buried History
Sub Table of Contents
1619 Project
Violence Against Women During Jim Crow
Lynching Era
—
Ida B Wells
Ida B Wells

After her 3 friends were lynched in 1892

Wells became one of nation's most vocal anti-lynching activists

Wells launched an extensive investigation of lynching

1892, published "Southern Horrors," which detailed her findings

Wells countered "rape myth" used by lynch mobs to justify

She found lynch victims usually had:

Challenged white authority
Had successfully competed with whites in business or politics

A mob destroyed her office and threatened to kill Wells

Fled Memphis to continue campaign raising awareness of southern lynching
Established the British Anti-Lynching Society in 1894
"Activist and writer Ida B. Wells-Barnett first became prominent in the 1890s because she brought international attention to the lynching of African Americans in the South. Wells was born a slave in Holly Springs, Mississippi, in 1862. At the age of 16, she became primary caregiver to her six brothers and sisters, when both of her parents succumbed to yellow fever.  After completing her studies Rust College near Holly Springs where her father had sat on the board of trustees before his death, Wells divided her time between caring for her siblings and teaching school. She moved to Memphis, Tennessee in the 1880s.
Wells first began protesting the treatment of black southerners when, on a train ride between Memphis and her job at a rural school, the conductor told her that she must move to the train's smoking car. Wells refused, arguing that she had purchased a first-class ticket. The conductor and other passengers then tried to physically remove her from the train. Wells returned to Memphis, hired a lawyer, and sued the Chesapeake and Ohio Railroad Company. The court decided in her favor, awarding Wells $500. The railroad company appealed, and in 1887, the Supreme Court of Tennessee reversed the previous decision and ordered Wells to pay court fees. Using the pseudonym "Iola," Wells began to write editorials in black newspapers that challenged Jim Crow laws in the South. She bought a share of a Memphis newspaper, the Free Speech and Headlight, and used it to further the cause of African American civil rights.
After the lynching of three of her friends in 1892, Wells became one of the nation's most vocal anti-lynching activists. Calvin McDowell, Thomas Moss, and Henry Stewart owned the People's Grocery in Memphis, but their economic success angered the white owners of a store across the street. On March 9, a group of white men gathered to confront McDowell, Moss, and Stewart. During the ensuing scuffle, several of the white men received injuries, and authorities arrested the three black business owners. A white mob subsequently broke into the jail, captured McDowell, Moss, and Stewart, and lynched them.
Incensed by the murder of her friends, Wells launched an extensive investigation of lynching. In 1892, she published a pamphlet, "Southern Horrors," which detailed her findings. Through her lectures and books such as A Red Record (1895), Wells countered the "rape myth" used by lynch mobs to justify the murder of African Americans. Through her research she found that lynch victims had challenged white authority or had successfully competed with whites in business or politics. As a result of her outspokenness, a mob destroyed the offices of the Free Speech and threatened to kill Wells.  She fled Memphis determined to continue her campaign to raise awareness of southern lynching. Wells took her movement to England, and established the British Anti-Lynching Society in 1894.  She returned to the U.S., settled in Chicago, Illinois where she married attorney and newspaper editor Ferdinand L. Barnett in 1895.
Wells-Barnett also worked to advance other political causes. She protested the exclusion of African Americans from the 1893 World's Columbian Exposition in Chicago and three years later she helped launch the National Association of Colored Women (NACW).  In 1909 Wells was a founding member of the National Association for the Advancement of Colored People (NAACP). She also actively campaigned for women's suffrage."
—
Equal Justice Initiative Investigative Report: Lynching in American
The National Memorial for Peace and Justice
(Lynching Museum)
More than 4400 African American men, women, and children were hanged, burned alive, shot, drowned, and beaten to death by white mobs between 1877 and 1950. Millions more fled the South as refugees from racial terrorism, profoundly impacting the entire nation. Until now, there has been no national memorial acknowledging the victims of racial terror lynchings. On a six-acre site atop a rise overlooking Montgomery, the national lynching memorial is a sacred space for truth-telling and reflection about racial terror in America and its legacy.
The Guardian: Pain and terror: America remembers its past
—
Back to Efforts to Uncover Buried History
Sundown Towns
—
Orcinus: How to Out A Sundown Town
"After the Civil War, newly-freed black families spread out across the country, looking for places to start over. By 1890, there was hardly a town in America that didn't have at least a small community of black tradesmen or farmers — aspiring families putting down roots and planning better futures. There was no town too small, no corner so remote, that a handful of African-Americans didn't take refuge there — hoping against hope they'd finally found a place that was far enough away from Jim Crow…
Starting in the 1890 census — and continuing up until the 1950 one — these communities started to vanish from the census figures. Towns that had 50 or 60 African-Americans in one census had exactly zero in the next. It was like watching these small lights just wink out, as these communities one by one went sundown."
—
"From Maine to California, thousands of communities kept out African Americans (or sometimes Chinese Americans, Jewish Americans, etc.) by force, law, or custom. These communities are sometimes called "sundown towns" because some of them posted signs at their city limits reading, typically, "Nigger, Don't Let The Sun Go Down On You In ___." Some towns are still all white on purpose. Their chilling stories have been joined more recently by the many elite (and some not so elite) suburbs like Grosse Pointe, MI, or Edina, MN, that have excluded nonwhites by "kinder gentler means." When I began this research, I expected to find about 10 sundown towns in Illinois (my home state) and perhaps 50 across the country. Instead, I have found about 507 in Illinois and thousands across the United States. This is their story; it is the first book ever written on the topic." James Loewen: Sundown Towns: A Hidden Dimension of American Racism
—
Sundown Towns Are Almost Everywhere
A sundown town is any organized jurisdiction that for decades kept African Americans or other groups from living in it and was thus "all-white" on pur-pose.2 There is a reason for the quotation marks around "all-white": requiring towns to be literally all-white in the census—no African Americans at all—is inappropriate, because many towns clearly and explicitly defined themselves as sundown towns but allowed one black household as an exception.' Thus an all-white town may include nonblack minorities and even a tiny number of African Americans…
Beginning in about 1890 and continuing until 1968, white Americans established thousands of towns across the United States for whites only. Many towns drove out their black populations, then posted sundown signs. Other towns passed ordinances barring African Americans after dark or prohibiting them from owning or renting property; still others established such policies by informal means, harassing and even killing those who violated the rule. Some sundown towns similarly kept out Jews, Chinese, Mexicans, Native Americans, or other groups.
Independent sundown towns range from tiny hamlets such as De Land, Illinois (population 500), to substantial cities such as Appleton, Wisconsin (57,000 in 1970).4 Sometimes entire counties went sundown, usually when their county seat did. Independent sundown towns were soon joined by "sundown suburbs," which could be even larger: Levittown, on Long Island, had 82,000 residents in 1970, while Livonia, Michigan, and Parma, Ohio, had more than 100,000. Warren, a suburb of Detroit, had a population of 180,000 including just 28 minority families, most of whom lived on a U.S. Army facility.5
Outside the traditional South—states historically dominated by slavery, where sundown towns are rare—probably a majority of all incorporated places kept out African Americans. If that sentence startles, please suspend disbelief until Chapter 3, which will show that Illinois, for example, had 671 towns and cities with more than 1,000 people in 1970, of which 475 (71%)—were all-white in census after census.6 Chapter 3 will prove that almost all of these 475 were sundown towns. There is reason to believe that more than half of all towns in Oregon, Indiana, Ohio, the Cumberlands, the Ozarks, and diverse other areas were also all-white on purpose. Sundown suburbs are found from Darien, Connecticut, to La Jolla, California, and are even more prevalent; in-deed, most suburbs began life as sundown towns.
Sundown towns also range across the income spectrum. In 1990, the median owner-occupied house in Tuxedo Park, perhaps the wealthiest suburb of New York City, was worth more than $500,000 (the highest category in the census). So was the median house in Kenilworth, the richest suburb of Chicago. The median house in Pierce City, in southwestern Missouri, on the other hand, was worth just $29,800 and in Zeigler, in southern Illinois, just $21,900. All four towns kept out African Americans for decades.
This History Has Been Hidden
Even though sundown towns were everywhere, almost no literature exists on the topic.' No book has ever been written about the making of all-white towns in America.8 Indeed, this story is so unknown as to deserve the term hidden. Most Americans have no idea such towns or counties exist, or they think such things happened mainly in the Deep South. Ironically, the traditional South has almost no sundown towns. Mississippi, for instance, has no more than 6, mostly mere hamlets, while Illinois has no fewer than 456, as Chapter 3 will show.
Even book-length studies of individual sundown towns rarely mention their exclusionary policies. Local historians omit the fact intentionally, knowing that it would reflect badly on their communities if publicized abroad. I read at least 300 local histories—some of them elaborate coffee-table books—about towns whose sundown histories I had confirmed via detailed oral histories, but only about 1 percent of these mentioned their town's racial policies. In conversation, however, the authors of these commemorative histories were often more forthcoming, showing that they knew about the policy but didn't care to disclose it in print.
—
Sundown towns (1890s– 1960s)

Thousands of all-white towns harshly enforcing segregation

Restricted people of color from living or visiting

With discriminatory local laws, intimidation, violence

Named after signs saying black people must leave by sundown

Many signs were still up in the 1970s

Occurred all over country

Largely in opposition to Great Migration and de-segregation efforts

By 1970 70% of Illinois towns were sundown towns

Sundown also included suburbs, neighborhoods, villages, counties

Chevy Chase Maryland one of the first Sundown Suburb

1909: Chevy Chase Land Company successfully sued developer to prevent Black housing

By 2000 its 6,183 residents included just 18 African Americans
Many Sundown towns ethnically cleansed black people

"whites in about 50 towns used mob violence to expel and keep out African Americans, and many more relied on the threat of violence. Some towns passed "legal" ordinances banning hiring blacks or renting or selling them homes; others relied on citizens to pay informal visits to warn visiting African Americans that they "must not remain in town."" James Loewen – Sundown Towns: Hidden Dimension of American Racism
"Whenever a town had African American residents and no longer does, we should seek to learn how and why they left. Expulsions and prohibitions often lurk behind the census statistics. Vienna, a town in southern Illinois, provides a rather recent example. In 1950, Vienna had 1,085 people, including a black community of long standing, dating to the Civil War. In the 1950 census, African Americans numbered 34; additional black families lived just outside Vienna's city limits. Then in the summer of 1954, two black men beat up a white grandmother and allegedly tried to rape her teenage granddaughter. The grandmother eventually died, and "every [white] man in town was depu-tized" to find the culprits, according to a Vienna resident in 2004. The two men were apprehended; in the aftermath, whites sacked the entire black com-munity. "They burned the houses," my informant said. "The blacks literally ran for their lives." The Vienna Times put it more sedately: "The three remaining buildings on the South hill in the south city limits of Vienna were destroyed by fire about 4:30 o'clock Monday afternoon." The report went on to tell that the state's attorney and circuit judge later addressed a joint meeting of the Vienna city council and Johnson County commissioners, "telling them of the loss sustained by the colored people." Both bodies "passed a resolution condemning the acts of vandalism" and promised to pay restitution to those who lost their homes and belongings. Neither body invited the black community to return, and no one was ever convicted of the crime of driving them out. In the 2000 census, Vienna's population of 1,234 included just 1 African American." James Loewen – Sundown Towns: Hidden Dimension of American Racism
Sundown communities continue to exist today

Most white people in US live in majority white communities, schools churches

Lack any serious connections with a person of color
—
—
The History Of "Sundown Towns" | This Day Forward | msnbc
—
—
Further Reading
Teaching Tolerance: Does My Town Have a Racist Past?
Orcinus: How to Out A Sundown Town
—
Back to Efforts to Uncover Buried History
—
Violence Against Women During Jim Crow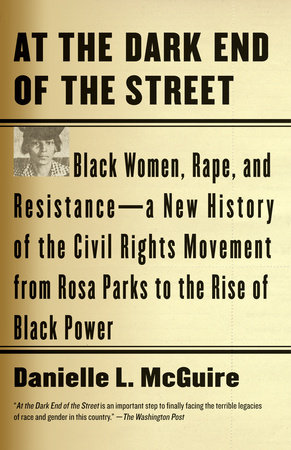 In this groundbreaking and important book, Danielle McGuire writes about the rape in 1944 of a twenty-four-year-old mother and sharecropper, Recy Taylor, who strolled toward home after an evening of singing and praying at the Rock Hill Holiness Church in Abbeville, Alabama. Seven white men, armed with knives and shotguns, ordered the young woman into their green Chevrolet, raped her, and left her for dead. The president of the local NAACP branch office sent his best investigator and organizer–Rosa Parks–to Abbeville. In taking on this case, Parks launched a movement that exposed a ritualized history of sexual assault against black women and added fire to the growing call for change.
"Throughout the Jim Crow era white men lured black women and girls away from home with promises of steady work and better wages; attacked them on the job; abducted them at gunpoint while traveling to or from home, work, or church; raped them as a form of retribution or to enforce rules of racial and economic hierarchy" historian Danielle L. McGuire – At the Dark End of the Street: Black Women, Rape, and Resistance
During Jim Crow black women lived in constant threat of sexual assault and complete lack of legal protection

The same communities that lynched black men for allegations of sexual misconduct against white women

Tolerated and excused white men's sexual attacks against black women and girls
"aggressive hypersexual African femininity portrayals served both to exonerate White men of their inhumane rages and to mask their human attractions to the supposed beast-like women. …Like raped prostitutes, Black women's credibility had been stolen by racist beliefs in their hypersexuality." Ibram Kendi, Stamped From the Beginning

White sexual terror was for the most part left out of Jim Crow's history

"There is little visual record of the interracial rape of black women, save for photographs of them clutching their obviously biracial children." historian Danielle L. McGuire

The Rape of Recy Taylor (Abbeville, Alabama in 1944)

Taylor was walking home from church when she was kidnapped, blindfolded, raped at gunpoint by 6 white men

She reported the crime and Rosa Parks came to help advocate for justice
The police ignore her claims, her house was firebombed and the sheriff personally threaten Ms. Parks to leave town

This was the norm during Jim Crow as thousands of black women were raped by white men with no justice

"Between 1940-65, only 10 white men were convicted of raping black women/girls in Mississippi despite the fact that it happened regularly" historian Danielle L. McGuire

Black women's resistance to racialized sexual assault helped start the civil rights movement

Ida B Wells, Mary Church Terrell, Nannie Helen Burroughs and Anna Julia Cooper were early anti-rape activists
Rosa Parks began her career in civil rights as an anti-rape activist
"If you have a slave culture for hundreds of years, what happens when slavery ends? Does the culture change? That was part of my question doing this research, and the answer was of course it didn't. White men were raised to believe that they could do whatever they wanted to do to black women and there would be no punishment, and when they did whatever they wanted to do, there usually wasn't a punishment. These are lessons handed down from grandparents and fathers, uncles. They were encouraged to get a black woman for their first sex act so that they could practice … in the '40s, they just picked them up on the side of the road just like Recy Taylor. It happened all the time." historian Danielle L. McGuire
—
SEXUAL VIOLENCE AGAINST BLACK WOMEN
In Abbeville, Alabama, on a September night in 1944, a gang of white men kidnapped and took turns raping Recy Taylor, a young, black, married mother, at gunpoint. After the attack, the men blindfolded Mrs. Taylor, drove her back to the road, and left her to walk home.234
For generations of black women, racial terror included the constant threat of sexual assault and a complete lack of legal protection. "[T]hroughout the Jim Crow era," wrote historian Danielle L. McGuire, "white men lured black women and girls away from home with promises of steady work and better wages; attacked them on the job; abducted them at gunpoint while traveling to or from home, work, or church; raped them as a form of retribution or to enforce rules of racial and economic hierarchy; sexually humiliated and assaulted them on streetcars and buses, in taxicabs and trains, and in other public spaces."235
Black women's resistance to this racialized sexual exploitation helped birth the activism and organized community action that grew into the Civil Rights Movement — even as they bore some of the era's deepest scars. Between 1940 and 1975, civil rights campaigns in major cities throughout the South were sparked by sexual attacks against black women.236 When a local grand jury refused to indict Recy Taylor's attackers, despite a confession, the Montgomery NAACP launched an investigation and campaign for justice spearheaded by future bus boycott leader Rosa Parks. None of Mrs. Taylor's attackers was held accountable.237
The same communities that lynched and legally executed black men for mere allegations of sexual misconduct against white women tolerated and excused white men's sexual attacks against black women and girls. In May 1956, after four white men kidnapped and raped 16-year-old Annette Butler in Tylertown, Mississippi, only one faced any punishment. At sentencing, Judge Thomas Pickens Brady — a vocal segregationist — scolded the defendant not for committing rape, but for bringing upon himself the shame of interracial sexual relations: "No action could be more in contrast with the beliefs of the segregationist." 238
After South Carolina senator Strom Thurmond died in 2003 at age 101, the public learned that, at 22, he had fathered the child of an underage black girl.239 To some, it was a shocking revelation that seemed to conflict with Thurmond's 70-year political career spent fervently defending racial separation, inequality, and the superiority of the white race. For others, it was tragically predictable.
"[I]n a climate characterized by fear and abject racial intimidation, the question of whether Carrie Butler, an impoverished maid in the Thurmond family household, freely consented is virtually meaningless," legal scholar Kimberle Williams Crenshaw wrote in 2004. "The more telling question is whether there was any way she could freely say no…. The protection law promised was empty; after all, statutory rape laws were not written to protect girls like Butler."240
The story of opposition to the cause of civil rights cannot be separated from the plight of generations of black women whose sexual victimization went unpunished, because those who condoned that abuse were the same men who defended segregation and fought against racial equality.
In 1965, the Honolulu Advertiser profiled Jim Clark, the notorious sheriff of Dallas County, Alabama. Clark told the reporter, "We got a sayin' down here that every nigger baby girl born is a 12 year old—." The newspaper cut off the quote, but explained that Clark used an unprintable word. His meaning was that every Negro girl who has reached puberty is fair game for a white man.""
—
Just as black men were lynched, black women faced systemic sexual violence under Jim Crow
"For Southern black women, the era of separate but equal was also a decades-long reign of white sexual terror. If Southern trees bore strange fruit, the homes and streets they shaded contained secrets that until recently have largely been swept over and ignored.
The Rape of Recy Taylor, a documentary that opens in New York theaters Friday, concentrates some much-needed sunlight on this period of American history and the women who lived through it. Directed by Nancy Buirski, the woman behind both the narrative film Loving and the documentary The Loving Story, The Rape of Recy Taylor brings attention to a little-discussed but common reality for black women in the Jim Crow South: racially motivated rape by white men.
Taylor lived in the small town of Abbeville, Alabama. In 1944, when she was 24, Taylor was walking home from church when she was kidnapped, blindfolded and raped at gunpoint by six white men. Forced to beg for her life, Taylor promised to stay silent so she could go home to her husband and 9-month-old daughter.
But Taylor wasn't silent. Left on the side of a dark country road, Taylor walked home and told her family about what happened. Rosa Parks, who began her career in civil rights as an anti-rape activist, came to Abbeville to agitate for the prosecution of Taylor's attackers. For their troubles, Taylor's home was firebombed, forcing her and her family to move in with relatives. When the family turned to the police, they found no refuge. Rather than pursuing justice, Abbeville's sheriff circled the home of Taylor's relatives, eventually stopping to drag Parks out and threaten her with jail if she did not leave town.
It's a horrifying account, made worse by two startling facts:
1) Taylor's rape was not an exceptional occurrence. It was part of a continuous campaign of terror that was just as much a threat to women as lynching was to black men.
2) The history of black women as victims of white terror has largely been ignored, silenced and minimized, even as their quest for safety fueled their pursuit of civil rights as far back as the 1890s.
What happened to Taylor and countless other black women and the obscurity of their story within the broader narrative of American history is emblematic of the way black women's trauma is repeatedly given short shrift even today. The absence of black women from the spotlight of #MeToo has historical roots that predate Taylor's rape. Taylor's story isn't just about her. It's about thousands of women just like her whose stories we may never know, who were victimized and brutalized without recognition or recompense for their injuries.
A campaign of terror
Buirski's documentary focuses on Taylor's life and the devastation that followed her attack: Her marriage fell apart, she was unable to have more children and her only child died in her early 20s in a car crash. The book that inspired the film is far more expansive and devastating. Historian Danielle McGuire spent a decade researching At the Dark End of the Street: Black Women, Rape, and Resistance — a New History of the Civil Rights Movement from Rosa Parks to the Rise of Black Power. She writes of more than 40 separate cases but insists there are far more stories that went untold, calling her work "the tiniest tip of the iceberg."
"Between 1940 and 1965," McGuire wrote, "only 10 white men were convicted of raping black women or girls in Mississippi despite the fact that it happened regularly." It was rare for white men to be arrested for attacking black women, and even less likely for all-white grand juries to indict them. Convictions were even rarer.
"These are not just bad apples," McGuire told me during a recent interview. "This is part of a systemic approach to dehumanizing black women and girls."
In one chapter, McGuire detailed an attack against Melba Pattillo, a 12-year-old Arkansas girl. A white man chased her into the woods, tried to pull off her underwear and rape her, and yelled, "I'll show you n—-s the Supreme Court can't run my life." The attack happened on May 17, 1954, the afternoon the Supreme Court announced its decision in Brown v. Board of Education.
In the same chapter, McGuire recounted the story of Annette Butler. On Mother's Day 1956, four men in Tylertown, Mississippi — Ernest Dillon, Ollie Dillon (his brother) and their friends Olen Duncan and Durora Duncan (who were cousins) — went searching for a black woman to rape. Armed with a shotgun, they entered the house of Stennis Butler, a black sharecropper, and took his 16-year-old daughter, Annette, holding off her mother at gunpoint. The men drove her away deep into a swamp, raped her, then left her to find her own way home. They were charged with "forcible ravishment and kidnap." Ernest Dillon pleaded guilty to assault and was sentenced to 20 years in prison. The other three men served no jail time for rape. One pleaded guilty to kidnapping, another was acquitted despite a confession and the third had his charges dismissed after his trial produced a hung jury.
At best, white law enforcement officials were lackadaisical about investigating sexual assaults on black women. At worst, they were perpetrating such assaults, not only on public streets but also in jails.
In March 1949, Gertrude Perkins, 25, was assaulted by two Montgomery, Alabama, police officers. She was walking home in the dark when they stopped her, accused her of public drunkenness and forced her into their car. They drove, McGuire wrote, to the edge of a railroad embankment and raped her at gunpoint.
Even if men were convicted of rape, the political system found ways to excuse them. According to Trouble in Mind: Black Southerners in the Age of Jim Crow, Cole Blease, the governor of South Carolina from 1910-14, made prolific use of his pardoning powers, issuing 1,700 during his tenure. Blease pardoned both black and white men who had been convicted of attacking black women and girls. In an official pardoning statement, Blease stated, "I am of the opinion, as I have always been, and have very serious doubt as to whether the crime of rape can be committed upon a negro."
McGuire details how rape was used with lynching to terrorize and subjugate black people in the years leading up to and during the civil rights movement. Other historians, such as Darlene Clark Hine, have stated that the onslaught of interracial sexual violence visited upon Southern black women during Jim Crow was just as much a motivator for the Great Migration as lynching was.
"If you have a slave culture for hundreds of years, what happens when slavery ends?" McGuire said. "Does the culture change? That was part of my question doing this research, and the answer was of course it didn't. White men were raised to believe that they could do whatever they wanted to do to black women and there would be no punishment, and when they did whatever they wanted to do, there usually wasn't a punishment. These are lessons handed down from grandparents and fathers, uncles. They were encouraged to get a black woman for their first sex act so that they could practice … in the '40s, they just picked them up on the side of the road just like Recy Taylor.
"It happened all the time."
Disappearing history
If the violation of black women was so widespread that it contributed to one of the most monumental migration patterns in American history, why don't more people know about it? How did our understanding of black women and interracial rape begin with slavery and end largely with the conclusion of the Civil War?
There are multiple reasons for this absence: Race men like Booker T. Washington didn't think civil rights organizations had a role to play in protecting black women from rape. White women's organizations were equally reluctant to acknowledge that their husbands and sons were attacking black women. White women like Rebecca Latimer Felton, America's first female senator, not only ginned up fear that black men were raping white women en masse, they sucked away attention from the real epidemic of rape that was actually occurring.
Furthermore, the documentation of abuse was limited. Often, stories of abuse were passed down orally by grandmothers and mothers. Even now, it's difficult for historians to find detailed, written accounts of these attacks. McGuire referred to it as "detective work."
And these threats weren't memorialized in song, as was lynching in Billie Holiday's 1939 recording of "Strange Fruit." If there were references, they were so oblique as to require their own decoder ring.
Even in places dedicated to telling the story of black American history such as the National Museum of African American History and Culture in Washington, D.C., or the Great Blacks in Wax Museum in Baltimore, there is limited acknowledgment of interracial rape during Jim Crow, and certainly not as a reality endemic to black Southern life.
The Blacks in Wax Museum has an entire room dedicated to the horrors of lynching, which includes a re-creation of the murder of Mary Turner and her 8-month-old fetus in Brooks County, Georgia, but nothing specifically about the rape of black women during Jim Crow. The Blacksonian does include displays of news clippings about the assaults on Taylor in 1944 and Perkins in 1949. And it also produced videos that include quotes from Ida B. Wells and Dorothy Height about the threat black women faced.
While black women such as Wells, Mary Church Terrell, Nannie Helen Burroughs and Anna Julia Cooper were all devoted to mobilizing to secure black women's safety from sexual violence in the 1890s, they're remembered chiefly as anti-lynching activists or as buttoned-up practitioners of respectability politics. The same goes for their ideological sisters who came later, like Parks and Height.
In her speech as the first president of the National Association of Colored Women, Terrell addressed their estrangement from the rest of society.
"We wish to set in motion influences that shall stop the ravages made by practices that sap our strength, and preclude the possibility of advancement," she said, referring to rape by white men.
Cooper bitterly implicated black men in black women's victimization. "It is absurd," she said in 1892 in A Voice From the South, "to quote statistics showing the Negro's bank account and rent rolls, to point to the hundreds of newspapers edited by colored men, and lists of lawyers, doctors, professors, D.D.'s L.L.D.'s etc. etc. etc while the source from which the life-blood of the race is to flow is subject to the taint and corruption of the enemy's camp."
While the national office of the NAACP was working to dismantle separate-but-equal, the organization determined that any mention of interracial marriage or sex would derail its efforts. "Everything had to be as asexual as possible," McGuire said. "Working on rape cases of black women who had been assaulted by white men would screw that up."
There is so much photographic evidence of lynching, in part because it was a public spectacle, complete with photographers who profited from the murder of black people the way modern artists might sell concert posters. Genitals and other body parts of black men were preserved in jars and kept as mementos. Their charred bodies, hanging from trees, served as ominous warnings to other black people that they best remember their place.
But there is little visual record of the interracial rape of black women, save for photographs of them clutching their obviously biracial children. In The Rape of Recy Taylor, Buirski offers these images as a small record of an enormous epidemic.
We use art to document and memorialize the human condition. But the art that preserves the experience of black women during Jim Crow is limited and often deliberately opaque. The race films of the early 20th century are among the few remaining cultural artifacts that re-created black women's experiences under threat from white men. Buirski employs their footage in her documentary.
But, by and large, the work of tracking and quantifying interracial sexual assault is difficult for historians. The language referring to such attacks in first-person accounts is often not explicit, although news clippings from the black press were clearer. Furthermore, there was a concerted effort to silence and discredit black female victims. That silencing was often twofold: first in the primary documents, such as white newspapers and police reports, and then again by white historians and archivists who may have deemed such accounts unworthy of preservation. In Taylor's case, her attackers slandered and dismissed her as a prostitute whom they paid.
"There wasn't a good uniform record keeping of these kinds of assaults, largely because of racist police forces that didn't take black women's stories seriously, and also because a lot of these assailants were police officers," McGuire said. "Sometimes within their own community there would be perhaps shame and silence in coming forward for a crime like this just because of the gender politics of the time, which were not limited to racial groups."
When sexual violation was recorded, survivors often recounted their experiences through allusion. A woman might not say she was raped, but that a man "talked under my dress" or "played with my body."
While "Strange Fruit," the dirge made famous by Holiday, is the most recognizable protest song of the lynching era, there is no such work from the era that deals so explicitly with the threat of rape. Instead, in the same way historians must read between the lines of slave narratives, oral histories and other accounts of rape, so too must those examining art of the era. And so songs such as Nina Simone's chilling rendition of "Pirate Jenny" and Aretha Franklin's "At the Dark End of the Street" take on more sinister undertones when interpreted through this lens. They're both songs appropriated by black women to tell different stories from the ones they were originally telling. The difference in tone, phrasing and the style in which these songs are sung is designed to evoke a dark, unsettling horror.
That sort of opaque doublespeak was another form of self-preservation. Anything other than silence could be punished with death. Remember, Taylor's attackers firebombed her home because she told her husband what happened to her. Just as it was de rigueur to ignore that slaveholders owned fair-skinned children who bore their features and mannerisms, it became standard to look at black women during Jim Crow and ignore the obvious source of their lighter-skinned children.
Modern implications
There are through lines from the epidemic of sexual assault during Jim Crow to our modern era. The most obvious may be the case of Daniel Holtzclaw, the Oklahoma police officer who sexually preyed on poor women of color with criminal records. His predation was directly connected to the way law enforcement made black women's lives worse. If black women weren't directly victimized by police, their assaults weren't taken seriously, which is why white men were so rarely prosecuted for them.
Even the current #MeToo moment is different for white and black women.
"I think the floodgates have opened for white women," actress Gabrielle Union recently told The New York Times about #MeToo. "I don't think it's a coincidence whose pain has been taken seriously. Whose pain we have showed historically and continued to show. Whose pain is tolerable and whose pain is intolerable. And whose pain needs to be addressed now."
The Equal Justice Initiative is behind the national lynching memorial that will open in 2018 in Montgomery. An official from EJI told me the organization has plans for "an entire section dedicated to the sexual exploitation of black women, including Ms. Recy Taylor" in its Legacy Museum, which will open on April 26. But it doesn't appear that there are plans to include sexual violence against black women in the lynching memorial, which will exist alongside the museum.
"I don't think they need to be separate because, again, it's part of the same terror structure, systematic terror against black people," McGuire said. "Part of the issue that I've always had with cold case civil rights investigations and even in some ways the Equal Justice Initiative's focus on lynching is that it becomes heavily gendered and is another way of kind of disappearing black women's experiences under a regime of white supremacy and American apartheid. By focusing on those kinds of cases only, we're not getting a full picture of the reign of terror that existed and that was inflicted upon black communities and black bodies. It ends up focusing on what happened to black men."
Even as she was decrying lynching, Wells made a similar point in 1900 to a crowd gathered in Chicago.
"The negro has been too long associated with the white man not to have copied his vices as well as his virtues," Wells said. "But the negro resents and utterly repudiates the efforts to blacken his good name by asserting that assaults upon women are peculiar to his race. The negro has suffered far more from the commission of this crime against the women of his race by white men than the white race has ever suffered through his crimes. Very scant notice is taken of the matter when this is the condition of affairs. What becomes a crime deserving capital punishment when the tables are turned is a matter of small moment when the negro woman is the accusing party."
The way these stories were silenced reinforces a social hierarchy that contends black women should be grateful for attention from white men, even if it's unsolicited or unwanted. Worse, it tells the world that black women and the assaults on us simply don't matter. Ignoring this area of history has enormously harmful consequences, feeding into how we process accusations of sexual assault from black women today.
The rape of Recy Taylor and so many other unnamed, unrecognized and unheard black women reminds me of Cooper's words from 1892: "Only the black woman can say 'when and where I enter, in the quiet, undisputed dignity of my womanhood, without violence and without suing or special patronage, then and there the whole … race enters with me.'
—
Back to Efforts to Uncover Buried History
---
Learn More and Get Involved
Projects
The Zinn Project

supports the teaching of people's history in classrooms across the country
zinnedproject.org

Teaching for Change

provides teachers and parents with the social justice educational tools and opportunities
teachingforchange.org

Teaching Tolerance

A project of the SPLC for educators teaching diversity, equity and justice
tolerance.org/
Readings
The Case Against Slave Reparations by Ta-Nehisi Coates
Equal Justice Initiative Reports

Segregation in America
Lynching in America
org/reports

Stamped from the Beginning: The Definitive History of Racist Ideas in America by Ibram X. Kendi
The Color of Law: A Forgotten History of How Our Government Segregated America by Richard Rothstein
Welfare Racism: Playing the Race Card Against America's Poor by Kenneth J. Neubeck, Noel A. Cazenave
Black Reconstruction in America by W. E. B. Du Bois
People's History of United States by Howard Zinn
Sundown Towns: A Hidden Dimension of American Racism by James Loewen
History is a Weapon – books and articles online
—