---
Table of Contents
White Extremists vs Islamic Jihadists
Muslim Women Subjugation Stereotype
---
Modern Muslim Discrimination
—
Nearly Half of US Muslim Experience Discrimination in 2017
Pew estimates 3.35 million Muslims of all ages in a US

Majority of Muslims born outside US, in over 70 different countries

According to a 2017 PEW survey:

48% of Muslims in the US experienced discrimination in the past year

The most common form of discrimination cited was

being treated with suspicion (32% of those the researchers spoke to)
followed by being singled out by airport security (19%)
being called offensive names (18%)
being singled out by law enforcement (10%)
being physically threatened or attacked (6%).

3/4s say there is "a lot" of discrimination against Muslims
74% say President Trump is "unfriendly toward" them
Those with Muslim appearance more likely experienced discrimination

For instance clothing like a hijab
Muslim women more likely to experience discrimination
—
ARAB | How You See Me
—
—
—
"Almost half of Muslims in the US say they have experienced discrimination in the past year, a study by the Pew Research Center suggests.
Three quarters say there is "a lot" of discrimination against Muslims, while 74% say President Donald Trump is "unfriendly toward" them.
In 2011, 64% said President Barack Obama was "friendly toward" them.
The research also suggested that Muslims in the US are becoming more socially liberal.
The proportion saying society should accept homosexuality has almost doubled.
Researchers spoke to 1,001 US Muslims by phone. They said the people they chose were a representative sample.
More discrimination – but more outward support too
Half of those they spoke to said it had become harder to be a Muslim in the US in recent years, while 48% said they had personally experienced discrimination in the past year.
The most common form of discrimination cited was being treated with suspicion (32% of those the researchers spoke to), followed by being singled out by airport security (19%), being called offensive names (18%), being singled out by law enforcement (10%) and being physically threatened or attacked (6%).
Some felt unsafe as a result, with one immigrant man saying: "We have to take extra care scanning our surroundings, know where we are, who is around and what kind of thoughts they might hold for Islam."
Those with a distinctively Muslim appearance – for instance clothing like a hijab – were more likely to say they had experienced discrimination. In fact Muslim women were more likely than Muslim men to say it had become more difficult to be a Muslim in the US.
The numbers for all of these forms of discrimination had gone up since 2007, when George W Bush was president, but most had decreased or stayed level since 2011, under President Obama.
At the same time, there was evidence of growing vocal support for Muslims.
Almost half (49%) said someone had expressed support for them because of their religion in the last year.
Unhappy with the way the country is going
A majority of Muslims voted for Hillary Clinton, so perhaps it is no surprise that they are unhappy with the team that is now at the top. But their experiences of discrimination, and President Donald Trump's attempts to restrict entry for people coming from Muslim countries, have coloured this too.
One man said: "When the Muslim ban was introduced the first time around, I literally felt like the persecution had started. Because we had read the history of Europe and what happened to the Jewish people in Germany."
Another said: "You almost get that post-9/11 atmosphere because of the suppression, really, of minorities and minorities' thoughts and voices.
"People like the alt-right or ultraconservative Trump supporters now have a larger voice that was suppressed just years ago, and now they're really allowed to make heard what they think about Muslims and minorities in general, so a lot of tensions have been rising."
More socially liberal than before
US Muslims' views on homosexuality have changed in the last decade. This year, more than half (52%) said society should accept homosexuality – up from 27% in 2007.
The leap corresponded with a smaller bump in the number of US Muslims saying there is more than one way to interpret Islamic teachings. In 2007, 57% agreed with this liberal view; this year, the figure was 64%.
Views on terrorism and extremism
Muslims were more likely to condemn terrorism than the general US population.
They were asked the following question: "Some people think targeting and killing civilians can be justified in order to further a political, social or religious cause. Other people believe that, no matter what the reason, this kind of violence can never be justified. How do you personally feel?"
75% of Muslims said it could never be justified, while just 59% of the general public said the same.
Some people from both Muslim and non-Muslim backgrounds said they thought it was often or sometimes justified. To try and understand the answer better, the researchers rang some of those people back and asked them what they meant. Many of them mentioned situations other than terrorism, including military action and self-defence.
Three quarters of Muslims said they saw little or no support for extremism among US Muslims, and 6% said they saw a "great deal". The general public were more likely to perceive Muslims as supporting extremism.
And Muslims were more likely than the general public to be concerned about extremism in the name of Islam, in the US and around the world.
Do Muslims think they fit in to American life?
Most Muslims think they are not seen as being part of the American mainstream, and 60% thought their coverage in the mainstream media was "unfair".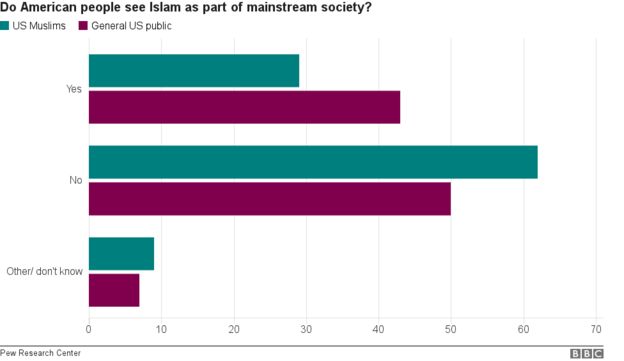 But 92% said they were proud to be American. 89% of respondents said they were both proud to be a Muslim and proud to be American.
One woman in her 40s told researchers: "What I have in common with most Americans is a dedication to this country.
"We also have in common our shared humanity.
"We're all struggling to earn, pay our taxes and raise our kids."
Pew Research Center estimates that there are 3.35 million Muslims of all ages in a US, a million more than there were in 2007. A majority of Muslim adults were born outside the US, in more than 70 different countries of origin. On the whole they are younger than the general US population."
—
AJ+: Who Made it Ok to Hate Muslims?
—
NPR: Coping With The Persistent Trauma Of Anti-Muslim Rhetoric And Violence
Over the weekend, Muslim mental health professionals quickly pulled together a webinar to share advice on how to deal with trauma after the New Zealand terrorist attacks on Friday. A white supremacist killed at least 50 people as they prayed in two mosques.
Psychiatrists and spiritual leaders doled out advice on self-care and how to help young Muslims work through this moment.
"The concern for all of us who are working in the mental health field and in the community is 'What is going to be the long-term impact of this persistent exposure to trauma that our kids are facing right now?' " said Dr. Farha Abbasi, a psychiatrist at Michigan State University.
That trauma didn't start on Friday.
In the U.S., while many young Muslims wept over the loss of life and the hate that drove the killings, they said they weren't surprised. They're a generation that has been raised on a constant barrage of anti-Muslim rhetoric since the Sept. 11, 2001, attacks.
For most of their lives, if not all of their lives, the U.S. has been at war in Afghanistan and Iraq; elected officials from across the spectrum have questioned their patriotism and their loyalties. Meanwhile, mass violence has become almost commonplace, with schools across the United States holding mass-shooting drills for children and, in the past few years, rising numbers of hate crimes against American Muslims and other minorities.
"Every given day there are more Muslims dying, either by these terrorists, in the name of terrorism or in the war against terrorism. But how the trauma is being internalized is what concerns me," Abbasi said. Because Muslim life, she said, can feel like it's worthless to others.
"We already know that trauma can be very disruptive. It's like your story is cut off. Suddenly it takes away your sense of safety, your sense of predictability, but it can also impact your ability to trust, relate, connect, and you feel very isolated and disconnected."
Abbasi points to statistics that show young Muslims are feeling more alienated. Muslim parents report bullying in K-12 school at nearly double the rate of Jewish kids and at more than double and triple the rates of Protestant and Catholic school-age children, respectively. In some cases that bullying is coming from teachers. A survey from the Pew Research Center found that about two-thirds of Muslims don't think other Americans see them as mainstream.
"Post-9/11 there is a more concerted effort to demonize Muslims, to make us the other, sort of the foreign threat and the enemy," said Kameelah Mu'Min Rashad. She's the founder of the Muslim Wellness Foundation, which promotes healing and emotional health in American Muslim communities.
That message is what the 15- to 20-year-olds she counsels have heard their whole lives.
"Unfortunately for them it feels commonplace," she said. "From extremely horrific events like what we saw happened in New Zealand in Christchurch to daily microaggressions and invalidations of their identity. And so I am very proud of how resilient American Muslim youth are. And I'm also very concerned about the onslaught and sort of daily erosion of their humanity."
Every day these young people are asked to prove their worth and their humanity, she said. A vast swath of American Muslim adults are young: At least 35 percent are between the ages of 18 and 29. Many have multiple identities that are marginalized and threatened by white supremacy — black Muslims, queer Muslims, undocumented Muslims.
Islamophobia is 'always present'
It's all too familiar for Nayab Khan. She's a 22-year-old student at the University of Pennsylvania.
"I've only lived in a period where Islamophobia, anti-Muslim rhetoric, is always present, everywhere I go," she said. "Whether that be the eighth grade, being called a terrorist for the first time, or whether that be the shooting a few days ago."
The daily aggressions have shaped her identity. She goes to the corner store near her apartment, and someone calls out, 'Go back to your country'; she gets on the train, a woman yells at her. It's part of being visibly Muslim. She's a Pakistani American who wears the religious head covering, the hijab.
"It's very exhausting and very laborious to always, one, have to constantly be explaining yourself," she said. "And two, attempting to normalize it, when in reality I'm Muslim and I'm different and that's who I am."
So now Khan is active on campus with the Muslim Student Association. She organized a vigil after the Christchurch attacks, and she's building coalitions with other groups who combat white supremacy, xenophobia and racism.
Seventeen-year-old Noor Bowman of Philadelphia says the anti-Muslim stuff barely registers with her anymore.
"As a young person growing up, they shape your experience and the way you see the world around you," she said. "I'm so used to it that when people mention it, I'm like, 'Oh, I do experience microaggressions and different things.' But unfortunately it's become a part of everyday life."
Things like people calling her derogatory names for an Arab — she's African-American. Telling her to go back to her country — she's from Philadelphia. So she has learned to be resilient.
"Hatred against Muslims and other minorities has always been there, you know, since 9/11. And for people of color … since basically forever here in this country," she said. "But I think that there are moments in history — and I think this is just history repeating itself — things change in our environment or [in the] political climate where people have heightened hatred or their hatred is emboldened."
That moment, she said, is now. At school she has taken on the role of someone who speaks out when her identities as a black Muslim woman are demonized or questioned.
"I'm definitely an ambassador and not because I'm forced to be but because I want to be," she said. "I am very vocal in standing up to some of the things that are in our textbooks [or] are said by our teachers that are incorrect or inaccurate," she said. "I'm more than happy to be the ambassador and say, 'Hey, this is not appropriate,' because if I'm not, who will be?"
—
---
Islamophobia
—
Islamophobia Defined

Dislike of or prejudice against Islam or Muslims, especially as a political force

"Islamophobia in the United States can be described as the unvalidated, highly speculative, affective distrust and hostility towards Muslims, Islam, and those perceived as following the religion and or appear as members of the religion and its associative groups. This social aversion and bias is facilitated and perpetuated by violent and uncivilized stereotypes portrayed in various forms of American media networks and political platforms that result in the marginalization, discrimination, and exclusion of the Muslims and Muslim perceived individuals. Media and politicians capitalize on public fear and distrust of Muslims through laws that specifically target Muslims, while the media emphasizes Muslim religious extremism in association with violent activity." Wikipedia

Islamophobia in US

37% of Americans having a favorable opinion of Islam (2010 ABC News/ Washington Post poll)

According to a 2013 Carnegie Mellon University study

Muslims had "13% fewer callbacks" than Christians after submitting identical job applications to the same establishments
The discrepancies between callbacks for Muslims and Christians were larger "in counties with a high Republican voters,"

No discernible hiring discrimination against Muslims in Democratic counties

After Sept 11th

Equal Employment Opportunity Commission (EEOC) reported 250% more discrimination against Muslims
The FBI reported the number of hate crimes against Muslims in:

2000 – 28
2001 – 481
2002 – 2014 (between 105 and 160 annually)
2015 – 256
2016 – 307

Muslims are 1% of population but account for 4.4% of all reported hate crime
Number of anti-Muslim groups nearly tripled — from 34 in 2015 to 101 in 2016 (SPLC)

After 2016 election

The SPLC interviewed 10,000 educators after 2016 election

80% said fear and anxiety grew among students after Election Day among immigrants, Muslims, black students
—
Watch Rep. Ilhan Omar Shut Down This 'Appalling' Biased Question | NowThis
—
Wikipedia: Islamophobia in the United States
"Islamophobia in the United States can be described as the unvalidated, highly speculative, affective distrust and hostility towards Muslims, Islam, and those perceived as following the religion and or appear as members of the religion and its associative groups.[1] This social aversion and bias is facilitated and perpetuated by violent and uncivilized stereotypes portrayed in various forms of American media networks and political platforms that result in the marginalization, discrimination, and exclusion of the Muslims and Muslim perceived individuals.[2] Media and politicians capitalize on public fear and distrust of Muslims through laws that specifically target Muslims, while the media emphasizes Muslim religious extremism in association with violent activity.[1]
Advocacy groups like Center for American Progress explain that this social phenomenon is not new, but rather, has increased its presence in American social and political discourse over the past ten to fifteen years. They cite that several organizations donate large amounts of money to create the "Islamophobia megaphone".[2] CAP defines the megaphone analogy as "a tight network of anti- Muslim, anti- Islam foundations, misinformation experts, validators, grass root organizations, religious rights groups and their allies in the media and in politics" who work together to misrepresent Islam and Muslims in the United States.[2] As a result of this network, Islam is now one of the most stigmatized religions, with only 37 percent of Americans having a favorable opinion of Islam, according to a 2010 ABC News/ Washington Post poll.[3] This biased perception of Islam and Muslims manifests itself into the discrimination of racially perceived Muslims in the law and media, and is conceptually reinforced by the Islamophobia Network.
In employment
In hiring
A 2013 Carnegie Mellon University study found that, nationally, Muslims had "13% fewer callbacks" than Christians after submitting identical job applications to the same establishments.[4] The study also concluded that discrepancies between callbacks for Muslims and Christians were larger "in counties with a high fraction of Republican voters," with Christians getting almost four times as many return calls in these constituencies. On the other hand, there was no discernible hiring discrimination against Muslims in Democratic counties.[5] Biases were larger on the state level, with Christians getting more than seven times as many callbacks than Muslims in Republican states. Democratic states, once again, showed "no significant callback biases." The study added that "employers in older counties are significantly less likely to call back the Muslim candidate compared to the Christian candidate"[6]
In the workplace
Protection against religious discrimination in the workplace is found in the context of the Civil Rights Act of 1964[7] Employees claim religious discrimination when it involves any of the following: disparate treatment, religious harassment, failure to reasonably accommodate religious beliefs, and retaliation against an applicant or employee who alleges religious discrimination.[7] Disparate treatment can be defined as someone receiving different treatment regarding recruitment, hiring, promotion, discipline, compensation because of their religion.[7] Religious Harassment involves employees who are forced to participate or abstain from religious practices if they want to stay employed.[7] Accommodation claims involve the employer's failure to reasonably accommodate any change to the work environment that would enable the employee to remain compliant with their religion.[8] Retaliation happens when an employer resorts to punitive action against an employee for seeking out religious accommodations, threatening or filing a claim, assisting in someone else filing for discrimination, or testifying in discrimination proceedings.[7]
After the terrorist attacks that occurred on September 11, 2001, the Equal Employment Opportunity Commission orEEOC reported that religion- based discrimination against Muslims had increase by nearly 250 percent.[9] Moreover, the number of discrimination claims made by Muslims over a four year period, from 2001 to 2005, nearly doubled when compared with another 4 year period.[10]
Religious Harassment
In regards to religious harassment, studies show that, in general, these type of suits are increasing.[11] In the case of Zayed v. Apple Computers, an Arab Muslim woman sued Apple Computers on the grounds of harassment, retaliation, defamation, and infliction of emotional distress based on religion, national origin, and gender.[12] Zayed had been employed as an at- will engineer since 1994, and stated that she had experienced dramatic changes in her work environment after the terrorist attacks on September 11, 2001.[8] Zayed claimed that fellow employees began inquiring as to whether or not her religion encouraged Muslims to engage in suicide bombings.[8] Additionally, she stated that these same employees gave her malicious expressions, slammed her door, and expressed visible discontent and anger with Zayed after she expressed her disapproval with the war in Iraq.[8] Moreover,  she also felt isolated when Apple put up red, white and blue ribbons on many employees' doors, but not on hers.[13] Soon after Zayed claimed that she felt marginalized and believed that she was wrongfully excluded from projects and career opportunities that were mostly given to white, non- Arab, colleagues.[13] Finally in 2004, Zayed chose to go on disability leave, stating that it was partly due to the stress she had been experiencing in response to the harsh treatment from her supervisors and coworkers.[8] But while on sick leave, Apple terminated Zayed. After her termination, Zayed decided to sue.
Disparate Treatment
In the case Al- Aqrabawi v. Pierce County, a Muslim man from Jordan had been educated as a physician abroad, but was only hired as a nursing assistant at a county mental health facility, to which the county originally stated that it was due to licensing issues.[8] In addition to this, the Plaintiff also experienced discriminatory comments by an LPN alluding to their suspicion that the Plaintiff was a terrorist.[8] The Plaintiff also claimed that a fellow coworkers said that "we have to send in our Phantoms and bomb their Mecca".[8] These comments, in conjunction, with discriminatory licensing practices, led to the plaintiff suing on behalf of claims of failure to promote, discrimination, and hostile environment.[8]
Religious Accommodation
In regards to religious accommodation, a Muslim woman named Halla Banafa filed a discrimination claim after she didn't receive a job stocking merchandise at an Abercrombie Kids store in Milpitas, California because she wore the hijab.[14] According to EEOC, the manager decided against hiring the woman because she didn't fit the Abercrombie look, which would violate the company's "Look Policy".[15] This policy functions as an internal dress code that explicitly prohibits head coverings.[15] However, this isn't the first time that Abercrombie has run into issues with their strict "Look Policy". In 2005, the company paid $40 million in a class- action suit involving African Americans, Asian Americans, Latinos and women because Abercrombie "refused to recruit, hire, promote, and retain minorities because they didn't fit Abercrombie's 'All- American look'".[15]
In 2017, the government of New York City charged Pax Assist with discrimination after refusing requests by Muslims employees to change the times of their breaks to coincide with iftar. The company responded by saying "we don't care about Ramadan. We'll give you a break on our time, not your time."[16]
Religious Retaliation
In the case Ibraheem v. Wackenhut Services, the black male Muslim claimed religious retaliation when he was fired after submitting an EEOC charge of discrimination and filing for a lawsuit involving claims about hostile work environments and religious discrimination.[17]
Women in Islam
The existing discourse that positions Islam and western values against each other also underpins how the Americans perceive Muslim women in society.[18] Scholars assert that media, Islamophobic organizations, and politicians have played a tremendous role in depicting Muslim women as consistently endangered and subjugated by the alleged partriarchical nature of Islam.[18] In support of this presumption, many scholars conclude that women's status in Islam has a complex history, one that implies instances of male privilege and the relegation of women to a second class citizenry.[19] However, more recently, a movement known as Progressive Reformism, spearheaded by activists like Fatima Mernissi, assert that Islam is not stagnant, but rather a dynamic text that can adapt and evolve to society.[18]
Fatima Mernissi, a leader in the Islamic Feminism movement, works to invalidate presumptions that Muslim women are inherently demoted to a second class position in the Islamic faith, in relation to men.[20] Mernissi believes that the goal of her movement, described as Nisaism, which is Arabic for woman, is one that is dedicated to supporting a woman's "full right to full- fledged participation and contribution in the remaking, changing and transforming of her society as well as the full realization of her own talents, needs, potentials, dreams and truth".[20] This broad definition is also used and reconstructed by other Islamic feminists on a variety of issues.
One of these issues includes the rising controversy and questioning of the meaning behind veiling.[20] First and foremost, those who adhere to a feminist interpretation of the Qu'ran say that the conception of veiling is not monolithic in nature.[20] Rather, what constitutes veiling varies across regions. Some choose to wear a Niqab which refers to various materials that are used to cover a woman's face.[20] Others choose to wear long conservative skirts and dresses that cover most skin.[20] The hijab, which is usually worn around a woman's head, is also prevalent among various regions.[21] Furthermore, just as the definition of what constitutes veiling varies, so do the attitudes of those who choose to veil.[21] A study conducted by Jen'Nan Ghazal Read and John P. Bartowski surveyed twenty- four Muslim women in Austin, Texas and found that while veiled women contained somewhat more conservative gender attitudes, the vast majority of those same women support women's rights in public life and marital equality.[21] In the same study, the researchers found that veiled women had varying motivations for covering.[21] Some of the respondents alluded to their religious duty of covering and how the veil symbolized her commitment to her faith.[21] Additionally, several other woman explained that certain social pressures encouraged veiling as a way to facilitate a feeling of connectedness through their broader religious community, known as the Ummah, in Arabic.[21] Veiled respondents also spoke about popular discourse regarding feminine- masculine differences. One respondent acknowledged that the veil protected women from men's biological hyper- sexual nature, claiming that if the veil was not required, "many evil things would happen…Boys would mix with girls, which will result in evil things" [21] Another respondent reinterpreted the discourse of male and female difference.[21] Instead of viewing the practice of veiling as men controlling their hyper- sexual nature, the respondent claimed that the veiling was about distinguishing women from men, as a means of honoring womanhood.[21]
Although Islamic Feminists encourage dynamic interpretations of Qu'ran's verses, not all agree with the veiling practice.[20] Fatima Mernissi's opposition to veiling partly comes from her interpretation of al- Tabari's version of the events that occurred on the Prophet Muhammad's wedding night that served as the impetus for the veiling practice when the Prophet placed a curtain between his new wife and him and the guests that were overstaying their welcome, preventing the Prophet from engaging intimately with his new wife, Zaynab Bint Jahsh.[20] Mernissi further argues that Sura 33: 53-55, from the Qur'an, that details the narrative of the Prophet's wedding night, should not be interpreted as mandating the practice of veiling for woman as means of marginalization or seclusion, but should be viewed as emphasizing the importance of treating the Prophet and his wife with respect.[20] Moreover, in the same study conducted by Read and Bartowski, some of the unveiled respondents argued that the veil "reinforced gender distinction that work to Muslim women's collective disadvantage".[21
In Education
At Columbus Manor school, a suburban Chicago elementary school where nearly half the student body is Muslim Arab American, school board officials have considered eliminating holiday celebrations after Muslim parents complained that their culture's holidays were not included. Local parent, Elizabeth Zahdan, said broader inclusion, not elimination, was the group's goal. "I only wanted them modified to represent everyone," the Chicago Sun-Times quoted her as saying. "Now the kids are not being educated about other people."[22] However, the district's superintendent, Tom Smyth, said too much school time was being taken to celebrate holidays already, and he sent a directive to his principals requesting that they "tone down" activities unrelated to the curriculum, such as holiday parties.
In airports
Since the terrorist attacks that occurred on 9/11, American airports have considered it their duty to act as the "front line of defense". Polls conducted in the United States also show that more than half of Americans support the policy of more extensive security checks for Arab and Muslim Americans in airports.[23]
Immigration
Some publishers have noted the presence of Islamophobia during immigration proceedings. Nonetheless, such forms of xenophobia have been said to primarily affect the male members of the Muslim population. There have also been claims stating that such forms of xenophobia have enveloped the Arab community in the U.S., often resulting in deportations, revocations of visa, and dispiriting interrogations at American airports.[24] This purportedly occurs because Muslim women are seen as less of a threat than Muslim men.[25]
In politics
After the terrorist attack on September 11, 2001, the President George W. Bush's administration passed sweeping, unprecedented legislation in response to the American public's demand for action.[26] After three days, Congress passed the law called the Authorization for the Use of Military force, giving President Bush the power to use the military in any way that seemed "appropriate or necessary towards unspecified states and non state actors."[27] Six weeks after 9/11, the PATRIOT ACT was passed, greatly expanding several government agencies' abilities to acquire information via searches, electronic surveillance, and wiretapping.[26] This same act also introduced searches that did not require the government to notify the private owner of a residence that they had been searched for up to 90 days.[27] Some scholars argue that the passage of laws like the Patriot Act was the government's way of capitalizing on a fearful American public by legalizing racially targeted policies.[28] A poll conducted shortly after the 9/11 terrorist attacks, echoes this line of argument when it found that about one- third of Americans thought it was acceptable to detain Arab Americans in internment camps, reminiscent of the Japanese internment camps during World War II.[29] Pew Research Center's poll, conducted in 2004, also found that almost of half Americans were willing to forego certain civil liberties in favor of ensuring national security.[30]
The enforcement of the Patriot Act has far- reaching repercussions, and is widely believed to target Muslims, Middle Eastern and Arab looking men.[31] According to the ACLU, the New York City Police Department has been spying on Muslim- American communities since 2002.[32] In this same report, the ACLU asserts that the NYPD has singled specific Islamic associations, groups, mosques, and businesses, while not subjecting any other non- Islamic associated groups to this type of surveillance or scrutiny.[32] The NYPD was enabled by the Patriot Act to essentially map out the communities, introduce spies into the community to identify or collect evidence, and even track individuals in these communities who change their name to a more Americanized name.[32] The legalization of dismantlement of civil liberties for a group, deemed inherently suspect, has caused a cultural rift in America's view towards Muslims, Middle Eastern men, and those who appear to be Arab.[23]
As a supplement to the Patriot Act, the U.S. government also instituted immigration policies such as the National Security Entry- Exit Registration System in 2002.[27] This policy targeted immigrants from twenty six countries, twenty five of them known as Muslim countries, and had them fingerprinted and registered into a select system upon entry into the country.[27] Supporters of the policy in the Justice Department explain that the selection of immigrants into the system is predicated on the current intelligence data that has been collected to monitor terrorist organization's activity.[33] Even though the Justice Department elucidated that the system is highly sensitive in their targets, they also stated that the system will track "all nationals of Iran, Iraq, Libya, Sudan, and Syria," despite knowing that none of the terrorists involved in the 9/11 attacks were from these countries. In spite of the money dedicated to the new homeland security paradigm in the wake of 9/11.[27] Bill Ong Hing argues that the restructuring and implementation of more security measures via immigration policies as well as the expansion of powers of executive enforcement has not aided in the goal of apprehending terrorists.[34] Hing cites that over 83,000 men came forward to register in the system, and about 13,000 of them were deemed dangerous enough to enter deportation proceedings.[34] However, James Ziglar, President Bush's appointed INS commissioner, stated that nobody in the registry was ever charged and convicted of crimes associated with terrorism.[27]
The U.S. government also decided to devote resources to create the Transportation Security Administration (TSA) in 2001.[27] This policy afforded the TSA the duties of careful airport screening, which was once performed by private security firms chosen by certain airlines.[27] It also allowed them to conduct random canine- assisted searches, implement more checkpoints, and place air marshals on thousands of flights coming from all over the world. The TSA also holds the No- Fly List and the Automatic Selectee list, two controversial terrorism watch lists. The No- Fly List contains names of individuals who have been labeled as a threat to aviation across the United States.[35] If on the list, individuals are not allowed to fly on commercial flights headed towards the United States, are supposed to fly over United States airspace, or are managed by a U.S. airline. Although, the No Fly List and the Automatic Selectee List existed prior to the 9/11 attacks, the combined total of names on both lists rose from less than 20 to more than 20,000 by the end of 2004.[27] Scholars argue that these lists target millions of innocent people who resemble distinct Middle Eastern characteristics, like ethnicity, skin color, language and clothing.[36] With these governmental policies in place, racism has been institutionalized in regards to Muslims, especially foreign born. The foreign born Muslims seeking travel to the United States are depicted in airports as potentially violent and religiously extremist.[26] However, even U.S. citizen Muslims who fit the American caricature of a Muslim are not safe from these policies. A USA Today/ Gallup poll conducted in 2010 echoed the prevalence of racist public sentiment, showing that about 60 percent of the American public showed favorable views towards ethnic profiling towards Arabs, even if they were U.S. citizens.[37]
In the Media
In the immediate months following the terrorist attacks on September 11, 2001, an expected surge of media attention was devoted to American Muslims and Arabs.[38] Frequent news stories and discussions involved the issue of civil liberties that American Muslims were facing due to the increase in reports involving physical violence and assaults on Arabs and Muslims.[38] Despite the notable prejudice towards Arabs and Muslims after the terrorist attack, outlets like the New York Times printed opinion pieces discouraging the indiscriminate attribution of blame to one or more groups by the way of curtailing civil liberties and social freedoms.[38]
Other researchers like Brigitte Nacos and Oscar Torres- Reyna coded media dispositions on Islam and Muslims before and after 9/11.[38] Their studies concluded that before 9/11, about 25 percent of the pertinent articles taken from four different newspapers connoted positive sentiment towards Muslims.[38] Likewise, approximately 40 percent of the articles taken from the same newspapers expressed empathetic attitudes towards Muslims and Arabs alike. These same researchers argue that 9/11 terrorist attacks changed the way news media outlets (print or television) reported on Muslim Americans and Arabs.[38] They cite that because news media outlets selected Muslims and Arabs for interviews and discussions instead of their traditional authoritative sources, these minority groups became more visible to the American public.[38] This increased visibility, in conjunction with news items reporting public figures advocacy for increased understanding between Muslims and non- Muslims, echoed the heterogeneous nature of the religion.[29] Additionally, these pleas and visibility helped dispel the idea that Islam was a violent and hateful religion, temporarily debunking the myth that terrorism is intertwined with the Islamic faith.[29]
In totality, several opinion surveys reflected the impact of the shift in media coverage towards Muslim Americans and Arabs.[38] The surveys showed that the American public viewed American Muslims more favorably than they did prior to the 9/11 attacks.[38]
As time passed the immediate months post- 9/11, the news media outlets reflected a notable shift away from positive, supportive, and empathetic sentiments towards Muslim Americans and Arabs.[38] The next six months and the years after the attacks showed that, in addition to westernized media, American media outlets became increasingly critical of Muslim Americans.[38] Some attribute this notable shift to the silencing of voices that once advocated for Muslim Americans as peaceful individuals.
According to Media Tenor International, between 2007 and 2013, media outlets like NBC, Fox News, and CBS characterized Islam and the Muslim identity as one linked with violence and extremism.[39] Other studies conducted by LexisNexis Academic and CNN found that media outlets devoted more coverage to terrorist attacks involving Muslims, especially Muslims who were not born in the United States.[40]
Author and researcher Nahid Afrose Kabir examined similar reporting on violent events. One event he studied was the Fort Hood shooting that occurred on November 5, 2009. Major Nidal Malik Hasan, who was identified as American born but held a Muslim background, shot and killed thirteen soldiers and wounded thirty more.[41] Some of the interviewees commented on how the news reporting of this event emphasized Hasan's Muslim background.[41] The same interviewees in this study compared the Virginia Tech shooting with the Fort Hood shooting in which a non- Muslim individual, Seung- Hui Cho, killed thirty- two people, but following news reports did not make a point to emphasize his religious or cultural ties.[41] Similarly, in various print media outlets, headlines alluded to the idea that the Fort Hood Shooting had ties to terrorist acts or other terrorist organizations.[41] Another incident that occurred in Times Square on May 2, 2010, provoked more anti- Muslim sentiment.[41] Faisal Shahzad made a bombing attempt that failed.[42] The Times subsequent reporting indicated that Pakistan's Tehrik- e- Taliban took credit for the failed attempt.[42] In the same report over the incident, Kabir noted that the Times report used this incident to further legitimize the wars in the Middle East, emphasizing the need to take out potential terrorists.[41] Kabir echoed Reem Bakker's sentiments, an interviewee in Kabir's study, that the failed attempt further ostracized the Muslim community.[41]
Hate crimes
In general, the definition of a hate crime involves two elements that distinguish it from other illegal acts.[43] Namely, that the crime must be a criminal offense that is backed by a biased motivation.[43] This biased motivation is usually revealed when an individual targets an attack on an individual because of some immutable personal characteristic that is protected by law.[44] Hate crimes vary from assault, murder, damage to property, work place discrimination and housing discrimination.[44]
In 2000, the FBI reported 28 hate crime incidents against Muslim.[45] By the end of 2001, the number of hate crimes rose to 481.[45] Although the FBI finds that the number of anti- Muslim hate crimes has decreased since 2001, the incidence rate is still five times as much their 2000 rate, suggesting that the stereotypes that negatively link Muslims, extremism, and terrorism are still pervasive.[46] Some scholars suggest that the spike in hate crimes against Muslims in a post- 9/11 political climate is not surprising because of the phenomenon known as "vicarious retribution".[47] This phenomenon explains how when one member of a visibly identifiable group acts aggressively towards members of an out group, then the aggressor will also indirectly harm his or her fellow in group member.[47] In the context of Anti- Muslim hate crimes, the terrorist attacks on 9/11 transformed the way U.S. society would view Muslims and people of Arab descent.[46] Other experts also point out that anti- Muslim sentiment existed prior to the terrorist attacks, however, this sentiment was more or less overshadowed by other anti- minority group sentiments.[48] In contrast, after the 9/11 terrorist attacks, Arabs and Muslims were largely depicted as monolithic group of foreigners, extremists and terrorists[49]
Some publishers have opined that the increase in hate crimes against Muslims was an Islamophobic abuse with an ethnocentric trait. This is because many of its proponents do not distinguish between Arabs and Muslims and think all Arabs are Muslim by shapeshifting the Muslim faith into an ethnoreligion.[50] This is in contrast to decreasing hate crimes against other racial groups, such as blacks, Asians and Latinos with the exception of Jews.[50]
Ibrahim Hooper, the communications director at the Council on American-Islamic Relations attributes the spike in recent anti-Muslim attacks to the Charlie Hebdo shooting, as well as the coverage" 'radical Islam' on the news while not using the word "radical" for non-Muslim faiths.[51][52] According to a report by CNN[53] and a survey from the Council on American–Islamic Relations there have been over 63 acts of vandalism and anti Muslim behavior in 2015 from January through December 3.
Arson
The Quba Islamic Institute in Houston, Texas, was set alight at 5am on the 13 February 2015. Some media reports described it as an Islamophobic attack.[54]
Assault
Zohreh Assemi, an Iranian American Muslim owner of a nail salon in Locust Valley, New York, was robbed, beaten, and called a "terrorist" in September 2007 in what authorities call a bias crime.[55] Assemi was kicked, sliced with a boxcutter, and had her hand smashed with a hammer. The perpetrators, who forcibly removed $2,000 from the salon and scrawled anti-Muslim slurs on the mirrors, also told Assemi to "get out of town" and that her kind were not "welcomed" in the area. The attack followed two weeks of phone calls in which she was called a "terrorist" and told to "get out of town," friends and family said.[55]
Vandalism
A Muslim school in the Northeastern U.S. state of Rhode Island was vandalised with graffiti bearing "Now this is a Hate crime", indicating that the perpetrators were wary of the hateful nature. The incident was described by some media outlets as "Islamophobic".[56]
Contributors and Organizations
In 2011 the Center for American Progress produced a report called Fear. Inc. The Roots of the Islamophobic Network in America, and asserted that an esteemed, elite, and wealthy group of conservative foundations and affluent donors were the engine behind the continuation of Islamophobia in law, private spheres, and general public sentiment towards Muslims and Arabs at large.[2] In this same report, they analyzed seven specific organizations that contributed almost $42.6 million in funding towards various organizations and think tanks that promoted Islamophobia.[2] Much of this money goes to the "misinformation experts".[2] These experts are people who spread the message that Islam is an inherently sinister and hostile religion that seeks to convert or destroy all non- Muslims, especially those residing in the United States.[2]
CAIR and Center for American Progress list ACT for America as anti- Islam hate group run by Brigitte Gabriel.[57] According to ACT's website, the organization views itself as the gatekeeper of national security for American borders, with over 750,000 members and 12,000 volunteer activists.[58] They state that their activities are geared towards educating citizens and elected officials to impact public policy and guard America for terrorism.[58] CAIR attributes anti- sharia law campaign with ACT in Oklahoma.[57] Additionally, CAIR asserts that ACT has ties with white national supremacy groups such as Vanguard America and Identity Europa.[57]
Robert Spencer is listed as a misinformation expert.[2] He contributes content to the blog known as 'Jihad Watch', which heavily funded by the David Horowitz Freedom Center Initiative and the Stop Islamization of America groups.[57] Smearcasting, an organization dedicated to accurate reporting, accused Spencer of only focusing on the violent verses and texts within the Islamic faith and deeming it as a representation of the faith as a whole.[57] Scholars and academic like Dr. Carl Kenan and William Kenan at UNC- Chapel Hill have also commented on how Spencer's beliefs regarding Islam have no foundation in any reputable academic work or in the religion itself.[57] According to the Jihad Watch website, they cite the purpose of the website is to inform non- Muslims all over the world that Islamic jihadists are attempting to destroy societies and impose Islamic law globally.[59]
Center for American Progress's report in 2011 also cites the importance of political players in contributing to the spread of Islamophobia.[2] Peter King, a congressman who has served over ten- terms, held congressional hearings titled "Extent of Radicalization in the American Muslim Community and that Community's Response." [2] Despite the fact that most terrorist plots in the United States have been initiated by non-Muslims after 9/11, King has been cited as stating that 80-85 percent of mosques in the United States are controlled by Islamic fundamentalists. King attributed this statistic to Steven Emerson, from the Investigative Project on Terrorism, also known as viewing Islam as an inherently violent religion that is hostile to non-Muslims.[60] Other political players like Sue Myrick, an eight – term congresswoman from North Carolina, rely on the network of the experts who view Islam as inherently violent.[2] Sue Myrick wrote a foreword to a book titled Muslim Mafia: Inside the Secret Underworld That's Conspiring to Islamize America.[2] David Gaubatz, author of the book, served on David Yerushalmi's Society of Americans for National Existence, who advocated for a 20-year jail sentence to those who practiced Sharia law.[2] Center for American Progress asserts that Sue Myrick relies on Gaubatz's book for information regarding the Islamic faith.[2] In 2011, she chaired the House Intelligence Subcommittee on Terrorism, Human Intelligence, Analysis and Counterintelligence.[2]
Some commentators have criticized individual American New Atheists such as Sam Harris and Christopher Hitchens for making Islamophobic statements.[61][62][63] Commenting on Greenwald's response to Harris, Jerome Taylor, writing in The Independent, has stated that, "Like Chomsky, who has also been a vocal critic of New Atheism, he [Greenwald] blames writers like Harris for using their particularly anti-Islamic brand of rational non-belief to justify American foreign policies over the last decade.[64][65] Two educators at universities in Utah have claimed that these American atheist activists invoke Samuel Huntington's 'clash of civilizations' theory to explain the current political contestation and that this forms part of a trend toward "Islamophobia […] in the study of Muslim societies".[66]
Commentary
Part of the study of Islamophobia has involved historians, scholars and educators writing about institutional violence against American Muslims and incitement of violence against foreign Muslims.[67] Edward Said in his book Orientalism describes how the West is taught about the East through a Westernized lens and that most of the East's history is written in Europe by European historians, instead of specialized scholars of Eastern history.[68] When applied, Orientalism serves as a way of using demeaning representations of the East to assert the cultural and political superiority of the West over inferior Muslims.[69]"
—
Newsweek: Islamophobia in America: Rise in Hate Crimes Against Muslims Shows What Politicians Say Matters
Hate crimes against Muslims have been on the rise. The murder of two Samaritans for aiding two young women who were facing a barrage of anti-Muslim slurs on a Portland, Oregon, train is among the latest examples of brazen acts of anti-Islamic hatred.
Earlier in 2017, a mosque in Victoria, Texas, was burned to the ground by an alleged anti-Muslim bigot. And just last year, members of a small extremist group called The Crusaders plotted a bombing "bloodbath" at a residential housing complex for Somali-Muslim immigrants in Garden City, Kansas.
I have analyzed hate crime for two decades at California State University, San Bernardino's Center for the Study of Hate and Extremism. And I have found that the rhetoric politicians use after terrorist attacks is correlated closely to sharp increases and decreases in hate crimes.
Hate Crimes Post 9/11
Since 1992 (following the promulgation of the Hate Crime Statistics Act of 1990), the FBI has annually tabulated hate-crime data voluntarily submitted from state and territorial reporting agencies. A hate crime is defined as "a criminal offense motivated by either race, ethnicity, religion, disability, sexual orientation, gender or gender identity."
According to the FBI's data, hate crimes against Muslims that were reported to police surged immediately following the terror attacks of 9/11. There were 481 crimes reported against Muslims in 2001, up from 28 the year before. However, from 2002 until 2014, the number of anti-Muslim crimes receded to a numerical range between 105 and 160 annually. That number was still several times higher than the pre-9/11 levels.
It should be noted that other government data, such as the Bureau of Justice Statistics, which relies on almost 200,000 residential crime surveys as opposed to police reports, show severe official undercounting of hate crimes. Those studies, based on respondents' answers to researchers, indicate a far higher annual average of hate crime—250,000 nationally—with over half stating that they never reported such offenses to police.
FBI data show that in 2015 there were 257 hate crimes against Muslims—the highest level since 2001 and a surge of 67 percent over the previous year.
As I noted in a prepared statement before the Senate Judiciary Committee in May 2017, this was the second-highest number of anti-Muslim hate crimes since FBI record-keeping began in 1992. Not only did anti-Muslim crime cases rise numerically in 2015, they also grew as a percentage of all hate crime. They now account for 4.4 percent of all reported hate crime, even though Muslims are estimated to be only 1 percent of the population.
When Do the Spikes Happen?
At our center, we analyzed even more recent disturbing trends related to hate crimes. Based on the latest available police data for 2016 from 25 of the nation's largest cities and counties, we found a 6 percent increase in all hate crimes, with over half of the places at a multiyear high. In particular, hate crimes against Muslims had increased in six of the seven places that provided more detailed breakdowns.
We also observed a spike in such crime following certain events. In 2015, for example, we found 45 incidents of anti-Muslim crime in the United States in the four weeks following the November 13 Paris terror attack.
Just under half of these occurred after December 2, when the San Bernardino terror attack took place. Of those, 15 took place in the five days following then-candidate Donald Trump's proposal of December 7, seeking to indefinitely ban all Muslims from entering the United States.
In contrast, as I observed in my prepared statement before the Senate Judiciary Committee, after an initial sharp spike following the 9/11 attacks, sociologist James Nolan and I found that there was a drop in hate crimes after President George W. Bush delivered a speech promoting tolerance on Sept. 17, 2001.
Other groups, too, have found similar spikes in anti-Muslim hatred. The Southern Poverty Law Center (SPLC), for example, noted that from the month of the presidential election through Dec. 12, 2016, there was a spike in hate "incidents" against many minority groups. The SPLC found that the third most frequently targeted group after immigrants and African-Americans were Muslims. And just this month, the Council on American-Islamic Relations, a Muslim advocacy group, reported 72 instances of "harassment" and 69 hate crimes that had occurred between April and June 2017.
Fear of Muslims
Prejudicial stereotypes that broadly paint Muslims in a negative light are quite pervasive.  From 2002 to 2014, the number of respondents who stated that Islam was more likely to encourage violence doubled from 25 percent to 50 percent, according to Pew research. A June 2016 Reuters/Ipsos online poll found that 37 percent of Americans had a somewhat or very unfavorable view of Islam, topped only by antipathy for atheism, at 38 percent.
The latest polls also show how Muslims are feared and distrusted as a group in America. While most Americans do not believe that Muslims living in the U.S. support extremism, these views vary widely by age, level of education and partisan affiliation: Almost half of those 65 and older believe that Muslims in America support extremism, whereas only few college-educated adults do so.
Interestingly, current polls also show that when people personally know someone who is a Muslim, the bias is much less. This confirms what psychology scholar Gordon Allport concludes in his seminal book The Nature of Prejudice: that meaningful contact with those who are different is crucial for reducing hatred.

Indeed, before we can truly say "love thy neighbor(s)," we need to know and understand them."
—
BBC: What Trump team has said about Islam
"Does Donald Trump believe Islam is a religion?
It was a straightforward question, asked of Sebastian Gorka, deputy assistant to the president, during a radio interview last week. His answer was anything but straightforward, however.
"It's not a discussion about Islam as a religion or not a religion," he replied. "It's about radical Islamic terrorism. We are prepared to be honest about the threat. We're not going to white it out, delete it as the Obama administration did."
But is it a religion?
"I think you should ask him that question," Gorka continued. "But I would say that's really a misreading of everything he's said over the last 18 months."
A closer look at Mr Trump's comments over the last year and a half only complicates the matter, however – as do the views of the advisers closest to the new president.
Mr Trump has repeatedly warned of the dangers of "radical Islamic terrorism" – a line viewed as a direct rebuke of Barack Obama, who while president had pointedly refused to use the term.
He slammed Mr Obama and Hillary Clinton for being "founders" of the so-called Islamic State. He publicly feuded with the parents of a Muslim US soldier killed in Iraq. He has, at times, advocated a temporary ban on Muslims entering the US and instituted a "watch list" for those already in the US.
These policies and actions, critics say, reveal an anti-Islamic animus that lies at the heart of Mr Trump's politics.
"From start to finish, the 2016 presidential election vividly revealed that Islamaphobia is alive, and potent and politically resonant as ever," writes University of Detroit Professor Khaled Baydoun. "Scapegoating Islam and vilifying Muslims was far more than merely campaign messaging; for Donald Trump it was a winning strategy."
At times Mr Trump did little to dispel this conclusion.
"I think Islam hates us," he said during an interview in March 2016.
At other moments, he struck a more measured tone, drawing a distinction between the more than 1.6 billion who follow the Islamic faith and the smaller subset of "bad and dangerous people" who happen to be Muslims.
"I love the Muslims," Mr Trump said in September 2015. "I think they're great people."
If a presidential administration is a reflection of the man who sits in the Oval Office, it shouldn't be any surprise that Mr Trump's conflicted views about Muslims are also on display in the team of senior advisers that surround him.
The antagonists
In one camp are the more outspoken of Mr Trump's advisers, who echo the president's most bellicose anti-Muslim rhetoric.
They include National Security Advisor Michael Flynn, senior adviser Steve Bannon and attorney general nominee Jeff Sessions.
Mr Flynn, for instance, called Islam a "political ideology" that "hides behind this notion of it being a religion" – the line that prompted the pointed questions for Gorka last week.
He's compared the religion to "a malignant cancer" and tweeted that a fear of Muslims is "rational".
Mr Bannon, who served as head of the nationalist media website Breitbart before taking a top position in Mr Trump's presidential campaign, called Islam "the most radical religion in the world" and warned that members of the faith had created "a fifth column here in the United States".
A slightly narrower view has been advanced by Mr Sessions, considered the architect of Mr Trump's immigration policies.
"We have a toxic ideology, hopefully very small within Islam; certainly most people, most Muslims don't agree with this violent, jihadist approach," he said. "And we need to figure out a better way to identify that."
The pragmatists
There are cooler heads in the White House, of course. Defence Secretary James Mattis, in defending the need for US alliances with the Islamic world, said jihadist groups were "dressed in false religious garb".
Before he joined the Trump administration, Mr Mattis was among the many Republicans – including Vice-President Mike Pence – critical of the proposed Muslim immigration ban, saying it was "causing us great damage right now, and it's sending shock waves through the international system".
He noted during his confirmation hearings that he had fought alongside Muslim US soldiers.
White House chief of staff Reince Priebus, viewed as Bannon's chief rival among presidential advisers, has said there will be no Muslim registry – and taken a softer tone in general.
"There are some aspects of that faith that are problematic," Priebus said of Islam. "It certainly isn't a blanket for that faith."
A rhetorical price
The debate over the Trump White House's attitude toward Muslims is more than merely academic. In their lawsuits challenging the legality of the president's order suspending refugee resettlement and immigration from seven predominantly Muslim countries, Mr Trump's opponents have pointed to his bellicose rhetoric and that of his staff as evidence that the policy was unconstitutionally directed at Muslims.
Past presidents have gone out of their way to say their issues are not with the Islamic faith – if only to serve as a public counterbalance to their use of US military power in or against Muslim nations.
"The face of terror is not the true faith of Islam," Mr Bush said shortly after the 9/11 attack on the World Trade Center. "That's not what Islam is all about. Islam is peace."He would later launch invasions of Muslim countries Afghanistan and Iraq.
Mr Obama has made similar comments, noting that "it's very important for us to align ourselves with the 99.9 percent of Muslims who are looking for the same thing we're looking for – order, peace, prosperity".
In 2016 he ordered more than 26,000 bombs dropped on Muslim nations like Syria, Iraq, Afghanistan, Libya, Yemen, Somalia and Pakistan.
Mr Trump doesn't have the luxury of the same rhetorical cover his predecessors enjoyed. His actions as president will be coloured by his past statements and those of his advisers.
The furious reaction to his immigration order is one such example – and it almost certainly won't be the last."
—
Al Jazeera Investigations – Islamophobia Inc
—
Further Readings
—
---
White Extremists vs Islamic Jihadists
—
—
White supremacists and other far-right extremists

Killed more people since Sept 11, 2001 than any other category of domestic extremist

2017 Anti-Defamation League's Center on Extremism

Reported extremist-related fatalities between 2008-2017

71% were committed far right or white-supremacist movements
26% were committed by Islamic extremists

News Coverage Research by University of Alabama

Muslims attacks receive 357% more press coverage

or 105 headlines to 15 headlines for non Muslim terrorist attacks
—
Anti-Defamation League H.E.A.T. Maps
—

—
Upworthy: Most domestic terrorism comes from white supremacists, FBI tells lawmakers
When politicians use terrorism as a tool for swaying voters, they usually mean a specific kind of terrorism. This became clear in the 2016 election season when then-candidate Trump falsely accused President Obama and Hillary Clinton of refusing to use specific words to describe it.
Say it with me, everyone: "Radical Islamic terrorism."
But there's another face of terrorism in the U.S. that often gets overlooked—one that looks, on the surface, like more than half of the U.S. population.
FBI Director Christopher Wray told Congress this week that most of the domestic terrorism arrests made so far this fiscal year have been associated with white supremacy. He pointed to about 100 arrests of "homegrown violent extremist terrorists" (these are generally the "radical Islamic terrorists") and about the same number of "domestic terrorists" (violent Americans with some kind of domestic beef), clarifying that the latter were mostly white supremacists.
In other words, there appear to be just as many all-American terrorists as there are "radical Islamic terrorists" in the U.S., and most American terrorists are white supremacists.
This is nothing new. A database compiled in 2017 by The Investigative Fund (now Type Investigations) found that between 2008 and 2016, plots and attacks by right-wing terrorists—which includes white supremacists, militias, and sovereign citizens movements—actually outnumbered Islamist plots and attacks by a ratio of 2 to 1.
And it's not like the government is unaware of the fact that white supremacists pose a major threat to American citizens. The FBI and Department of Homeland Security has warned of the threat of white supremacist terrorism since early in Trump's presidency. Wray referred to white nationalist extremist violence a "persistent, pervasive threat" in April of this year.
And yet, how often have we heard the president warn Americans about the threat of right-wing or white supremacist terrorism? Why has he never harped on "white supremacist terrorism" with the same fervor as "radical Islamic terrorism"?
One could try to argue that perhaps the president is tackling this issue quietly, behind the scenes, but that argument wouldn't hold water.
Despite his intelligence agencies warnings, Trump slashed the office that housed the task force for Countering Violent Extremism and canceled Obama-era grants that funded programs to help fight violent extremism of all kinds, including religious extremism and white supremacy. One organization that lost its funding was Life After Hate, a non-profit founded by a former skinhead that helps people leave Neo-Nazi and white supremacist movements.
This administration has also taken an extreme hard line on immigration and refugee resettlement, citing the risk of terrorism as part of its reasoning. Indeed, a new study from a researcher at Columbia University shows that terrorism does increase as immigration increases—but only domestic, right-wing terrorism.
"There is little evidence to support the common claim that letting in more immigrants means letting in more terrorists," wrote study author Richard J. Alexander in the Washington Post. "Immigrants don't pose a security risk. Rather, right-wing extremists who hate immigrants increase the threat of terrorism."
(This is where one could make the argument that by curtailing immigration Trump is stopping white supremacist terror attacks, because violent racists get less pissed off when there are fewer brown and black people entering the country. One could make that argument—but seriously?)
Interestingly, Wray told Congress he still feels that homegrown violent extremist terrorism is the bigger threat to the homeland. Perhaps this is due to the more organized nature of Jihadist groups or their access to funding. Or perhaps—just perhaps—it's because people like Wray are not the target of white supremacist violence.
I have to wonder: Are my fellow white Americans simply so accustomed to white supremacist violence, which has been happening in our country a lot longer than "radical Islamic terrorism," that we see it as not as big of a deal? Or do we ignore it because we are not the targets? Is a person of color in the U.S. in more danger from a "radical Islamic terrorist" or a white supremacist American? Are terrorists who commit violence against their fellow citizens while claiming to be American patriots really less of a "threat to the homeland" than the violent religious extremists who make it clear that they hate America? If it were discovered that the majority of domestic terrorism arrests were associated with "black supremacy" groups, how would America respond?
So many questions, but the fact remains that white supremacists are a significant threat to our nation's safety.
To be clear, I'm not suggesting we start banning white people from traveling to the U.S. like we did with the Muslim travel ban, or set up a hotline for victims of white supremacist crimes like the one the administration created for immigrant-perpetrated crimes. I'm suggesting we take the tack that Adam Serwer suggested in the Atlantic:
"The correct response to the rise in right-wing terrorism is not a nationwide panic that mirrors those that accompany terrorist attacks by religious or ethnic minorities. It is to extend the same benefit of the doubt, the same proportionate, measured response with which Americans meet attacks from right-wing extremists, to attacks of all sorts. It is to recognize that the constitutional rights of minorities are no less inviolable than the constitutional rights of white Americans, and that anyone who would run on a platform of disregarding those rights is not fit to hold public office."
We need to take the threat of white supremacist violence as seriously as we do other terrorism. We need to recognize that stereotyping any group of people based on the violent actions of a radical minority is wrong. And we need to challenge this administration to put its money where its mouth is when it talks about protecting Americans and reinvest in programs to counter violent extremisms of all stripes.
—
The Guardian: Terror attacks by Muslims receive 357% more press attention, study finds
Research by the University of Alabama shows attacks by Muslims receive an average of 105 headlines, others just 15
"Terrorist attacks committed by Muslim extremists receive 357% more US press coverage than those committed by non-Muslims, according to new research from the University of Alabama. The researchers controlled for factors like target type, number of fatalities, and whether or not the perpetrators were arrested before reaching their final statistic.
Terrorist attacks committed by non-Muslims (or where the religion was unknown) received an average of 15 headlines, while those committed by Muslim extremists received 105 headlines.
The findings, which are illustrated below, were based on all terrorist attacks in the US between 2006 and 2015 according to the Global Terrorism Database. The disparity in media coverage is particularly out of sync with the reality given that white and rightwing terrorists carried out nearly twice as many terrorist attacks as Muslim extremists between 2008 and 2016.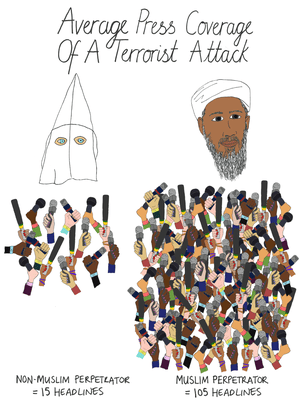 Not all headlines have the same audience, though. Lead researcher Erin Kearns explained: "We broke it down by the two different types of sources and we found that the over-coverage is much bigger among national news sources than local papers."
A new Guardian documentary, White Fright, follows one case of an attack plotted by a non-Muslim. In 2015, Robert Doggart was convicted for planning an attack on Islamberg, a small community in New York. Doggart's plan was described as "terroristic" by a US attorney.
The study is forthcoming in Justice Quarterly. A previous paper which looked only at the period 2011 to 2015 is available here."
—
Violent Extremism in the U.S. | NowThis World
—
Further Readings
New York Times: Homegrown Extremists Tied to Deadlier Toll Than Jihadists in U.S. Since 9/11
—
---
Muslim Women Subjugation Stereotype
—
Islam like most religions is dynamic

Muslim women often depicted in media as subjugated by Islamic patriarchy
Fatema Mernissi, founder of Islamic feminism, exerts:

Islam is not stagnant, but rather dynamic text that adapts and evolve to society
Religious texts have little support for women's subordination

Interpretation came from centuries of misinterpretation by males maintaining gender status quo

Veils

Hijab (headscarves)
Niqab (covers the entire body w/ opening for the eyes., head and face)
Chador (covers head and body but leaves the face completely visible)
Burqa (full-body veil)

Wearing of the veil is not a universal practice among Muslim women
Koran does not require women to wear veils

teaches that both men and women should dress modestly

Suppose to be a personal choice, not imposed

Varying reasons for wearing a veil

Religious conviction
Social pressures
Protection against men
Feelings connected to broader religious community

Many Muslim women disagree with veiling practice
Ultimately its their decision

White people criticizing veils as subjugation, are criticizing a women's choice without trying to understand
Learn more about Muslim culture and history at VOX: The Secret Lives of Muslims
—
Vox: A beginner's guide to hijabs
—