Source: Dismantling Racism
—
Doing Race Through the Culture Cycle (RaceWorks Series, Video 11)
—
Now This How the Health Care System Has Racial Biasesealth Care System Has Racial Biases
---
Table of Contents
Internalizations and Socialization
Stereotypes vs Racial Biases
History of Racial Stereotypes
Modern Stereotypes
Stereotype Threat & Racial Imposter Syndrome
Modern Racial Bias
Misrepresentation in Media
Understanding Your Own Bias
Microaggressions
The Anti-PC Movement
The N-Word
Dehumanization
Cultural Appropriation
---
—
Racial Internalizations

"Racism not only impacts us personally, culturally, and institutionally. Racism also operates on us mentally, emotionally, physically, and spiritually. When racism targets us, we internalize that targeting; when racism benefits us, we internalize that privileging." Dismantling Racism, Internalizations


Racial Socializations

"Race socialization is defined as specific verbal and non-verbal messages transmitted to younger generations for the development of values, attitudes, behaviors, and beliefs regarding the meaning and significance of race and racial stratification, intergroup and intragroup interactions, and personal and group identity." Chase L.Lesane-Brown, A review of race socialization within Black families
—
Teaching for Diversity and Social Justice: Understanding The Cycle of Socialization
The Cycle of Socialization helps us understand the way in which we are socialized to play certain roles, how we are affected by issues of oppression, and how we help maintain an oppressive system based upon power. The Cycle is comprised of 3 arrows,3 circles, and a core center. Each of these components represents the following:
1.The beginning of the cycle, depicted by the 1stcircle, represents the situation into which we were born. We have no control over this. We are also born without bias, assumptions, or questions.We are either "lucky" to be born into a privileged situation or "unlucky" to born into an underprivileged situation.
2.The 1starrow represents that fact that our socialization process begins immediately. We are given a pink blanket if we are a girl or a blue one if we are boy. The rules and norms are already in place and we subtly (and in many cases not so subtly) are made aware of the rewards of conforming and the consequences of rebelling.
3.The second circle represents the institutions that help shape our views andbeliefs, and help instill within us prejudice or acceptance.
4.The second arrow represents the way in which the instilling of ideas, beliefs, and behaviors reinforce the cycle of oppression. Behaving differently is not as simplyas most of us think. We are rewarded for good behavior –conforming to the norms and standards. By the same token, we are punished for bad behavior –questioning or rebelling against oppressive societal norms.
5.The third circle represents the devastating result upon all of us that this self-perpetuated cycle of oppression produces.
6.The final arrow represents a point at which we all arrive –the results of the cycle. We are forced to make a decision, even if that decision is to do nothing. Doing nothing isthe easier choice, especially for those who benefit from the perpetuation of the cycle: we are all victims of the cycle and we are all hurt by it. Oppression hurts the oppressed and the oppressor.
7.And finally, it is the wheel that turns or enables any cycle.At the centeror core of the cycle of socialization arefear, misunderstanding, insecurity, confusion, etc.Source:
Source:Adams, M., Bell, L. A., Griffin, P. (1997) Teaching for Diversityand Social Justice, New York: Routledge.Understanding The Cycle of Socialization
—
Explicit vs Implicit Racims
—
—
—
Explicit Racism
"Explicit racism is overt and often intentional, for it is practiced by individuals and institutions that openly embrace racial discrimination and hold prejudicial attitudes toward racially defined groups, which they assume to be scientifically identified through genetics." Quianna Canada
—
Implicit Racism
"Implicit Racism, however, is not the opposite of explicit racism but a different, yet no less harmful, form of racism.  Implicit racism, broadly defined, refers to an individuals' utilization of unconscious biases when making judgements about people from different racial land ethnic groups.  According to a number of observers, implicit racism is an automatic negative reaction to someone of a different race or ethnicity than one's own.  Underlying and unconscious racist attitudes are brought forth when a person is face with race-related triggers, including preconceived phenotypic (relating to the observable characteristics of an individual resulting from the interaction of its genotype with the environment) differences or assumed cultural or environmental associations." Quianna Canada
—
"Implicit Bias is the process of associating stereotypes or attitudes towards categories of people without conscious awareness." National Equity Project,

—
Racism Is Real • BRAVE NEW FILMS
—
—
National Equity Project: Don't Talk about Implicit Bias Without Talking about Structural Racism
Implicit bias has been in the news a lot lately. At the National Equity Project, we think it is an important topic that warrants our attention, but it is critical that any learning about implicit bias includes both clear information about the neuroscience of bias and the context of structural racism that gave rise to and perpetuates inequities and harmful racial biases. As leaders for equity, we have to examine, unpack and mitigate our own biases and dismantle the policies and structures that hold inequity in place. We call this leading from the inside-out.
Most work on implicit bias focuses on increasing awareness of individuals in service of changing how they view and treat others. This is important, but insufficient to advancing greater equity of opportunity, experience, and outcomes in our institutions and communities. Rather, in order to lead to meaningful change, any exploration of implicit bias must be situated as part of a much larger conversation about how current inequities in our institutions came to be, how they are held in place, and what our role as leaders is in perpetuating inequities despite our good intentions. Our success in creating organizations, schools, and communities in which everyone has access to the opportunities they need to thrive depends on our willingness to confront the history and impacts of structural racism, learn how bias (implicit and explicit) operates, and take action to interrupt inequitable practices at the interpersonal, institutional and structural level.
We believe the work we need to do begins on the inside — inside of ourselves, inside of our own organizations, and in our own communities. We offer the metaphor of a window and a mirror (developed by Emily Style of the SEED Project) for increasing our equity consciousness and understanding what is needed to take effective leadership for equity. Each of us needs to look in the mirror to notice how our particular lived experiences have shaped our beliefs, attitudes, and biases about ourselves and others. And, with increased knowledge of ourselves, we also need to look out the window to understand how racism, classism, sexism and other forms of systemic oppression operate in our institutions to create systemic advantage for some groups (white, male, heterosexual, cisgender, etc.) and disadvantage for other groups (people of color, women, LGTBQ+ people, etc.) in every sector of community life.
---
Kathleen: As a white woman, my own work on implicit bias starts with myself and a look into when and how, despite my twenty five years of working in the "equity" field, my own thoughts and decision making can be impacted by implicit bias. For example, when out for a run recently, I saw a woman who appeared to be Latina walking out of her home. The immediate thought that popped into my head was "housekeeper." I had to stop and consider, how did that happen? Regardless of my stated and lived commitment to fairness and justice, my close relationships with Latinx friends and colleagues, and my knowledge of implicit bias, my brain made a potentially harmful snap judgment about who someone was.
---
Hugh: I am a mixed heritage Latino. Years ago I was co-directing a youth program that focused on what we called "unlearning racism." We worked with teenagers to develop their consciousness about oppression, build alliances across race, gender and other social identities, and create young leaders who would work to eliminate racism. As adults running this program, we went through intensive training to become conscious of our own racial identities and work to eliminate our biases so that we could help youth eliminate theirs. One hot summer afternoon I was driving to lunch, windows down. I stopped at a red light and I immediately noticed 3 young African American boys crossing the street in the crosswalk in front of my car. They were 6th graders, 11 or 12 years old. As they crossed, one of them looked at me and yelled "go ahead, roll up your windows!" I was livid with him for assuming I would be afraid and roll up my windows out of fear. But as they walked past me and finished crossing the street, I calmed down, stopped staring at them, and was shocked to see that my hand had moved from the steering wheel to the window switch and I was ready to roll up the window. I had moved my hand to roll up the window without conscious awareness that I had done so. Even after all my training and consciousness raising to eliminate racism, my unconscious mind reacted with fear to these young African American boys. How could this happen?
---
To understand how this happens, it is important to understand that our brain is like an iceberg with the conscious part of our brain being the smaller part of the iceberg that we can see above the water line, while the larger part of the iceberg, where our unconscious processing takes place, is below the water line. Research shows that the unconscious mind absorbs millions of bits of sensory information through the nervous system per second. Our conscious minds are processing only a small fraction of this information and doing so much more slowly and less efficiently than our unconscious minds. This means that we have a lot going on in our brains that we are not consciously aware of. Have you ever driven all the way home from work, but not had any memory of doing so? Your brain was processing all of the information needed and guiding your decision making for your safe arrival home even when your conscious mind was not active. In order to process all of the information needed to survive, our brain creates shortcuts to quickly assess our environment and respond in ways that keep us safe from danger. For example, if you were walking down a path or on a street and heard a strange noise or a rustling in the bushes, your amygdala would immediately send a danger alert which would activate your fight, flight, or freeze response. This would all happen before you had consciously processed the danger. If we were to count on the much slower processing of our conscious brain in these instances of perceived danger, the human race wouldn't have survived very long.
How does all of this connect to implicit bias and structural racism? Let's start with a definition of implicit bias:
Implicit Bias is the process of associating stereotypes or attitudes towards categories of people without conscious awareness.
Note that this is not the same as explicit, conscious racism and other forms of conscious bias which still exist and need to be addressed. Here, we are talking about people who consciously and genuinely believe in fairness, equity, and equality, but despite these stated beliefs, hold unconscious biases that can lead us to react in ways that are at odds with our values. These unconscious biases can play out in our decision making regarding who we hire for a job or select for a promotion, which students we place in honors classes and who we send out of the classroom for behavior infractions, and which treatment options we make available to patients. We know from extensive research that this kind of biased decision making plays out all the time in our schools, in hospitals, in policing, and in places of employment. The question is not if it is happening, it is when is it happening and what can we do about it.
Implicit bias and its effects play out through three keys processes: Priming, Associations, and Assumptions. Priming is a psychological phenomena in which a word, image, sound, or any other stimulus is used to elicit an associated response. Some of the best examples of priming are in product advertising in which advertisers prime us to feel an affinity or emotional connection to a particular brand that leads us to choose that brand over others even when there is actually no difference between the products. We buy Nikes because we are compelled to "Just do it." We think we are consciously choosing, but our unconscious mind is doing the shopping. But product selection is not the only thing influenced by priming — so are our beliefs, views and feelings about others.
The Associations we hold about groups of people are created and reinforced through priming. Associations occur without conscious guidance or intention. For example, the word NURSE is recognized more quickly following the word DOCTOR than following the word BREAD. We associate two words together because our unconscious mind has been wired to do so. Quick — what do cows drink? Not milk! But we have a strong association in our brain between cows and milk. (Cows drink water.)
When it comes to people, the associations our brain makes works the same way, creating shortcuts based on how we have been primed. The way our brains create shortcuts to quickly make sense of data is innate. How we have been primed to make harmful associations about different categories of people is not, but is rather the result of messaging, policies and practices that have been applied throughout history to include or exclude groups of people.
The United States has a long history of systemic racism — since the founding of the country stories that dehumanized African Americans and Native peoples were used to justify genocide, slavery, racial segregation, mass incarceration, and police brutality. Negative and dehumanizing stereotypes about women and people of color and stories that "other" are rampant in the news media and in popular culture. For example, we have been primed throughout history by our own government, by popular culture, and through the media to think of African American people as less intelligent, aggressive, and more likely to commit crime. We have received unrelenting messages that people who are immigrating to the United States from Central America and Mexico are criminals. Likewise, we have been primed to think of women as less competent, overly emotional, and their bodies as objects to be judged. For every stigmatized group of people, we have been repeatedly exposed to stereotypes that most of us can readily name that have been used to justify policies that have further stigmatized and marginalized.
"Implicit biases come from the culture. I think of them as the thumbprint of the culture on our minds. Human beings have the ability to learn to associate two things together very quickly — that is innate. What we teach ourselves, what we choose to associate is up to us."
Think back to the autopilot moments we shared in our own stories. Consciously, we knew that the woman coming out of the house was most likely the homeowner, on her way to work, and that the boys crossing the street were simply on their way back to school, but our unconscious brain created shortcuts based on repeated priming about who Latina women and Black boys are — thus producing harmful associations and reactions in both of us. This priming is then reinforced by the current structural arrangements in our communities in which people of color and people living in poverty have been disproportionately cut-off from high quality educational experiences and high-paying jobs. Consider who we most often see cleaning our hotel rooms, busing our tables, and landscaping yards and who we most often see being sent out of classrooms, pulled over by police and jailed. The more we see (or hear) two things together, the stronger the association — this is the way neural pathways are built. Brain cells that fire together, wire together. What associations are being created in our brains based on how we are primed through everyday experiences in our own communities, through news coverage, advertising and other forms of media?
Our brain is scanning our environment for who belongs (and is safe) and who is "other" (and a potential threat or dangerous). Who we come to categorize as belonging or threatening is learned as a result of structural inequities and messaging we have received about categories of people. These harmful associations we carry can lead us to make Assumptions that have life and death consequences for people of color. We saw this when:
The police were called by a Starbucks manager because she made the association that Rashon Nelson and Donte Robinson, two African American men, were dangerous, resulting in their arrest when they were simply waiting to meet someone.
Two Native American young men, Kanewakeron Thomas Gray and Shanahwati Lloyd Gray, drove from New Mexico to go on a college tour at Colorado State University and a white mother who was also on the tour called campus security because they looked like "they don't belong, they were quiet and creepy and really stand out." Security came and questioned the young men and confirmed that they were registered for the campus visit, but by the time they were released, the tour had gone ahead without them and they ended up driving home without a tour at all.
Tamir Rice, a 12 year old African American boy was in a park with a toy gun when police drove up and within two seconds of exiting the vehicle an officer shot and killed him.
These incidents and many more like them sit in a larger context of racial segregation, exclusion, and systemic inequities in which society's benefits and burdens are distributed unevenly depending one's race. Professor john powell of the Haas Institute for a Fair and Inclusive Society calls this "structural racialization" — referring to institutional practices and structural arrangements that lead to racialized inequities — as we see in the case of education, health, housing, criminal justice, and even life expectancy in the United States. These two phenomena — structural racialization and implicit bias — work dynamically to hold inequities in place. This is why we believe learning about implicit bias is an important, but an insufficient strategy to advance equity.
"Those who practice leadership for equity must confront, disappoint, and dismantle and at the same time energize, inspire, and empower."
Making progress on equity will require us to both mitigate our own biases and change structures. For example, structural inequities in the way we fund our public schools mean that students living in affluent communities (most often majority white) attend highly resourced schools with extensive opportunities for deep learning and extra-curricular activities while students living in neighborhoods in which we have disinvested (often majority people of color) attend schools that are underfunded with fewer academic and extra-curricular opportunities. When these students underperform, the fact of their underperformance reinforces our conscious and implicit stereotypes about their intelligence, the extent to which their parents value education (they do), and their effort. This is an insidious cycle whereby the structural inequities produce inequitable outcomes which then reinforce harmful stereotypes about students of color and students living in poverty and which are then used to justify inequitable practices such as holding low expectations, academic tracking, and punitive discipline in schools.
"Biases not only affect our perceptions, but our policies and institutional arrangements. Therefore, these biases influence the types of outcomes we see across a variety of contexts: school, labor, housing, health, criminal justice system, and so forth….These racialized outcomes subsequently reinforce the very stereotypes and prejudice that initially influenced the stratified outcomes."
As leaders for equity it is our responsibility to look at how our own biases and biases within our organizations contribute to structural inequities and advocate for policies that increase access to economic, educational, and political opportunity. We must expand our notion of success to include diverse perspectives and values. In education, this means providing culturally sustaining opportunities for rigorous intellectual work and healthy social emotional and physical development for all of our young people, not just those born in affluent zip codes. Many schools and school districts are actively engaged in efforts to change structures to mitigate the effects of bias and increase educational equity within schools and across communities. Some examples of these changes include:
Expanding professional learning opportunities for educators to learn about how systemic oppression operates to increase their awareness of their own cultural frames and gain strategies for building learning partnerships with students whose lived experience is different from their own.
Eliminating subjectivity in placement decisions for AP/Honors courses by requiring students to "opt out" rather than relying solely on teacher recommendation, thus increasing the numbers of students of color and students living in poverty in high-level courses.
Implementing policies in which the most experienced and talented teachers are teaching the students with the highest level of academic need, and not the other way around (as is often the case).
Enacting laws that make it harder for childcare centers to expel preschoolers and creating diversion programs in which School Resource Officers refer students to social service agencies for support, instead of arresting them.
Changing discipline policies whereby only the most serious negative behaviors are subject to suspension and implementing a system of checks and balances in which a trusted adult is called to the classroom when a behavior challenge arises rather than sending students out of class in order to mitigate racial bias.
Examples of structural changes across schools might include:
Enacting legislation providing for competitive federal grants to districts to support voluntary local efforts to reduce school segregation.
Bolstering Fair Housing legislation to reduce discriminatory zoning policies that effectively exclude low-income and families of color from high performing and well resourced schools by banning apartment buildings and other multifamily units in nearby neighborhoods.
Mandating a federal review of efforts by wealthy and predominantly white school jurisdictions to secede from integrated school districts.
Strong efforts to acknowledge, interrupt, and mitigate the effects of implicit bias will require us to engage in on-going mirror work, exploring our own biases and paying attention to how we are primed to think about categories of people while simultaneously engaging in window work, looking at our current context with a systemic and historic lens so that we can dismantle inequitable policies and structures and create new structures in which we all experience belonging and can thrive.
—
Individualizing White Negativity vs Generalizing Black Negativity
White people are taught by society and media:

To see themselves as individuals, rather than as part of a racial group

When a white person does something wrong its only representative of that person

To see black people as part of a racial group, rather than individuals

When a black person does something wrong its representative of the racial group

This perspective

Helps create and re-enforce stereotypes and racial bias
"Negative behavior by any Black person became proof of what was wrong with Black people, while negative behavior by any White person only proved what was wrong with that person." Ibram Kendi, Stamped From the Beginning
—
White Supremacy Internalizations
"Racism not only impacts us personally, culturally, and institutionally. Racism also operates on us mentally, emotionally, physically, and spiritually. When racism targets us, we internalize that targeting; when racism benefits us, we internalize that privileging." Dismantling Racism
White internalization of white supremacy

American institutions, culture, subconscious created a world where, without thinking:

Normal, good, beautiful, moral is "white"
Different, bad, ugly, immoral is "non-white"
Instead of defending white supremacy, white people defend "civility" and "decency" and "way of life"

Examples of Internalized White Superiority

My world view is the universal world view;

My standards and norms are universal

My achievements have to do with me

Not with my membership in the white group

I have a right to be comfortable and if I am not

Then whoever is making me uncomfortable is to blame

I am not responsible for what happened before

Nor do I have to know anything about it
I have a right to be ignorant

If I have good intentions or I'm nice
"The idea (ideology) that white people and the ideas, thoughts, beliefs, and actions of white people are superior to People of Color and their ideas, thoughts, beliefs, and actions. While most people associate white supremacy with extremist groups like the Ku Klux Klan and the neo-Nazis, white supremacy is ever present in our institutional and cultural assumptions that assign value, morality, goodness, and humanity to the white group while casting people and communities of color as worthless (worth less), immoral, bad, and inhuman and "undeserving." Dismantling Racism
—

"Internalized Racist Superiority is complex multi-generational socialization process that teaches White people to believe, accept, and/or live out superior societal definitions of self and to fit into and live out superior societal roles. These behaviors define and normalize the race construct and its outcome: white supremacy." Crossroads Antiracism
—
Dismantling Racism: Internalizations
Racism not only impacts us personally, culturally, and institutionally.
Racism also operates on us mentally, emotionally, physically, and spiritually.
When racism targets us, we internalize that targeting; when racism benefits us, we internalize that privileging.
This page investigates how internalized racism operates.
4  foundations  of  racism
CONSTRUCTED RACIST OPPRESSION
​(affecting People of Color)
historically constructed and systemic (not just personal or individual)
penetrates every aspect of our personal, institutional, and cultural life
includes prejudice against people of color in attitudes, feelings, and behaviors
includes exclusion, discrimination against, suspicion, fear or hatred of people of color
sees a person of color only as a member of a group, not as an individual
includes low expectations by white people for children and adults of color
people of color have fewer options, choices
​
INTERNALIZED INFERIORITY or RACIST OPPRESSION (affecting People of Color)
carry internalized negative messages about ourselves and other people of color
believe there is something wrong with being a person of color
have lowered self-esteem, sense of inferiority, wrongness
have lowered expectations, limited sense of potential for self
have very limited choices: either 'act in' (white) or 'act out' (disrupt)
have a sense of limited possibility (limited by oppression and prejudice)
cycles through generations
"an invisible knapsack of special provisions and blank checks" (Peggy McIntosh)
the default; "to be white in America is not to have to think about it" (Robert Terry)
expect to be seen as an individual; what we do never reflects on the white race
we can choose to avoid the impact of racism without penalty
we live in a world where our worth and personhood as white people are continually validated
although hurt by racism, we can live just fine without ever having to deal with it
​
INTERNALIZED WHITE SUPERIORITY
(affecting white people)
my world view is the universal world view; our standards and norms are universal
my achievements have to do with me, not with my membership in the white group
I have a right to be comfortable and if I am not, then whoever is making me uncomfortable is to blame
I can feel that I personally earned, through work and merit, any/all of my success
equating acts of unfairness experienced by white people with systemic racism experienced by People of Color
I have many choices, as I should; everyone else has those same choices
I am not responsible for what happened before, nor do I have to know anything about it; I have a right to be ignorant
I assume race equity benefits only People of Color​
For a more in-depth look at white privilege and internalized white superiority, visit the SURJ Political Education website page on
​White Benefits.
Internalized Racist Oppression (IRO) is the internalization by People of Color (POC) of the images, stereotypes, prejudices, and myths promoted by the racist system about POC in this country. Our thoughts and feelings about ourselves, people of our own racial group, or other POC are based on the racist messages we receive from the broader system. For many People of Color in our communities, internalized racist oppression manifests itself as:
Self-Doubt
Sense of Inferiority
Self-Hate
Low Self Esteem
Powerlessness
Hopelessness
Apathy
Addictive Behavior
Abusive and Violent Relationships
Conflict Between Racial Groups
Mediocrity
Violence and the Threat of Violence
Change in Behavior
Destruction of Culture
Division, Separation, Isolation
—
VICE: How Internalized Racism Amplifies White Supremacy
"Internalized racism is insidious because it can exist, operate, and negatively affect us without us even knowing it," Professor E.J.R. David at the University of Alaska Anchorage tells Broadly.
"Some manifestations of internalized racism include denigrating fellow POCs [people of color] and justifying the oppression of POCs. This includes justifying white supremacist systems as necessary and fair, and putting the onus on POCs for their own oppression, reinforcing the racist notion that if POCs just work hard enough, or assimilate enough, or be respectful or civil enough, or be friendly enough, or be strong enough, then things will get better for them."…
"One of the many damages of internalized racism is that it puts the responsibility of change on the oppressed, instead of on the oppressors and their oppressive systems," David says. "This way, internalized racism helps maintain the status quo; it keeps the white supremacist systems in place and those who benefit from them in power."
—
Josh Singer: The Difference Between White Supremacy and White Supremacists (Part III)
Defining white supremacy in 16 quotes.
Internalizing Normal and Good vs Abnormal and Bad
No matter how "woke" you consider your family to be, all people who grow up in a society dominated by white supremacy will subconsciously internalize some white supremacist beliefs and biases. It's not a question of if but a question of how much white supremacy you internalized, how it is subconsciously affecting your reactions to the world and the people around you, and to what extent are you able to course-correct these internalized beliefs.
Quote 13: Dismantling Racism: Racism Defined
"White supremacy is the idea (ideology) that white people and the ideas, thoughts, beliefs, and actions of white people are superior to People of Color and their ideas, thoughts, beliefs, and actions. While most people associate white supremacy with extremist groups like the Ku Klux Klan and the neo-Nazis, white supremacy is ever present in our institutional and cultural assumptions that assign value, morality, goodness, and humanity to the white group while casting people and communities of color as worthless (worth less), immoral, bad, and inhuman and 'undeserving.'"
—
Quote 14:  Showing Up For Racial Justice (SURJ): White Supremacy (sic) Culture
Question: Why do you call it white supremacy (sic) culture? Can we call it something else?
​
Answer: We get this question a lot when people plan to use the article on white supremacy (sic) culture with their groups and organizations. They express a genuine concern that the term 'white supremacy (sic) culture' will turn white people off, make us defensive and less willing to consider how this culture is reproduced. Part of this concern reflects how we've been taught by this culture to associate white supremacy with the Ku Klux Klan, neo-Nazis, and other people or groups that actively advocate a racist ideology and viewpoint. We believe it is important to use the term 'white supremacy (sic)' culture because the norms, values, and beliefs that our culture reproduces act to reinforce the belief that 'white' and people attached to 'whiteness' are better, smarter, more beautiful, and more valuable than 'black,' or people and communities indigenous to this land, brought here for the purpose of enslavement, or immigrating here from Asia, India, or south of our border. We think it is important to name what is really happening, which is that we live in a culture that reproduces—sometimes overtly and sometimes very subtly—the idea that white is supreme. Those of us who live in this culture, including those of us who fight against racism, swim in this culture and unintentionally and unwittingly reproduce these norms, values, and beliefs. One way to address the genuine concern is to explain why we use the phrase white supremacy (sic) culture to get people to think about it. We are not white supremacists and we are swimming in and affected by a white supremacy (sic) culture."
—
Quote 15: Cornel West: Race Matters
"White supremacist ideology is based first and foremost on the degradation of black bodies in order to control them. One of the best ways to instill fear in people is to terrorize them. Yet this fear is best sustained by convincing them that their bodies are ugly, their intellect is inherently underdeveloped, their culture is less civilized, and their future warrants less concern than that of other peoples."
—
Internalized Racism Part 5, with Dee Watts-Jones
—
---
Stereotypes vs Racial Biases
—
Diffen: Bias vs. Stereotype
The difference between bias and stereotype is that a bias is a personal preference, like or dislike, especially when the tendency interferes with the ability to be impartial, unprejudiced, or objective. On the other hand, a stereotype is a preconceived idea that attributes certain characteristics (in general) to all the members of class or set.
If you think that all Asians are smart, or white men can't dance, that is a stereotype. But if you hire an Asian for a job that also has an equally qualified black applicant because you think blacks are not as smart as Asians, you are biased.
Mometrix Academy: Bias and Stereotype
—
Stereotype
Preconceived idea that attributes certain characteristics to all the members of a race or group
Often used with a negative connotation when referring to an oversimplified, exaggerated, or demeaning assumption
Ie. All Asian people are smart

What Are Racial Stereotypes?
Racial stereotypes are automatic and exaggerated mental pictures that we hold about all members of a particular racial group. When we stereotype people based on race, we don't take into account individual differences. Because our racial stereotypes are so rigid, we tend to ignore or discard any information that is not consistent with the stereotype that we have developed about the racial group.
How Do We Develop Racial Stereotypes?
We develop our racial stereotypes in a variety of ways. On a very simple level, it's human nature to categorize people. It's our way of making a complex world simpler. From an early age, we learn to place people and objects into categories. However, when we're very young, we tend to put less of an emphasis on attributing values to these categories. As we grow older and are influenced by parents, peers, and the media, our tendency to label different racial groups as superior/good or inferior/bad increases significantly. Additionally, the less contact we have with a particular racial group, the more likely we are to have negative feelings about the group. Any negative experiences that we have with a member of a particular group will strengthen our racial stereotypes and create fears about particular races. Based on our fears, we develop an us-versus-them mentality that tends to be self-protective in nature. As a result, we miss opportunities to learn and thrive from our differences.
Are Our Racial Stereotypes Harmful?
Some people might say, "There's no harm in having racial stereotypes or making racial or ethnic jokes based on stereotypes. People these days are so politically correct and should just loosen up. Anyway, there's always a kernel of truth in every stereotype." In some instances, all of the above might be true. However, in most cases, racial stereotypes are harmful because they ignore the full humanity and uniqueness of all people. When our perceptions of different races are distorted and stereotypical, it's demeaning, devaluing, limiting, and hurtful to others. In some cases, people who are repeatedly labeled in negative ways will begin to develop feelings of inferiority. Sometimes, these feelings of inferiority can lead to self-fulfilling prophecies that perpetuate the stereotype. Racial stereotypes can also foster feelings of hate and aggression that might lead to a false sense of entitlement and superiority. For those individuals who have power, this can lead to their engaging in discriminatory and racist practices.
How Do We Overcome Our Racial Stereotypes?
Because of their harmful effects, we should make a real commitment to try to overcome our racial stereotypes. This can be achieved by first acknowledging that we're human and that we do harbor racial stereotypes. Next, we should work to become more aware of our inner thoughts and feelings and how they affect our beliefs and actions. When we have a stereotypical thought about a racial group, we should follow it up with an alternative thought based on factual information that discounts the stereotype. We can obtain this factual information by leaving our comfort zones and exposing ourselves to people of different races. We should be willing to engage in honest dialogue with others about race that at times might be difficult, risky, and uncomfortable. We should also seek out media portrayals of different races that are realistic and positive. Attending churches, plays, concerts, and movies that celebrate diversity will also broaden our worldview. As we gain more awareness and knowledge about racial groups, not only will our racial stereotypes lessen, but we will also become better equipped to educate and challenge others about their racial stereotypes. As we change ourselves, we can elicit changes in others through our examples and the quality of our conversations. In doing this, we work to create a society in which all races are valued, appreciated, and embraced.
—
Racial Bias
Conscious or unconscious preference or reaction to another race
Interferes with the ability to be impartial, unprejudiced, or objective
Form of discrimination
Ie. Hiring an Asian person for a job that also has an equally qualified black applicant because you think Asians in general people are than blacks
—
Explicit Racial Bias – attitudes and beliefs we have about a person or group on a conscious level (ie. discrimination, hate speech, etc.)
Implicit Racial Bias – the bias in judgment and/or behavior that results from subtle cognitive processes (e.g., implicit attitudes and implicit stereotypes) that often operate at a level below conscious awareness and without intentional control.  (ie. proclivity to not trust, feel threaten from, not hire, or shoot at, a person or group)
—
Look Different: Racial Bias
What it is
Racial bias is a form of discrimination, often unconscious, that results in the different and unequal treatment of racial groups.
How it Works
Racial bias happens in many different forms among all racial groups. For example, police are much more likely to pull over black drivers than white drivers – and black people, on average, receive longer jail sentences than whites for committing the same exact offense.
Why it Matters:
Research has suggested that racial bias negatively impacts treatment of people of color, even when biased individuals do not consciously feel any animosity towards people of color. Being aware of the many ways racial bias is expressed in society is an important strategy to challenging racism everywhere. When we allow bias to take root it can escalate, opening the door to prejudice and discrimination.
—
Ted Talks: Implicit Bias: Melanie Funchess
—
MIC: We All Have Racial Bias
—
---
History of Racial Stereotypes
—

—
—
Portugal starts the transatlantic slave trade (1450s )

Justifies this African slave system by creating beliefs like

"all black people represent one race", "black inferiority" "black people were beasts"
These stereotypes Spread through Europe and America

Catholic doctrines allow slavery for non-Christians or "heathens"

Created the "uncivilized heathen" stereotype for many people of color
1493 Doctrine of Discovery allowed any land inhabited by non-Christians could be "discovery", legally conquered, and exploited by Christian rulers

European stereotypes used to establish the American colonies

Help justify ethnic cleanings of Natives and the enslavement of Africans
18-19th century scientists & philosophers re-enforce stereotypes
Justify constitutional support for white supremacy in the United States

Post Civil War

These stereotypes expand after the Civil War to help justify and re-enforce the oppression and segregation of people of color after slavery

Black codes, Vagrancy laws, Jim Crow, lynching, Convict Leasing, voter suppression, housing discrimination, mass incarceration, war on drugs, modern GOP, etc
—
7 Historical Racial Stereotypes of African-Americans
The racial stereotypes of early American history had a significant role in shaping attitudes toward African-Americans during that time

Sambo

Simple-minded, docile, jolly, overgrown man child who was happy to serve his master

Jim Crow

Blackfaced character created for minstrel show who was clumsy, dimwitted, dancing, wisecracking buffoon

The Savage

The premiere of "Birth of a Nation" during the reconstruction period in 1915 marked the change in emphasis from the happy Sambo and and inept Jim Crow stereotypes to Savage, needed to be tamed through lynching.
Beliefs that blacks were "mentally inferior, physically culturally unevolved, apelike "

Supported by Abraham Lincoln, Thomas Jefferson, and Scientific Racism

Mammy

The Mammy was a large, independent woman with pitch-black skin and shining white teeth who lived to serve her white masters, while being tyrant in her own family.

Aunt Jemimah

Dffers from Mammy in that her duties were restricted to cooking.

Sapphire

A bossy, headstrong woman who dominated her foolish husband by emasculating him with verbal put-downs

Jezebelle

Harlot "bad Black girl" epresented the undeniable sexual side of African-American women
The creation of the hyper-sexual seductress Jezebelle served to absolve white males of responsibility in the sexual abuse and rape of African-American women

These stereotypes spread across America through products, stories (children and adult), newspapers, advertisements, schools, laws, politics, entertainment and minstrel shows.
—
—
Before the 1400s the slave trade was mainly focused on East European Slavs (this is the origin of the word slaves). By the 1400s the Slavs had built better fortifications and Africa became the main area of operation for slave traders. In the early 1440s, Portugal began the first African only slave trade that would later become the transatlantic slave trade.
Prince Henry commissioned writer Gomes Eanes de Zurara to document the first voyage to sub saharan Africa to siege slaves directly, rather than buying from Northern African slave traders. Prince Henry wanted Gomez to glorify Portugal bringing Christianity to Africa, while dehumanizing Africans to justify enslaving them. Gomes writes the Chronicle of the Discovery and Conquest of Guinea, in 1453, which depicts black people as inferior beasts and slavery was an improvement over freedom in Africa. He wrote, "They live like beasts. They had no understanding of good but only knew how to live in beastial sloth." Gomes combined all the different ethnic groups that Prince Henry captured and combined them into one group "black people" and described this group as inferior.
These ideas of "all black people representing one race", "black inferiority", "black people were beasts" spread throughout Europe as more European countries entered the slave trade. These racist beliefs became common beliefs across European , expanded by other intellectuals, and carried across Atlantic by European immigrants to help justify slavery in the new world.
White colonialist continue to preserve and expand the stereotypes that people of color were inferior to justify the brutal enslavement of Africans, the ethnic cleansing of Native Americans, and the marginalization of Asian Americans.  These stereotypes remained prevalent in the US society after the civil war up to the present, to help justify institutional racism, the marginalization, dehumanization and oppression against all people of color to maintain white supremacy.
The stereotype that black people and native Americans were violent savages that had to be controlled, especially around white women, help justify oppressive slave codes, brutal treatment of slaves, and slave patrols to control slaves and genocide for Native Americans.  After the Civil War white supremacist continued the criminal stereotypes of black people to justify institutional racism, black codes, Jim Crow, segregation and lynching.  These stereotypes later helped justify the rise of mass incarceration against black people, violent crackdown on civil rights activist, and falsely criminalizing and scapegoating immigrants.
Politicians soon learned to take advantage of white resentment from these stereotypes by using dog whistles like "law and order" and "illegal immigration" to code explicit racism into more socially acceptable policies to vote for.  Nixon, Clinton, Bush and Trump all used dog whistles to gain votes from the white backlash of these stereotypes.
Further Reading
—
This stereotype begin in early forms of welfare programs (Mothers Pensions (early 1900s) The New Deal's Aid to Dependent Children program (1935), Aid to Families with Dependent Children (1962), Temporary Assistance for Needy Families Program (1996)) where there was a lot of public support for this programs in the beginning when they were focused on white people who "deserved" help. When various civil rights efforts forced these programs to stop discrimination against black people in need, public "white" support would always change from "helping people in need" to being "taken advantage of by people color". Once black people were allowed to participate in these programs, white supremacist politicians used these stereotypes to create ways to exclude them through discriminatory suitability tests, work requirements, and things like block grants which would shift the ability to discriminate to states with more freedom to discriminate.
Politicians soon learned to take advantage of white resentment from these stereotypes by using dog whistles like "Welfare Queen" to code explicit racism into more socially acceptable policies to vote for. Nixon, Reagan, Clinton, Bush and Trump all used dog whistles to gain votes from the white backlash of these stereotypes. This was especially prevalent during Reagan's presidency when the media played a key role in fostering and reinforcing racist stereotypes and negative controlling images African Americans who relied on welfare. The idea of the "Welfare Queen"– an African-American woman who allegedly lived lavishly on welfare money was a powerful radicalized controlling image perpetuated by President Reagan. This contributed to a national sentiment of primarily white people's hostility toward welfare, and this was the same hostility that caused the demise of Aid to Families with Dependent Children in the 1990s.
—
—
The Atlantic: How Watermelons Became a Racist Trope
While mainstream-media figures deride these instances of racism, or at least racial insensitivity, another conversation takes place on Twitter feeds and comment boards: What, many ask, does a watermelon have to do with race? What's so offensive about liking watermelon? Don't white people like watermelon too? Since these conversations tend to focus on the individual intent of the cartoonist, coach, or emcee, it's all too easy to exculpate them from blame, since the racial meaning of the watermelon is so ambiguous.
But the stereotype that African Americans are excessively fond of watermelon emerged for a specific historical reason and served a specific political purpose. The trope came into full force when slaves won their emancipation during the Civil War. Free black people grew, ate, and sold watermelons, and in doing so made the fruit a symbol of their freedom. Southern whites, threatened by blacks' newfound freedom, responded by making the fruit a symbol of black people's perceived uncleanliness, laziness, childishness, and unwanted public presence. This racist trope then exploded in American popular culture, becoming so pervasive that its historical origin became obscure. Few Americans in 1900 would've guessed the stereotype was less than half a century old.
Not that the raw material for the racist watermelon trope didn't exist before emancipation. In the early modern European imagination, the typical watermelon-eater was an Italian or Arab peasant. The watermelon, noted a British officer stationed in Egypt in 1801, was "a poor Arab's feast," a meager substitute for a proper meal. In the port city of Rosetta he saw the locals eating watermelons "ravenously … as if afraid the passer-by was going to snatch them away," and watermelon rinds littered the streets. There, the fruit symbolized many of the same qualities as it would in post-emancipation America: uncleanliness, because eating watermelon is so messy. Laziness, because growing watermelons is so easy, and it's hard to eat watermelon and keep working—it's a fruit you have to sit down and eat. Childishness, because watermelons are sweet, colorful, and devoid of much nutritional value. And unwanted public presence, because it's hard to eat a watermelon by yourself.  These tropes made their way to America, but the watermelon did not yet have a racial meaning. Americans were just as likely to associate the watermelon with white Kentucky hillbillies or New Hampshire yokels as with black South Carolina slaves.
Soon after winning their emancipation, many African Americans sold watermelons in order to make a living outside the plantation system. (Frank Leslie's Illustrated Newspaper)
This may be surprising given how prominent watermelons were in enslaved African Americans' lives. Slave owners often let their slaves grow and sell their own watermelons, or even let them take a day off during the summer to eat the first watermelon harvest. The slave Israel Campbell would slip a watermelon into the bottom of his cotton basket when he fell short of his daily quota, and then retrieve the melon at the end of the day and eat it. Campbell taught the trick to another slave who was often whipped for not reaching his quota, and soon the trick was widespread. When the year's cotton fell a few bales short of what the master had figured, it simply remained "a mystery."
—
---
Modern Stereotypes
—
Common Modern Racist Stereotypes
Black males are violent/criminal/sexual predators
Black females are Welfare queens
Criminal immigrant
Muslim terrorist
Black people have thicker skin
Absent black father
"White" is the best beauty standard
White terrorist vs black victim
Crack vs opioid addicts
Misogynoir

The Sassy Black Woman
The Hypersexual Jezebel
The Angry Black Woman
The Strong Black Woman
Source: From Privilege to Progress
—
Examples of Racial Bias
—
People of Color Using all the Welfare Benefits Stereotype
—
—
Black Criminal Stereotype
—
—
20/20 ABC News: Children & The Psychology of White Supremacy (2007)
—
Racial Stereotypes of Voters
Everyday Feminist: Here's Your Proof That White Americans Don't Face Systemic Racism
"For one, a startling number of Americans – 49% – think that "discrimination against whites" is "as big a problem as discrimination against" black people and other people of color. Research by The Washington Post corroborates this poll: "Whites now think bias against white people is more of a problem than bias against black people."
Before you start blaming Trump supporters for these results, a recent poll of 16,000 Americans revealed that Clinton supporters, too, have some serious work to do. For example, 20% of Clinton supporters described Black Americans as "less intelligent" than White Americans. And, not so long ago, two Black women exposed the racism of "progressives" when they dared interrupt Bernie Sanders at a rally in Seattle.
This is a problem all across the board."
—
White Adult Stereotypes of Youth of Color
2018 Harvard National study of 1022 white adults working or volunteering with youth:

High levels of negative racial stereotypes toward non-whites of all ages among white adults
Highest levels of negative attitudes were toward blacks across all stereotypes measured

Lazy, unintelligent, violent and having unhealthy habits
Native American, and Hispanic/Latinx seen as similarly negative on several stereotypes

White adult stereotypes most pronounced toward adults

But seen even toward young children aged 0-8 years

Black children were seen less negatively than black adults

But more negatively than children from other racial groups

Except for Native American and Hispanic/Latinx

Young black children aged 0-8 years

3x more likely to be rated as being lazy than white adults

Young black children almost

2x as likely to be rated as unintelligent or violence-prone compared with white children of the same age

Black teenagers and Native Americans almost

10x more likely to be considered lazy than white adults

Black and Hispanic/Latinx teens were between

5 to 2x more likely to be considered violence-prone and unintelligent than white adults and white teens
"these findings are highly concerning given the strong scientific evidence that negative racial attitudes are associated with poorer quality care and services and with disparities in health, education and social outcomes. That these negative attitudes have been found toward even young children aged 0-8 among adults who work or volunteer with them has serious potential consequences for these children's outcomes throughout life." Lead author Naomi Priest
—
Stereotype Threat & Racial Imposter Syndrome
—
Stereotype Threat
"Stereotype threat is a situational predicament in which people are or feel themselves to be at risk of conforming to stereotypes about their social group." Wikipedia
Stereotype threat

Risk of confirming negative stereotypes about an individual's racial, ethnic, gender, cultural group

Can cause negative outcomes such as lower scores/lower emotionally wellness

Coined by researchers Claude Steele & Joshua Aronson

Performed experiments that showed:

black college students performed worse on standardized tests than their white peers when they were reminded before taking the tests

That their racial group tends to do poorly on such exams

When their race was not emphasized

Black students performed similarly to their white peers

Don't have to believe in a stereotype to be self-fulfilling
—
APA:  Stereotype Threat Widens Achievement Gap
Reminders of stereotyped inferiority hurt test scores
What the Research Means
—
Racial Imposter Syndrome
Imposter syndrome is defined as the feeling of inadequacy or phoniness that make one believe they are undeserving of success" BuzzFeedVideo
Imposter syndrome can also refer to
"when people with biracial and multi-ethnic identities feel like imposters of one or more of their identities because they don't fit neatly into any one category." DiversityEdu
—
Inside Higher Ed: Feeling Like Impostors
"Minority college students often face discrimination and report higher rates of depression and anxiety than their white peers — and there's another factor that could exacerbate those feelings.
A new study out of the University of Texas at Austin and published in the Journal of Counseling Psychology suggests that the impostor phenomenon in some cases can degrade the mental health of minority students who already perceive prejudices against them.
Those who suffer from impostor feelings cannot grasp or believe in their successes, even if they're high achieving — leading them to feel like frauds. In the 1970s, impostor syndrome was first considered a trend among women who were advancing professionally, according to the American Psychological Association. Many experts have discussed the influence of impostor syndrome on minority and female academics, though the University of Texas study focused on undergraduate students.
The authors surveyed 332 minority undergraduate students from a Southwestern university. The institution's identity was shielded in the study to ensure student anonymity. Black, Asian and Latino students were included in the study. All the racial groups were represented relatively equally.
In three separate tests, the students were asked to evaluate their own competency — related to impostor feelings — how often they experience discrimination, and their mental health.
As the study authors predicted, black students who dealt with significant "impostorism" also reported higher levels of anxiety, as well as depression related to discrimination they perceived. Among Asian students, more impostor-related feelings were associated with increased depression and anxiety, but not related to any racism they perceived.
The authors could not explain why with Latino students, the trends essentially reversed — those Latino students with more impostor-related feelings didn't suffer from much anxiety or depression. Those who did indicate they were anxious or depressed did not have many impostor-related thoughts.
The authors guessed that Latino students, hyperaware of certain stereotypes, did not internalize impostor-related feelings in the same way as other minority students. They also cited fatalism, a popular concept in some Latino cultures in which people believe they cannot control their destinies.
"It is possible that among this sample of Latino/a American students, having low impostor feelings was associated in some way to fatalism (e.g., 'People are going to think whatever they want to about me and there is nothing I can do about it')," the authors wrote.
The study's findings led its authors to recommend that in counseling, clinicians should explore specifically if students of color are grappling with these feelings."
—
Women Of Color Share Their Imposter Syndrome Stories
—
NPR: 'Racial Impostor Syndrome': Here Are Your Stories
"It's tricky to nail down exactly what makes someone feel like a "racial impostor." For one Code Switch follower, it's the feeling she gets from whipping out "broken but strangely colloquial Arabic" in front of other Middle Easterners.
For another — a white-passing, Native American woman — it's being treated like "just another tourist" when she shows up at powwows. And one woman described watching her white, black and Korean-American toddler bump along to the new Kendrick and wondering, "Is this allowed?"
In this week's podcast, we go deep into what we're calling Racial Impostor Syndrome — the feeling, the science and a giant festival this weekend in Los Angelesthat's, in some ways, all about this.
Here's how we got started down this track. A couple months ago, listener Kristina Ogilvie wrote in to tell us that "living at the intersection of different identities and cultures" was like "stumbling around in a forest in the dark."
She asked, "Do you hear from other listeners who feel like fakes?"
Good question. So we took it to our audience, and what we heard back was a resounding "yes."
We got 127 emails from people who are stumbling through that dark, racially ambiguous forest. (And yes, we read every single one.)
Here are excerpts drawn from a few of the many letters that made us laugh, cry and argue — and that guided this week's episode.
Let's start with Angie Yingst of Pennsylvania:
"My mother is a Panamanian immigrant and my father is a white guy from Pennsylvania. I've always felt liminal, like I drift between race and culture. When I was young (20s) and living in the city, I would get asked multiple times a day where I was from, where my people were from, because Allentown, Pennsylvania, clearly wasn't the answer they were looking for … It always felt like the undercurrent of that question was, 'You aren't white, but you aren't black. What are you?'

"But truthfully, I don't feel like I fit with Latinas either. My Spanish is atrocious and I grew up in rural PA. Even my cousin said a few weeks ago, 'Well, you aren't really Spanish, because your dad is white.' Which gutted me, truly. I identify as Latina. I identify with my mother's culture and country as well as American culture. In shops, I'm treated like every other Latina, followed around, then ignored at the counter. I married a white guy and had children who are blonde and blue eyed, and I'm frequently asked if I'm the nanny or babysitter. And white acquaintances often say, 'You are white. You act white.' And I saltily retort, 'Why? Because I'm not doing your lawn, or taking care of your kids? You need to broaden your idea of what Latina means.' "
Jen Boggs of Hawaii says she often feels like a racial impostor, but isn't quite sure which race she's faking:
"I was born in the Philippines and moved to Hawaii when I was three. … I grew up thinking that I was half-Filipina and half-white, under the impression that my mom's first husband was my biological father. I embraced this 'hapa-haole' identity (as they say in Hawaii), and loved my ethnic ambiguity. My mom wanted me to speak perfect English, so never spoke anything but to me. After she divorced her first husband and re-married my stepdad from Michigan, my whiteness became cemented.

"Except. As it turns out, my biological father was a Filipino man whom I've never met. I didn't find out until I tried to apply for a passport in my late twenties and the truth came out. So, at age 28 I learned that I was not half white but all Filipina. …

"This new knowledge was a huge blow to my identity and, admittedly, to my self esteem. 'But I'm white,' I remember thinking. 'I'm so so white.' After much therapy, I'm happy and comfortable in my brown skin, though I'm still working out how others perceive me as this Other, Asian person."
Indigo Goodson's mom is Jamaican and her dad is African-American. She wrote about the way people's perceptions of her change based on where she lives:
"Culturally we grew up as Jamaican as two California-born black American children could have in the Bay Area. … We ate mostly Jamaican food (prepared by both our mother and father), our Jamaican family lived with us growing up, and it was my mother that told us Anansi stories and other tales or sayings popular in Jamaica.

" … Both my parents are black, so no one ever asked 'What are you?' … But then when folks would meet my mum they would say things like, 'Oh I thought you were black!' or 'You do look Jamaican!' And I would tell people I'm still black and clearly Jamaicans look like black Americans because we are both the descendants of enslaved West Africans. Now that I live in New York City, where if you're black people assume you are first generation Caribbean, I often have to remind people that my dad is black American and so am I."
Helen Seely is originally from California. She told us what it's like for her to interact with different groups as a light-skinned biracial woman:
"White people like to believe I'm Caucasian like them; I think it makes their life less complicated. But I don't identify as 100% white, so there always comes a time in the conversation or relationship where I need to 'out' myself and tell them that I'm biracial.

"It's a vulnerable experience, but it becomes even harder when I'm with black Americans. It may sound strange — and there are so many layers to this that are hard to unpack — but I think what it comes down to is: they have more of a claim to 'blackness' than I ever will and therefore have the power to tell me I don't belong, I'm not enough, that I should stay on the white side of the identity line.

"You know that question we always get asked? 'What are you?' Well, I still don't know. I've never had an answer that I can say with confidence; I still don't know what I'm allowed to claim."
Natalia Romero echoes some of those feelings. Her family left Colombia for the U.S. when she was 9 years old, and she says that while she doesn't consider herself white, she gets treated like she's white all the time:
"My mother doesn't speak English and so when I am home all we speak is Spanish and act like a bunch of rowdy, tight knit Colombians … I grew up experiencing what many poor young immigrants face — bad schools, hunger, poverty, a lack of resources — but eventually managed to pay my way through college and work now as a musician and teacher, often very white communities.

" … When people talk about the current political climate, they speak to me as if I were white, not someone who is terrified of the hatred of Latinx and Hispanic people, someone who walks around with my green card in my wallet, knowing that until I am a citizen (which I morally have a huge problem with) I am not safe. I exist and inhabit these white spaces, but my experience is not white. My experiences comes from being the sole English speaker in my house at age 9 and having to speak for my parents at the bank, at school, in apartments. My experience is from pretending my youngest sister wasn't part of our family because the apartment complex only allowed 4 people to a 1 bedroom apartment and we couldn't afford a 2 bedroom one. I come from a place where people speak poorly of Latinx people around me not realizing I am one … "
Everyone's story is different, and as is discussed on the podcast, we're still learning how to talk about identities that fall outside of our traditional understandings of race in the United States. Luckily, for those who are confused, you're in good company."
—
---
Modern Racial Bias
—
Police more likely to pull over, arrest and shoot black people

60% black people report they/family member have been unfairly treated by police
Black people compared to white people are:

3x as likely to be stopped
2x as likely to be arrested
4x as likely "to experience the threat or use of force during interactions with the police."
Juries are more likely to convict black people

Black people are 20% more likely to be sentenced to prison than white people

Judges are more likely to give longer sentences to black people

Compared to white people, black people are

21% more likely to receive mandatory minimum sentences
Likely to receive sentences that are 10% longer once convicted

Employers are more likely to interview white sounding names on resumes

Even when job applicants with the same resumes:

white-sounding names get called back about 50% more than black sounding names

Black students are 3x more likely to be suspended than white students

Even when their infractions are similar

Black Girls are suspended 6x more than white girls for similar offenses
Sources: 7 Ways We Know Systemic Racism Is Real, The New Progressive: The Ultimate White Privilege Statistics & Data Post, 2017 NPR/Harvard/RWJF
—
Examples of Racial Bias
—
Racial Bias in Children: Doll Test
1940s, psychologists Kenneth and Mamie Clark designed the "doll tests"

To study the psychological effects of segregation on African-American children
The results were included in the Brown v. Board of Education case and the Supreme Court's Decision

The Supreme Court declared that separate but equal in education was unconstitutional

Because it resulted in black children having "a feeling of inferiority as to their status in the community

The "doll tests" have been done many times since on both white and black children

With same results every time
Doll Test
CNN: Inside the AC360 doll study
Racial Bias of Police
Stanford Alumni: A Hard Look at How We See Race
Open Carry Advocates Challenge Police Bias in Oregon
Further Reading
Campaign Zero: Racial Bias Training
—
Implicit Racial Bias in Court Cases
Blacks are 21% more likely to receive mandatory minimum sentences.
Blacks are 20% more likely to be sentenced to prison than whites.
Once convicted, black offenders receive sentences that are 10% longer than white offenders for the same crimes.
Source: The New Progressive: The Ultimate White Privilege Statistics & Data Post
A black person and a white person each commit a crime, the black person has a better chance of being arrested. Once arrested, black people are convicted more often than white people. And for many years, laws assigned much harsher sentences for using or possessing crack, for example, compared to cocaine. Finally, when black people are convicted, they are more likely to be sent to jail. And their sentences tend to be both harsher and longer than those for whites who were convicted of similar crimes. And as we know, a felony conviction means, in many states, that you lose your right to vote. Right now in America, as many as 13% of black men are not allowed to vote.
Source: 7 Ways We Know Systemic Racism Is Real
Further Readings
NY Times: To Curb Bad Verdicts, Court Adds Lesson on Racial Bias for Juries
NBC: Connecticut will be first state to collect prosecutor data to study racial bias
—
Racial Bias in healthcare
NCBI 2016 study found

Stereotypes

Medical students believe Africans-Americans felt less pain than whites
Students/residents thought black skin was thicker

Bias

Doctors are more likely to believe white people about their pain and prescribed pain medications than black people

A 2018 NPR/Harvard/RWJF survey:

33% of black women were discriminated against because of their race when going to a doctor or health clinic
21% of black people avoided going to a doctor out of concern they would be racially discriminated against
How Does Implicit Bias Affect Health Care?
Now This: How the Health Care System Has Racial Biases
—
DYSA Linguistic profiling — John Baugh
—
Code Switching
Code-switching

Interacting in different ways depending on social context

Due to structural inequality and centuries of segregation

different cultural norms & ways of speaking emerged forwhites/blacks

Because dominant culture is white

Whiteness internalized into institutions as natural, normal, legitimate

There's more incentive for people of color to code-switch

To adapt to the dominant culture to improve their prospects

White people rarely feel this same pressure in their daily lives
Source: Culture on the Edge: Whose Switch is a Switch?
The Cost of Code Switching | Chandra Arthur | TEDxOrlando
—
Racial Bias in Schools
Black students represent 16% of student enrollment but:
they make up nearly 50% of suspensions
three times more likely to be suspended than white students even when their infractions are similar
black students represent 16% of student enrollment
black students are half as likely as white students to be assigned to gifted programs, even when they have comparably high test scores
Black Girls are suspended 6x more than white girls for similar offenses
PUSHOUT: The Criminalization of Black Girls in Schools
—
Let Her Learn: A Toolkit to Stop School Push Out For Girls of Color
—
Let Her Learn:  Join the Fight to Stop School Pushout
—
NeaToday: When School Dress Codes Discriminate
"While a dress code is supposed to make the school environment more conducive to learning, it frequently does the opposite…
'White Male Default'
Kutzer says that she will only "dress code" students if their clothing is clearly so tight it is uncomfortable. Her school follows "standard school attire," (SSA) so students wear uniforms. On laundry day, however, some students show up without. Other student's families can't afford to keep up with their growing children, so their uniforms are ill-fitting.
"We are told by our administrators to send non-compliance issues to the office, but I only refer kids who are clearly wearing too tight or uncomfortable clothing, and I send them to the nurse, who keeps a stash of extra clothing for this type of situation," explains Kutzer.
The high school attended by her daughter, however, uses a dress code policy rather than the SSA. Kutzer noticed that it essentially targets female and minority students—the focus being on on parts of the female anatomy, like backs, shoulders, and legs.
"Targeting styles of clothing that are mostly associated with a particular minority group is discriminatory. When styles such as 'sagging pants' are the issue, we are putting a burden predominantly on black males," says Kutzer.
She calls this the "white male default," a common trend for school dress codes. "Dressing as most white young men do seems to be what is encouraged.'
In 17-year-old Maddie Reeser's Baltimore City public school, it's the black girls at her school who are the most frequently dress coded—a double discrimination. "My white friends rarely get sent to the office, but my black friends do quite often," says Reeser.
Another student said she brought up this issue to a male administrator, who told her it was "because white girls don't have as much to show." The student says this comment made her feel uncomfortable, let along failing to address the inequality.
Despite the fact that Reeser's school has a uniform, she and her peers still faced the same issues that Belsham described at her Duval County school. "The rule should be based on the clothes, not how they fit, because it's different for each person," says Belsham.
Despite the rules being the same for every girl, teachers end up enforcing the rules more strictly with black females, and in a way that is humiliating.
Many dress codes can cause black students to fall behind academically, according to a 2018 National Women's Law Center study. Looking at public schools in the District of Columbia, the report found that three in four D.C. public high school dress codes say students can be pulled out of class or school for dress code violations.
"It's outrageous that girls are losing critical class time simply for what they are wearing," said NWLC Education Fellow and report co-author, Kayla Patrick. "This sends a disturbing message to all students: What a girl looks like is more important than what she learns and thinks. No girl should ever have to forfeit her education because her shirt is the wrong color or she has a hole in her jeans."
Dress Code Discrimination
A 2018 study by the National Women's Law Center found that

Black girls often singled out by unfair dress codes

Which can cause them to fall behind in school

Targeting styles associated with a particular minority group is discriminatory

Styles such as 'sagging pants' are putting a burden predominantly on black males
White male default is the common trend for school dress codes

Dressing as most white young men do seems to be what is encouraged
6-year-old boy with locs turned away by school
The Psychology of Black Hair | Johanna Lukate | TEDxCambridgeUniversity
—
Black Women Share Their Hair Stories ft. Amandla Stenberg
—
NBC: New York is second state to ban discrimination based on natural hairstyles
—
---
Misrepresentation in Media
—
Root: Throw Away the Script: How Media Bias Is Killing Black America"
""Biased coverage perpetuates a dangerous cycle, by helping to create and affirm explicit and implicit biases in the minds of audiences," Robinson tells The Root. "People in everyday situations—personal and professional—then act out those biases, treating black people as if the media's stereotypes are real."
If institutionalized racism is the poison, then mainstream media is the hypodermic needle that pushes it deeply into the veins of society, rendering the humanity of black people invisible. And an increased awareness tells us that some media professionals don't even realize they're dealers. Relying on a well-worn template that frames black people as thugs and cultural malignancies by default is not news; it is propaganda that serves only to reaffirm for many Americans what they think they know about black people.
And as long as media continues to stick to a script influenced by racial bias, our communities will continue to pay the price."
—
Leigh Donaldson: When the Media Misrepresents Black Men, the Effects are Felt in the Real World
In a 2011 study, Media Representations & Impact on the Lives of Black Men and Boys, conducted by The Opportunity Agenda, negative mass media portrayals were strongly linked with lower life expectations among black men. These portrayals, constantly reinforced in print media, on television, the internet, fiction shows, print advertising and video games, shape public views of and attitudes toward men of color. They not only help create barriers to advancement within our society, but also "make these positions seem natural and inevitable"…
…What we are also seeing play out among both white and black people is a hyped view of black boys and men being coupled with criminality and violence, a lack of empathy for black men and boys in trouble, less attention being paid to the bigger picture of social and economic disparity and increased public support of more rigorous approaches to social ills, such as police aggression and longer jail sentences…
…Media images and words are known, according to the Opportunity Agenda study, to have the greatest impact on the perceptions of people with less real-world experience. People who have never interacted with a black family in their communities more easily embrace what the media tells them. The most negative impact is upon black individuals themselves. Derogatory portrayals can demoralize and reduce self-esteem. In worst case scenarios, black boys and men actually internalize biases and stereotypes and, through their behavior, reinforce and even perpetuate the misrepresentations. They become victims of perception…
…Not only does the media's reluctance to provide more balanced perspectives of our African-American male population worsen cultural division among all people, it enables judges to hand out harsher sentences, companies to deny jobs, banks to decline loans and the police to shoot indiscriminately.
—
Yes! Magazine: 10 Examples That Prove White Privilege Exists in Every Aspect Imaginable
6. I Have the Privilege of Soaking in Media Blatantly Biased Toward My Race
Everyday Feminism writer Maisha Z. Johnson deepened my understanding of this bias that rears its unwelcome, White-loving head, for example, in pictures that humanize White killers while simultaneously dehumanizing victims of Color:
Two sets of pictures, one with and one without mugshots—for the same crime, covered by the same reporter (on the same day)—further illustrate this bias:
And these biases are besides a media that, according to Vanity Fair, continue to be overwhelmingly whitewashed (not to mentioned malewashed, straightwashed, and youthwashed).
If you are still not convinced, check out actor Dylan Marron's website, Every Single Word, through which the Venezuelan American has edited mainstream movies so that only the characters of color speak. Even the two-hour-and-19 minute-movie, Noah—set in a region filled with Brown people—is reduced to just eleven seconds.
More proof is just one Google image search away. Google "beauty" and count the people of color. Here's what my search found (and notice the glaring lack of Idris Elba images):
And if the media are not blatantly biased, remember that they are covering a blatantly biased country, one that views the epidemic of heroin, used overwhelmingly by White people, as a "health problem" instead of a "crime problem."
Apparently, the addictions of White people merit a "gentler war on drugs," not the three-strikes laws and mandatory minimums that have devastated Black and brown communities."
—
The Problem w/ White Beauty Standards | Decoded | MTV News
—
Colorism/Shadism
"Within-group and between-group prejudice in favor of lighter skin color—what feminist author Alice Walker calls "colorism"—is a global cultural practice. Emerging throughout European colonial and imperial history, colorism is prevalent in countries as distant as Brazil and India. Its legacy is evident in forums as public as the television and movie industries, which prefer to cast light-skinned people of color, and as private as the internalized thoughts of some Latino, South-Asian or black parents who hope their babies grow up light-skinned so their lives will be "just a little bit easier."
—
—
Further Reading
PEW: Hispanics with darker skin are more likely to experience discrimination than those with lighter skin
—
Misogynoir
Combines

"misogyny" – contempt or prejudice against women
"noir" – French word for black

Particular racialized sexism towards black women

Coined by the queer Black feminist Moya Bailey
Only applicable to Black women
Particular racialized sexism against black women

Convergence of anti-Blackness and misogyny

Common Misgynoir Tropes

The Sassy Black Woman

Dehumanizes black women to catch phrases and comedic actions

The Hypersexual Jezebel

Shames black sexuality and victim blames white sexism and rape culture

The Angry Black Woman

Discredits legitimate discomfort by assuming black women just like to complain/be angry
Values white comfort above black discomfort
"It's a tactic used in order to belittle our valid anger by portraying it as an inherent character flaw, rather than a justified reaction to circumstances." Kesiena Boom, 4 Tired Tropes That Perfectly Explain What Misogynoir Is – And How You Can Stop It

The Strong Black Woman

Forces black women to carry everyone's emotional labor while hiding their own
What "Misogynoir" Means . . . and Why It Has to End
—
Source: michaelabalogun
—
Philogynoir: Misogynoir | What is it?
—
—
AJ+ Is The 'Strong Black Woman' Stereotype Hurting Black Women?
—
Patriarchy and White Supremacy
Widespread rape of slaves of color

White patriarchy created hypersexual black women stereotypes to cover up their mass sexual violence

By claiming they were the victims of oversexed black women

"aggressive hypersexual African femininity portrayals served both to exonerate White men of their inhumane rages and to mask their human attractions to the supposed beast-like women" Ibram Kendi, Stamped From the Beginning

While using narratives protecting white women's "purity"

As a major justification for enforcing white supremacy

Through slavery, the lynching of 1000s, miscegenation laws, enslaving their own mixed race children for profit, Jim Crow, mass incarceration, and the systemic racism still felt today

Hypersexual stereotypes still used today to discredit WOC

Patriarchy used to enforce white supremacy
"Like raped prostitutes, Black women's credibility had been stolen by racist beliefs in their hypersexuality." Ibram Kendi, Stamped From the Beginning
"rape was not merely a result of sexual desire and opportunity, or simply a form of punishment and racial domination, but instead encompassed all of these dimensions as part of the identity of white masculinity" Rachel A. Feinstein, When Rape was Legal
Ocasio-Cortez responding to the Daily Caller, a white "conservative" media outlet (founded by a white supremacist propagandist, Tucker Carlson) releasing a fake nude picture of Rep AOC to discredit her progressive activism
—
Further Reading
Everyday Feminism: 4 Racist Stereotypes White Patriarchy Invented to 'Protect' White Womanhood
—
Misrepresentation in Children's Media
—
Dr. Seuss was also kind of racist | New York Post
—
Media Representation: Hollywood
Top grossing films of 2014

1% of the speaking roles went to White Americans
5% went to Black Americans #OscarsSoWhite

Latinx Americans

6% of the population

make up just 4.9% of speaking roles.

Race in the Writer's Room Study

A study of 1,678 first-run episodes from all 234 series airing on 18 broadcast, platforms during the 2016-17 television season found:

91% of show runners (person with creative control) are white
86% of writers are white
2/3 of shows had no black writers at all
17% of shows had just one black writer
The ultimate result of this exclusion is

The widespread reliance on black stereotypes to drive black character portrayals

Where black characters even exist at all

at best, "cardboard" characters, at worst, unfair, inaccurate and dehumanizing portrayals
—
Color of Change: Race in the Writers' Room: How Hollywood Whitewashes the Stories that Shape America
"This study considered 1,678 first-run episodes from all 234 of the original, scripted comedy and drama series airing or streaming on 18 broadcast, cable, and digital platforms during the 2016-17 television season. The report demonstrates that the executives running television platforms today—both traditional networks and emerging streaming sites—are not hiring Black showrunners, which results in excluding or isolating Black writers in writers' rooms and in the creative process.
Over 90% of showrunners are white, two-thirds of shows had no Black writers at all, and another 17% of shows had just one Black writer. The ultimate result of this exclusion is the widespread reliance on Black stereotypes to drive Black character portrayals, where Black characters even exist at all—at best, "cardboard" characters, at worst, unfair, inaccurate and dehumanizing portrayals. Many other studies have shown how dangerous inaccurate portrayals can be—resulting in warped perceptions about Black people and Black communities that perversely inform the decisions of doctors, teachers, voters, police, judges and more.
The report also highlights a pattern of excluding women and people of color in hiring showrunners and writers, and clearly suggests that current industry "diversity" programs are not working to either create success tracks for talented people of color in the industry, or create the range of authentic representations and stories on television that we need to sustain a healthy society.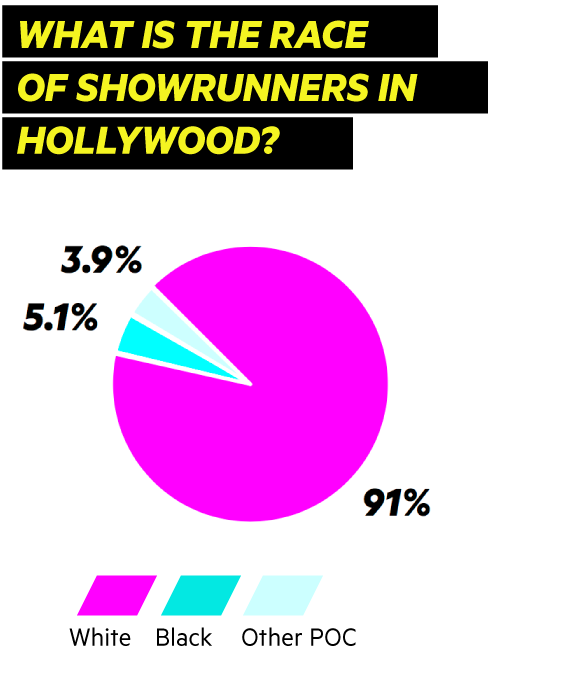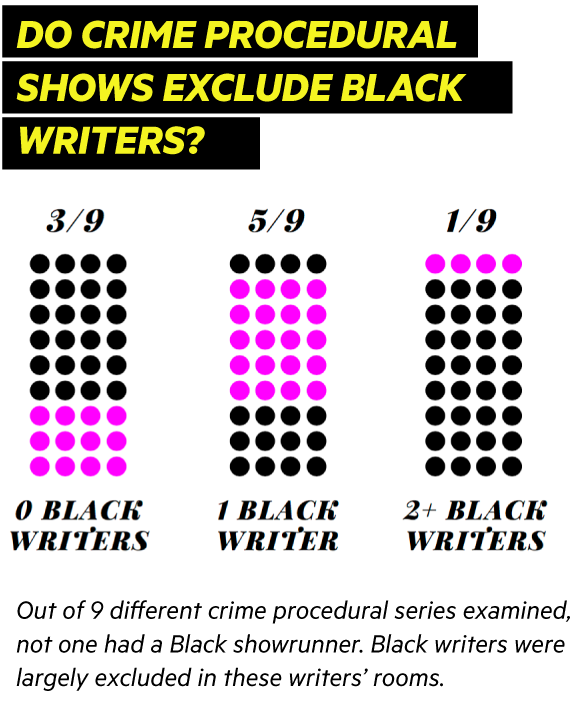 —
Further Readings
—
---
Misrepresentation in News
—
Black families represent 59% of the poor portrayed

but account for just 27% of Americans in poverty

Whites families make up 17% of the poor portrayed

but make up 66% of the American poor

Black people represent 37% of criminals shown in the news

but constitute 26% of those arrested on criminal charges

White people represent 28% of criminals shown in the news

But constitute 77% of crime suspects

Black people 3x more likely portrayed dependent on welfare
Black fathers are shown spending time with their kids

almost half as often as white fathers
—
WP: News media offers consistently warped portrayals of black families, study finds
If all you knew about black families was what national news outlets reported, you are likely to think African Americans are overwhelmingly poor, reliant on welfare, absentee fathers and criminals, despite what government data show, a new study says.
Major media outlets routinely present a distorted picture of black families — portraying them as dependent and dysfunctional — while white families are more likely to be depicted as sources of social stability, according to the report released Wednesday by Color of Change, a racial justice organization, and Family Story, an advocate of diverse family arrangements.
"This leaves people with the opinion that black people are plagued with self-imposed dysfunction that creates family instability and therefore, all their problems," said Travis L. Dixon, a communications professor at the University of Illinois at Urbana-Champaign who conducted the study.
Such stereotypes fuel political rhetoric and inform public policy, such as Congress's consideration to "gut social safety net programs," he said. Stricter work requirements, drug testing and other welfare restrictions are likely to be supported by a public exposed to inaccurate portrayals of black families, the report said. Legislators can point to media coverage of black families in their zeal to further limit welfare programs and say, "It's all their fault. They just need to get their ducks in a row," Dixon said.
Poverty and welfare were not always stigmatized in the media as a predominantly black issue, the report said. White men who benefited from the anti-poverty programs in the 1920s and 1930s were typically thought of as having "run into hard luck" and just needed the support to "help them through the tough times," it said.
Over time, however, political leaders and the media have "worked to pathologize black families in the American imagination to justify slavery, Jim Crow, mass incarceration, widespread economic inequity and urban disinvestment — as well as to gain and maintain political and social power," wrote Nicole Rodgers, founder of Family Story.
Researchers reviewed more than 800 local and national news stories and commentary pieces published or aired between January 2015 and December 2016, randomly sampling the most highly rated news programs for each of the major broadcast and cable networks. Those included ABC, CBS, NBC, CNN, Fox News and MSNBC.
Also included in the study: newspapers of national influence such as The Washington Post, Wall Street Journal, New York Times, USA Today, Los Angeles Times and the Chicago Tribune as well as regional newspapers, conservative websites such as Breitbart, and Christian news sources like the Christian Post.
The study concluded both ideologically driven news sources as well as traditional newspapers and broadcasts furthered false narratives about black families, helping to shape public assumptions that they are "uniquely and irrevocably pathological and undeserving," Dixon said.
Black families represent 59 percent of the poor portrayed in the media, according to the analysis, but account for just 27 percent of Americans in poverty. Whites families make up 17 percent of the poor depicted in news media, but make up 66 percent of the American poor, the study said.
Black people are also nearly three times more likely than whites to be portrayed as dependent on welfare, the study showed. Black fathers were shown spending time with their kids almost half as often as white fathers.
Blacks represent 37 percent of criminals shown in the news, but constitute 26 percent of those arrested on criminal charges, the study said. In contrast, news media portray whites as criminals 28 percent of the time, when FBI crime reports show they make up 77 percent of crime suspects.
"There are dire consequences for black people when these outlandish archetypes rule the day: abusive treatment by police, less attention from doctors, harsher sentences from judges," Rashad Robinson, executive director of Color of Change, wrote in the report.
Dixon said racial tropes of the absentee black father or family dysfunction were frequently invoked during new shows featuring political commentary. Pundits were often allowed to spout inaccurate generalizations about black families without being challenged by hosts.
"Let's say the actual topic was the Black Lives Matter movement and police citizen interactions," Dixon said. "This idea of the problematic black family would keep coming up, almost out of nowhere, even if the topic was not about the black family."
The report makes several recommendations for the news industry, including setting stronger standards for sourcing information and experts, providing greater social and historical context, and including people of color in setting editorial standards.
—
Myth of the Absent Black Father
—
AJ+: The Myth Of The Absent Black Father
These do show a difference in the percentage of children living with one parent (the mother only) vs two parents between White (18%), Latino or Hispanic (24%) and Black (50%) households. But what's interesting is the percentage who live with their father only (White – 3.8%, Hispanic – 3.0%, Black – 4.3%) which is also higher. Does this invalidate the CDC analysis? Well, no. There is a lower marriage rate among black people and that does seem to have an effect on how many of them are living with vs living apart from their children. But the level of involvement, of parenting, across racial lines from men in either of those two living situations – is not that significantly different. In fact, more Black fathers who live apart from their children in most measurements are actually far more involved in their children's lives [in some cases by nearly a 2:1 or 3:1 ratio] which may be a direct result, and/or offset, to the fact that far more of them are in that situation percentage-wise.
5:11 PM PT: Couple more thoughts:
One of the problems with the assumption that a Nuclear Family is the "best" family for raising children is the reality that not all biological parents provide the best guidance, example, or have the best of relationship with each other. Things can turn abusive, violent and sometimes deadly.  Quite often the weapons used in this disputes, is a gun.
Firearms were used to kill more than two-thirds of spouse and ex-spouse homicide victims between 1990 and 2005.2
Domestic violence assaults involving a firearm are 12 times more likely to result in death than those involving other weapons or bodily force.3
Abused women are five times more likely to be killed by their abuser if the abuser owns a firearm.4A recent survey of female domestic violence shelter residents in California found that more than one third (36.7%) reported having been threatened or harmed with a firearm.5 In nearly two thirds (64.5%) of the households that contained a firearm, the intimate partner had used the firearm against the victim, usually threatening to shoot or kill the victim.6
So that's one reason why some moms and dads shouldn't live together.
Another factor on the "Nuclear Family" ideas is the fact that many of these studies don't take into account the impact of the extended family, grand-parents, uncles, aunts, older siblings and cousins can have on the child-rearing processes.  Parenting sometimes takes more than just the actual parents themselves, particular when both of them need to work to make end-meet, and there are other day-care and babysitting issues that need to be addressed. Two out of our last three serving Presidents were raised in single-parent homes with the support of extended family, so clearly – it's not hopeless.
Lastly it strikes me that there can be inherent problems at looking at an internal proportional number, when the external proportion may be at an far larger differential.  To wit: there are almost five times as many White people in America as they are Black.  So if you were to take the single-parent percentages for each and multiply them against the numbers of actual children involved what you would see is this:
Hispanic Children in Single-Parent Households: 28.6% x 16.3 Million = 4.66 Million
Black Children in Single-Parent Households: 54.7% x 11.2 Million = 6.12 Million.
[Corrected] White Children in Single-Parent Households: 22.1% x 55.9 Million = 12.3 Million.
So even with an almost twice as high internal percentage of single-parent households, the external percentage is that there are still only one third one half as many black children living in that situation as there are white, and when you add this greater quantity of white "at risk" youth to the CDC data it seems that the quality of some of that white parenting may not be quite a strong.
But we don't really hear much about the single-parenting crisis of absent White Fathers, now do we? And we don't see our jails filled to the brim with the failed results of these millions of white single-parent households even with a 2:1 gap in actual numbers, instead we see it filled far more frequently, with black men who afterward can't really be good, attentive Fathers anymore, now can they? And perhaps that, excessive incarceration, is the source for the internal percentage differential in the first place.
Wed May 13, 2015 at 1:26 PM PT: I've gotten some pushback on twitter claiming I have failed to "debunk" the Black Father Myth.  Well, part of the point of a myth is that it itself isn't really "proven" in the first place.  For example even some of the links provided by naysayers in the comments don't necessary make that case when describing the better outcomes that are typically associated with the children of married couples.
Is it simply because they have, on average, higher family incomes? (Two earners are better than one, and one household is cheaper to run than two.) Or are two committed spouses better able to provide consistent parenting? Is it marriage itself that matters, or is marriage the visible expression of other factors, that are the true cause of different outcomes? And if so, which ones?
It is usually using the disparity in marriage rates among the races that people usually draw the conclusion that there is a "crisis" in black families, and that their is a deficit in black fathers.  Those numbers as I previously showed in my first update are as follows:
White Single Families: 25% Hispanic Single Families: 42% Black Single Families: 67%
People usually look at these numbers alone and go "Aha, there's your problem", but I think this is a gross oversimplification of far more complex real life situations.  I showed this in the second part of that update when I noted that not being married doesn't really mean that the parent is "absent" as a good percentage of families may live together but remain unmarried.
Single Parent Living Arrangements White 22.1% Hispanic 28.6% Black 54.7%
So as you can see although the figures don't change much from married White couples with children to cohabiting but unmarried parents, it drops 14% for Hispanics and 13% for Blacks.  Another issue I addressed in the 2nd update which is rarely addressed by those who fault marriages alone as being the big problem with Black child-rearing is the issue of blended families.  There are many cases which the married/unmarried statistic fail to address when the mother may not be living with or married to the father, but is instead living with and/or married to someone else.
There are no recent estimates on the percentage of children residing in blended families.

These statistics underestimate the number of U.S. blended families, because…

To date, government reporting of population figures indicate families in which the child resides. So if the child lives with a divorced, single parent and the other nonresident parent has remarried, the child is not included in the calculations as being a member of a blended family.Estimates suggest that many children living in a "single parent household" (as designated by the Census Bureau) are actually living with two adults. Thus, their best estimates indicate that about 25% of current blended families are actually cohabiting couples.
40% of married couples with children (i.e., families) in the US are stepcouples (at least one partner had a child from a previous relationship before marriage; this includes full and part-time residential stepfamilies and those with children under and/or over the age of 18). The percentage of all married couple households is 35%. (Karney, Garvan, & Thomas, 2003)
All of this means that the census bureau's data of "living arrangements" can be off by as much as 25% when dealing with blended families situations and even their much lower figures of Hispanic and Black single parent living arrangements could in fact be far, far lower than shown.
So the bottom line issue, once we get back to the CDC figures on how much fathers across the various races actually do the real working of parenting rather than just being nearby or within the same house – can we definitively say that qualitative difference proportionally overwhelms the quantitative [but grossly incomplete] data that proponents of the "Black Fathers Suck" faction seem to espouse?
I don't know.
Frankly, because the data is incomplete and there isn't as far as I can tell a breakdown of blended families by race, I honestly can't tell. And that's why I didn't get into this subject in more detail earlier, it's a wash.  But the incompleteness of the data also shows that absent Black Fathers Myth, isn't proven either. In fact without full, complete, and accurate numbers – it can't be proven.
However, what the CDC info does show is that pound for pound, on a family by family average basis Black fathers are generally more attentive to their children whether the live with them or apart from them, and even using the Census Bureau numbers there are far more White Children "at risk" from their less attentive and absent fathers than there are Black. Shouldn't that be the larger concern if missing fathers truly are the "crisis" some people claim it is?
Vox: Debunking the most pervasive myth about black fatherhood
There's a very pervasive myth about black fathers: that they're more often than not absent from their children's lives. But if you look at the data, it turns out the truth is far more complicated than the ugly stereotype suggests.
New York Times columnist Charles Blow previously took on this myth. Blow started with the basis for much of the idea: Centers for Disease Control and Prevention data that showed 71.5 percent of black, non-Hispanic children in 2013 were born to unmarried women, compared with 29.3 percent of white, non-Hispanic children.
But as Josh Levs pointed out in his new book All In, 2.5 million of 4.2 million black fathers — or about 59.5 percent — live with their children. Levs's numbers suggest that it's not true, as the CDC figures suggests, that 71.5 percent of black dads are absent from their homes — but rather that many of them are simply unmarried.
And when black fathers do live with their children, they're just as, if not more, likely to be involved in their kids' everyday lives. Blow cited CDC data that showed black fathers are more likely than their white and Hispanic counterparts to feed, eat with, bathe, diaper, dress, play with, and read to their children on a daily basis. While some of the differences in the data aren't statistically significant, the figures indicate that black dads are at least as likely to remain involved in their children's lives as those of other races
Still, the same CDC data shows black men are nearly three times as likely as white men to have at least one child they don't live with — but Blow pointed to policy-driven issues that may be driving the disparity. For example, a previous report by Justin Wolfers, David Leonhardt, and Kevin Quealy for the New York Times found there are 100 black women not in jail or prison for every 83 non-incarcerated black men. So mass incarceration has actually drained 1.5 million black men — many of whom are young and of marrying age — from their communities, making it more difficult for black women to find committed partners of the same race.
All of the data paints a more nuanced view of black fatherhood than the stereotypes suggest. It's not an issue of laziness, inability to commit to family, or another inherent flaw in black culture, as some people may suggest. There are real systemic issues at play — and most black fathers do seem to be trying make the future bright for their kids.
Further Reading
NY Times: The dangerous myth of the 'missing black father'
Miami Herald: Don't believe the 'absent' myth. Black fathers are present and accounted for in their kids' lives.
—
Black vs White Criminals Representation
—
—
Francis Maxwell: How The Media Covers White Terrorists vs BLACK Victims
—
Show White People's Accomplishments

And People of Color's Alleged Crimes

Choose Charming Photos of White Victims

And 'Incriminating' Photos of Victims of Color

Empathize With Motivation for White Person's Violence

And Demonize People of Color's Motivations

Emphasize That a Hateful White Person Acted Alone

While Casting People of Color as Stereotypes of Their Race

Humanize the 'Troubled' Lives of White Suspects

Dehumanize People of Color Suspects and Victims

Use Innocence and Youth to Humanize White Suspects

And Treat Young Victims of Color as Older and Guilty

They Discredit Justice Movements for People of Color

And Give Rioting White People a Pass

They Put Victims of Color at Fault

And White Suspects in Self-Defense Mode
—
Everyday Feminism: 8 Ways the Media Upholds White Privilege and Demonizes People of Color
Orientalism
Edward Said – Orientalism and the Politics of Stereotypes in News
—
Orientalism and power: When will we stop stereotyping people? | BBC Ideas
—
Edward Said – An Introduction to Orientalism
—
Further Readings
—
---
Understanding Your Own Bias
—
—
Tools to Understand Your Own Bias
Project Implicit
A Harvard project to help assess a person's implicit associations about race, gender, sexual orientation, and other topics.  Try it out for free.  According to this study of the 1000s who participated 70% showed racial bias.
implicit.harvard.edu/implicit/
Look Different: What Can I do About Bias
Racism surrounds us every day, but our generation has a responsibility to confront it head on.  These tools and resources can help us all understand our biases and challenge racism in our daily lives.
www.lookdifferent.org/what-can-i-do
Look Different: See that, Say This
Ever see something that made you feel uncomfortable and didn't know what to say about it?  Get tips on making that awkward conversation less awkward here.
www.lookdifferent.org/what-can-i-do/see-that-say-this
Look Different: Bias Cleanse
Seven-day bias cleanses on race, gender and anti-LGBTZ bias that will provide you with daily task that will help you begin to change your associations
www.lookdifferent.org/what-can-i-do/bias-cleanse
—
---
Microaggressions
—

—
Microaggressions

The casual degradation of any marginalized group
Often person committing microaggression is unaware they are doing it
Can be used as a passive or aggressive degradation
Often constant, continuous, cumulative for their targets

Over time can have serious negative impacts

Anxiety, depression, crises of belonging, stereotype threat, alienation, feeling insecure, undeserving, or unaccomplished enough to be in a particular setting, etc.

Examples:

Verbally – "You speak good English"
Nonverbally – clutching one's purse more tightly
Environmentally – symbols like Confederate flag or Native Indian mascot
How is Works by Look Different
"Racial microaggressions may be sent verbally ("You speak good English."), nonverbally (clutching one's purse more tightly) or environmentally (symbols like the Confederate flag or using American Indian mascots). Such communications are usually outside the level of conscious awareness of perpetrators."
Why it Matters by Look Different
"Racial microaggressions are often constant, continuous, and cumulative for their targets. Even if they're statements that are intended as positive (e.g. "You speak such good English!"), they can have a negative impact when piled on top of other microaggressions. And studies reveal that racial microaggressions have powerful detrimental consequences to people of color. They have been found to affect the mental and physical health of recipients, create a hostile work or campus environment, lower work productivity and problem solving abilities, and be partially responsible for creating systemic inequities."
Source: theconsciouskid
—
—
#HatchKids Discuss Microaggressions
—
The Atlantic: Microaggressions Matter
"microaggressions point out cultural difference in ways that put the recipient's non-conformity into sharp relief, often causing anxiety and crises of belonging on the part of minorities. When your peers at a prestigious university express dismay at the ability of a person of color to master English, it calls your presence in that institution into question and magnifies your difference in ways that can be alienating. It can even induce imposter syndrome or stereotype threat, both of which I have felt while studying at Oberlin. The former is feeling insecure, undeserving, or unaccomplished enough to be in a particular setting while latter is the debilitation that can arise from the constant fear of validating a stereotype about people from your identity groupings.
The turn towards political correctness in academia, to which the concept of microaggressions belongs, is sometimes mischaracterized as an obsession with the creation of victims or shoehorning radically liberal ideas into college students. Others have argued that political correctness evangelizes a new kind of moral righteousness that over-privileges identity politics and silences conservative viewpoints.
What these critics miss is that the striving for "PC culture" on college campuses is actually rooted in empathy. The basic tenets of this culture are predicated on the powerful impulse to usher both justice and humanity into everyday social transactions. Given the visible (albeit slow) rise in diversity on campuses, the lexicon of social justice invites students to engage with difference in more intelligent and nuanced ways, and to train their minds to entertain more complex views of the world.
Take for instance, the prevalent use of non-traditional gender pronouns at Oberlin College, a practice becoming increasingly common elsewhere, as well. They acknowledge that people can identify with many genders, not just along the binary of male and female. Using a person's preferred or desired gender pronouns (such as the gender neutral "they" instead of she or he) is not a meaningless exercise in identity politics—it is an acknowledgement of a person's innermost identity, conferring both respect and dignity."
SheKnows created KidsSpeak content for grown-ups to educate parents on the concept of "microaggressions," and their impact on teens' self-esteem.
—
Buzzfeed: 21 Racial Microaggressions You Hear On A Daily Basis
"The term "microaggression" was used by Columbia professor Derald Sue to refer to "brief and commonplace daily verbal, behavioral, or environmental indignities, whether intentional or unintentional, that communicate hostile, derogatory, or negative racial slights and insults toward people of color." Sue borrowed the term from psychiatrist Dr. Chester Pierce who coined the term in the '70s."
While the term "microaggressions" has been a part of academic discourse for some time ("micro-inequities" was coined by an MIT Ph.D. in 1973), it became better known through the popular Tumblr Microaggressions.
The Tumblr is a project that aims to highlight the daily microaggressions people encounter through user submitted stories.
"This blog seeks to provide a visual representation of the everyday of "microaggressions." Each event, observation and experience posted is not necessarily particularly striking in and of themselves. Often, they are never meant to hurt – acts done with little conscious awareness of their meanings and effects. Instead, their slow accumulation during a childhood and over a lifetime is in part what defines a marginalized experience, making explanation and communication with someone who does not share this identity particularly difficult. Social others are microaggressed hourly, daily, weekly, monthly.

This project is NOT about showing how ignorant people can be in order to simply dismiss their ignorance. Instead, it is about showing how these comments create and enforce uncomfortable, violent and unsafe realities onto peoples' workplace, home, school, childhood/adolescence/adulthood, and public transportation/space environments."
Fordham University's Microaggression Photo Project
Tumblr with lots of real life examples: http://www.microaggressions.com
—
Source: teachandtransform
If Microaggressions Happened to White People | Decoded | MTV News
—
---
The Anti-PC Movement
—

—
The Anti-PC Movement
Politically Correctness (PC)
"Avoiding words or behaviors that exclude or marginalize or insult groups of people who are socially disadvantaged or discriminated against. Basically treating people with respect…Its not just about hurt feelings. Its about calling out oppressive power structures. And thats where the misunderstanding comes in." Franchesca Ramsey
Early 90s, "political correctness" popularized by the Political Right

To exaggerate and demonize efforts to challenge systemic and implicit racism
Created false narratives around PC as propaganda tool to divide working class from Democrats/academia

False Narratives:

"White victims"

Created victims out of white people who were perpetuating racism

Attack on their freedom of speech

Became a way to rebrand racism in ways that were politically acceptable in the post-civil-rights era

"Thought control", "language police", "Being silenced"

Made people challenging racism with PC became labeled as authoritarian

"Liberal Elite"

Label progressives fighting racism as liberal elites to divide them from working class

"Snowflake"

Anyone who was fighting racism or dealing with racism was just "overtly sensitive", "weak", "spoiled"

These narratives significantly help racist candidates win elections

Calling someone or something "PC" is a way to dismiss or derail a serious conservation about an injustice
Since 90s conservatives have push "anti-PC" propaganda to make whites think "PC" is serious problem
"political correctness is often used by those in a position of privilege to silence debates raised by marginalized people…dismiss ideas that make us uncomfortable " Amanda Taub, Vox
—
Anti-PC Becoming a GOP Weapon
1980-90s, Networks of conservative donors (Koch, Olin, Scaife families)

Financed think tanks, authors, networks to discredit academia and its new diversity

Authors like Allan Bloom, Roger Kimball, Dinesh D'Souza, Richard Bernstein funded to bring "PC" on national stage as enemy of free speech & freedom
1000s of national articles were created with titles like,

"The Rising Hegemony of the Politically Correct", "THOUGHT POLICE", "New Enlightenment – or the New McCarthyism?", "The New Fascists", "A New Intolerance", etc.
Majority of articles recycled same stories of real and fake campus controversies from a few elite colleges

Often exaggerated or stripped of context to help portray PC as a type of fascism

Most Americans never heard about "PC" until this conservative campaign
"If you search ProQuest, a digital database of US magazines and newspapers, you find that the phrase "politically correct" rarely appeared before 1990. That year, it turned up more than 700 times. In 1991, there are more than 2,500 instances. In 1992, it appeared more than 2,800 times. Like Indiana Jones movies, these pieces called up enemies from a melange of old wars: they compared the "thought police" spreading terror on university campuses to fascists, Stalinists, McCarthyites, "Hitler Youth", Christian fundamentalists, Maoists and Marxists." Moira Weigel – Guardian
1991 – President Bush gave speech identifying "PC" as major danger to US

"Ironically, on the 200th anniversary of our Bill of Rights, we find free speech under assault throughout the United States. The notion of political correctness has ignited controversy across the land…In their own Orwellian way, crusades that demand correct behavior crush diversity in the name of diversity." Bush
"Nobody ever describes themselves as "politically correct". The phrase is only ever an accusation…Political correctness" became a term used to drum into the public imagination the idea that there was a deep divide between the "ordinary people" and the "liberal elite", who sought to control the speech and thoughts of regular folk. Opposition to political correctness also became a way to rebrand racism in ways that were politically acceptable in the post-civil-rights era." Moira Weigel, The Guardian
1998, Political Correctness begins to be associated with Cultural Marxism

"Cultural Marxism…common snarl word used to paint anyone with progressive tendencies as a secret Communist. The term alludes to a conspiracy theory in which sinister left-wingers have infiltrated media, academia, and science and are engaged in a decades-long plot to undermine Western culture. Some variants of the conspiracy allege that basically all of modern social liberalism (rock'n'roll, Sixties counterculture, the civil rights movement, the anti-war movement, homosexuality, modern feminism, etc) is, in fact, a Communist front group…It's also the work of the Jews." Rational Wiki
"The phrase (Cultural Marxism) refers to a kind of "political correctness" on steroids…Right-wing ideologues, racists and other extremists have jazzed up political correctness and repackaged it — in its most virulent form, as an anti-Semitic theory that identifies Jews in general and several Jewish intellectuals in particular as nefarious, communistic destroyers. These supposed originators of "cultural Marxism" are seen as conspiratorial plotters intent on making Americans feel guilty and thus subverting their Christian culture." SPLC

Conservative leaders such as Pat Buchannon, Paul Weyrich, Free Congress Foundation, Rightwing extremist groups start to spread the "Political Correctness/Cultural Marxism association

After 9/11

Majority of Anti-PC debates went away till the Obama presidency
As Black Lives Matter, #MeToo, etc, grew, so did the attacks on the activists

Criticizing and trivializing them by using the same anti-PC narratives but with different buzzwords
Instead of "difference" and "multiculturalism", new buzzwords became:

"Trigger warnings", "microaggressions", "privilege", "cultural appropriation", "Identity Politics", "SJW"

New focus on labeling activist as spoiled, narcissists, millennials

Trump

Successfully used "PC" as a way to avoid serious conservations or accusations
Claimed that his cruelty and malice was actually courage against PC
"The notion that Trump was both persecuted and heroic was crucial to his emotional appeal. It allowed people who were struggling economically or angry about the way society was changing to see themselves in him, battling against a rigged system that made them feel powerless and devalued. At the same time, Trump's swagger promised that they were strong and entitled to glory. They were great and would be great again." Moira Weigel, The Guardian
—
Is PC Culture Anti-Free Speech? | Decoded | MTV News
—
Moira Weigel: Political correctness: how the right invented a phantom enemy
"If you search ProQuest, a digital database of US magazines and newspapers, you find that the phrase "politically correct" rarely appeared before 1990. That year, it turned up more than 700 times. In 1991, there are more than 2,500 instances. In 1992, it appeared more than 2,800 times. Like Indiana Jones movies, these pieces called up enemies from a melange of old wars: they compared the "thought police" spreading terror on university campuses to fascists, Stalinists, McCarthyites, "Hitler Youth", Christian fundamentalists, Maoists and Marxists.
…PC was a useful invention for the Republican right because it helped the movement to drive a wedge between working-class people and the Democrats who claimed to speak for them. "Political correctness" became a term used to drum into the public imagination the idea that there was a deep divide between the "ordinary people" and the "liberal elite", who sought to control the speech and thoughts of regular folk. Opposition to political correctness also became a way to rebrand racism in ways that were politically acceptable in the post-civil-rights era.
Soon, Republican politicians were echoing on the national stage the message that had been product-tested in the academy. In May 1991, President George HW Bush gave a commencement speech at the University of Michigan. In it, he identified political correctness as a major danger to America. "Ironically, on the 200th anniversary of our Bill of Rights, we find free speech under assault throughout the United States," Bush said. "The notion of political correctness has ignited controversy across the land," but, he warned, "In their own Orwellian way, crusades that demand correct behaviour crush diversity in the name of diversity.
After 2001, debates about political correctness faded from public view, replaced by arguments about Islam and terrorism. But in the final years of the Obama presidency, political correctness made a comeback. Or rather, anti-political-correctness did.
As Black Lives Matter and movements against sexual violence gained strength, a spate of thinkpieces attacked the participants in these movements, criticising and trivialising them by saying that they were obsessed with policing speech. Once again, the conversation initially focused on universities, but the buzzwords were new. Rather than "difference" and "multiculturalism", Americans in 2012 and 2013 started hearing about "trigger warnings", "safe spaces", "microaggressions", "privilege" and "cultural appropriation".
This time, students received more scorn than professors. If the first round of anti-political-correctness evoked the spectres of totalitarian regimes, the more recent revival has appealed to the commonplace that millennials are spoiled narcissists, who want to prevent anyone expressing opinions that they happen to find offensive…
…The climate of digital journalism and social media sharing enabled the anti-political-correctness (and anti-anti-political correctness) stories to spread even further and faster than they had in the 1990s. Anti-PC and anti-anti-PC stories come cheap: because they concern identity, they are something that any writer can have a take on, based on his or her experiences, whether or not he or she has the time or resources to report. They are also perfect clickbait. They inspire outrage, or outrage at the outrage of others…
…Trump did not simply criticise the idea of political correctness – he actually said and did the kind of outrageous things that PC culture supposedly prohibited. The first wave of conservative critics of political correctness claimed they were defending the status quo, but Trump's mission was to destroy it. In 1991, when George HW Bush warned that political correctness was a threat to free speech, he did not choose to exercise his free speech rights by publicly mocking a man with a disability or characterising Mexican immigrants as rapists. Trump did. Having elevated the powers of PC to mythic status, the draft-dodging billionaire, son of a slumlord, taunted the parents of a fallen soldier and claimed that his cruelty and malice was, in fact, courage…
…The most alarming part of this approach is what it implies about Trump's attitude to politics more broadly. His contempt for political correctness looks a lot like contempt for politics itself. He does not talk about diplomacy; he talks about "deals". Debate and disagreement are central to politics, yet Trump has made clear that he has no time for these distractions. To play the anti-political-correctness card in response to a legitimate question about policy is to shut down discussion in much the same way that opponents of political correctness have long accused liberals and leftists of doing. It is a way of sidestepping debate by declaring that the topic is so trivial or so contrary to common sense that it is pointless to discuss it. The impulse is authoritarian. And by presenting himself as the champion of common sense, Trump gives himself permission to bypass politics altogether."
—
Vox: The truth about "political correctness" is that it doesn't actually exist
—
Is 'political correctness gone mad' a lie? Nesrine Malik
—
"Trans women who protest definitions of "women" as "people with vaginas" aren't merely bellyaching about terminology — they're people on the margins of a group making legitimate demands for inclusion. Women of color who point out the many ways in which white feminists overlook issues that affect minority women aren't engaging in race-based arguments just for the fun of it, they're pointing out that the feminist movement had promised to protect their interests, but was in fact ignoring them." Amanda Taub, Vox
"They (anti-PC pundits) complained that other people were creating and enforcing speech codes, while at the same time attempting to enforce their own speech codes. Their writers designated themselves the arbiters of what conversations or political demands deserved to be taken seriously, and which did not. They contradicted themselves in the same way: their authors continually complained, in highly visible publications, that they were being silenced." Moira Weigel, The Guardian
—
—
—
Newsome: 'Cancel Culture' Is A Myth To Silence Marginalized Voices
The phrase "cancel culture" has been one of the most popular new things for people to say without really having any clue what it actually means. The prevailing definition of cancel culture is the idea that saying the wrong thing, having old inflammatory tweets or sound bytes resurface or having unpopular political reviews will ultimately result in social media users "canceling" the offending party. To "cancel," then, is to sic the wrath of social media upon someone with the end result being some sort of catastrophic blow to said person's career. The prevalence of these "cancel" moments has caused people to characterize the leaders of so-called cancel culture – namely young, marginalized communities – as too sensitive; as always needing to find something to criticize or find fault in. Leading to an idea that free speech is dying at the hands of those pesky millennials. But here's the problem: cancel culture isn't an actual thing because nobody really, truly gets canceled. And the continued use of the phrase like it's some boogeyman is only a thinly-veiled method of marginalizing the people around us who want to vocalize when they and their respective communities are wronged.
Let's look at an abridged list of people who have gotten "canceled" on social media. When it was announced that Kevin Hart would host this year's Oscars, his old homophobic tweets resurfaced, causing the Academy to demand an apology from him. He refused and was booted from the show. When Louis CK and Aziz Ansari were accused of sexual assault, they responded by taking social media hiatuses. When Kanye West said slavery was a choice and started donning MAGA hats while being chummy with Donald Trump, he was summarily slandered across social media. In most people's eyes, these men got canceled. But in actuality, nothing really happened to them beyond career inconveniences.
Louis CK and Aziz Ansari are both back on the comedy circuit, touring and making money. Kevin Hart dropped a new (awful) Netflix comedy special and Kanye West's Yeezy sneakers are still selling out every time they're released. We could go on: R. Kelly was touring pretty much up until the day he was actually arrested; Roseanne – whose show was literally canceled last year due to her rampant racism – returned to standup in March; and so on. The fact is, people just don't actually get canceled. Their shows might get canceled. Their movies might get shelved. Their albums might get panned but in the grand scheme of things, their lives go on relatively unscathed – especially compared to the marginalized folks they continue to insult.
If Kanye's album had been any good or Kevin Hart's standup been bearable or R. Kelly had a fire new project, these men would have just as many fans quoting gobbling up their works as before. That's because, for as many voices that are genuinely outraged by what these people do and say, there are just as many fans who don't care enough about the LGBT community, black folks, women or anyone else to stop supporting their trash faves.
Even though nobody is actually ever canceled, the importance of people who call out the homophobic, racist, ableist, misogynist, etc. etc. among us can't be understated. The pressure applied to celebrities and those in the public eye from hordes of regular folks and activists is vastly important in articulating what actions will and won't be accepted by society anymore. Every time someone becomes a trending topic for hate speech and intolerance, it's a reminder that there will always be people among us who will hold your feet to the fire if you say something that could threaten our lives.
At the same time, however, the persistence in people in the public eye to scream "cancel culture" and call marginalized folks too sensitive or themselves intolerant is simply a means to control narratives and live with the freedom of a misogynist, racist or homophobe without consequences. No, society isn't getting more sensitive, we're just getting more vocal and using social media as a means to articulate the need for everyone to simply do better. Yelling "cancel culture" when a member of the LGBT community won't let Kevin Hart off the hook for his homophobia gaslights that person and suggests that demanding the comedian answer for his words is somehow unreasonable. Crying "cancel culture" is simply begging to be as loud and hateful as possible with little recourse.
Cancel culture is a myth. The reality is there are more people with amplified voices who are refusing to sit silently while their communities come under attack by those with the social capital to cause harm. When that happens, awareness is raised, people are uncomfortable and hopefully, some are deterred from being trash. But in reality, for the overwhelming majority of instances, nobody actually gets fully canceled or faces life-changing consequences or silencing. They'll still earn their money, maintain their notoriety and go about their careers relatively unscathed. They'll just know that there will be folks ready to call them out at every step of the way if they show they haven't bothered to learn from their transgressions.
"Cancel culture" has always existed — for the powerful, at least. Now, social media has democratized it.
—
—
VOX: You're watching Fox News. You just don't know it.
Video talk about the "Hack Gap" and how Fox News is able to manipulate the agenda, such as anti-PC, to mainstream media

—
---
The N-Word
—

—
Ta-Nehisi Coates: The N-Word
—
New debates are springing up in a long-contentious dialogue about reclamation of oppressive language.
During the recent ESPN "Outside the Lines" special discussion of a proposed NFL rule to penalize the n-word, Twitter erupted in critique, criticism, and debate.
In the midst of this debate, though, there is generally one rule when it comes to the n-word on which there is almost total consensus among Black people:
Yet White people don't seem to get it.
I'd likely be a wealthy man if I had a dime for every time I've heard a White person ask "If Black people can just throw the n-word around all the time, why is it not okay for White people to use that word?"
I can only imagine the number of dimes Black people would have. Innumerable.
And despite how important listening to the voices of marginalized and oppressed people is to social justice work on the part of those with privilege, White people on the whole really seem to have hard time with this one.
Perhaps this is because we don't like being told that anything is off limits to us.
Or perhaps we just have trouble hearing the voices of those we consider, at some basic level, to be lesser, not fully human.
Regardless of the reason, maybe it's time for a different tact.
Perhaps you can hear it better or differently if a White person explains why exactly we don't get to use the n-word, regardless of what Black folks are doing.
So here is my message to you.
Dear White Folks,
We have to stop using the n-word.
Like really, really.
And I know what you're thinking, "But—But—'They' get to say it all the time!"
Well, tough cookies.
Here's why it's not okay for us to say it, no matter what Black folks are doing:
1. We Lost the Privilege
You know that whole 600 year time period when White Europeans were buying and selling Black Africans as chattel?
And remember how that whole system was enforced by a violent system of repression whereby Black slaves who did not act the way the White folks wanted them to were beaten and murdered?
Oh, and remember that time after slavery when Black people were locked in a system called Jim Crow that used a similar fear of violence and repression to keep Black people in "their place?"
Well, in the midst of all that shit, there was a word invented by White people as a pejorative for Black folks. And it was used just about every time a Black person was whipped, chained, beaten, insulted, spat upon, raped, lynched, or otherwise humiliated and mistreated by White folks.
Thus, I really don't care how much White folks want to use that word.
I don't care how unfair you think it is that someone else gets to use it when we don't.
That's it!  That's all you need to know! Which means that we can put this whole thing to rest, right? Yeah? No? Alright…
Well, if you're still not convinced, then take 5 minutes and 15 seconds and listen to Chesca Leigh drop all the knowledge (plus, her lipstick is too fierce):
—
—
---
Dehumanization
—

—
Dehumanization
Dehumanization

Psychological process of making someone seem less than human

not worthy of humane treatment or moral consideration

Can lead to committing and justifying, violence and oppression, towards marginalized populations

US, long history of dehumanization of people of color

Dehumanization of people of color began during colonization to justified horrible realities such as the

Ethnic cleansing of Native Americans
Enslavement of Africans
Keeping poor white people from uniting with poor people of color

Dehumanization still effects how white people view POC
—
Moral Exclusion
Dominant group view themselves and norms as superior to other groups

While marginalizing and excluding targeted groups

Those excluded are viewed as inferior, evil, or criminal

Often occurs during prolong violent conflicts

Excluded individuals viewed as outside of morality:

Are excluded from deserving basic needs and fair treatment

Any harm individuals received is deserved and morally justified

Even treatment not acceptable for dominant group

Common criteria for exclusion include

Ideology, skin color, geography, ethnicity, religion, etc.
—
"Dehumanization is the psychological process of demonizing the enemy, making them seem less than human and hence not worthy of humane treatment. This can lead to increased violence, human rights violations, war crimes, and genocide.
Dehumanization is a psychological process whereby opponents view each other as less than human and thus not deserving of moral consideration. Jews in the eyes of Nazis and Tutsis in the eyes of Hutus (in the Rwandan genocide) are but two examples. Protracted conflict strains relationships and makes it difficult for parties to recognize that they are part of a shared human community. Such conditions often lead to feelings of intense hatred and alienation among conflicting parties. The more severe the conflict, the more the psychological distance between groups will widen. Eventually, this can result in moral exclusion. Those excluded are typically viewed as inferior, evil, or criminal.
(Moral exclusion is a psychological process where members of a dominant group view their own group and its norms as superior to others, belittling, marginalizing, excluding, even dehumanizing targeted groups.)
However, for individuals viewed as outside the scope of morality and justice, "the concepts of deserving basic needs and fair treatment do not apply and can seem irrelevant."[2] Any harm that befalls such individuals seems warranted, and perhaps even morally justified. Those excluded from the scope of morality are typically perceived as psychologically distant, expendable, and deserving of treatment that would not be acceptable for those included in one's moral community. Common criteria for exclusion include ideology, skin color, and cognitive capacity."
—
Ascent of Man 2015 Dehumanization Study
2000 white people were surveyed on how "evolved" different races are

Over 1/3 whites surveyed rated black people as "less evolved" than whites
Many white used these terms to describe black people

"savage," "barbaric," and "lacking self-restraint, like animals"

White people who dehumanizing blacks were more likely support Trump

But dehumanization is pervasive across all white social groups
Stats on how different types of white people rated black people as less evolved

33% of white Democrats
34% of high-income whites
39% of white Republicans
41% of low-income whites
—
Dehumanization Increases with Increased "Threat Perception"
NWU study examined how dehumanization changes over time

Compared survey data before/after 2013 Boston Marathon bombings
Arab dehumanization spiked in immediate aftermath of terrorist attack

Then started subsiding in a couple of months.
"When people feel like their group is coming under attack from another group … it may increase the blatant levels of dehumanization" Nour Sami Kteily NWU

Fears and perceptions of threat can be manipulated to justify ill-treatment and violence against certain people

Nearly 14 years after 9/11, anti-Muslim violence is still common

Recent dehumanizing rhetoric against immigrants increased violence against immigrants
Hate crimes against Muslims in the US are at their highest levels since 2001
"[Politicians] are playing to an audience… They recognize that the perception, or this type of rhetoric, has supporters." Nour Sami Kteily – NWU
—
"The concept of dehumanization—considering another person less human than you, and therefore, less deserving of humane treatment—is an ancient one. It's been used to explain and justify aggressive actions of one group towards another throughout history. In Nazi Germany, propaganda posters and movies represented Jews as rats. Many who opposed abolition of slavery compared African Americans to apes…
…In one study, the researchers surveyed a mostly white, liberal-leaning sample of Americans to find out which groups of respondents (if any) blatantly dehumanized other U.S. racial groups. The questions were designed in a way that the respondents were likely to be conscious that they were attributing less humanity to certain groups. The respondents were shown the "ascent of man" silhouettes and asked to point to where they saw various ethnic groups on that scale from lower animals to highly evolved humans
The respondents rated European groups and Japanese as "similarly evolved" as themselves. But Chinese, South Koreans, and Mexican immigrants were rated as being at a lower rung of humanity. Arabs and Muslims were perceived as being the least evolved compared with Americans. (The researchers didn't measure dehumanization against African Americans in this part of the study series, but other parts confirmed that they were one of the dehumanized groups.)…
…In successive studies, researchers found that dehumanization was strongly associated with social dominance orientation—the belief that that some groups should maintain superiority over others. They also found that dehumanization was a strong predictor of certain behavioral outcomes.
Dehumanization of Arabs, for example, was linked to more tolerance for military violence in Arab nations. For African Americans, dehumanization predicted that respondents would have less sympathy when encountered with incidents of injustice and wrongful incarceration. For Hispanic Americans, it meant less support for immigration.
Dehumanization increases with increased threat perception
In another study, the researchers examined how dehumanization changes over time. They compared survey data before and after the Boston Marathon bombings in April 2013. Dehumanization of Arabs spiked in the immediate aftermath of the terrorist attack, and then started subsiding in a couple of months.
"When people feel like their group is coming under attack from another group … it may increase the blatant levels of dehumanization," Kteily says.
It's frightening to think about how fears and perceptions of threat can be manipulated to justify ill-treatment and violence against certain people. Nearly 14 years after 9/11, anti-Muslim violence is still common. And the recent stream of dehumanizing rhetoric against immigrants has already also had violent ramifications.
"[Politicians] are playing to an audience," Kteily says. "They recognize that the perception, or this type of rhetoric, has supporters.""
—
"Dehumanization doesn't only occur in wartime," says Nick Haslam, a psychologist who is the world's current leading expert on the topic. "It's happening right here, right now. And every day, good people who don't see themselves as being prejudiced bigots are nevertheless falling prey to it."…
…Fiske at Princeton has studied how immigrants and refugees are uniformly discriminated against the world over. She's conducted neuroscience research that shows when we dehumanize others, the regions of our brain associated with disgust turn on and the regions associated with empathy turn off. What's shocking about Kteily's results from the "Ascent of Man" experiment, she says, is that "people are willing to admit that they have relative scales of humanity in their heads."…
…With the "Ascent of Man" tool, Kteily and collaborators Emile Bruneau, Adam Waytz, and Sarah Cotterill found that on average, Americans rate other Americans as being highly evolved, with an average score in the 90s. But disturbingly, many also rated Muslims, Mexican immigrants, and Arabs as less evolved.
"We typically see scores that average 75, 76," for Muslims, Kteily says. "Which I think is a lot on a scale that's so extreme." And about a quarter of study participants will rate Muslims on a score of 60 or below.
In the months since Donald Trump was elected president, it's become shockingly commonplace for Americans to blatantly dehumanize Muslims and Mexican immigrants — and then use violence against them. Hate crimes against Muslims in the US are at their highest levels since 2001. In the 1970s, Bandura predicted that dehumanization leads to increased aggression. Today, Kteily and colleagues find something similar: Willingness to dehumanize on the "Ascent of Man" scale predicts aggressive attitudes toward the Muslim world.
People who dehumanize are more likely to blame Muslims as a whole for the actions of a few perpetrators. They are more likely to support policies restricting the immigration of Arabs to the United States. People who dehumanize low-status or marginalized groups score higher on a measure called "social dominance orientation," meaning that they favor inequality among groups in society, with some groups dominating others…
…And , in a study, blatant dehumanization of Muslims and Mexican immigrants was strongly correlated with Trump support — even when compared with support for other Republican candidates. The data is "consistent with the idea that support for some of the Republican candidates (and Trump in particular) comes not despite their dehumanizing rhetoric but in part because of it," Kteily and Bruneau conclude in the journal Personality and Social Psychology Bulletin."
—
Dehumanizing by Relating to Animals
History of dehumanizing people by relating them to animals

Jew related to vermin during Holocaust
US Latinos referred to with insect-related language such as:

"hordes of immigrants" that "scurry over the border," "infecting" U.S. culture

People of African descent related to apes

Research supports the link between dehumanization and sanctioned violence

In a 2008 UC study

White participants were subliminally exposed to images of apes before watching a video of police beating a black man were more likely to endorse that beating
Participants did not endorse same beating when suspect was white or no ape image primer

2008 Stanford/Penn State study

Compared 183 criminal death penalty cases to language used in Philadelphia Enquirer articles about cases
Among black defendants, more ape-related images/phrases used in the press coverage

The more likely the defendant was to be put to death

Trump Rhetoric

About the Las Vegas shooter (white man), Trump said this:

"wires were crossed pretty badly in his brain. Extremely badly in his brain. And it's a very sad event."

Muslim immigrant from Uzbekistan in 2017 terrorist attack in NYC

"This animal who did the attacking."
—
 APA: "The Essence of Innocence: Consequences of Dehumanizing Black Children"
 A History of Dehumanization
Historians of genocide often argue that dehumanization is a necessary precondition for culturally and/or state-sanctioned violence (Frederickson, 2002; Jahoda, 1999; Santa Ana, 2002)—a view echoed by some social psychological theorists (Opotow, 1990; Staub, 1989). The logic of this assertion is that dehumanizing groups morally excludes them (Opotow, 1990), making it permissible to treat people in a way that would be morally objectionable if they were fully human. U.S. history is replete with examples of this kind of moral exclusion of Black children. For instance, the policies of chattel slavery (mostly pertaining to peoples of African descent) permitted children to be separated from their parents and forced into labor at any age (Guttman, 1976). In 1944, a Black 14-year-old, George Junius Stinney Jr., became the youngest person on record in the United States to be legally executed by the state (electrocuted without the benefit of a lawyer, witnesses, or a record of confession; Jones, 2007). And, notoriously, in 1955, a 14-year-old Black boy named Emmett Till was dragged from his bed, disfigured, and lynched for allegedly whistling at a White woman (Crowe, 2003). What psychological context could explain this treatment of children? Again, there is reason to believe it may be contexts that provoke dehumanization.
A growing literature demonstrates that individuals tend to associate out-groups and out-group members with nonhuman animals more than they do members of their in-group (Boccato, Capozza,Falvo, & Durante, 2008; Capozza, Boccato, Andrighetto, & Falvo, 2009; Haslam, 2006; Loughnan & Haslam, 2007; Saminaden, Loughnan, & Haslam, 2010). More to the point, research by Goff and colleagues supports the hypothesized link between dehumanization and sanctioned violence (Goff et al., 2008). In this research, White participants who were subliminally exposed to images of apes before watching a video of police beating a Black man were more likely to endorse that beating, despite the extremity of the violence. Participants did not, however, endorse the same beating when the suspect was White or when they had not been primed with the ape image. In a follow-up study, Goff et al. coded newspaper articles about death-eligible criminal cases in Philadelphia for ape-related metaphors. They found that the frequency of ape-related imagery predicted whether or not criminals were executed by the state. Of importance, in neither study was racial prejudice (explicit or implicit) a significant predictor. That is, dehumanization uniquely predicted violence and its endorsement.
The Specific Historical Connection Between Blacks and Apes
Although a general association between a group and "animals" is one form of dehumanization, there are reasons to believe that some animals are more strongly associated with some groups than others. For instance, Jews were frequently represented as vermin (particularly rodents) during the Holocaust of World War II (Jahoda, 1999). Similarly, in the context of United States immigration, Latinos are frequently referred to with insect-related language, such as "hordes of immigrants" that "scurry over the border," "infecting" U.S. culture (Santa Ana, 2002). Likewise, there is a long tradition of peoples of African descent being likened to nonhuman primates—what the philosopher Lott (1999) referred to as the "Negro/Ape metaphor."
This dehumanizing representation can still be found in depictions of soccer players of African descent, especially in Europe (Jones, 2002; Thompson, 2013), and of the first Black president of the United States (Apel, 2009). Consequently, the research conducted by Goff, Eberhardt, et al. (2008) tested the strength of an association between Blacks and great apes (e.g., gorillas, chimpanzees) in contrast to that between Blacks and big cats (e.g., lions, tigers, cheetahs). This research found that, though big cats were seen as more violent, more negative, and more strongly associated with Africa than were great apes, the Black/ape association predicted violence. This finding suggests that the strong historical association between Blacks and apes specifically—and not Blacks with simply any animal—may still influence the unique ways in which individuals dehumanize Blacks. Consequently, the present research uses the same methods as this previous work (Goff, Eberhardt, et al., 2008) to investigate the reduction in protections afforded to Black children when they are dehumanized."
—
Political meme to dehumanize President Obama to make him appear inferior
—
Undefeated: Ibram Kendi, one of the nation's leading scholars of racism, says education and love are not the answer
Just so you know, black people are not inherently better athletes than white people, Kendi says. We only think so because "black people have not only been rendered inferior to white people, they've been rendered like animals," and thus physically superior creatures. It's an old racist idea that helped justify African-Americans' suitability for backbreaking labor and medical experiments and the theft of their children.
—
The Root: Comparing Black People to Apes: It's Worse Than You Thought
"This whole "simian" thing has roots as old as the creation of race itself. The notion of blacks as apelike "began with the first European contact with Africans," Phillip Atiba Goff, a UCLA psychologist who has studied the topic, says. You have to look no further than news about taunts (and tossed bananas) from the stands of soccer matches and hateful photos of Barack and Michelle Obama to realize how stubborn this association has been.
The worst part is, it's not just old, inspired by racism or embraced by racists. It's also potentially harmful in real life.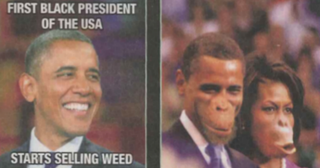 (Earlier in 2014, the Belgian newspaper De Morgen ran an image depicting President Barack Obama and first lady Michelle Obama as apes.)
Take two studies that Goff worked on: In one, students who were primed with words associated with cats before seeing a video of police officers beating a man considered the beating unjustified. So did those who were primed with words associated with apes but were told the victim was white. But those who were primed with the ape words and told the victim was black weren't as sure.
"The association between 'black' and 'ape' left our white respondents more open to the possibility that police violence might, in fact, be justified," Goff said.
In another study—examining 183 criminal cases in which a defendant was eligible for the death penalty, as well as the language used in Philadelphia Enquirer articles about those cases—"it turned out African Americans had significantly more ape-related images ascribed to them than did whites," said Goff. Worse: "Among African Americans, the more ape-related images you had in your press coverage, the more likely you were to be put to death."
—
—
---
Cultural Appropriation
—
—
Cultural Appropriation vs Cultural Exchange
Cultural appropriation

Dominate group uses marginalized groups' cultural symbols to:

Self-expression
A costume
A mascot

An exercise in privilege and is "not honoring a culture"
"Cultural appropriation is itself a real issue because it demonstrates the imbalance of power that still remains between cultures that have been colonized and the ex-colonizers." Jarune Uwujaren – Everyday Feminist

Cultural Exchange

Engaging with a culture as a respectful and humble guest

Must have some element of mutual understanding, equality, respect

Usually white people need to be invited
—
7 Myths about Cultural Appropriation DEBUNKED! | Decoded | MTV News
—
—
Every Day Feminism"The Difference Between Cultural Exchange and Cultural Appropriation"
What Cultural Exchange Is Not
"One of the reasons that cultural appropriation is a hard concept to grasp for so many is that Westerners are used to pressing their own culture onto others and taking what they want in return. We tend to think of this as cultural exchange when really, it's no more an exchange than pressuring your neighbors to adopt your ideals while stealing their family heirlooms.
True cultural exchange is not the process of "Here's my culture, I'll have some of yours" that we sometimes think it is. It's something that should be mutual. Just because Indian Americans wear business suits doesn't mean all Americans own bindis and saris. Just because some black Americans straighten their hair doesn't mean all Americans own dreadlocks.
The fact is, Western culture invites and, at times, demands assimilation. Not every culture has chosen to open itself up to being adopted by outsiders in the same way. And there's good reason for that. "Ethnic" clothes and hairstyles are still stigmatized as unprofessional, "cultural" foods are treated as exotic past times, and the vernacular of people of color is ridiculed and demeaned.
So there is an unequal exchange between Western culture – an all-consuming mishmash of over-simplified and sellable foreign influences with a dash each of Coke and Pepsi – and marginalized cultures. People of all cultures wear business suits and collared shirts to survive. But when one is of the dominant culture, adopting the clothing, food, or slang of other cultures has nothing to do with survival.
So as free as people should be to wear whatever hair and clothing they enjoy, using someone else's cultural symbols to satisfy a personal need for self-expression is an exercise in privilege.
Because for those of us who have felt forced and pressured to change the way we look, behave, and speak just to earn enough respect to stay employed and safe, our modes of self-expression are still limited. African American Vernacular English (AAVE) is consistently treated as lesser than Standard English, but people whitewash black slang and use expressions they barely understand as punch lines, or to make themselves seem cool. People shirk "ethnic" clothes in corporate culture, but wear bastardized versions of them on Halloween.
There is no exchange, understanding, or respect in such cases – only taking.
What Cultural Exchange Can Look Like
That doesn't mean that cultural exchange never happens, or that we can never partake in one another's cultures. But there needs to be some element of mutual understanding, equality, and respect for it to be a true exchange.
I remember that at my sister's wedding, the groom – who happened to be white – changed midway through the ceremony along with my sister into modern, but fairly traditional, Nigerian clothes.  Even though some family members found it amusing, there was never any undertone of the clothes being treated as a costume or "experience" for a white person to enjoy for a little bit and discard later. He was invited – both as a new family member and a guest – to engage our culture in this way.
—
How to Not be a Jerk on Halloween
—
—
—
—
Co-opting Experiences
—