HONOR NATIVE LAND: A GUIDE AND CALL TO ACKNOWLEDGMENT
IN COUNTRIES SUCH AS NEW ZEALAND, AUSTRALIA, CANADA, AND AMONG TRIBAL NATIONS IN THE U.S., it is commonplace, even policy, to open events and gatherings by acknowledging the traditional Indigenous inhabitants of that land. While some individuals and cultural and educational institutions in the United States have adopted this custom, the vast majority have not. Together, we can spark a movement to change that.
We call on all individuals and organizations to open public events and gatherings with acknowledgment of the traditional Native inhabitants of the land.
Acknowledgment is a simple, powerful way of showing respect and a step toward correcting the stories and practices that erase Indigenous people's history and culture and toward inviting and honoring the truth. Imagine this practice widely adopted: imagine cultural venues, classrooms, conference settings, places of worship, sports stadiums, and town halls, acknowledging traditional lands. Millions would be exposed—many for the first time—to the names of the traditional Indigenous inhabitants of the lands they are on, inspiring them to ongoing awareness and action.
For more than five hundred years, Native communities across the Americas have demonstrated resilience and resistance in the face of violent efforts to separate them from their land, culture, and each other. They remain at the forefront of movements to protect Mother Earth and the life it sustains. Today, corporate greed and federal policy push agendas to extract wealth from the earth, degrading sacred land in blatant disregard of treaty rights. Acknowledgment is a critical public intervention, a necessary step toward honoring Native communities and enacting the much larger project of decolonization and reconciliation. Join us in adopting, calling for, and spreading this practice. 
—
—
Research The Native History of Your Land
---
Table of Contents
Colonialism
Native American Colonialism
Native Issues Today
Whitewashing Native Atrocities
Columbus Day – Thanksgiving – Redskins
African American Colonialism


---
Colonialism
—
Guardian: The West was Built on Racism
—
Colonialism
"Colonialism the control by one power over a dependent area or people. In practice, colonialism is when one country violently invades and takes control of another country, claims the land as its own, and sends people "settlers" to live on that land." Jamila Osman – Teen Vogue
Major waves of Western colonialism
Doctrine of Discovery (1450s – 1800s)

Began 15th century when European countries colonized lands in North/South America

1493 Catholic Doctrine of Discovery allowed any land inhabited by non-Christians could be "discovered", legally conquered, and exploited by Christian rulers became the basis of all
Millions of Native Americans, over 90% population, died from European diseases and brutality

Scramble for Africa (1881 – 1914)

Occupation, division, colonization of African territory by European powers during New Imperialism period

Artificial borders split cultural groups, resulting in fierce ethnic tensions and conflicts
Among the most brutal of colonial regimes was Belgium King Leopold II "the Butcher of Congo"

Well-documented acts of violence against the Congolese people resulted in an estimated 10 million deaths

American Imperialism (1890s to present)

19-20th century US policy extending political, economic, military control over areas beyond its boundaries

Manifest Destiny, Monroe Doctrine, Westward Expansion, Hawaii, Spanish American War, Mexican–American War

Past US colonies: Philippines (1898-1946), Cuba (1899–1902), 1903–79  Panama Canal Zone (1903–79), Río Rico, Tamaulipas (1906–72), Corn Islands (1914–7), Dominican Republic (1916–24,1965–66), Haiti (1915–34)
Current US colonies: Puerto Rico, Guam, Northern Mariana Islands, U.S. Virgin Islands, American Samoa, 9 uninhabited places

Colonialism brought

Diseases, genocide, ethnic cleansing, the slave economy, settler colonialism, apartheid laws, cultural assimilation, starvation and manifest destiny
Indigenous political, economic, social institutions and culture was decimated
—
Colonialism
Roots of racism today
Colonialism is based on the institutional theft, exploitation, dehumanization, genocide and enslavement of people of color by Western Civilizations
Many of our institutions today were established by colonialism, entrenched with colonial values such as white supremacy and exploitation
Many injustices still felt in our economic, political, and social institutions can be directly trace back to colonialism
—
—
Settler Colonialism
Specific formation of colonialism in which people come to a land inhabited by (Indigenous) people and declare that land to be their new home. Settler colonialism is about the pursuit of land, not just labor or resources. Settler colonialism is a persistent societal structure, not just an historical event or origin story for a nation-state. Settler colonialism has meant genocide of Indigenous peoples and the reconfiguring of Indigenous land into settler property. In the United States and other slave estates, it has also meant the theft of people from their homelands (in Africa) to become property of settlers to labor on stolen land." Aimee Carrillo Rowe and Eve Tuck
"Settler colonialism is a structure, not an historic event, whose endgame is always the elimination of the Natives in order to acquire their land, which it does in countless seen and unseen ways." Dina Gilio-Whitaker, Beacon Broadside
—
Teen Vogue: Colonialism, Explained
"Colonialism is defined as "control by one power over a dependent area or people." In practice, colonialism is when one country violently invades and takes control of another country, claims the land as its own, and sends people — "settlers" — to live on that land.
There were two great waves of colonialism in recorded history. The first wave began in the 15th century, during Europe's Age of Discovery. During this time, European countries such as Britain, Spain, France, and Portugal colonized lands across North and South America. The motivations for the first wave of colonial expansion can be summed up as God, Gold, and Glory: God, because missionaries felt it was their moral duty to spread Christianity, and they believed a higher power would reward them for saving the souls of colonial subjects; gold, because colonizers would exploit resources of other countries in order to bolster their own economies; and glory, since European nations would often compete with one another over the glory of attaining the greatest number of colonies.
Colonial logic asserted that a place did not exist unless white people had seen it and testified to its existence, but European colonists did not actually discover any land. The "New World," as it was first called by Amerigo Vespucci, an Italian navigator and cartographer, was not new at all: People had been living and thriving in the Americas for centuries.
Yet, in many history books, Europe's expansion is remembered as exploration, and the men who helmed ships that landed in foreign countries — and proceeded to commit violence and genocide against native peoples — are remembered as heroes. One of these men, an Italian explorer named Christopher Columbus, even has a federally recognized holiday to honor him. Columbus thought he was on his way to Asia, but found himself in the Caribbean instead. The first indigenous people he came across were the Taíno, who accounted for the majority of people living on the island of Hispaniola (which is now divided into Haiti and the Dominican Republic). They had a highly evolved and complex culture. But this did not stop Columbus from claiming the island and its inhabitants for Spain. By 1550, a mere 58 years after he first landed on the island, what was once a thriving culture and community was severely decimated by European diseases and the brutality of a newly instated slave economy.
The second wave of colonial expansion began during the 19th century, centering around the African continent. In what is called the Scramble for Africa, European nations such as Britain, France, Portugal, and Spain sliced up the continent like a pie, creating arbitrary borders and boundaries, and claiming large swaths of land for themselves. These artificial borders split cultural groups, resulting in fierce ethnic tensions that have had devastating ramifications throughout the continent. Indigenous political, economic, and social institutions were decimated, as were traditional ways of life, which were deemed inferior.
Among the most brutal of colonial regimes was that of Belgium under King Leopold II, known as "the Butcher of Congo." His well-documented acts of violence against the Congolese people resulted in an estimated 10 million deaths. Belgium, like a lot of the white Western world, can directly attribute much of its wealth and prosperity to the exploitation and deaths of indigenous people of color.
The treatment of the indigenous people on the land now known as the United States is just as horrifying. The primarily British Europeans who settled here — just like the Europeans who settled in Africa and the rest of the Americas — overall did not care that there were people already living on the land. The majority did not want peace and harmony between cultures; they wanted the land for themselves. They did not want to share the abundant resources; they wanted to generate wealth to fill their own pockets. Most had no respect for indigenous cultures or histories; they wanted to enforce their own instead. These colonizers did not care that land was considered sacred and communal. Most believed that everything, including the earth, was meant to be bought and sold.
The Europeans who first settled along the East Coast of the United States believed it was their Manifest Destiny, or God-granted right, to claim territory for themselves and their posterity. As they spread across the entirety of the continental U.S., they pushed the indigenous populations — who had lived on and tended to the land for millennia — farther and farther west. Native Americans were moved to reservations — parcels of land that were barren and far from economic opportunities. In 1830, President Andrew Jackson, hailed by President Donald Trump and commemorated on the U.S. $20 bill, signed the Indian Removal Act, which led to the forced removal, relocation, and mass death of thousands of indigenous people. In 1838, the Cherokee were forced west by the U.S. government, which seized control of their land. Forced to walk thousands of miles, an estimated 4,000 Cherokees died on what would later come to be called the "Trail of Tears." This historic loss of lives, land, and culture has led to what Maria Yellow Horse Brave Heart, social worker and professor, describes as historical trauma — intergenerational emotional and psychological damage.
The legacy of colonialism continues to manifest in obvious ways: Many of the world's poorest countries are former European colonies. Walter Rodney's groundbreaking book How Europe Underdeveloped Africa makes the claim that poverty on the continent can be traced back to European exploitation of African resources. In the United States, those living on reservations experience extraordinarily high poverty, alcoholism, unemployment, and suicide rates.
In less obvious ways, the violence of colonial thinking continues to shape the trajectories of countries that were once colonizers too. Colonizers believed the world was theirs for the taking, saw the masses of people as disposable, and believed that nothing mattered more than the currency in a white man's pocket. As the world's top 1% continue to hoard the majority of the earth's resources, and the unending quest for profit trumps the needs of the majority of people, it becomes clear that colonialism is not just a relic of the past."
—
ThoughtCO: American Settler Colonialism 101
Two Kinds of Colonialism
Settler Colonialism Defined
Narratives of Benevolence
—
Challenging Christian Hegemony: Why Black Lives Haven't Mattered: The Origins of Western Racism in Christian Hegemony
Dominant Christianity developed categories of people labeled "Other" going back to the year 381 C.E when the Roman Emperor Theodosius declared that Orthodox Christianity would be the only legitimate religion in the Roman Empire. At that point all pagans, Jews, and Christian heretics lost their civil rights and became targets of systematic violence. In the succeeding centuries, and especially after the first Crusades, able-bodied and healthy European heterosexual males with wealth developed a sense of themselves as the only fully legitimate Christians. Muslims, Jews, Pagans, women, homosexuals, people with disabilities, and the poor were relegated to the category of Other—inferior, polluting, dangerous, and capable of being used by the Devil to undermine God's work in the world.[i] As historian Winthrop Jordan wrote, "Christianity was interwoven into [an Englishman's] conception of his own nationality…. Being a Christian was not merely a matter of subscribing to certain doctrines; it was a quality inherent in oneself and in one's society. It was interconnected with all the other attributes of normal and proper men."[ii] The major division in the west was between legitimate Christians and others.
It was in Spain during the 14th and 15th centuries, because of concern about the sincerity of Jewish and Muslim conversos (former Jews or Muslims who were forced to converted to Catholicism), that the church developed a theory of biological purity defining who was Christian. For example, Marcos Garcia preached in 1449 that:
"All converts who belong to the Jewish race or those who have descended from  it – that is, who were born as Jews, or are sons, grandsons, great-grandsons, or great-great-grandsons of Jews who were baptized … including those [converts] who descended newly and recently from that most evil and damned stock, are presumed, according to the testimonies of the Scriptures, to be infidels, and suspect of the faith. From which follows that the vice of infidelity is not presumed to be purged until the fourth generation."[iii]
The racialization of Jews and Muslims soon became legalized under the concept of limpieza de sangre (blood purity).[iv] Jews and Muslims were believed to be separate races than Christians. Even if they converted, the church claimed the taint of their Jewishness or Muslimness took generations to become diluted and to disappear. The policy of the Spanish crown eventually became the complete elimination of all Jews and Muslims, and even of Christians who had a drop of Jewish or Moorish blood in their veins. It was the task of the Inquisition to turn Spain into a pure Christian society by eliminating all inferior races.
Throughout Europe – not just isolated to Spain – the Inquisition became a popular phenomenon orchestrated and enforced by religious authority and state power and with widespread public participation. Crowds of thousands would turn out for hangings, burnings, beheadings and various forms of torture, much as crowds of white Christians turned out for lynchings in the US centuries later. Many times, mobs would apprehend people accused of heresy and murder them on the spot, sometimes destroying entire communities of Jews.
This theory of blood impurity/racial inferiority was subsequently used to justify the inferior treatment, murder and enslavement of Africans, indigenous peoples in the Western hemisphere. For example, after Bacon's Rebellion when Virginia decreed in 1667 that converted slaves could be kept in bondage because they had heathen ancestry, the justification for Black servitude changed from religious status to a racialized one.29
A series of Papal Bulls declared that Christian nations were free in law and by divine approval to lay claim to what were called unoccupied lands (terra nullius) or lands belonging to so-called heathens or pagans. Slavery was divinely sanctioned in these statements. Again the intertwined economic and religious motivation is clear. Slavery would be of economic benefit to the colonizers, but this was justified by their responsibility to convert and thereby civilize the enslaved people.
As Africans and Native Americans began to be converted to Christianity, such a simple distinction between Christian and non-Christian was no longer useful – at least as a legal and political difference. In addition, because Europeans, Native Americans and Africans often worked and lived together in similar circumstances of servitude, and resisted and rebelled together against the way they were treated, the landowning class began to implement policies to separate European workers from African and Native-American workers. Even in this early colonial period, racism was used to divide workers and make it easier for those in power to control working conditions. Drawing on already established popular classifications, whiteness, now somewhat separate from Christianity, was delineated more clearly as a legal category in the United States in the 17th century, and the concept of life-long servitude (slavery) was introduced from the West Indies and distinguished from various forms of shorter-term servitude (indenture). In response to Bacon's rebellion and other uprisings, the ruling class, especially in the populous and dominant territory of Virginia, began to establish a clear racial hierarchy in the1660s and 70s.4 By the 1730s racial divisions were firmly in place legally and socially. Most blacks were enslaved and even free blacks had lost the right to vote, the right to bear arms and the right to bear witness. Blacks were also barred from participating in many trades during this period.
Meanwhile, whites had gained the right to corn, money, a gun, clothing and 50 acres of land at the end of indentureship. In other words, poor whites "gained legal, political, emotional, social, and financial status that was directly related to the concomitant degradation of Indians and Negroes."[v]
Subsequently, slavery in the US became so widely accepted by Christian institutions, and so deeply intertwined with the economic interests of all whites, that for a long time it was dangerous to challenge. Few white Christians did so.
Some abolitionists used Christian texts to decry slavery, but they were countered by other texts sanctioning it, mostly written by ministers who, by one estimate, wrote nearly half of all pro-slavery tracts published in the US.[vi] Christian denominations, with only a few exceptions, supported slavery or claimed to be neutral.
Christianity blessed slavery at every step of the trade. For example, in present-day Ghana,a small church for baptizing Africans before they were taken onto ships was situated above Elmina Castle's slave pens. Many of the ships had names such as Jesus, Good Ship Jesus, Angel, Grace of God,[vii] Christ the Redeemer, Blessed, John Evangelist, The Lord Our Savior and Trinity.[viii] In the early days of the slave trade the Portuguese branded every woman on her right arm with a cross.[ix] As Frederick Douglas so concisely explained:
"Revivals of religion and revivals in the slave-trade go hand in hand together. The slave prison and the church stand near each other. The clanking of fetters and the rattling of chains in the prison, and the pious psalm and solemn prayer in the church, may be heard at the same time. The dealer in the bodies and souls of men … gives his blood-stained gold to support the pulpit, and the pulpit, in return, covers his infernal business with the garb of Christianity."[x]
Eventually more Christians, including some denominations as a whole, joined the struggle against slavery. But even today, the lack of acknowledgment of and reparations for slavery continues to plague US society and the integrity of dominant Christianity. While slavery ended as a legal system after the Civil War, the enslavement of African-Americans in the US continued by another name, Jim Crow: a system of legal, social and economic bondage violently enforced, most notoriously by chain gangs, white race riots and lynching.
During the post Civil War era incidents of racial violence were sometimes spontaneous actions carried out by small groups of people. However, in the tradition of the Inquisition, more often lynchings were deliberate, organized, public Christian spectacles lasting days or even weeks. Flyers were printed, newspapers advertised them, and thousands attended, bringing families and friends, picnic food, cameras and buying memorabilia and souvenirs. Businesses closed down, public officials and church leaders were present and local police kept order.[xi]
Lynchings, as well as the white riots that murdered African-Americans and destroyed their houses and businesses (especially when they thrived) were a form of collective terrorism occurring periodically throughout the US. Just like witch burnings and Christian riots against Jews centuries earlier, they served to bond white communities to white Christian supremacy, reminding them as well what might happen if they protested its norms.
White Christian men are still in control and state-sponsored and sanctioned racial violence continues today in the form of police murder of African Americans and others, the disproportionate incarceration of people of color, lack of access to health care, educational and work opportunities, land grabs, residential segregation and gentrification, the elimination of communities of color from areas that whites desire to live in. The roots of racial and other forms of exploitation, discrimination, and violence today lie in the centuries of demonization of all those considered Other by dominant Christianity. The assertion that Black Lives Matter by African Americans and their allies is one current and powerful attempt to disrupt business as usual and claim full participation in our society. Now is the time for each of us to challenge this dominant Christian narrative because truly silence equals complicity.
—
—
---
Native American Colonialism
—
American Progress (1872) by John Gast
—
Native Colonialism: Pre-US
'
Interactive GIF on Stolen Native Land
Population of the Americas pre-Columbus was 10-100 million

2-7 million in North America

Over 90% of the population was killed

Mostly by disease but many by European brutality

North American Colonialism

Expansion of European corporations, backed by government armies, into foreign areas, with subsequent expropriation of lands and resources through brutal tactics such as:

Slavery

First American slaves were Native Americans

Massacres

Thanksgivings for the first century of colonialism were mainly about celebrating massacring Native Americans

Racism

Indigenous were inferior/not deserving of equal rights or protections

which justified taking their land and killing them

Dependencies

Destruction of sustainable societies and ecosystems creating dependency on European goods

Assimilation and Termination Policies

Major reasons for the American Revolution

Westward expansion

First law of the US wasn't the constitution but the Northwest Ordinance (2 months before)

Blueprint for colonizing "British protected" Native American land West of Appalachia mountain

Slavery

Majority Southern slave states were against the revolution until England outlawed slavery in 1772
"Although the reference to the "merciless Indian savages" (in Declaration of Independence) appealed to the "inhabitants of our frontiers," Jefferson and others who signed the Declaration had their own reasons for detesting British policies relating to Native Americans and their lands. More than a decade earlier, in order to end a costly war to suppress an indigenous resistance movement led by the Ottawa war leader Pontiac, the king issued the Proclamation of 1763, which recognized indigenous ownership of lands west of the Appalachian mountains' crest and prevented colonists from settling there. At first glance, ordinary settlers might be expected to have been the proclamation's major opponents. Some settlers did object, but the most potent source of opposition came from colonial elites, especially in Virginia and Pennsylvania, who had invested in companies with claims to lands west of the boundary set by the proclamation. Unless those lands could be legally settled, land companies could not gain secure title to their claims. Investors would be left with nothing but the debts they had incurred to bet on getting rich. In 1767, George Washington, one of the era's most passionate land speculators, predicted that the proclamation "must fall … in a few years."…
…From 1776 to 1783, U.S. troops and colonial militias destroyed more than 70 Cherokee towns, 50 Haudenosaunee towns, and at least 10 multiethnic towns in the Ohio Valley, killing several hundred people (including civilians) and subjecting refugees to starvation, disease, and death. In the decades to come, U.S. presidents, Washington and Jefferson included, would call for the extermination of Native Americans who fought against dispossession. Several U.S. armies would try to do precisely that." Jeffrey Ostler, The Shameful Final Grievance of the Declaration of Independence
—
US Continued Oppressive Colonial Policies
Brutality

Torture, Terror, Sexual abuse, Enslavement, Kidnapping
Californian Act for the Government and Protection of Indians (1850)

Vagrancy law that sold Natives into temporary slavery and removed their civil rights

Ethnic cleansing

Military occupations, Reservations, treaties, allotments, massacres
Between 1776 – present, the US seized 1.5 billion acres from Natives
The Indian Removal Act (1830)

Military enforced ethnic cleansing of Cherokee, Creek other eastern Native American tribes to relocate west of the Mississippi River to give white settlers 25 million acres

Settler Colonialism

Northwest Ordinance, Westward expansion, manifest destiny
The Homestead Act (1862)

Stole 270 million acres of Native land to white settlers

Genocide

Massacres, forceful removals to places with no food, US policies eradicating the buffalo (military, bounties, etc), bounty hunting

California, Minnesota, Dakotas, etc. had at one time bounties on Native scalps
"The US Army sanctioned and actively endorsed the wholesale slaughter of bison herds. The federal government promoted bison hunting for various reasons, to allow ranchers to range their cattle without competition from other bovines, and to weaken the North American Indian population. The US government even paid a bounty for each bison skull recovered. Military commanders were ordering their troops to kill bison — not for food, but to deny Native Americans their own source of food. One general believed that bison hunters "did more to defeat the Indian nations in a few years than soldiers did in 50 years". By 1880, the slaughter was almost over. Where millions of bison once roamed, only a few thousand animals remained." Rare Historical Photos
Cultural assimilation and Family Separation

Native American boarding schools, Indian Termination Policies, Indian Child Welfare Removals, sterilization policies, systemic destruction of culture
Indian Child Welfare Act (1978)

Before ICWA, 25-35% Native children forcibly removed from families and placed in white homes or boarding schools to destroy Native culture (Kill Indian, Save Child)

Sterilization policies

During 1970s Indian Health Service has been accused of sterilizing at least 25% of Native American women who were between the ages of 15 and 44
VOX: How the US stole thousands of Native American children
Dennis Zotigh: Native Perspectives on the 40th Anniversary of the American Indian Religious Freedom Act
"Resolved by the Senate and House of Representatives of the United States of America in Congress assembled, That henceforth, it shall be the policy of the United States to protect and preserve for American Indians their inherent right of freedom to believe, express, and exercise the traditional religions of the American Indian, Eskimo, Aleut, and Native Hawaiians, including but not limited to access to sites, use and possession of sacred objects, and the freedom to worship through ceremonials and traditional rites." —American Indian Religious Freedom Act, 1978
This year marks the 40th anniversary of the American Indian Religious Freedom Act (AIRFA), Public Law No. 95-341, 92 Stat. 469, passed by a joint resolution of Congress and signed into law by President Jimmy Carter on August 11, 1978. The First Amendment of the Constitution—the first article of the Bill of Rights—states that "Congress shall make no law respecting an establishment of religion, or prohibiting the free exercise thereof." Yet Native Americans were not allowed to practice their religion and were persecuted for conducting tribal ceremonies integral to the continuation of traditional culture. At the same time, the federal government supported Indians' Christian conversion.
Beginning no later than the early 1800s, the government promoted Christian education among Native Americans. During the 1870s, in what was seen as a progressive decision, the administration of President Ulysses S. Grant assigned 13 Protestant denominations to take responsibility for managing more than 70 Indian agencies on or near reservations (leading the Catholic Church quickly to establish the Bureau of Catholic Indian Missions). In 1887, the Dawes Act dividing tribal lands into individual allotments included a provision allowing religious organizations working among Indians to keep up to 160 acres of federal land to support their missions.
The Department of Interior's 1883 Code of Indian Offenses—de facto laws that applied only to American Indians—punished Indian dances and feasts by imprisonment or withholding food (treaty rations) for up to 30 days. Any medicine man convicted of encouraging others to follow traditional practices was to be confined in the agency prison for not less than 10 days or until he could provide evidence that he had abandoned his beliefs.
The code was amended 50 years after its adoption to remove the ban on dances and other customary cultural practices. Even so, despite the First Amendment's guarantees, American Indians' traditional religious practices were not protected until the passage of the American Indian Religious Freedom Act. The act also calls on federal departments and agencies to evaluate their policies and procedures in consultation with Native traditional leaders to protect and preserve Native American religious cultural rights and practices. The original law did not contain provisions for civil or criminal penalties for violations. As a result, additional legal protections were legislated, including the American Indian Religious Freedom Act Amendments of 1994.
To find out how Native Americans feel about the American Indian Religious Freedom Act, I asked people from across Indian Country who participate in their ceremonial traditions to share their stories. Here are their responses:
Kenny Frost, Ute Sundance Chief: "Sadly, prior to this law, Native people were prohibited from practicing our Native religion. The meat of the law enacted the basic civil liberties to protect and preserve American Indians' inherent right of freedom to believe, express, and exercise the traditional religious rights and cultural practices in Indian Country. These rights include, but are not limited to, access to sacred sites, freedom to worship through ceremonials, and the use and possession of objects considered sacred to Native people.
"This act brought to the forefront the need to continue a dialogue about how to safeguard for Native people our way of worshipping in our sacred places. This act was the first step to ensure that Native people can continue to worship. The extent to which this is or isn't the case, however, depends on federal policies, as Native people today still cannot go to their sacred places on federal lands. More needs to be done in the education of federal agencies.
"Sadly, due to the displacement of Native people to Indian reservations, many grassroots people do not know where their traditional sacred areas and territory lands are located. Manifest Destiny is still alive today. We risk losing the knowledge of traditional places as those people with traditional knowledge leave this world. We must continue to strive to pass this knowledge on to future generations. We must educate our tribal leaders to fund and provide transportation for our people to travel to our traditional homelands and reconnect to our sacred places."
Casey Camp-Horinek, Ponca Scalp Dance Society leader: "AIRFA is an oxymoron. How can a law be made around a religion and then be called 'freedom'? Are we free to care for our own Eagle feathers without a permit from the U.S. government? No. Do we still need to prove who we are with a Certificate Degree of Indian Blood (C.D.I.B.)? Yes. Can we live freely within the Natural Laws and honor our one true Mother, the Earth? No, not when laws created by man are defining our relationship with Her. Balance must be restored through prayer and ceremony, not by written words in man's attempt to override the Great Mystery's original instructions."
Katsi Cook, Mohawk elder and midwife: "I can't help but think about our many elders who made this protection of our Indigenous and human right to Indigenous spiritual expression real and protected. The act codified the religious freedom of Indigenous peoples, including my Mohawk people. My ancestor Col. Louis Cook fought in George Washington's army to ensure our Indigenous right to our ways of being and knowing. AIRFA is the historical antidote to the U.S. government's civilization regulations of the 1880s, which wrote into law the deprivation of Indigenous people and nations of our religious freedom."
Andrew Wakonse Gray, Osage Native American Church leader: "The first thing that comes to mind is that the Native American Church (NAC) is not a religion but a ceremony. At the turn of the 19th century, many tribes had to hide their ceremonial ways within a religious structure called the Native American Church. Back then, the government and non-Indian community were afraid of us, as our ceremonies became associated with rebellion. This misunderstanding resulted in the Wounded Knee Massacre in 1890 and many other incidents. Many tribes took notice, including the Osage. We established our NAC ways with the help of John Wilson, a Caddo–Delaware Indian also known as Moonhead, and later of Francis Claremore, Blackdog, and others. We have included the NAC Ceremony into our Osage ways and have practiced our ways quite well. We still name, put our people away, use our pipe way by way of the corn shuck, paint, and follow other Osage ways. We believe in prayer. As my uncle used to say, 'More prayer, more better.'"
Jackie Yellowtail, Crow Sundancer: "The AIRFA is very important to our traditional ways, which have survived thousands of years, even through times when we had to hide to practice them. Our family has kept these ways strong, as we were taught by those who have gone before us. This is the way it has been done for generations! Our sacred life ways continue so the people can live!"
Tim Tsoodle, Headsman of the Kiowa Gourd Clan: "This law allowed us to openly dance, sing, and mostly pray as our grandfathers did. It is ceremonies like the Kiowa Gourd Dance that make us Kiowa. To be able to do these things without outside interference is what makes the American Indian Religious Freedom Act significant."
Shirod Younker, Coquille ceremonial woodcarver: "In 1954, Congress terminated the Coquille as a federally recognized tribe. In 1989, the Coquille Indian Tribe was reinstated as a newly 'restored' federally recognized tribe. Prior to this, our religion and language had been stripped from us. So at this time, we are trying to replicate what was taken away from us by government policies. We are indebted to our cousin tribes the Tolowa and Siletz who have shared ceremonies with us."
"The American Indian Religious Freedom Act may not have affected my tribe directly, but it has had an impact on that door of reaffirming our shared ceremonial practices in the open again. It has been 40 years since this act was passed. The practices to remove and destroy our culture started more than 150 years ago, in the 1840s and '50s. It will take at least that amount of time to come close to restoring what we lost. These ceremonies and practices reinforce the need to bring back our many distinct languages from the Oregon Coast. Our ceremonial ways all come from the earth. We cannot effectively understand their importance or details until we restore the environment that helps sustain us physically and spiritually."
Oppressive Governance

Broken treaties, BIA, Indian Removal Act
Dawes Allotment Act of 1884

Stole 90 million acres while forcing Natives on small individual allotments
—
On June 2, 1924, Congress enacted the Indian Citizenship Act, which granted citizenship to all Native Americans born in the U.S. The right to vote, however, was governed by state law; until 1957, some states barred Native Americans from voting. In a WPA interview from the 1930s, Henry Mitchell describes the attitude toward Native Americans in Maine, one of the last states to comply with the Indian Citizenship Act:
One of the Indians went over to Old Town once to see some official in the city hall about voting. I don't know just what position that official had over there, but he said to the Indian, 'We don't want you people over here. You have your own elections over on the island, and if you want to vote, go over there.'

Just why the Indians shouldn't vote is something I can't understand.

"The Life of Henry Mitchell." Robert Grady, interviewer; Old Town, Maine, ca. 1938-1939. American Life Histories: Manuscripts from the Federal Writers' Project, 1936 to 1940. Manuscript Division
Previously, the Dawes Severalty Act (1887) had shaped U.S. policy towards Native Americans. In accordance with its terms, and hoping to turn Indians into farmers, the federal government redistributed tribal lands to heads of families in 160-acre allotments. Unclaimed or "surplus" land was sold, and the proceeds used to establish Indian schools where Native-American children learned reading, writing, and the domestic and social systems of white America. By 1932, the sale of both unclaimed land and allotted acreage resulted in the loss of two-thirds of the 138 million acres that Native Americans had held prior to the Dawes Act.
In addition to the extension of voting rights to Native Americans, the Secretary of the Interior commissioned the Institute for Government Research to assess the impact of the Dawes Act. Completed in 1928, the Meriam ReportExternal described how government policy oppressed Native Americans and destroyed their culture and society.
The poverty and exploitation resulting from the paternalistic Dawes Act spurred passage of the 1934 Indian Reorganization Act. This legislation promoted Native-American autonomy by prohibiting allotment of tribal lands, returning some surplus land, and urging tribes to engage in active self-government. Rather than imposing the legislation on Native Americans, individual tribes were allowed to accept or reject the Indian Reorganization Act. From 1934 to 1953, the U.S. government invested in the development of infrastructure, health care, education, and the quality of life on Indian lands improved. With the aid of federal courts and the government, over two million acres of land were returned to various tribes.
The 19th Amendment did not bring the right to vote to all Native women, but two experts in a conversation said it did usher in the possibility of change.
—
Anti-Indigenous Stereotypes
Anti-Indigenous racism normalized so much

Most people do not see it as racism
Native images, symbols, and cultures

Used as commodities, novelties, logos for products (Butter, tobacco, baking soda, clothing, etc.) military names for weapons, vehicle names, mascots for sports teams, costumes for Halloween

Native Sports Mascots start in early 1900s

Professional sports teams as well as thousands of schools use Native-themed mascots and names.

Cleveland Indians one of the first in 1915

During a time when Native people were essentially outlawed rom practicing their cultures and religion

While all white teams used their culture as mascots

Costumes

Thousands of people dress up in Native costumes every year for Halloween

Native Male costumes – stereotypes of savage warriors

Same stereotypes used by white people to dehumanize Native in order to take their land, destroy their culture, and commit genocide

Native Women costumes – stereotypes of hyper-sexualized Native women

Same stereotypes used by White people to justify mass rape of Native women which continues today
Native women experience the highest rates of violence and sexual assaults out of any racial group in the United States (MMIW)
According to DOJ over 70% of violence experienced by Native women is committed by non native people

Indigenous racist stereotypes of any form increases the dehumanization of Native People

Which increases violence against Native people
While increasing negative impacts on Native people's mental health, which is already suffering from many other abuses

Suicide is the second most common cause of death for Native youth ages 15 to 24 (2.5x the national rate for that age group
"Racist stereotypes of Native people are seemingly ingrained into the psyche of people starting in childhood, some subliminal, some direct. Most of this Native imagery is constructed and controlled by non-Natives. While there is a constant omnipresence of such imagery, it is severely lacking real Native representation. People see more Native depictions created by non-Natives in media than they do of real Native people. This is how negative stereotypes and misconceptions are formed. This, whether consciously or not, embeds the notion that Native cultures are here for consumption. It suggests it is perfectly normal and acceptable to use Natives for products and profit, and to most people, it is — except to the very people being exploited." Heather Davidson, How Racism Against Native People Is Normalized, From Mascots to Costumes
Further Readings
—
Colonial Policies that Justified Brutalities
Catholic 1493 Doctrine of Discovery

Allowed land inhabited by non-Christians to be "discovered"

Legally conquered, enslaved and exploited by Christian rulers

Became the basis of all European claims

Jefferson later used for westward expansion
US Supreme Court upheld in 1823 case Johnson v. McIntosh denying Natives and right to their land

Still law of the land that prevents any land returned to Natives

Manifest Destiny

Westward expansion, Monroe Doctrine

Capitalism plantation economy

Put profit over human suffering

Christianity

Justified white supremacy and assimilation

Racism

Justified white supremacy, exploitation, brutality and dehumanization
—
—
1989 – American Indian Activist Russell Means testifies at Senate Hearing
—
—
Truthout: Yes, Native Americans Were the Victims of Genocide
"US policies and actions related to Indigenous peoples, though often termed "racist" or "discriminatory," are rarely depicted as what they are: classic cases of imperialism and a particular form of colonialism — settler colonialism. As anthropologist Patrick Wolfe writes, "The question of genocide is never far from discussions of settler colonialism. Land is life — or, at least, land is necessary for life." The history of the United States is a history of settler colonialism.
The extension of the United States from sea to shining sea was the intention and design of the country's founders. "Free" land was the magnet that attracted European settlers. After the war for independence but preceding the writing of the US Constitution, the Continental Congress produced the Northwest Ordinance. This was the first law of the incipient republic, revealing the motive for those desiring independence. It was the blueprint for gobbling up the British-protected Indian Territory ("Ohio Country") on the other side of the Appalachians and Alleghenies. Britain had made settlement there illegal with the Proclamation of 1763.
In 1801, President Jefferson aptly described the new settler state's intentions for horizontal and vertical continental expansion, stating: "However our present interests may restrain us within our own limits, it is impossible not to look forward to distant times, when our rapid multiplication will expand itself beyond those limits and cover the whole northern, if not the southern continent, with a people speaking the same language, governed in similar form by similar laws." This vision of manifest destiny found form a few years later in the Monroe Doctrine, signaling the intention of annexing or dominating former Spanish colonial territories in the Americas and the Pacific, which would be put into practice during the rest of the century.
The form of colonialism that the Indigenous peoples of North America have experienced was modern from the beginning: the expansion of European corporations, backed by government armies, into foreign areas, with subsequent expropriation of lands and resources. Settler colonialism requires a genocidal policy. Native nations and communities, while struggling to maintain fundamental values and collectivity, have from the beginning resisted modern colonialism using both defensive and offensive techniques, including the modern forms of armed resistance of national liberation movements and what now is called terrorism. In every instance they have fought and continue to fight for survival as peoples.
The objective of US colonialist authorities was to terminate their existence as peoples — not as random individuals. This is the very definition of modern genocide as contrasted with premodern instances of extreme violence that did not have the goal of extinction. The United States as a socioeconomic and political entity is a result of this centuries-long and ongoing colonial process. Modern Indigenous nations and communities are societies formed by their resistance to colonialism, through which they have carried their practices and histories. It is breathtaking, but no miracle, that they have survived as peoples.
Settler-colonialism requires violence or the threat of violence to attain its goals, which then forms the foundation of the United States' system. People do not hand over their land, resources, children, and futures without a fight, and that fight is met with violence. In employing the force necessary to accomplish its expansionist goals, a colonizing regime institutionalizes violence. The notion that settler-indigenous conflict is an inevitable product of cultural differences and misunderstandings, or that violence was committed equally by the colonized and the colonizer, blurs the nature of the historical processes. Euro-American colonialism, an aspect of the capitalist economic globalization, had from its beginnings a genocidal tendency…
…US history, as well as inherited Indigenous trauma, cannot be understood without dealing with the genocide that the United States committed against Indigenous peoples. From the colonial period through the founding of the United States and continuing in the twentieth century, this has entailed torture, terror, sexual abuse, massacres, systematic military occupations, removals of Indigenous peoples from their ancestral territories, forced removal of Native American children to military-like boarding schools, allotment, and a policy of termination.
Within the logic of settler-colonialism, genocide was the inherent overall policy of the United States from its founding, but there are also specific documented policies of genocide on the part of US administrations that can be identified in at least four distinct periods: the Jacksonian era of forced removal; the California gold rush in Northern California; during the Civil War and in the post Civil War era of the so-called Indian Wars in the Southwest and the Great Plains; and the 1950s termination period; additionally, there is the overlapping period of compulsory boarding schools, 1870s to 1960s. The Carlisle boarding school, founded by US Army officer Richard Henry Pratt in 1879, became a model for others established by the Bureau of Indian Affairs (BIA). Pratt said in a speech in 1892, "A great general has said that the only good Indian is a dead one. In a sense, I agree with the sentiment, but only in this: that all the Indian there is in the race should be dead. Kill the Indian in him and save the man."
The so-called "Indian Wars" technically ended around 1880, although the Wounded Knee massacre occurred a decade later. Clearly an act with genocidal intent, it is still officially considered a "battle" in the annals of US military genealogy. Congressional Medals of Honor were bestowed on twenty of the soldiers involved. A monument was built at Fort Riley, Kansas, to honor the soldiers killed by friendly fire. A battle streamer was created to honor the event and added to other streamers that are displayed at the Pentagon, West Point, and army bases throughout the world. L. Frank Baum, a Dakota Territory settler later famous for writing The Wonderful Wizard of Oz, edited the Aberdeen Saturday Pioneer at the time. Five days after the sickening event at Wounded Knee, on January 3, 1891, he wrote, "The Pioneer has before declared that our only safety depends upon the total extermination of the Indians. Having wronged them for centuries we had better, in order to protect our civilization, follow it up by one or more wrong and wipe these untamed and untamable creatures from the face of the earth."
Whether 1880 or 1890, most of the collective land base that Native Nations secured through hard fought for treaties made with the United States was lost after that date.
After the end of the Indian Wars, came allotment, another policy of genocide of Native nations as nations, as peoples, the dissolution of the group. Taking the Sioux Nation as an example, even before the Dawes Allotment Act of 1884 was implemented, and with the Black Hills already illegally confiscated by the federal government, a government commission arrived in Sioux territory from Washington, DC, in 1888 with a proposal to reduce the Sioux Nation to six small reservations, a scheme that would leave nine million acres open for Euro-American settlement. The commission found it impossible to obtain signatures of the required three-fourths of the nation as required under the 1868 treaty, and so returned to Washington with a recommendation that the government ignore the treaty and take the land without Sioux consent. The only means to accomplish that goal was legislation, Congress having relieved the government of the obligation to negotiate a treaty. Congress commissioned General George Crook to head a delegation to try again, this time with an offer of $1.50 per acre. In a series of manipulations and dealings with leaders whose people were now starving, the commission garnered the needed signatures. The great Sioux Nation was broken into small islands soon surrounded on all sides by European immigrants, with much of the reservation land a checkerboard with settlers on allotments or leased land. Creating these isolated reservations broke the historical relationships between clans and communities of the Sioux Nation and opened areas where Europeans settled. It also allowed the Bureau of Indian Affairs to exercise tighter control, buttressed by the bureau's boarding school system. The Sun Dance, the annual ceremony that had brought Sioux together and reinforced national unity, was outlawed, along with other religious ceremonies. Despite the Sioux people's weak position under late-nineteenth-century colonial domination, they managed to begin building a modest cattle-ranching business to replace their former bison-hunting economy. In 1903, the US Supreme Court ruled, in Lone Wolf v. Hitchcock, that a March 3, 1871, appropriations rider was constitutional and that Congress had "plenary" power to manage Indian property. The Office of Indian Affairs could thus dispose of Indian lands and resources regardless of the terms of previous treaty provisions. Legislation followed that opened the reservations to settlement through leasing and even sale of allotments taken out of trust. Nearly all prime grazing lands came to be occupied by non-Indian ranchers by the 1920s.
By the time of the New Deal–Collier era and nullification of Indian land allotment under the Indian Reorganization Act, non-Indians outnumbered Indians on the Sioux reservations three to one. However, "tribal governments" imposed in the wake of the Indian Reorganization Act proved particularly harmful and divisive for the Sioux."  Concerning this measure, the late Mathew King, elder traditional historian of the Oglala Sioux (Pine Ridge), observed: "The Bureau of Indian Affairs drew up the constitution and by-laws of this organization with the Indian Reorganization Act of 1934. This was the introduction of home rule. . . . The traditional people still hang on to their Treaty, for we are a sovereign nation. We have our own government."  "Home rule," or neocolonialism, proved a short-lived policy, however, for in the early 1950s the United States developed its termination policy, with legislation ordering gradual eradication of every reservation and even the tribal governments.  At the time of termination and relocation, per capita annual income on the Sioux reservations stood at $355, while that in nearby South Dakota towns was $2,500. Despite these circumstances, in pursuing its termination policy, the Bureau of Indian Affairs advocated the reduction of services and introduced its program to relocate Indians to urban industrial centers, with a high percentage of Sioux moving to San Francisco and Denver in search of jobs.
The situations of other Indigenous Nations were similar.
Pawnee Attorney Walter R. Echo-Hawk writes:
In 1881, Indian landholdings in the United States had plummeted to 156 million acres. By 1934, only about 50 million acres remained (an area the size of Idaho and Washington) as a result of the General Allotment Act of 1887. During World War II, the government took 500,000 more acres for military use. Over one hundred tribes, bands, and Rancherias relinquished their lands under various acts of Congress during the termination era of the 1950s. By 1955, the indigenous land base had shrunk to just 2.3 percent of its [size at the end of the Indian wars].

According to the current consensus among historians, the wholesale transfer of land from Indigenous to Euro-American hands that occurred in the Americas after 1492 is due less to British and US American invasion, warfare, refugee conditions, and genocidal policies in North America than to the bacteria that the invaders unwittingly brought with them. Historian Colin Calloway is among the proponents of this theory writing, "Epidemic diseases would have caused massive depopulation in the Americas whether brought by European invaders or brought home by Native American traders."[11] Such an absolutist assertion renders any other fate for the Indigenous peoples improbable. This is what anthropologist Michael Wilcox has dubbed "the terminal narrative." Professor Calloway is a careful and widely respected historian of Indigenous North America, but his conclusion articulates a default assumption. The thinking behind the assumption is both ahistorical and illogical in that Europe itself lost a third to one-half of its population to infectious disease during medieval pandemics. The principle reason the consensus view is wrong and ahistorical is that it erases the effects of settler colonialism with its antecedents in the Spanish "Reconquest" and the English conquest of Scotland, Ireland, and Wales. By the time Spain, Portugal, and Britain arrived to colonize the Americas, their methods of eradicating peoples or forcing them into dependency and servitude were ingrained, streamlined, and effective.
Whatever disagreement may exist about the size of precolonial Indigenous populations, no one doubts that a rapid demographic decline occurred in the sixteenth and seventeenth centuries, its timing from region to region depending on when conquest and colonization began. Nearly all the population areas of the Americas were reduced by 90 percent following the onset of colonizing projects, decreasing the targeted Indigenous populations of the Americas from a one hundred million to ten million. Commonly referred to as the most extreme demographic disaster — framed as natural — in human history, it was rarely called genocide until the rise of Indigenous movements in the mid-twentieth century forged new questions.
US scholar Benjamin Keen acknowledges that historians "accept uncritically a fatalistic 'epidemic plus lack of acquired immunity' explanation for the shrinkage of Indian populations, without sufficient attention to the socioeconomic factors . . . which predisposed the natives to succumb to even slight infections."  Other scholars agree. Geographer William M. Denevan, while not ignoring the existence of widespread epidemic diseases, has emphasized the role of warfare, which reinforced the lethal impact of disease. There were military engagements directly between European and Indigenous nations, but many more saw European powers pitting one Indigenous nation against another or factions within nations, with European allies aiding one or both sides, as was the case in the colonization of the peoples of Ireland, Africa and Asia, and was also a factor in the Holocaust. Other killers cited by Denevan are overwork in mines, frequent outright butchery, malnutrition and starvation resulting from the breakdown of Indigenous trade networks, subsistence food production and loss of land, loss of will to live or reproduce (and thus suicide, abortion, and infanticide), and deportation and enslavement.  Anthropologist Henry Dobyns has pointed to the interruption of Indigenous peoples' trade networks. When colonizing powers seized Indigenous trade routes, the ensuing acute shortages, including food products, weakened populations and forced them into dependency on the colonizers, with European manufactured goods replacing Indigenous ones. Dobyns has estimated that all Indigenous groups suffered serious food shortages one year in four. In these circumstances, the introduction and promotion of alcohol proved addictive and deadly, adding to the breakdown of social order and responsibility.  These realities render the myth of "lack of immunity," including to alcohol, pernicious.
Historian Woodrow Wilson Borah focused on the broader arena of European colonization, which also brought severely reduced populations in the Pacific Islands, Australia, Western Central America, and West Africa.  Sherburne Cook — associated with Borah in the revisionist Berkeley School, as it was called — studied the attempted destruction of the California Indians. Cook estimated 2,245 deaths among peoples in Northern California — the Wintu, Maidu, Miwak, Omo, Wappo, and Yokuts nations — in late eighteenth-century armed conflicts with the Spanish while some 5,000 died from disease and another 4,000 were relocated to missions. Among the same people in the second half of the nineteenth century, US armed forces killed 4,000, and disease killed another 6,000. Between 1852 and 1867, US citizens kidnapped 4,000 Indian children from these groups in California. Disruption of Indigenous social structures under these conditions and dire economic necessity forced many of the women into prostitution in goldfield camps, further wrecking what vestiges of family life remained in these matriarchal societies.
Historians and others who deny genocide emphasize population attrition by disease, weakening Indigenous peoples ability to resist. In doing so they refuse to accept that the colonization of America was genocidal by plan, not simply the tragic fate of populations lacking immunity to disease. If disease could have done the job, it is not clear why the United States found it necessary to carry out unrelenting wars against Indigenous communities in order to gain every inch of land they took from them — along with the prior period of British colonization, nearly three hundred years of eliminationist warfare…
…As military historian John Grenier points out in his First Way of War:
For the first 200 years of our military heritage, then, Americans depended on arts of war that contemporary professional soldiers supposedly abhorred: razing and destroying enemy villages and fields; killing enemy women and children; raiding settlements for captives; intimidating and brutalizing enemy noncombatants; and assassinating enemy leaders. . . . In the frontier wars between 1607 and 1814, Americans forged two elements — unlimited war and irregular war — into their first way of war.

Grenier argues that not only did this way of war continue throughout the 19th century in wars against the Indigenous nations, but continued in the 20th century and currently in counterinsurgent wars against peoples in Latin America, the Caribbean and Pacific, Southeast Asia, Middle and Western Asia and Africa.
Deliberately inflicting on the group conditions of life calculated to bring about its physical destruction in whole or in part: Forced removal of all the Indigenous nations east of the Mississippi to Indian Territory during the Jackson administration was a calculated policy intent on destroying those peoples ties to their original lands, as well as declaring Native people who did not remove to no longer be Muskogee, Sauk, Kickapoo, Choctaw, destroying the existence of up to half of each nation removed. Mandatory boarding schools, Allotment and Termination — all official government policies–also fall under this category of the crime of genocide. The forced removal and four year incarceration of the Navajo people resulted in the death of half their population.
Imposing measures intended to prevent births within the group: Famously, during the Termination Era, the US government administrated Indian Health Service made the top medical priority the sterilization of Indigenous women. In 1974, an independent study by one the few Native American physicians, Dr. Connie Pinkerton-Uri, Choctaw/Cherokee, found that one in four Native women had been sterilized without her consent. Pnkerton-Uri's research indicated that the Indian Health Service had "singled out full-blooded Indian women for sterilization procedures." At first denied by the Indian Health Service, two years later, a study by the U.S. General Accounting Office found that 4 of the 12 Indian Health Service regions sterilized 3,406 Native women without their permission between 1973 and 1976. The GAO found that 36 women under age 21 had been forcibly sterilized during this period despite a court-ordered moratorium on sterilizations of women younger than 21.
Forcibly transferring children of the group to another group: Various governmental entities, mostly municipalities, counties, and states, routinely removed Native children from their families and put them up for adoption. In the Native resistance movements of the 1960s and 1970s, the demand to put a stop to the practice was codified in the Indian Child Welfare Act of 1978. However, the burden of enforcing the legislation lay with Tribal Government, but the legislation provided no financial resources for Native governments to establish infrastructure to retrieve children from the adoption industry, in which Indian babies were high in demand. Despite these barriers to enforcement, the worst abuses had been curbed over the following three decades. But, on June 25, 2013, the U.S. Supreme Court, in a 5-4 ruling drafted by Justice Samuel Alito, used provisions of the Indian Child Welfare Act (ICWA) to say that a child, widely known as Baby Veronica, did not have to live with her biological Cherokee father. The high court's decision paved the way for Matt and Melanie Capobianco, the adoptive parents, to ask the South Carolina Courts to have the child returned to them. The court gutted the purpose and intent of the Indian Child Welfare Act, missing the concept behind the ICWA, the protection of cultural resource and treasure that are Native children; it's not about protecting so-called traditional or nuclear families. It's about recognizing the prevalence of extended families and culture.
So, why does the Genocide Convention matter? Native nations are still here and still vulnerable to genocidal policy. This isn't just history that predates the 1948 Genocide Convention. But, the history is important and needs to be widely aired, included in public school texts and public service announcements. The Doctrine of Discovery is still law of the land. From the mid-fifteenth century to the mid-twentieth century, most of the non-European world was colonized under the Doctrine of Discovery, one of the first principles of international law Christian European monarchies promulgated to legitimize investigating, mapping, and claiming lands belonging to peoples outside Europe. It originated in a papal bull issued in 1455 that permitted the Portuguese monarchy to seize West Africa. Following Columbus's infamous exploratory voyage in 1492, sponsored by the king and queen of the infant Spanish state, another papal bull extended similar permission to Spain. Disputes between the Portuguese and Spanish monarchies led to the papal-initiated Treaty of Tordesillas (1494), which, besides dividing the globe equally between the two Iberian empires, clarified that only non-Christian lands fell under the discovery doctrine.  This doctrine on which all European states relied thus originated with the arbitrary and unilateral establishment of the Iberian monarchies' exclusive rights under Christian canon law to colonize foreign peoples, and this right was later seized by other European monarchical colonizing projects. The French Republic used this legalistic instrument for its nineteenth- and twentieth-century settler colonialist projects, as did the newly independent United States when it continued the colonization of North America begun by the British.
In 1792, not long after the US founding, Secretary of State Thomas Jefferson claimed that the Doctrine of Discovery developed by European states was international law applicable to the new US government as well. In 1823 the US Supreme Court issued its decision in Johnson v. McIntosh. Writing for the majority, Chief Justice John Marshall held that the Doctrine of Discovery had been an established principle of European law and of English law in effect in Britain's North American colonies and was also the law of the United States. The Court defined the exclusive property rights that a European country acquired by dint of discovery: "Discovery gave title to the government, by whose subjects, or by whose authority, it was made, against all other European governments, which title might be consummated by possession." Therefore, European and Euro-American "discoverers" had gained real-property rights in the lands of Indigenous peoples by merely planting a flag. Indigenous rights were, in the Court's words, "in no instance, entirely disregarded; but were necessarily, to a considerable extent, impaired." The court further held that Indigenous "rights to complete sovereignty, as independent nations, were necessarily diminished." Indigenous people could continue to live on the land, but title resided with the discovering power, the United States. The decision concluded that Native nations were "domestic, dependent nations."
The Doctrine of Discovery is so taken for granted that it is rarely mentioned in historical or legal texts published in the Americas. The UN Permanent Forum on Indigenous Peoples, which meets annually for two weeks, devoted its entire 2012 session to the doctrine.  But few US citizens are aware of the precarity of the situation of Indigenous Peoples in the United States."
—
Between 1776 and the present, the United States seized some 1.5 billion acres from North America's native peoples, an area 25 times the size of the United Kingdom. Many Americans are only vaguely familiar with the story of how this happened. They perhaps recognise Wounded Knee and the Trail of Tears, but few can recall the details and even fewer think that those events are central to US history.
Their tenuous grasp of the subject is regrettable if unsurprising, given that the conquest of the continent is both essential to understanding the rise of the US and deplorable. Acre by acre, the dispossession of native peoples made the US a transcontinental power. To visualise this story, I created 'The Invasion of America', an interactive time-lapse map of the nearly 500 cessions that the US carved out of native lands on its westward march to the shores of the Pacific.
By the time the Civil War came to an end in 1865, it had consumed the lives of 800,000 Americans, or 2.5 per cent of the population, according to recent estimates. If slavery was a moral failing, said Lincoln in his second inaugural address, then the war was 'the woe due to those by whom the offense came'. The rupture between North and South forced white Americans to confront the nation's deep investment in slavery and to emancipate and incorporate four million individuals. They did not do so willingly, and the reconstruction of the nation is in many ways still unfolding. By contrast, there has been no similar reckoning with the conquest of the continent, no serious reflection on its centrality to the rise of the US, and no sustained engagement with the people who lost their homelands.
Demography in part explains why slavery and its legacy are part of America's national conversation (even if whites sometimes participate in bad faith), while the dispossession of indigenous peoples is not. Since 1776, black Americans have made up between 12 and 19 per cent of the total US population. By contrast, in 1800, though Native Americans accounted for about 15 per cent of the inhabitants in the territory that would later become the US, they constituted a much smaller fraction of the residents in the 16 states that then made up the union. A century later, in 1900, they represented only approximately half of one per cent of the US population, making them a small and politically insignificant minority in their own lands.
Today, over one per cent (3.8 million) of Americans identify as native, an increase that reflects not a substantive demographic shift but a newfound willingness and desire to identify as indigenous. Of this self-identified population, only a fraction are visible minorities, subject to the discrimination that shapes identity and forges political movements. Small in number with limited power at the polls, they have not led the national news since 1972-73, when the American Indian Movement took over the Bureau of Indian Affairs and the FBI laid siege to Wounded Knee on the Pine Ridge Reservation.
Yet native peoples are central to the nation's history. As late as 1750 – some 150 years after Britain established Jamestown and fully 250 years after Europeans first set foot in the continent – they constituted a majority of the population in North America, a fact not adequately reflected in textbooks. Even a century later, in 1850, they still retained formal possession of much of the western half of the continent.
Native peoples may be a small minority, but their history poses a fatal challenge to triumphalist narratives of the US
The final assault on indigenous land tenure, lasting roughly from the mid-19th century to 1890, was rapid and murderous. (In the 20th century, the fight moved from the battlefield to the courts, where it continues to this day.) After John Sutter discovered gold in California's Central Valley in 1848, colonists launched slaving expeditions against native peoples in the region. 'That a war of extermination will continue to be waged between races, until the Indian race becomes extinct, must be expected,' the state's first governor instructed the legislature in 1851.
In the Great Plains, the US Army conducted a war of attrition, with success measured in the quantity of tipis burned, food supplies destroyed, and horse herds slaughtered. The result was a series of massacres: the Bear River Massacre in southern Idaho (1863), the Sand Creek Massacre in eastern Colorado (1864), the Washita Massacre in western Oklahoma (1868), and a host of others. In Florida in the 1850s, US troops waded through the Everglades in pursuit of the last holdouts among the Seminole peoples, who had once controlled much of the Florida peninsula. In short, in the mid-19th century, Americans were still fighting to reduce if not to eliminate the continent's original residents.
Native peoples may be a small minority, but their history poses a fatal challenge to triumphalist narratives of the US. The most jingoistic of Americans strive to put a positive spin on the nation's century-long investment in slavery and equally long commitment to white supremacy. After the police shooting of an unarmed black man in Ferguson, Missouri, in August this year, one white woman took the opportunity to chide a group of African American protesters. She yelled, 'We're the ones who f***in' gave all y'all the freedom that you got!' Imagine a corresponding affront shouted at an assembly of indigenous people: 'We're the ones who took all of your land but introduced you to Christianity.' Many Americans share a deeply held conviction that the US embarked in 1776 on an as-yet unfinished journey to attain the universal ideals of freedom and equality. The history of US-native relations simply does not fit into this national narrative.
Europe's 20th century atrocities are easier for most people to envision than the dispossession of Native Americans. Stalin's gulags destroyed millions of people in the 1930s and '40s; Germany systematically murdered two-thirds of the continent's Jews during the Second World War; Yugoslavia devolved into a bloodbath of so-called 'ethnic cleansing' in the early 1990s. Accounts of those episodes describe the victims as men, women and children. By contrast, the language used to chronicle the dispossession of native peoples – 'Indian', 'chief', 'warrior', 'tribe', 'squaw' (as native women used to be called) – conjures up crude stereotypes and clouds the mind, making it difficult to see the wars of extermination, forced marches and expulsions for what they were. The story, which used to be celebratory, is now more often tragic and sentimental, rooted in the belief that the dispossession of native peoples was unjust but inevitable.
Some of the cessions cover as much territory as France, others no more than a hundred acres
The most familiar and celebrated Indian images that circulate today reinforce this conviction. They come first and foremost from Edward Curtis's monumental 20-volume collection of photographs, entitled The North American Indian. Plate 1 in volume 1 pictures Navajos mounted on ponies, heading off into the distance towards the bleak horizon. It is entitled 'The Vanishing Race'.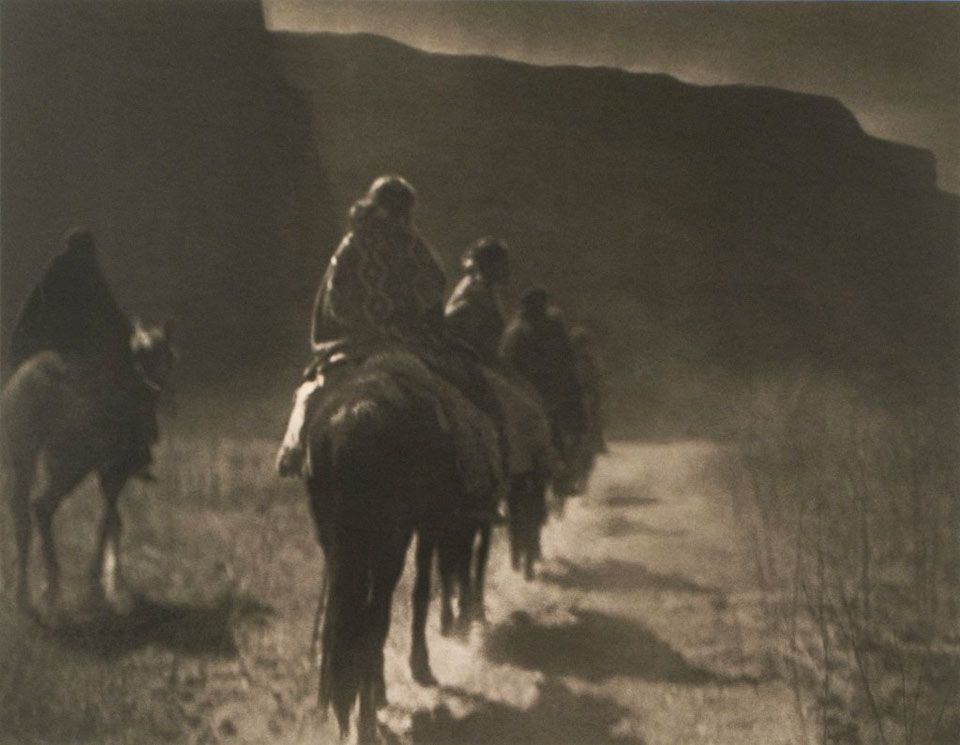 'The Invasion of America' captures not the vanishing Indian but the expansionist US, from its origins in 1776 as a slender band of states pressed along the Atlantic to its coast-to-coast incarnation as the fourth-largest nation in the world. The site allows users to move through the land cessions chronologically or to search by Indian nation (eg, 'Cherokee'), and to click on any tract to pull up details of the land transfer. Some of the cessions cover as much territory as France, others no more than a hundred acres.
US title to the land depends on legal fiction, crafted by the colonists to benefit themselves. Under the 'Doctrine of Discovery', which had its origins in the Crusades and underpinned the pioneering navigators of the 15th century, ultimate sovereignty over any pagan land belonged, courtesy of the Vatican, to the first Christian monarch who discovered it. Embraced by imperial powers around the world, the doctrine was adopted by the US Supreme Court in 1823. The US did not rely on Papal Bulls alone, however. It also extinguished the land title of the continent's first peoples by treaty, executive order, and federal statute.
As pictured in 'The Invasion of America', native land cessions seamlessly blanket the continent, but this tidy arrangement is a fantasy devised in 1899 by the government-chartered Bureau of American Ethnology. In that year, with the assistance of the Bureau of Indian Affairs, it produced 67 maps that plotted every cession since the founding of the nation. In truth, cession boundaries were neither well-defined nor contiguous. On paper, they traced watersheds that no 19th century surveyor could determine with any precision; they extended to foothills (exactly where they were located was anyone's guess); and they took direct paths to mountain tops that could not be accurately identified. Sometimes it was easier for federal officials to describe not the cession itself but the reduced tract reserved for the indigenous nation. In 1823, for example, the Seminoles relinquished 'all claim or title which they may have to the whole territory of Florida' in exchange for a much smaller, clearly delineated area where they were to be 'concentrated and confined'.
Negotiated under duress or facilitated with bribes, treaties were often violated soon after ratification, despite the language of perpetuity
It is appealing to imagine, as the Bureau of American Ethnology did, that the entire country came into the possession of the US through consistent and well-defined legal mechanisms. But in fact, sometimes it was not clear even to the federal government by what right it owned the land. In 1851, for example, three federal commissioners headed off to California (acquired from Mexico only three years earlier) with vague instructions 'to conciliate the good feelings of the Indians, and to get them to ratify those feelings by entering into written treaties, binding on them, towards the government and each other'.
Congress remained uncertain whether native Californians constituted a formidable opposition of 300,000, as some said, or a pitiful remnant of 40,000, as others asserted. Nor could it decide whether the US came into full possession of the land by the 1848 Treaty of Guadalupe Hidalgo, signed with Mexico, or whether indigenous peoples still had title. The commissioners entered into a series of treaties with small groups and even single families, satisfying neither the advocates of California natives nor the speculators who desired their land. Congress refused to ratify the agreements and instead simply concluded that title no longer rested with native peoples.
Elsewhere, the US employed three legal instruments to dispossess residents. Treaties predominated until 1871, when Congress voted to end the practice. Negotiated under duress or facilitated with bribes, they were often violated soon after ratification, despite the language of perpetuity. Nonetheless, they presume a nation-to-nation relationship, which still informs US Indian policy today. Less well-known are the two other tools of dispossession: federal legislation and executive order.
Both Congress and the president can create reservations and take them away, and the president used this power extensively in the 19th century. In July 1864, for example, President Abraham Lincoln created a reservation within present-day Washington state for the Chehalis people, reducing their once extensive homeland of 5,000,000 acres (by the measure of the Bureau of American Ethnology) to 'about six sections, with which they are satisfied' (according to a letter from the Office of Indian Affairs; the measure of 'satisfaction' must be judged by the alternative, which was removal and joint occupation of another reservation). As a section is 640 acres, 'about six' would have come to about 4,000 acres. Twenty-two years later, President Grover Cleveland with the stroke of a pen further reduced the reservation to three fractional sections – a piddling 471 acres.
There was some irony to this land seizure. When the Federal government created the Chehalis reservation in 1864, it paid a squatter named D Mounts $3,500 – a sum which he considered 'not unreasonable' – for title to his overlapping land claim, though of course the true owners were the Chehalis themselves. When President Cleveland further reduced the reservation in 1886, the Chehalis received nothing. (Since the 1990s, the Chehalis have been buying up adjacent land and in 2010 the 'reservation' was 4,215 acres, according to the chehalistribe.org website.)
It is high time for non-Native Americans to come to terms with the fact that the US is built on someone else's land. Their 19th century counterparts wrestled more deeply with the dispossession that underlay the nation than most people do today. Native peoples were 'benighted' and in a 'degraded state', wrote one Kentucky resident to the editor of the Western Recorder in 1825, expressing the widespread condescension that whites felt towards native peoples at the time. But, he continued, 'This continent is their home. It is the land of their fathers. We are foreign intruders.' The writer, informed by Christian universalism, was no modern-day multiculturalist. Nonetheless, the presence of native peoples in Kentucky forced him to reconcile their dominion over the land – 'from time immemorial', as colonists often said – with the imperious claims of the US.
Five years later, in 1830, President Andrew Jackson signed into law 'an Act to provide for an exchange of lands with the Indians residing in any of the states or territories, and for their removal west of the river Mississippi'. Popularly known as Indian removal, the act authorised the federal government to deport 100,000 men, women and children from their homelands, an operation that took most of the decade and cost the lives of thousands of native people. This massive state-sponsored forced migration, which passed by a mere five out of 199 votes in the House of Representatives, marked a turning point, when white Americans abdicated their moral responsibility towards the continent's indigenous peoples. The deportation, according to many whites and even some native activists, was in the best interests of those who were rounded up and driven out. If that was the case, it was because white Americans made it so by defrauding or killing those who wanted to stay. After removal, most indigenous Americans were situated a thousand miles distant from the centre of US population and power on the Atlantic coast. Out of sight and out of mind, Native Americans became relics of the past for most whites.
What would American history look like if native peoples had been kept in sight and in mind? 'The Invasion of America' visualises one possibility. Compare it with a map of 'Territorial Acquisitions' produced by the US Geological Survey in 2014:
The large single-hued areas of land on the USGS map represent exchanges between imperial powers, with no reference to the longtime residents who also claimed title.
There are many reasons to favour a more inclusive history of the US that places the dispossession of native peoples at its centre. Such a history erases the artificial distinctions that earlier generations drew to discount the presence of native peoples, does not privilege the rise of the nation-state, and better reflects the makeup of today's US population, which will soon be majority non-white. Its themes also resonate with 21st century concerns, including state-sponsored social engineering, large-scale population displacement, environmental degradation, and global capitalism.
But perhaps the best reason is that it is more faithful to the past. I teach in the state of Georgia, where the legislature mandates that graduates of its public universities fulfill a US history requirement, a law born of the belief that an informed populace is essential to democracy. Good history makes for good citizens. A history that glosses over the conquest of the continent is partial, in both senses of the word. It misleads people about the past and misinforms their debates about the present. In charting a course for the future, Americans would do well to put the dispossession of native peoples back on the map.
—
—
Teen Vogue: Treaties Between the United States and Indigenous Nations, Explained
—
"Of the 374 total U.S.-Indian treaties, 229 of these agreements involved the Indian nations surrendering tribal lands and 99 treaties promised reservations in exchange," said Donald L. Fixico, Regents' and Distinguished Foundation Professor of history. "Today there are 327 reservations and nearly 600 federally recognized tribes, and 22 of them live in Arizona." Marshall Terrill, Native American view of the Grand Canyon's centennial celebration
—
Truthout: The Colonial Origins of Conservation: The Disturbing History Behind US National Parks
Iconoclasm – questioning heroes and ideals, and even tearing them down – can be the most difficult thing. Many people root their attitudes and lives in narratives that they hold to be self-evidently true. So it's obvious that changing conservation isn't going to be an easy furrow to plow.
However, change it must. Conservation's achievements don't alter the fact that it's rooted in two serious and related mistakes. The first is that it conserves "wildernesses," which are imagined to be shaped only by nature. The second is that it believes in a hierarchy, with superior, intelligent human beings at the top. Many conservationists still believe that they are uniquely endowed with the foresight and expertise to control and manage so-called wildernesses and that everyone else must leave, including those who actually own them and have lived there for generations.
These notions are archaic; they damage people and the environment. The second also flouts the law, with its perpetual land grabs. For nature's sake as well as our own, it's crucial to expose how these ideas grew and flourished, to understand just how mistaken they are. There's an ongoing attempt to wipe from the map the quagmire around conservation's wellspring, to pretend it's all now transparent and sunlit. It isn't.
Some conservationists, usually those lower in the pecking order, have the morality to face reality. They must prevail. With enough support, they will propel the industry from below toward a radically different approach, one that stands a far better chance of saving the environment and one using far smaller sums of money to do so.
This iconoclastic revolution is urgently needed, and there's no better time: 2015 is the 125th anniversary of Yosemite National Park, and 2016 completes a century for the United States National Park Service. These are highly symbolic anniversaries: Conservation dogmas were rooted in colonial conquest and were inextricably bound up in the genocide committed against Native Americans. Both lies – that of the wilderness and that of the inferiority of some human beings – were in full flower by 1916, though they were seeded earlier when the US began to invent the parks model that is still, all too harmfully, exported around the world.
The Eviction of the Ahwahneechee People From Yosemite
The conservation movement (and its problems) really began with the 1864 Yosemite Grant Act. Conservation leaders like John Muir believed that the indigenous people who had inhabited Yosemite for at least 6,000 years were a desecration and had to go. Muir deemed them "lazy" because their hunting techniques yielded a good living without wasted effort. Such prejudice is alive and well today: An official in India said that tribal people don't want to leave their forest because they get "fodder and income … for free" and are too lazy to work, so must be evicted.
White invaders saw the land as pristine wilderness because it didn't conform to their European industrial image of productivity. In reality, Yosemite had long been an environment shaped by its inhabitants through controlled undergrowth burning (which created its healthy forests with big trees and a rich biodiversity), tree planting for acorns as a food staple, and sustainable predation on its game, which ensured species balance.
In the 19th century, the newcomers didn't hesitate to send in the army to police this wilderness and get rid of everyone else. One historian, Jeffrey Lee Rodger, is sympathetic to the cavalrymen, but admits their "improvised punishments … were clearly extralegal and may have veered into arbitrary … force." He might have compared such "punishments" with those still supported by conservation today, particularly in Africa and Asia, where tribal people are routinely kicked out of parks and beaten, even tortured, when they resist.
Native Americans were evicted from almost all the American parks, but a few Ahwahneechee people were tolerated inside Yosemite for a few more decades. They were forced to serve tourists and act out humiliating "Indian days" for the visitors. The latter wanted the Indians they saw in the movies, so the Ahwahneechee had to dress and dance as if they were from the Great Plains. If they didn't serve the park, they were out – and they all did finally die or leave, with their last dwellings deliberately and ignominiously burned down in a fire drill in 1969.
As Luther Standing Bear declaimed, "Only to the white man was nature a wilderness … to us it was tame. Earth was bountiful." The parks were and are supposed to preserve their "wilderness," but they've never been very successful. In the case of Yosemite: over a thousand miles of often-crowded roads and hiking trails were constructed; trees were felled to make viewpoints; the balance of species was altered as animal and human predators were eliminated; trout were introduced to delight anglers; a luxury hotel was built; bear feeding areas were established to thrill visitors, so conditioning the animals to scavenge for human food; and hoteliers carried out a "firefall" for a century, in which burning wood was pushed over Glacier Point to cascade thousands of feet into the valley (the scars remain visible nearly 50 years after it was halted).
The Native Americans' own fires, their ancient practice of seasonal and controlled undergrowth burning, was stopped. One result is the devastating conflagrations that now plague California; those simply wouldn't have happened on the Natives' watch.
This wasn't preservation, it was reshaping the environment to extract tourist dollars. In spite of this, and the fact that the National Park Service has presided over a loss of biodiversity and dozens of species extinctions, many conservationists have continued to believe they're better at protecting environments than the tribal peoples who live in them.
Scientific Racism in the Conservation Movement
The conservation movement's historically dismissive attitudes toward indigenous people were intertwined with the ideas of scientific racism and eugenics that were just beginning to emerge when the Yosemite Grant Act was passed. Charles Darwin had published The Origin of Species five years before the passage of the act, and Darwin's cousin, Francis Galton, was beginning to develop his racist ideas of eugenics, declaring, "The feeble nations of the world are necessarily giving way before the nobler varieties of mankind." Eugenics enthusiasts in Britain included writer H.G. Wells and playwright George Bernard Shaw, who thought those he saw as genetically inferior, who couldn't "justify their existence," should be humanely gassed. John Maynard Keynes, William Beveridge and Marie Stopes joined up, together with most of the liberal intelligentsia.
In the US, eugenics and conservation were born twins. Wealthy big-game hunters, including Teddy Roosevelt and his friend Madison Grant, both major conservationists, were among the most enthusiastic to embrace the racist creed. Their initial priority was to conserve the herds that provided their sport, and the easiest way to do that – so they thought – was to remove the "predators" who were killing the game to eat (and for its leather) rather than to hang horns on the wall. But these predators were principally human hunters – both Native Americans and poor colonists trying to eke a living from an unfamiliar world.
Ousting these subsistence hunters had the opposite of the desired effect. Elk herds in Yellowstone, for example, grew beyond the carrying capacity of the land. (The same is happening now, with elephants in Botswana.) Weak animals, once the first to fall from hunter's arrow or wolf's fang, started reaching reproductive age. The herd grew, but the animals sickened as hunger took its toll. Seeing their precious trophies fading through their bungling, the elite came up with ideas of "game management," still applied today. The key is to cull, keeping the herd smaller but stronger.
They then turned their attention to the human "herd," which was expanding rapidly from European immigration. Following Galton, they categorized humankind into hierarchical "races" and feared the country being swamped by what they considered to be lower races, including "Mediterraneans," "Alpines," and Jews.
The big-game hunting boys saw themselves as a different ilk. As the "Aryans" from northern Europe, they saw themselves as the creators of "true" civilization, science, culture, religion and wealth. They believed that racial mixing would threaten their "race" and what they saw as its irreplaceable talents. They passed laws to reduce immigration to the United States from "non-Aryan" countries, they outlawed interracial marriage and imposed segregation wherever possible, and they coercively sterilized anyone they could get their hands on who didn't fit their bill; no one with a mental, physical, or even social, problem was safe, particularly the poor.
The most important hunter-turned-conservationist, Madison Grant, was also their principal writer. He was a key supporter, often founder or leader, of a dozen or so conservation groups that still exist, though he barely appears in their official histories. Among the most prominent were the Save the Redwoods League; the New York Zoological Society (now the Wildlife Conservation Society, WCS); and the National Parks Association (now the National Parks Conservation Association).
His book, The Passing of the Great Race, was published in the year the National Park Service was founded. Science Magazine's glowing review enthused over its "solid merit." Thirty years later, it would be cited by German Nazis who couldn't understand why they were on trial: They were, they pleaded, simply emulating the United States, where scientific eugenics had long been used to shape society. Grant had sent a translation of his book to Hitler, who called it his Bible.
Widespread Support for Eugenics
Scratch the record anywhere in the early conservation movement, and eugenics sounds loud and clear: Alexander Graham Bell, who falsely claimed to have invented the telephone and who was one of the founders of the National Geographic Society; two charter members of the Sierra Club, David Starr Jordan (founding president of Stanford University) and Luther Burbank were all prominent members of the movement. George Grinnell, founder of the Audubon Society (and Edward Curtis' mentor) was Madison Grant's close friend for nearly 50 years. The National Park Service's first director, mining magnate Stephen Mather, was backed by Charles Goethe, of the Audubon and Kenya Wildlife Societies, regional head of the Sierra Club and outspoken advocate of Nazi eugenic laws.
In 1937, Goethe wrote to Otmar Freiherr von Verschuer, director of "racial hygiene" in Frankfurt, saying, "I feel passionately that you are leading all mankind herein," according to Garland E. Allen's 2012 essay, "Culling the Herd," in the Journal of the History of Biology. Verschuer was doctoral supervisor and collaborator of Josef Mengele, infamous for his barbaric experiments on children in Auschwitz. He continued to excel after the war, as professor of genetics at Münster.
In one article, "Patriotism and Racial Standards" published in a 1936 issue of Eugenical News, Goethe enthused, "We are moving toward the elimination of humanity's undesirables like Sambo, the husband to Mandy the 'washerlady.' " In 1965, on his 90th birthday, Goethe was dubbed the state's "number one citizen" by California's governor. He fought immigration from Mexico, making the racist argument that Mexicans have low IQs.
Eugenics grew into the establishment belief of the first half of the 20th century and didn't falter seriously until 1945, when an American battalion stumbled into Buchenwald, just after its prisoners had seized it from fleeing camp guards.
When the Nazis had built it, their second concentration camp, an oak tree growing inside its fences had consciously been conserved. It was symbolic, though not about nature: Goethe (no relation to the conservationist) had written poetry, including some of Faust, under its branches.
The military defeat of Nazism was to unveil scientific eugenics as a true Faustian pact, absurdly false and grotesquely violent. That should have been its end. But as with much in this history, the fog of obfuscation hangs over the landscape: Eugenic affiliations are continually denied or censored.
Acclaimed figures in post-war European conservation included former Nazis like Prince Bernhard, a founder of WWF (who joined the allies before the war), and Bernhard Grzimek, the self-proclaimed "savior of the Serengeti," cofounder of Friends of the Earth Germany, and former director of the Frankfurt Zoological Society – one of Europe's biggest conservation funders. He made sure the Maasai and other tribes were expelled.
So did Mike Fay of the Wildlife Conservation Society, the creator of the Nouabalé-Ndoki Park in the Congo, which kicked out the Mbendjele people, using US taxpayers' money. The Wildlife Conservation Society trained the guards who now beat Mbendjele people for suspected poaching. Given the way they're treated, it's frankly not surprising that those who once lived on and from the land "poach" if the opportunity arises: Conservation breeds poachers.
When today's environmental leaders press for curbs on immigration and population, it can only call to mind this violent past. Did David Brower, for example, founder of both Friends of the Earth and Earth Island Institute, have to assert that having children without a license should be a crime – given that he had four of his own?
Few environmentalists protest at the theft of tribal lands or stand for indigenous rights. For example, John Burton, of the World Land Trust, formerly of Friends of the Earth, and Fauna and Flora International, openly opposes the very idea, though other key players, some in Greenpeace for example, have signaled support for tribes.
The unexpurgated history of conservation matters because it still shapes attitudes toward tribal peoples. Conservationists no longer pretend to be saving their "race," but they certainly claim to be saving the world's heritage, and they mostly retain a supercilious attitude toward those they are destroying.
Such attitudes must change. Conservation nowadays, particularly in Africa and Asia, seems to be as much about land grabbing and profit as anything else. Its quiet partnerships with the logging and mining industries damage the environment. Tribal people are still abused, even shot, for poaching, when they're just trying to feed their families, while "conservation" still encourages trophy hunting. The rich can hunt, the poor can't.
In spite of the growing evidence to the contrary, many senior conservationists can't accept that tribal peoples really are able to manage their lands. They're wrong. It's a great con trick and it's time it was stopped.
Other conservationists are keen to do better. They deserve to know there's a groundswell of public support behind them, pushing for a major change in conservation to benefit, finally, tribal peoples, nature, and us all.
—
Robert Lee and Tristan Ahtone: How They Did It: Exposing How U.S. Universities Profited From Indigenous Land
—
The Intercept: How a Right-Wing Attack on Protections for Native American Children Could Upend Indian Law
—
Smithsonian: Colonial America Depended on the Enslavement of Indigenous People
"Textbooks and classroom lesson plans are starting to present a more clear-eyed view of America's history—such as slowly recognizing the violence that happened when European settlers encountered the indigenous people of the so-called "New World." But there are still many overlooked stories. One of these startling omissions to the history books is something Margaret Ellen Newell is calling attention to in her book, Brethren by Nature: Colonists living in New England relied on the labor of thousands of Native Americans to build their new lives. 
The enslavement of New England's indigenous people was glossed over in the work of historians after World War I, Newell says, as Tanya H. Lee reports for Indian Country Today. Newell, an associate professor of history at Ohio State University, writes that historians "reconstructed the compelling narrative of the Puritan migration…. Many of these works stressed the uniqueness of New England culture and sought there the origins of American exceptionalism."
During the course of researching her first book, From Dependency to Independence: Economic Revolution in Colonial New England, Newell came across a list of Native American slaves kept by colonists in the Massachusetts Bay Colony. She was surprised by the find because she had been taught that New England colonists didn't keep Native Americans as slaves, because they often ran away. But that impression was incorrect.
Lee writes:
The colonial economy depended on slavery, many well-to-do households functioned only because of slavery, early colonial legal codes were devised to justify slavery and the Pequot War and King Philip's War were fought in large measure to perpetuate slavery.
Indeed, in the 1630s, the Connecticut River Valley was home to the powerful Pequots. The settlers at Plymouth and Massachusetts Bay wanted their rich, fertile land and in order to get it, they persuaded Mohegan and Narragansett allies to help them fight the Pequots. In 1637, they burned a village on the banks of the Mystic River in southeastern Connecticut, killing 400 to 700 Pequots, according to the Society of Colonial Wars in the State of Connecticut. That massacre turned the tide of the war and Pequot survivors were pursued, captured and sold as slaves.
King Philip's War in the mid 1670s—which was fought to protest the English colonists encroaching influence and forced labor of Native Americans—ended with "as many as 40 percent of the Indians in southern New England living in English households as indentured servants or slaves," Lee writes.
The English colonists weren't the only ones to use the labor of enslaved indigenous people, of course. "The Spanish were almost totally dependent on Indian labor in most of their colonies," writes Alan Gallay for History Now. Enslaving Native Americans became one of the primary ways to expand the economy for colonists in South Carolina and to a lesser extent in North Carolina, Virginia and Louisiana. "From 1670 to 1720 more Indians were shipped out of Charleston, South Carolina, than Africans were imported as slaves—and Charleston was a major port for bringing in Africans," Gallay writes.
As the African slave trade took off in the late 1700s, the Native American slave trade waned. Many remaining tribes had been pushed West, but something else was taking place, that pushed the data down, as well. Some Native Americans were intermarrying with African American. The children were then referred to as "colored," effectively erasing their Native American heritage. The enslavement of Native Americans thus became obscured, but modern DNA technology helped keep that story from being lost to time. 
The history of the enslavement of Native Americans continues to be a complicated and dark part of America's history, but it is one that deserves to continue to be researched and reconciled with.
—
Indian Country Today: Assimilation, Integration and Colonization
"The expression "colonization" has gained a great amount of use in recent decades. At earlier times, peopled debated about assimilation and integration. It is important to understand what colonization, assimilation, and integration are. In the context of Indigenous Peoples, colonization has come to mean any kind of external control, and it is used as an expression for the subordination of Indian peoples and their rights since early contact with Europeans. In North America, colonization took the task of subordinating Indigenous Peoples to the political power of Christian European kings. In Spanish colonies, with the appearance of the colonists, the land was immediately considered under the control of the colonizing nations. Indigenous Peoples had only the right to land sufficient for their agricultural subsistence.
After 1763, in British North American colonies, Indigenous Peoples retained the right to sell land to the colonial government, and Indians lived on the land at the discretion of the king. In addition, colonizing powers sought to Christianize Indians, and bring Indians into the fold as subjects to the Christian king. Christian Indian communities and non-Christian Indians alike were considered political subjects of the king. Colonial governments regulated the fur trade, and worked to manage fur trade labor and trade relations with Indians. Indians in Latin and South America, during colonial times, were subject to taxes by the colonial government, and on an annual basis they worked those taxes off by performing labor in silver and gold mines, missions, or as workers appended to large farms of wealthy landowners.
In North America, the fur trade during the colonial and early U.S. periods was a major source of wealth production. Colonial governments sought to exploit the labor of Indigenous Peoples. And if labor exploitation was not possible, to marginalize Indians and move them from control over resources valued by the colonial government. Colonial governments were created to extract resources and wealth from colonial territories and transport the wealth to benefit the mother country.
Assimilation and Integration are expressions that are used in the post-colonial period. Significant changes in relations with Indian peoples emerged after the U.S., Canada, and Mexico reject colonial status, and become independent democratic nation states. Now the purpose of the nation state is to assist in the creation of wealth and protection of the rights of citizens. The Indian problem is addressed in similar ways among the U.S., Canada, and Mexico. Indians are seen as possible citizens. In the long run, the policies of the nations states was to turn Indians into citizens and invite them as individuals to join the new post-colonial economies and governments of Mexico, the United States, and Canada.
In the case of Mexico, Indians are granted rights of citizens, but not rights as Indigenous Peoples. Assimilation in the post-colonial nation states refers to socializing and acculturation—Indian people to taking up national cultures and institutions. Integration refers to the process of Indian people abandoning their own nations and cultures, and accepting the government, culture, and property laws of the nation states. Indigenous Peoples are invited to join the modernizing nation state, while abandoning their own tribal political and cultural identities.
In Mexico a majority of people, who are participants in the national government, economy, and culture, are also descendants of indigenous nations. The Mestizo citizens of Mexico have accepted the assimilation and integration path, and reject indigenous identities and culture. Many Indigenous Peoples in U.S., Mexico, and Canada continue to choose to uphold significant aspects of indigenous life, including self-government, control over land, and cultural views. In the U.S., Mexico, and Canada, Indigenous Peoples accept national citizenship, but many also choose to live within and support tribal nations and communities. Indigenous Peoples make choices about their identities, and as a result live in multiple tribal and national contexts, which are not fully captured by the expressions of assimilation, integration, or colonization."
—
—
Further Readings
—
---
Native Issues Today
—
567 tribes (229 Alaska Native communities)

currently recognized by the federal government

Natives on reservations have high poverty, alcoholism, unemployment, suicide rates

Poverty

27% of all Native Americans and Alaska Natives live in poverty
40% of Native Americans who live on reservations are in substandard housing

One-third of homes are overcrowded, and less than 16% have indoor plumbing.
Housing on reservations is funded by the HUD and administered and augmented by tribes

Historically underfunded, despite treaties and the trust responsibility of the federal government.

High Levels of mass incarceration and policing

Native s account for less than 1% of the national population

but who make up nearly 2% of all police killings

In South Dakota Native Americans make up 9% of the total population

but 29% of the prison population

Trauma and Suicide

Their historic loss of lives, land, and culture has led to widespread historical trauma

Trauma is inherited in our epigenetics, the proteins that control DNA expression
Suicide is the second most common cause of death for Native youth ages 15 to 24

two and a half times the national rate for that age group

22% of Native children suffer from post-traumatic stress disorder

Land

Indian nations don't own their reservation lands rather lands are held in trust by the federal government

Prevents leveraging assets for loans to start businesses or promote economic growth

Natives continue to fight US gov from selling land land and water to mining, waste, etc. industries

Voting Rights

Natives are often unable to vote because there's no polling places nearby or don't have addresses to register

Last people to gain suffrage in 1924 and couldn't vote in states like Arizona, New Mexico and Utah until 1948

Education

Lack decent funding for majority of schools Indian reservations
Only 51% of Native Americans in the class of 2010 graduated high school (85% national average)

Many government policies today

Reduce Native language, culture, self-determination and increases their poverty
The Bureau of Indian Affairs (BIA) is behind many of these policies.
—
—
Missing and Murdered Indigenous Women (MMIW)
4 out of 5 of our Native women are affected by violence today

Native women are 3.5x more likely to be raped or sexually assaulted in their life than women of other races

DOJ found Native women face murder rates 10x national average

2016, 5,712 reported missing and murdered Indigenous women (MMIW)

According to DOJ over 70% of violence experienced by Natives is committed by non native people

"About one-quarter of all cases of family violence (violence involving spouses) against American Indians involve a non-Indian perpetrator, a rate of inter-racial violence five times the rate of inter-racial violence involving other racial groups. A larger percent of victimization against American Indian and Alaskan Native women are committed by white offenders compared to American Indian and Alaska Native offenders." Futures Without Violence

SCOTUS – tribal governments may not prosecute non-Indians

Jurisdiction fallen to fed or state who are hours away from reservations

And lack the resources to respond.

Many jurisdictional complexities and limitations in Indian Country

Confusion and lack of coordination from tribal, federal and state

2013 Violence Against Women Act

Lets tribes prosecute non-Native Domestic Abusers

Opposed by many Republicans

Objected to protections to same-sex couples and undocumented immigrants

2019 GOP Senate let act expire
Wikipedia: Violence Against Women Act (VAWA )
"VAWA was reauthorized by bipartisan majorities in Congress in 2000 and again in December 2005. The Act's 2012 renewal was opposed by conservative Republicans, who objected to extending the Act's protections to same-sex couples and to provisions allowing battered undocumented immigrants to claim temporary visas, but it was reauthorized in 2013, after a long legislative battle. As a result of the United States federal government shutdown of 2018–2019, the Violence Against Women Act expired on December 21, 2018. It was temporarily reinstated via a short-term spending bill on January 25, 2019, but expired again on February 15, 2019. The House of Representatives passed a bill reauthorizing VAWA in April 2019; the bill, which includes new provisions protecting transgender victims and banning individuals convicted of domestic abuse from purchasing firearms, has been ignored by the Senate.[5]"
—
HuffPost: At Last, Violence Against Women Act Lets Tribes Prosecute Non-Native Domestic Abusers
—
Further Readings
—
—
Brut: FYI, these facts on Native Americans are still underreported in the U.S
—
Historical Trauma
—
—
Further Reading
---
—
Sub Table of Contents
—
Medium: Decolonizing Thanksgiving: A Toolkit for Combatting Racism in Schools
—
Manataka: THE REAL STORY OF THANKSGIVING
"Most of us associate the holiday with happy Pilgrims and Indians sitting down to a big feast. And that did happen – once.
The story began in 1614 when a band of English explorers sailed home to England with a ship full of Patuxet Indians bound for slavery. They left behind smallpox which virtually wiped out those who had escaped. By the time the Pilgrims arrived in Massachusetts Bay they found only one living Patuxet Indian, a man named Squanto who had survived slavery in England and knew their language. He taught them to grow corn and to fish, and negotiated a peace treaty between the Pilgrims and the Wampanoag Nation. At the end of their first year, the Pilgrims held a great feast honoring Squanto and the Wampanoags.
But as word spread in England about the paradise to be found in the new world, religious zealots called Puritans began arriving by the boat load. Finding no fences around the land, they considered it to be in the public domain. Joined by other British settlers, they seized land, capturing strong young Natives for slaves and killing the rest. But the Pequot Nation had not agreed to the peace treaty Squanto had negotiated and they fought back. The Pequot War was one of the bloodiest Indian wars ever fought.
In 1637 near present day Groton, Connecticut, over 700 men, women and children of the Pequot Tribe had gathered for their annual Green Corn Festival which is our Thanksgiving celebration. In the predawn hours the sleeping Indians were surrounded by English and Dutch mercenaries who ordered them to come outside. Those who came out were shot or clubbed to death while the terrified women and children who huddled inside the longhouse were burned alive. The next day the governor of the Massachusetts Bay Colony declared "A Day Of Thanksgiving" because 700 unarmed men, women and children had been murdered.
Cheered by their "victory", the brave colonists and their Indian allies attacked village after village. Women and children over 14 were sold into slavery while the rest were murdered. Boats loaded with a many as 500 slaves regularly left the ports of New England. Bounties were paid for Indian scalps to encourage as many deaths as possible.
Following an especially successful raid against the Pequot in what is now Stamford, Connecticut, the churches announced a second day of "thanksgiving" to celebrate victory over the heathen savages. During the feasting, the hacked off heads of Natives were kicked through the streets like soccer balls. Even the friendly Wampanoag did not escape the madness. Their chief was beheaded, and his head impaled on a pole in Plymouth, Massachusetts — where it remained on display for 24 years.
The killings became more and more frenzied, with days of thanksgiving feasts being held after each successful massacre. George Washington finally suggested that only one day of Thanksgiving per year be set aside instead of celebrating each and every massacre. Later Abraham Lincoln decreed Thanksgiving Day to be a legal national holiday during the Civil War — on the same day he ordered troops to march against the starving Sioux in Minnesota.
This story doesn't have quite the same fuzzy feelings associated with it as the one where the Indians and Pilgrims are all sitting down together at the big feast. But we need to learn our true history so it won't ever be repeated. Next Thanksgiving, when you gather with your loved ones to Thank God for all your blessings, think about those people who only wanted to live their lives and raise their families. They, also took time out to say "thank you" to Creator for all their blessings."
INTRODUCTION FOR TEACHERS
This is a particularly difficult introduction to write. I have been a public schools teacher for twelve years, and I am also a historian and have written several books on American and Native American history. I also just happen to be Quebeque French, Metis, Ojibwa, and Iroquois. Because my Indian ancestors were on both sides of the struggle between the Puritans and the New England Indians and I am well versed in my cultural heritage and history both as an Anishnabeg (Algokin) and Hodenosione (Iroquois), it was felt that I could bring a unique insight to the project.
For an Indian, who is also a school teacher, Thanksgiving was never an easy holiday for me to deal with in class. I sometimes have felt like I learned too much about "the Pilgrims and the Indians." Every year I have been faced with the professional and moral dilemma of just how to be honest and informative with my children at Thanksgiving without passing on historical distortions, and racial and cultural stereotypes.
The problem is that part of what you and I learned in our own childhood about the "Pilgrims" and "Squanto" and the "First Thanksgiving" is a mixture of both history and myth. But the THEME of Thanksgiving has truth and integrity far above and beyond what we and our forebearers have made of it. Thanksgiving is a bigger concept than just the story of the founding of the Plymouth Plantation.
So what do we teach to our children? We usually pass on unquestioned what we all received in our own childhood classrooms. I have come to know both the truths and the myths about our "First Thanksgiving," and I feel we need to try to reach beyond the myths to some degree of historic truth. This text is an attempt to do this.
At this point you are probably asking, "What is the big deal about Thanksgiving and the Pilgrims?" "What does this guy mean by a mixture of truths and myth?" That is just what this introduction is all about. I propose that there may be a good deal that many of us do not know about our Thanksgiving holiday and also about the "First Thanksgiving" story. I also propose that what most of us have learned about the Pilgrims and the Indians who were at the first Thanksgiving at Plymouth Plantation is only part of the truth. When you build a lesson on only half of the information, then you are not teaching the whole truth. That is why I used the word myth. So where do you start to find out more about the holiday and our modern stories about how it began?
A good place to start is with a very important book, "The Invasion of America," by Francis Jennings. It is a very authoritative text on the settlement of New England and the evolution of Indian/White relations in the New England colonies. I also recommend looking up any good text on British history. Check out the British Civil War of 1621-1642, Oliver Cromwell, and the Puritan uprising of 1653 which ended parliamentary government in England until 1660. The history of the Puritan experience in New England really should not be separated from the history of the Puritan experience in England. You should also realize that the "Pilgrims" were a sub sect, or splinter group, of the Puritan movement. They came to America to achieve on this continent what their Puritan bretheran continued to strive for in England; and when the Puritans were forced from England, they came to New England and soon absorbed the original "Pilgrims."
As the editor, I have read all the texts listed in our bibliography, and many more, in preparing this material for you. I want you to read some of these books. So let me use my editorial license to deliberately provoke you a little. When comparing the events stirred on by the Puritans in England with accounts of Puritan/Pilgrim activities in New England in the same era, several provocative things suggest themselves:
1. The Puritans were not just simple religious conservatives persecuted by the King and the Church of England for their unorthodox beliefs. They were political revolutionaries who not only intended to overthrow the government of England, but who actually did so in 1649.
2. The Puritan "Pilgrims" who came to New England were not simply refugees who decided to "put their fate in God's hands" in the "empty wilderness" of North America, as a generation of Hollywood movies taught us. In any culture at any time, settlers on a frontier are most often outcasts and fugitives who, in some way or other, do not fit into the mainstream of their society. This is not to imply that people who settle on frontiers have no redeeming qualities such as bravery, etc., but that the images of nobility that we associate with the Puritans are at least in part the good "P.R." efforts of later writers who have romanticized them.(1) It is also very plausible that this unnaturally noble image of the Puritans is all wrapped up with the mythology of "Noble Civilization" vs. "Savagery."(2) At any rate, mainstream Englishmen considered the Pilgrims to be deliberate religious dropouts who intended to found a new nation completely independent from non-Puritan England. In 1643 the Puritan/Pilgrims declared themselves an independent confederacy, one hundred and forty-three years before the American Revolution. They believed in the imminent occurrence of Armegeddon in Europe and hoped to establish here in the new world the "Kingdom of God" foretold in the book of Revelation. They diverged from their Puritan brethren who remained in England only in that they held little real hope of ever being able to successfully overthrow the King and Parliament and, thereby, impose their "Rule of Saints" (strict Puritan orthodoxy) on the rest of the British people. So they came to America not just in one ship (the Mayflower) but in a hundred others as well, with every intention of taking the land away from its native people to build their prophesied "Holy Kingdom."(3)
3. The Pilgrims were not just innocent refugees from religious persecution. They were victims of bigotry in England, but some of them were themselves religious bigots by our modern standards. The Puritans and the Pilgrims saw themselves as the "Chosen Elect" mentioned in the book of Revelation. They strove to "purify" first themselves and then everyone else of everything they did not accept in their own interpretation of scripture. Later New England Puritans used any means, including deceptions, treachery, torture, war, and genocide to achieve that end.(4) They saw themselves as fighting a holy war against Satan, and everyone who disagreed with them was the enemy. This rigid fundamentalism was transmitted to America by the Plymouth colonists, and it sheds a very different light on the "Pilgrim" image we have of them. This is best illustrated in the written text of the Thanksgiving sermon delivered at Plymouth in 1623 by "Mather the Elder." In it, Mather the Elder gave special thanks to God for the devastating plague of smallpox which wiped out the majority of the Wampanoag Indians who had been their benefactors. He praised God for destroying "chiefly young men and children, the very seeds of increase, thus clearing the forests to make way for a better growth", i.e., the Pilgrims.(5) In as much as these Indians were the Pilgrim's benefactors, and Squanto, in particular, was the instrument of their salvation that first year, how are we to interpret this apparent callousness towards their misfortune?
4. The Wampanoag Indians were not the "friendly savages" some of us were told about when we were in the primary grades. Nor were they invited out of the goodness of the Pilgrims' hearts to share the fruits of the Pilgrims' harvest in a demonstration of Christian charity and interracial brotherhood. The Wampanoag were members of a widespread confederacy of Algonkian-speaking peoples known as the League of the Delaware. For six hundred years they had been defending themselves from my other ancestors, the Iroquois, and for the last hundred years they had also had encounters with European fishermen and explorers but especially with European slavers, who had been raiding their coastal villages.(6) They knew something of the power of the white people, and they did not fully trust them. But their religion taught that they were to give charity to the helpless and hospitality to anyone who came to them with empty hands.(7) Also, Squanto, the Indian hero of the Thanksgiving story, had a very real love for a British explorer named John Weymouth, who had become a second father to him several years before the Pilgrims arrived at Plymouth. Clearly, Squanto saw these Pilgrims as Weymouth's people.(8) To the Pilgrims the Indians were heathens and, therefore, the natural instruments of the Devil. Squanto, as the only educated and baptized Christian among the Wampanoag, was seen as merely an instrument of God, set in the wilderness to provide for the survival of His chosen people, the Pilgrims. The Indians were comparatively powerful and, therefore, dangerous; and they were to be courted until the next ships arrived with more Pilgrim colonists and the balance of power shifted. The Wampanoag were actually invited to that Thanksgiving feast for the purpose of negotiating a treaty that would secure the lands of the Plymouth Plantation for the Pilgrims. It should also be noted that the INDIANS, possibly out of a sense of charity toward their hosts, ended up bringing the majority of the food for the feast.(9)
5. A generation later, after the balance of power had indeed shifted, the Indian and White children of that Thanksgiving were striving to kill each other in the genocidal conflict known as King Philip's War. At the end of that conflict most of the New England Indians were either exterminated or refugees among the French in Canada, or they were sold into slavery in the Carolinas by the Puritans. So successful was this early trade in Indian slaves that several Puritan ship owners in Boston began the practice of raiding the Ivory Coast of Africa for black slaves to sell to the proprietary colonies of the South, thus founding the American-based slave trade.(10)
Obviously there is a lot more to the story of Indian/Puritan relations in New England than in the thanksgiving stories we heard as children. Our contemporary mix of myth and history about the "First" Thanksgiving at Plymouth developed in the 1890s and early 1900s. Our country was desperately trying to pull together its many diverse peoples into a common national identity. To many writers and educators at the end of the last century and the beginning of this one, this also meant having a common national history. This was the era of the "melting pot" theory of social progress, and public education was a major tool for social unity. It was with this in mind that the federal government declared the last Thursday in November as the legal holiday of Thanksgiving in 1898.
In consequence, what started as an inspirational bit of New England folklore, soon grew into the full-fledged American Thanksgiving we now know. It emerged complete with stereotyped Indians and stereotyped Whites, incomplete history, and a mythical significance as our "First Thanksgiving." But was it really our FIRST American Thanksgiving?
Now that I have deliberately provoked you with some new information and different opinions, please take the time to read some of the texts in our bibliography. I want to encourage you to read further and form your own opinions. There really is a TRUE Thanksgiving story of Plymouth Plantation. But I strongly suggest that there always has been a Thanksgiving story of some kind or other for as long as there have been human beings. There was also a "First" Thanksgiving in America, but it was celebrated thirty thousand years ago.(11) At some time during the New Stone Age (beginning about ten thousand years ago) Thanksgiving became associated with giving thanks to God for the harvests of the land. Thanksgiving has always been a time of people coming together, so thanks has also been offered for that gift of fellowship between us all. Every last Thursday in November we now partake in one of the OLDEST and most UNIVERSAL of human celebrations, and THERE ARE MANY THANKSGIVING STORIES TO TELL.
As for Thanksgiving week at Plymouth Plantation in 1621, the friendship was guarded and not always sincere, and the peace was very soon abused. But for three days in New England's history, peace and friendship were there.
So here is a story for your children. It is as kind and gentle a balance of historic truth and positive inspiration as its writers and this editor can make it out to be. I hope it will adequately serve its purpose both for you and"
—
Further Readings
—
Back to "Whitewashing Native Atrocities" Top
Redskins and History of State Sponsored Genocide of Californian Indians
Redskins

Term created to describe the blood mixing with the skin of a Native who was scalped, often for money

Natives don't have red skin

1850 Act for the Government and Protection of Indians (California)

Removed California Indians from their traditional land
Kidnapped children (apprenticeship)
Enslaved Natives (vagrancy laws)
Removed ability to defend in court
—
Wikipedia: Redskin
---
African American Colonialism
—
—
African American Colonialism
European colonialism started as corporations using plantation economies to export cash crops (tobacco, indigo, rice, cotton) to accumulate massive wealth

Plantations required lots of labor under harsh conditions

Native American slaves were first used
Replaced with Indentured servants
Eventually replaced with African slaves – 1619-1865

Transatlantic Slave Trade

Western European slave trade corps bought Central/Western African slaves to Americas

Europe started arms races in rival Western African empires by trading modern weapons for slaves

12 million African slaves shipped

Around 2 million died during transport
Half a million were shipped to North America

The number of lives lost in the procurement of slaves remains a mystery

May equal or exceed the number who survived to be enslaved

Enormous wealth was accumulated in the Western World from slavery

Slave trade financed the industrial revolution and built Modern Europe and US
Many people profited from governments, slave ship owners, slave traders, plantation owners, factory owners who processed the raw materials, factory workers, port towns, bankers, insurance companies, auctions, etc
No reparations were ever paid.
Slave Codes -1639-1724

Series of codes solidifying racial slavery in the colonies after the Bacon Rebellion

Solidified automatic life-long racial slavery in the colonies
Gave slave owners full rights to punish, rape and kill slaves
Legalized segregation

Domestic Slave trade

Displaced and separated 1.2 million men, women, and children

Separated 1 in 5 marriages of all slaves

Brutality of slavery

Slaves were property with no rights or protections

Slaves were punish by whipping, shackling, beating, mutilation, branding, imprisonment
Sexual abuse and rape were common
Horrible living and working conditions

Estimated that 1/3 of imported slaves died within their first 3 years

Justification for slavery brought by colonialism

Racism – first slave system to spread myths that black people were biologically inferior
White Supremacy – bringing civilization in exchange for domination
Dehumanization – all blacks were lump together as savages and heathens
Capitalism – division and exploitation of labor
Christianity – supported slavery and white supremacy
The Atlantic slave trade: What too few textbooks told you – Anthony Hazard
—
The Legacy of Colonialism
White Western world

Directly attribute much of its wealth and prosperity to the exploitation and deaths of indigenous people of color

Many world's poorest countries former European colonies

Much of the poverty can be traced to the past and present exploitation of resources from European colonial powers

Ethnic tensions and conflicts

From artificial European colonial boundaries still exist and cause new conflicts

Colonial institutions of systemic racism and neocolonialism

Shape are societies and power structures today
Continue to marginalize and hurt millions of people worldwide

Historical Trauma

Generations of trauma and suffering still felt by millions
—
Philschatz.com: The Impact of Colonization
"As Europeans moved beyond exploration and into colonization of the Americas, they brought changes to virtually every aspect of the land and its people, from trade and hunting to warfare and personal property. European goods, ideas, and diseases shaped the changing continent.
As Europeans established their colonies, their societies also became segmented and divided along religious and racial lines. Most people in these societies were not free; they labored as servants or slaves, doing the work required to produce wealth for others. By 1700, the American continent had become a place of stark contrasts between slavery and freedom, between the haves and the have-nots.
THE INSTITUTION OF SLAVERY
Everywhere in the American colonies, a crushing demand for labor existed to grow New World cash crops, especially sugar and tobacco. This need led Europeans to rely increasingly on Africans, and after 1600, the movement of Africans across the Atlantic accelerated. The English crown chartered the Royal African Company in 1672, giving the company a monopoly over the transport of African slaves to the English colonies. Over the next four decades, the company transported around 350,000 Africans from their homelands. By 1700, the tiny English sugar island of Barbados had a population of fifty thousand slaves, and the English had encoded the institution of chattel slavery into colonial law.
This new system of African slavery came slowly to the English colonists, who did not have slavery at home and preferred to use servant labor. Nevertheless, by the end of the seventeenth century, the English everywhere in America—and particularly in the Chesapeake Bay colonies—had come to rely on African slaves. While Africans had long practiced slavery among their own people, it had not been based on race. Africans enslaved other Africans as war captives, for crimes, and to settle debts; they generally used their slaves for domestic and small-scale agricultural work, not for growing cash crops on large plantations. Additionally, African slavery was often a temporary condition rather than a lifelong sentence, and, unlike New World slavery, it was typically not heritable (passed from a slave mother to her children).
The growing slave trade with Europeans had a profound impact on the people of West Africa, giving prominence to local chieftains and merchants who traded slaves for European textiles, alcohol, guns, tobacco, and food. Africans also charged Europeans for the right to trade in slaves and imposed taxes on slave purchases. Different African groups and kingdoms even staged large-scale raids on each other to meet the demand for slaves.
Once sold to traders, all slaves sent to America endured the hellish Middle Passage, the transatlantic crossing, which took one to two months. By 1625, more than 325,800 Africans had been shipped to the New World, though many thousands perished during the voyage. An astonishing number, some four million, were transported to the Caribbean between 1501 and 1830. When they reached their destination in America, Africans found themselves trapped in shockingly brutal slave societies. In the Chesapeake colonies, they faced a lifetime of harvesting and processing tobacco.
Everywhere, Africans resisted slavery, and running away was common. In Jamaica and elsewhere, runaway slaves created maroon communities, groups that resisted recapture and eked a living from the land, rebuilding their communities as best they could. When possible, they adhered to traditional ways, following spiritual leaders such as Vodun priests."
—
Socialist Worker: The Roots of Racism
"Racism is a particular form of oppression. It stems from discrimination against a group of people based on the idea that some inherited characteristic, such as skin color, makes them inferior to their oppressors. Yet the concepts of "race" and "racism" are modern inventions. They arose and became part of the dominant ideology of society in the context of the African slave trade at the dawn of capitalism in the 1500s and 1600s.
Although it is a commonplace for academics and opponents of socialism to claim that Karl Marx ignored racism, Marx in fact described the processes that created modern racism. His explanation of the rise of capitalism placed the African slave trade, the European extermination of indigenous people in the Americas and colonialism at its heart. In Capital, Marx writes:
The discovery of gold and silver in America, the extirpation, enslavement and entombment in mines of the indigenous population of the continent, the beginnings of the conquest and plunder of India, and the conversion of Africa into a preserve for the commercial hunting of black skins are all things that characterize the dawn of the era of capitalist production.
Marx connected his explanation of the role of the slave trade in the rise of capitalism to the social relations that produced racism against Africans. In Wage Labor and Capital, written 12 years before the American Civil War, he explains:
What is a Negro slave? A man of the black race. The one explanation is as good as the other.

A Negro is a Negro. He only becomes a slave in certain relations. A cotton spinning jenny is a machine for spinning cotton. It only becomes capital in certain relations. Torn away from these conditions, it is as little capital as gold by itself is money, or as sugar is the price of sugar.
In this passage, Marx shows no prejudice to Blacks ("a man of the black race," "a Negro is a Negro"), but he mocks society's equation of "Black" and "slave" ("one explanation is as good as another"). He shows how the economic and social relations of emerging capitalism thrust Blacks into slavery ("he only becomes a slave in certain relations"), which produce the dominant ideology that equates being African with being a slave.
These fragments of Marx's writing give us a good start in understanding the Marxist explanation of the origins of racism. As the Trinidadian historian of slavery Eric Williams put it: "Slavery was not born of racism: rather, racism was the consequence of slavery." And, one should add, the consequence of modern slavery at the dawn of capitalism. While slavery existed as an economic system for thousands of years before the conquest of America, racism as we understand it today did not exist.
From time immemorial?
The classical empires of Greece and Rome were based on slave labor. But ancient slavery was not viewed in racial terms. Slaves were most often captives in wars or conquered peoples. If we understand white people as originating in what is today Europe, then most slaves in ancient Greece and Rome were white. Roman law made slaves the property of their owners, while maintaining a "formal lack of interest in the slave's ethnic or racial provenance," wrote Robin Blackburn in The Making of New World Slavery.
The African slave trade
The slave trade lasted for a little more than 400 years, from the mid-1400s, when the Portuguese made their first voyages down the African coast, to the abolition of slavery in Brazil in 1888.
Slave traders took as many as 12 million Africans by force to work on the plantations in South America, the Caribbean and North America. About 13 percent of slaves (1.5 million) died during the Middle Passage–the trip by boat from Africa to the New World. The African slave trade–involving African slave merchants, European slavers and New World planters in the traffic in human cargo–represented the greatest forced population transfer ever…
…Unfree labor in the North American colonies
Notwithstanding the horrible conditions that African slaves endured, it is important to underscore that when European powers began carving up the New World between them, African slaves were not part of their calculations.
When we think of slavery today, we think of it primarily from the point of view of its relationship to racism. But planters in the 17th and 18th centuries looked at it primarily as a means to produce profits. Slavery was a method of organizing labor to produce sugar, tobacco and cotton. It was not, first and foremost, a system for producing white supremacy. How did slavery in the U.S. (and the rest of the New World) become the breeding ground for racism?
For much of the first century of colonization in what became the United States, the majority of slaves and other "unfree laborers" were white. The term "unfree" draws the distinction between slavery and servitude and "free wage labor" that is the norm in capitalism. One of the historic gains of capitalism for workers is that workers are "free" to sell their ability to labor to whatever employer will give them the best deal. Of course, this kind of freedom is limited at best. Unless they are independently wealthy, workers aren't free to decide not to work. They're free to work or starve. Once they do work, they can quit one employer and go to work for another.
But the hallmark of systems like slavery and indentured servitude was that slaves or servants were "bound over" to a particular employer for a period of time, or for life in the case of slaves. The decision to work for another master wasn't the slave's or the servant's. It was the master's, who could sell slaves for money or other commodities like livestock, lumber or machinery.
The North American colonies started predominantly as private business enterprises in the early 1600s. Unlike the Spanish, whose conquests of Mexico and Peru in the 1500s produced fabulous gold and silver riches for Spain, settlers in places like the colonies that became Maryland, Rhode Island, and Virginia made money through agriculture. In addition to sheer survival, the settlers' chief aim was to obtain a labor force that could produce the large amounts of indigo, tobacco, sugar and other crops that would be sold back to England. From 1607, when Jamestown was founded in Virginia to about 1685, the primary source of agricultural labor in English North America came from white indentured servants.
The colonists first attempted to press the indigenous population into labor. But the Indians refused to be become servants to the English. Indians resisted being forced to work, and they escaped into the surrounding area, which, after all, they knew far better than the English. One after another, the English colonies turned to a policy of driving out the Indians.
The colonists then turned to white servants. Indentured servants were predominantly young white men–usually English or Irish–who were required to work for a planter master for some fixed term of four to seven years. The servants received room and board on the plantation but no pay. And they could not quit and work for another planter. They had to serve their term, after which they might be able to acquire some land and to start a farm for themselves.
They became servants in several ways. Some were prisoners, convicted of petty crimes in Britain, or convicted of being troublemakers in Britain's first colony, Ireland. Many were kidnapped off the streets of Liverpool or Manchester, and put on ships to the New World. Some voluntarily became servants, hoping to start farms after they fulfilled their obligations to their masters.
For most of the 1600s, the planters tried to get by with a predominantly white, but multiracial workforce. But as the 17th century wore on, colonial leaders became increasingly frustrated with white servant labor. For one thing, they faced the problem of constantly having to recruit labor as servants' terms expired. Second, after servants finished their contracts and decided to set up their farms, they could become competitors to their former masters.
And finally, the planters didn't like the servants' "insolence." The mid-1600s were a time of revolution in England, when ideas of individual freedom were challenging the old hierarchies based on royalty. The colonial planters tended to be royalists, but their servants tended to assert their "rights as Englishmen" to better food, clothing and time off. Most laborers in the colonies supported the servants. As the century progressed, the costs of servant labor increased. Planters started to petition the colonial boards and assemblies to allow the large-scale importation of African slaves.
Black slaves worked on plantations in small numbers throughout the 1600s. But until the end of the 1600s, it cost planters more to buy slaves than to buy white servants. Blacks lived in the colonies in a variety of statuses–some were free, some were slaves, some were servants. The law in Virginia didn't establish the condition of lifetime, perpetual slavery or even recognize African servants as a group different from white servants until 1661. Blacks could serve on juries, own property and exercise other rights. Northampton County, Virginia, recognized interracial marriages and, in one case, assigned a free Black couple to act as foster parents for an abandoned white child. There were even a few examples of Black freemen who owned white servants. Free Blacks in North Carolina had voting rights. In the 1600s, the Chesapeake society of eastern Virginia had a multiracial character, according to historian Betty Wood:
There is persuasive evidence dating from the 1620s through the 1680s that there were those of European descent in the Chesapeake who were prepared to identify and cooperate with people of African descent. These affinities were forged in the world of plantation work. On many plantations, Europeans and West Africans labored side by side in the tobacco fields, performing exactly the same types and amounts of work; they lived and ate together in shared housing; they socialized together; and sometimes they slept together.
The planters' economic calculations played a part in the colonies' decision to move toward full-scale slave labor. By the end of the 17th century, the price of white indentured servants outstripped the price of African slaves. A planter could buy an African slave for life for the same price that he could purchase a white servant for 10 years. As Eric Williams explained:
Here, then, is the origin of Negro slavery. The reason was economic, not racial; it had to do not with the color of the laborer, but the cheapness of the labor. [The planter] would have gone to the moon, if necessary, for labor. Africa was nearer than the moon, nearer too than the more populous countries of India and China. But their turn would soon come.
Planters' fear of a multiracial uprising also pushed them towards racial slavery. Because a rigid racial division of labor didn't exist in the 17th century colonies, many conspiracies involving Black slaves and white indentured servants were hatched and foiled. We know about them today because of court proceedings that punished the runaways after their capture. As historians T.H. Breen and Stephen Innes point out, "These cases reveal only extreme actions, desperate attempts to escape, but for every group of runaways who came before the courts, there were doubtless many more poor whites and blacks who cooperated in smaller, less daring ways on the plantation."
The largest of these conspiracies developed into Bacon's Rebellion, an uprising that threw terror into the hearts of the Virginia Tidewater planters in 1676. Several hundred farmers, servants and slaves initiated a protest to press the colonial government to seize Indian land for distribution. The conflict spilled over into demands for tax relief and resentment of the Jamestown establishment. Planter Nathaniel Bacon helped organize an army of whites and Blacks that sacked Jamestown and forced the governor to flee. The rebel army held out for eight months before the Crown managed to defeat and disarm it.
Bacon's Rebellion was a turning point. After it ended, the Tidewater planters moved in two directions: first, they offered concessions to the white freemen, lifting taxes and extending to them the vote; and second, they moved to full-scale racial slavery.
Fifteen years earlier, the Burgesses had recognized the condition of slavery for life and placed Africans in a different category as white servants. But the law had little practical effect. "Until slavery became systematic, there was no need for a systematic slave code. And slavery could not become systematic so long as an African slave for life cost twice as much as an English servant for a five-year term," wrote historian Barbara Jeanne Fields.
Both of those circumstances changed in the immediate aftermath of Bacon's Rebellion. In the entire 17th century, the planters imported about 20,000 African slaves. The majority of them were brought to North American colonies in the 24 years after Bacon's Rebellion.
In 1664, the Maryland legislature passed a law determining who would be considered slaves on the basis of the condition of their father–whether their father was slave or free. It soon became clear, however, that establishing paternity was difficult, but that establishing who was a person's mother was definite. So the planters changed the law to establish slave status on the basis of the mother's condition.
Now white slaveholders who fathered children by slave women would be guaranteed their offspring as slaves. And the law included penalties for "free" women who slept with slaves. But what's most interesting about this law is that it doesn't really speak in racial terms. It attempts to preserve the property rights of slaveholders and establish barriers between slave and free which were to become hardened into racial divisions over the next few years.
Taking the Maryland law as an example, Fields made this important point:
Historians can actually observe colonial Americans in the act of preparing the ground for race without foreknowledge of what would later arise on the foundation they were laying. [T]he purpose of the experiment is clear: to prevent the erosion of slaveowners' property rights that would result if the offspring of free white women impregnated by slave men were entitled to freedom. The language of the preamble to the law makes clear that the point was not yet race.
Race does not explain the law. Rather, the law shows society in the act of inventing race.
After establishing that African slaves would cultivate major cash crops of the North American colonies, the planters then moved to establish the institutions and ideas that would uphold white supremacy. Most unfree labor became Black labor. Laws and ideas intended to underscore the subhuman status of Black people–in a word, the ideology of racism and white supremacy–emerged full-blown over the next generation.
"All men are created equal"
Within a few decades, the ideology of white supremacy was fully developed. Some of the greatest minds of the day–such as Scottish philosopher David Hume and Thomas Jefferson, the man who wrote the Declaration of Independence–wrote treatises alleging Black inferiority.
The ideology of white supremacy based on the natural inferiority of Blacks, even allegations that Blacks were subhuman, strengthened throughout the 18th century. This was the way that the leading intellectual figures of the time reconciled the ideals of the 1776 American Revolution with slavery. The American Revolution of 1776 and later the French Revolution of 1789 popularized the ideas of liberty and the rights of all human beings. The Declaration of Independence asserts that "all men are created equal" and possess certain "unalienable rights"–rights that can't be taken away–of "life, liberty, and the pursuit of happiness."
As the first major bourgeois revolution, the American Revolution sought to establish the rights of the new capitalist class against the old feudal monarchy. It started with the resentment of the American merchant class that wanted to break free from British restrictions on its trade.
But its challenge to British tyranny also gave expression to a whole range of ideas that expanded the concept of "liberty" from being just about trade to include ideas of human rights, democracy, and civil liberties. It legitimized an assault on slavery as an offense to liberty. Some of the leading American revolutionaries, such as Thomas Paine and Benjamin Franklin, endorsed abolition. Slaves and free Blacks also pointed to the ideals of the revolution to call for abolishing slavery.
But because the revolution aimed to establish the rule of capital in America, and because a lot of capitalists and planters made a lot of money from slavery, the revolution compromised with slavery. The Declaration initially contained a condemnation of King George for allowing the slave trade, but Jefferson dropped it following protests from representatives from Georgia and the Carolinas.
How could the founding fathers of the U.S.–most of whom owned slaves themselves–reconcile the ideals of liberty for which they were fighting with the existence of a system that represented the exact negation of liberty?
The ideology of white supremacy fit the bill. We know today that "all men" didn't include women, Indians or most whites. But to rule Black slaves out of the blessings of liberty, the leading head-fixers of the time argued that Blacks weren't really "men," they were a lower order of being. Jefferson's Notes from Virginia, meant to be a scientific catalogue of the flora and fauna of Virginia, uses arguments that anticipate the "scientific racism" of the 1800s and 1900s.
With few exceptions, no major institution–such as the universities, the churches or the newspapers of the time–raised criticisms of white supremacy or of slavery. In fact, they helped pioneer religious and academic justifications for slavery and Black inferiority. As C.L.R. James put it, "[T]he conception of dividing people by race begins with the slave trade. This thing was so shocking, so opposed to all the conceptions of society which religion and philosophers had, that the only justification by which humanity could face it was to divide people into races and decide that the Africans were an inferior race."
White supremacy wasn't only used to justify slavery. It was also used to keep in line the two-thirds of Southern whites who weren't slaveholders. Unlike the French colony of St. Domingue or the British colony of Barbados, where Blacks vastly outnumbered whites, Blacks were a minority in the slave South. A tiny minority of slave-holding whites, who controlled the governments and economies of the Deep South states, ruled over a population that was roughly two-thirds white farmers and workers and one-third Black slaves.
The slaveholders' ideology of racism and white supremacy helped to divide the working population, tying poor whites to the slaveholders. Slavery afforded poor white farmers what Fields called a "social space" whereby they preserved an illusory "independence" based on debt and subsistence farming, while the rich planters continued to dominate Southern politics and society. "A caste system as well as a form of labor," historian James M. McPherson wrote, "slavery elevated all whites to the ruling caste and thereby reduced the potential for class conflict."
The great abolitionist Frederick Douglass understood this dynamic:
The hostility between the whites and blacks of the South is easily explained. It has its root and sap in the relation of slavery, and was incited on both sides by the cunning of the slave masters. Those masters secured their ascendancy over both the poor whites and the Blacks by putting enmity between them. They divided both to conquer each. [Slaveholders denounced emancipation as] tending to put the white working man on an equality with Blacks, and by this means, they succeed in drawing off the minds of the poor whites from the real fact, that by the rich slave-master, they are already regarded as but a single remove from equality with the slave.
Slavery and capitalism
Slavery in the colonies helped produce a boom in the 18th century economy that provided the launching pad for the industrial revolution in Europe. From the start, colonial slavery and capitalism were linked. While it is not correct to say that slavery created capitalism, it is correct to say that slavery provided one of the chief sources for the initial accumulations of wealth that helped to propel capitalism forward in Europe and North America.
The clearest example of the connection between plantation slavery and the rise of industrial capitalism was the connection between the cotton South, Britain and, to a lesser extent, the Northern industrial states. Here, we can see the direct link between slavery in the U.S. and the development of the most advanced capitalist production methods in the world. Cotton textiles accounted for 75 percent of British industrial employment in 1840, and, at its height, three-fourths of that cotton came from the slave plantations of the Deep South. And Northern ships and ports transported the cotton.
To meet the boom in the 1840s and 1850s, the planters became even more vicious. On the one hand, they tried to expand slavery into the West and Central America. The fight over the extension of slavery into the territories eventually precipitated the Civil War in 1861. On the other hand, they drove slaves harder–selling more cotton to buy more slaves just to keep up. On the eve of the Civil War, the South was petitioning to lift the ban on the importation of slaves that had existed officially since 1808.
Karl Marx clearly understood the connection between plantation slavery in the cotton South and the development of capitalism in England. He wrote in Capital:
While the cotton industry introduced child-slavery into England, in the United States, it gave the impulse for the transformation of the more or less patriarchal slavery into a system of commercial exploitation. In fact, the veiled slavery of the wage-laborers in Europe needed the unqualified slavery of the New World as its pedestal. Capital comes dripping from head to toe, from every pore, with blood and dirt.
The close connection between slavery and capitalism, and thus, between racism and capitalism, gives the lie to those who insist that slavery would have just died out. In fact, the South was more dependent on slavery right before the Civil War than it was 50 or 100 years earlier. Slavery lasted as long as it did because it was profitable. And it was profitable to the richest and most "well-bred" people in the world.
The Civil War abolished slavery and struck a great blow against racism. But racism itself wasn't abolished. On the contrary, just as racism was created to justify colonial slavery, racism as an ideology was refashioned. It now no longer justified the enslavement of Blacks, but it justified second-class status for Blacks as wage laborers and sharecroppers.
Racist ideology was also refashioned to justify imperialist conquest at the turn of the last century. As a handful of competing world powers vied to carve up the globe into colonial preserves for cheap raw materials and labor, racism served as a convenient justification. The vast majority of the world's people were now portrayed as inferior races, incapable of determining their own future. Slavery disappeared, but racism remained as a means to justify the domination of millions of people by the U.S., various European powers, and later by Japan.
Because racism is woven right into the fabric of capitalism, new forms of racism arose with changes in capitalism. As the U.S. economy expanded and underpinned U.S. imperial expansion, imperialist racism–which asserted that the U.S. had a right to dominate other peoples, such as Mexicans and Filipinos–developed. As the U.S. economy grew and sucked in millions of immigrant laborers, anti-immigrant racism developed.
But these are both different forms of the same ideology–of white supremacy and division of the world into "superior" and "inferior" races–that had their origins in slavery.
Racism and capitalism have been intertwined since the beginning of capitalism. You can't have capitalism without racism. Therefore, the final triumph over racism will only come when we abolish racism's chief source–capitalism–and build a new socialist society."
—
—
Discovering Bristol: Racist ideas
"As the slave trade developed, Europeans created a racist ideology which could be used to justify the trade. Africans were thought to be sub-human, uncivilised, and inferior to Europeans in every way. And as they were 'not one of us', they could be bought and sold. The development of racism is linked to the slave trade. The slave trade could not have continued without this ideology to justify it. Racism cannot be ignored in any study of the slave trade…
…From about 1600, with the development of science in Europe, racism could be 'proved' scientifically. Scientists and philosophers like David Hume could state that Africans were 'naturally inferior to the whites'. It was widely believed that Africans and Europeans had developed separately. Many, like Sir Thomas Herbert, writing in 1634, believed that Africans must be descended from apes and were part of a separate and inferior race. This was long before Charles Darwin's theory of evolution, which showed that all humans are part of the same species. In the 18th and 19th century, many white people campaigned for an end to the slave trade and for freedom for the slaves. But few of those white people believed in racial equality, that is equality between the black and white races.
In the 19th century, racist ideologies were strengthened by 'fake' sciences such as phrenology. It was believed that the shape of the skull reflected the character of the person. Phrenologists applied their theory to African skulls and classified all Africans as inferior to white races intellectually, culturally and morally. Phrenology showed Africans to be unsuited to work other than that supervised by white people. In the minds of most, this justified making Africans work as slaves.
The study of teleology looked at design in nature. This allowed men to argue that Africans were, by nature, suited to hard work but not to thinking. They were, therefore, obviously made to serve white people. "The Negro in general is a born slave" wrote Sir Harry Johnston, a British colonial administrator in Africa in the 1890s.
Anthropology, the study of mankind, looked at such things as the size of the brain and the physical appearance of people. Again, anthropologists could conclude that the African was inferior to the white man, a separate species more closely related to apes than to whites.
The English naturalist, Charles Darwin, developed a theory of evolution. It suggested that Europeans were related to Africans and that all humans were related to the apes. Whilst this upset the anthropological theories about separate species, other aspects of the evolutionary theory still 'proved' the superiority of the white races over all others. His theory saw the Anglo-Saxons, that is, the British, at the top of the evolutionary scale. The British were at the top of the family tree of the human race, as the most 'civilised' race. The African, as a 'primitive' race, was considered childlike and unintelligent. Such 'inferior' races were doomed to be either ruled by or destroyed by the 'superior' races. Survival of the fittest was the rule in Darwin's theory of evolution.
The belief in the superiority of the British and European races fed the expansion of the empire. The British empire grew from the idea 'that the British were the best race to rule the world', a view expressed by Cecil Rhodes, the colonial administrator who founded the British colony  of Rhodesia, in Central Africa (now Zimbabwe).
These 'scientific' theories of the inferiority of the African were generally accepted by the British public. Racism was taken for granted. For example, books by G A Henty were seen as great reads for boys. His book By Sheer Pluck: a tale of the Ashanti war was written in 1884 and probably still available in school libraries until the middle of the 20th century. The boys reading it learned that black people are 'just like children. They are always either laughing or quarelling. They are good-natured and passionate, indolent, but will work hard for a time; clever up to a certain point, densely stupid beyond… They are absolutely without originality, absolutely without inventive power.'
Black people living in Britain, as well as those living in their own countries under European colonial rule, had to cope with this racism. Racism has been and is central to the experience of black people in Britain, over the centuries."
—
kottke: A History of the Slave-Breeding Industry in the United States
—
—
Further Readings
USA Today: Slavery's explosive growth, in charts: How '20 and odd' became millions
—
---